The BGN News Archive
December 3, 2018



The Billy Ruane Square
Photo: Miss Lyn




Brian Coleman/Wayne Viens
Photo: Miss Lyn
Saturday was the long awaited official dedication of Billy Ruane Square in Central Sq Cambridge. It was a miracle in itself that the weather cooperated, we had a beautiful sunny day! A crowd of Billy family, friends and fans gathered at the intersection of Brookline and Green Streets, just outside of Sonia (TT's) to honor Billy and his legacy. Wayne Viens arrived before hand with some awesome hand held Billy signs he'd made. Video of Wayne here.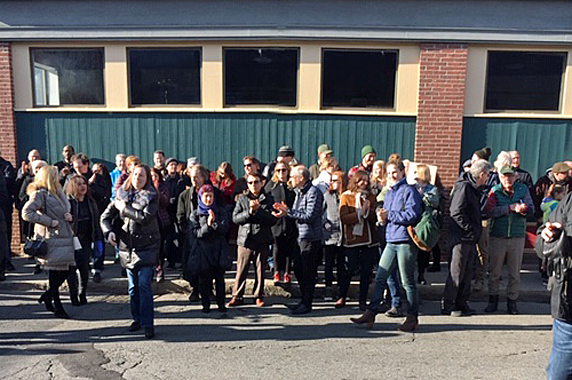 The crowd at the dedication
Photo: Miss Lyn
And this was official; Jan Devereux , the Vice Mayor of Cambridge read the proclamation at a podium with the official emblem of the City of Cambridge. There were lots of "Whereas" and other official words as she talked about Billy's love and passion for music and life itself, of his dedication to the Boston music scene and the many bands he helped along the way.
After Devreaux Billy's sister Lili spoke of Billy as a "force beyond all forces". Jim Sullivan got up to remind us how Billy had been repeatedly banned from just about every club in town. Jim was followed by Francis DiMenno, Eric Van and several others including Pat McGrath. Finally, and somehow appropriately, Shawn Devlin of Dumptruck got up to announce "I kissed Billy on the lips!!" With that we all laughed and clapped and gathered to talk to friends in the crowd.



Jim Sullivan
Photo: Miss Lyn




Francis Demino
Photo: Miss Lyn
The party continued inside the Middle East. Hey, that's he club where Billy started the music booking that grew to the five stage complex that it is now. Thank you Billy!!

If you have time, take a dip into the Billy Ruane Video Archives. There so much great stuff in there.

And for a video taste of Billy himself, check out Billy as he introduces The Blake Babies.

Later on Saturday we heeded our own advice and went to the DJ Easy Ed / Cranktones matinee show at the Midway. These shows are always a blast. It's a dose of rockabilly and a crowd of fans who love it. Here's just a few times we have gone to the Easy Ed shows. …. Feb 2017, May 2016 and July 2017.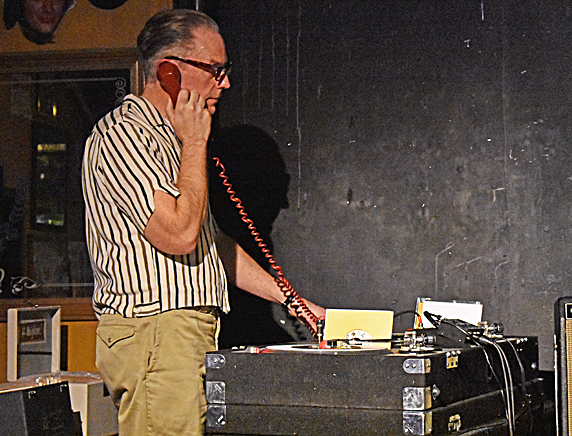 Easy Ed
Photo: Blowfish
Easy Ed is the only DJ that will drive us to a club. He has endless songs you probably don't know but immediately love and then some familiar ones you have always loved. His radio gig is on WMFO every other Friday from 6pm to 8pm. He's the only DJ who cues his records with an old phone handset.
When we got there the club was packed. It felt like we were getting to a party already in full swing. The legendary Cranktones were getting ready to play. Two Fathoms Down had already done a set. We assume that was a version of The Fathoms with Cranktones' guitarist Frankie Blandino.
The Cranktones
Photo: Blowfish
The Cranktones are mostly rockabilly but also do some surf and other instrumentals. They have a wide range of material to pick from. Which is good because they proceeded to play for over two hours!! There's an ease and grace to everything they do. They put a driving dance rhythm into every song without working up a sweat. If you ever wonder what the benefits of playing a standup bass, listening to Johnny Sciascia will answer your questions. Drummer Stan Kozlowski adds to the sound with tasteful drums and vocals that pair perfectly with Johnny and Frank's.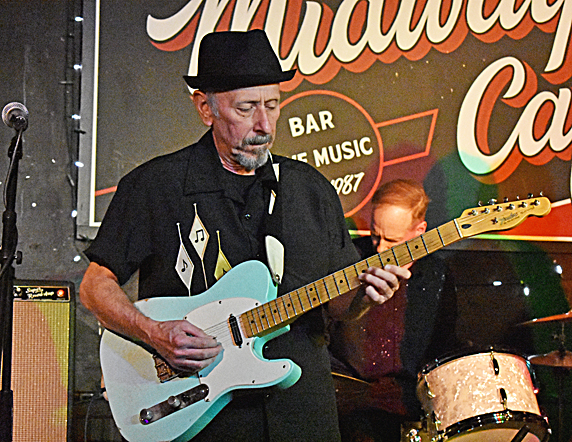 Frankie Blandino - Cranktones
Photo: Blowfish
Guitarist Frankie Blandino is super slick on the fretboard. Probably naturally gifted along with decades of playing has given him endless tricks and strategies for soloing. That's why he could play for two hours and never repeat any riffs. If you are a guitarist you would have your eyes nailed to his hands.
The no sweat part didn't apply to guest Sax Gordon who was all about sweating. His bio is too long to go into here, and his touring schedule is worldwide and amazing. But you didn't have to know that, only one solo proved his talent. He scowls and grimaces as he blows down and dirty fifties style solos. If he did twenty solos in the course of the set then he got twenty rounds of applause. People reacted every time because those solos were so in the pocket and classic.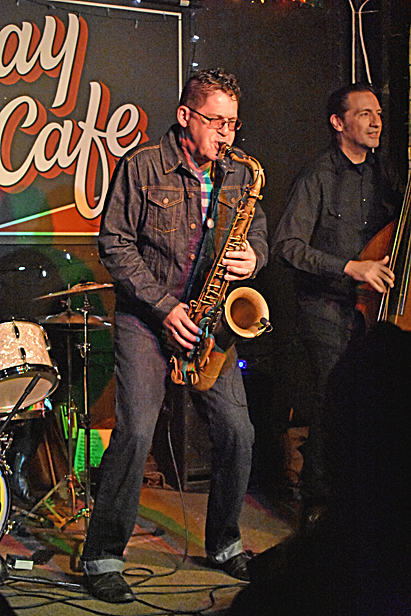 Sax Gordon - Cranktones
Photo: Blowfish
They did songs from their two CD's; one from 1998 and one that just came out this year. A notable cover was the Hawaiian War Chant by the Ventures. Probably to take advantage of the sax they did Mercy, Mercy, Mercy. They went way back to 1957 and took on Buzz, Buzz, Buzz by The Hollywood Flames. That song was also recorded by Jonathan Richman on the Back in Your Life LP with the Modern Lovers.
Even after two hours they seemed like they wanted to keep going, only the 8pm deadline seemed to stop them. We say it every time – go to these Easy Ed shows and have a party time.
Lizzie Borden and the Axes
Photo: Blowfish
The timing was right so we club hopped to Once to catch the last set by Lizzie Borden and the Axes. They has been part of the scene since 1980. Lizzie herself has been an ambassador for the scene by connecting to Joan Jett, Genya Raven and the Runaways. Her energy has never flagged through the years and even up to now has other projects going after the Axes stop. Her current group, called simply Bordens, has some new songs recorded at Woolly Monmouth and they reflect the quality of musicians she has collected for that group.
For the second time that day we entered a full club buzzing with activity. The Axes still have a large fan base despite only sporadic shows these last years. They played a selection of their better known songs, all with a melodic metal sound that came to characterize the band: a very strong song structure and an undeniable hook in the chorus. There was tasty guitar work all through the songs. They did one of thier favorite covers, "I'm Not Your Stepping Stone". Video above.
Lizzie looked cool with a target red bass guitar with bright red strings.
It was a mutual love fest between crowd and band. Longtime fans and family members were plentiful. There was so much good time atmosphere you would never know it was an ending of a group. They went out in style.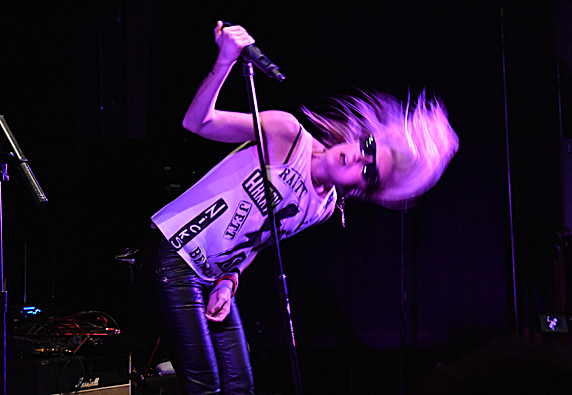 Blindspot
Photo: Blowfish
We missed the Knock Ups who opened and caught some of Blindspot, duo (singer and drummer) who played to a taped background. The singer had a voice that carried the day and some striking stage moves. Our punk sensibilities rebel against using a tape rather than a live band. It just comes up short for us.
After the Axes the Flight of Fire was going to play and then back up Cherie Currie ex of the Runaways for a set. By that time we had been standing for over five hours and had to call it a day.
More band photos below the show listings.
---
And in other news.....
Stop Calling Me Frank have a Christmas song for the rest of us called "Santa Buy Me a Beer" – only SCMF could pull this off. In the spirit of the holidays Rum Bar has released it to all for free!! Listen here!
Theo Greenblatt has a cool short piece, Not Dead Yet, about her time on the early Boston Punk scene. She did work for Subway News back then. Much worth the read.
Save the date!! January 11th is a benefit for Chris Doherty. at The Paradise. $25 - you can buy tix here.
WEMF has closed up shop. There was so much local content to keep up with on there. They also booked all sorts of shows at the clubs. The main honcho Des Desmond doesn't rest for long, we figure he will have something else cooking soon. You can read more about it on Vanyaland.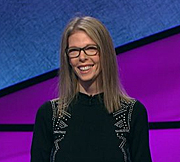 And another Runaway releated item. It seems that Jackie Fox who used to play bass for the Runaways is going to be on everyone's favorite quiz show Jeopardy. The broadcast date is on Friday December 14.
Born Yesterday is a rocking good band that played on WEMF. Like Fringe, who we have reviewed, they are a high school band. Give them a listen on Bandcamp
---
Here's some good shows coming up this week.....

December 4 (Tuesday) It's another Rock N Roll Trivia with Erin & Brett this one is a special Santa Edition - at the Sinclair- 8-11 PM
December 7 (Friday) Agent Judy (Sprague's) Birthday Show! at The Lily Pad in Inman Square Cambridge....the show is MC'd by Linda Viens and bands playing will be Johnny Blazes' Luminati Trio, Crow Hollow and Sophia Bell. Starts at 10PM. Judy says to "please consider bringing an item to donate to Boston Healthcare for the Homeless. Agent Judy is collecting HATS, GLOVES, MITTENS, and SOCKS. Bring some along to drop in the box!" There will be cake too!
December 7 (Friday) Hi-End, Modern Day Idols, The Maxims are at Koto Salem
December 7 (Friday) Gary Shane And The Detour (with Mach Bell on drums!) are at The C Note in Hull.
December 8 (Saturday) A Crash Course for the Ravers on WMFO 91.50 1-4PM has Stop Calling Me Frank and Greg Allen's Fringe Religion.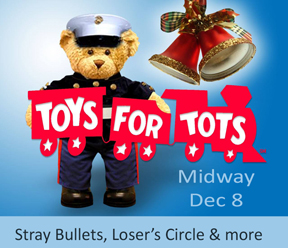 December 8 (Saturday) Winter Warmer & Holiday Market at ONCE Ballroom. 11AM-5PM. There will be vintage clothing and jewelry sellers, holiday perfect-gift vendors, food, a full bar featuring warming winter beverages, live music, and a fairy tea party for the little ones.
December 8 (Saturday) Roy Sludge with Jim Scoppa & Johnny Sciascia are at Atwoods for a 4PM show. $10 suggested donation when the tip bucket comes around.
December 8 (Saturday) 2nd Annual Tunes For Tots show with Stray Bullets, Loser's Circle, The Black Cheers, Coffin Salesman, Blame It On Whitman for a 4-8PM matinee show at The Midway And don't bother leaving coz then there's.....
December 8 (Saturday) Pinkerton Thugs, OC45, MK & Morning Afters , the Lot at The Midway for an night time show.
December 8 (Saturday) The Dents, Diablogato, Tom Baker & The Snakes are at Sally O'Brien's ,
December 8 (Saturday) Hambone Skinny, A Bunch of Jerks, The Guilloteenagers at The Plough & Stars
December 9 (Sunday) Trusty Sidekick, Stigmatics, Crunchtime. Dick Pics do a Matinee 4-8 show at The Midway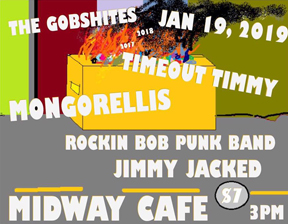 December 9 (Sunday) Acoustic Sessions featuring Gene Dante, Pink (of Demons Alley), Lily Black at Koto Salem 7-9:30PM
And further out we have......
December 13 (Thursday) Baabes, The Maxims, Labor Hex, Sticker Shock at O'Brien's Pub
December 14 (Friday) Red Invasion with Funeral Cone and Brix N' Mortar and EVERT at O'Brien's
December 14 (Friday) Street Dogs: 13th Annual Wreck The Halls at Brighton Music Hall
December 14 (Friday) Kid Gulliver, State of the Union, Thee Fightin' Fish, TogetherOnTwo at the Worthen Attic in Lowell.
December 15 (Saturday) A Crash Course for the Ravers on WMFO 91.50 1-4PM has The Fringe.
December 15 (Saturday) Duck & Cover, Stop Calling Me Frank (Album Release), State of The Union, The Angel Martins Early Show 4-8PM at The Midway
December 15 (Saturday) The Swelltune Records Holiday Shindig! with Jimmy Dale (OK), The Susquehanna Industrial Tool & Die Co (NY), Jittery Jack and Miss Amy and DJ Easy Ed. at O'Brien's the night ends with the Swelltune Jamboree!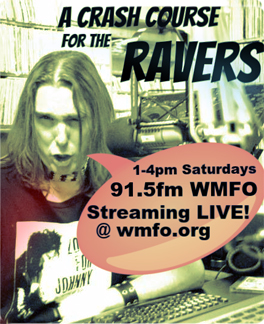 December 15 (Saturday) It's a Clash City Christmas with Charlie Don't Surf Live at Rags in Quincy!
December 15 (Saturday) An Intimate Evening of Surf with Tsunami of Sound at the Plough! Msuic starts at 10PM
December 20 (Thursday) 7th annual Spectacular Gift Drive for DCF Wonderfund! In support of foster families in the Boston area, let's spread good cheer with this holiday celebration. with Hail Santa- Boston Rock's holiday season super group featuring Michelle Paulhus (Stars Like Ours), Ali McGuirk, Bice Nathan (Hey Zeus), Chip Nicolai (Goddamn Draculas), Peter Moore (Count Zero) also on the bill When Particles Collide and Salem Wolves- NOTE: Please bring unwrapped gifts for children of all ages—toys, books, art supplies, electronics, musical instruments, clothing, hats, coats, sporting goods, gift cards (older kids like these)...this is an 8-Midnight show at Once Somerville.
December 22 (Saturday) A Crash Course for the Ravers on WMFO 91.50 1-4PM has Smitt E. Smitty.
December 22 (Saturday) Linda Viens is hosting Solstice Gathering with Music & Friends at the Out of the Blue Gallery in Allston. Musical guests will be Crazy People (Tom Tipton & Johnny Berosh), Brass Orchid (Timothy & Judith Sprague, & Johnny Berosh), Randy Black (solo) and Parma Chai. Solstice ritual is at 8PM music follows at 9PM
December 22 (Saturday) Greg Allen's Fringe Religion, Classic Ruins, 1.4.5, Fireking - Early Show 4-8 at The Midway
December 22 (Saturday) Hardcore Stadium presents The A-Team w/ Last In Line, Down But Not Out, Rampage, MFP, Restraining Order at an early show at Middle East Up 4:30 doors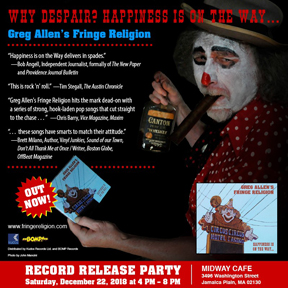 December 22 (Saturday) Jingle Punk! A Lily Black Holiday Special! with Lily Black, The Knock Ups, Happy Little Clouds at Sally O'Brien's

December 23 (Sunday) Thrash N Bang's Annual Xmas Punk Pizza Party! with Neighborhood Shit, Revilers, The Hangovers, Sewer Buddies, Coffin Salesman and Jake Tringale. 4-8PM at The Midway
December 29 (Saturday) The McGunks, Scotty Saints & True Believers, Steal Reserve, COB at The Midwayt for a 4-8PM show.
December 29 (Saturday) time & place, Hambone Skinny, Blame Shifters plus a very special surprise guest at a night show at the Midway
December 31 (Monday) New Year's Eve Bash with Something Sneaky, Native Son and Today Junior at O'Brien's Allston.
January 4 (Friday) It's tradition! The Annual NYDAY sale at 40 South St Vintage! come and grab a mimosa or a bloody mary and rock out. 50% off ALL THE CLOTHES!!!! 12-4PM FB page for more info
January 4 (Friday) OC45, The Dents, Duck & Cover, Blame It On Whitman at O'Brien's Pub
January 4 (Friday) 61 Ghosts, Little Billy Lost, JonesCreek, Thee Fightin' Fish at Koto Salem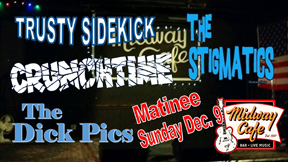 January 11 (Friday) Not A Wasted Night: A Benefit for Chris Doherty of Gang Green at the Paradise. More info to come. Keep an eye on the Facebook page for updates. Tix are $25 and you knwo this is a great cause!! You can buy tix here.
January 11 (Friday) Red Arlington, A Bunch Of Jerks, HIXX and Ski Bunny at O'Brien's in Allston.
January 12 (Saturday) IL Mostro (CD release) w/ Cortez, Scuzzy Yeti & Wrought Iron Hex at O'Brien's
January 12 (Saturday) Gene Dante And The Future Starlets, The Gala, Tiger Bomb, Smitt E. Smitty at Once Somerville.
January 12 (Saturday) Restraining Order, Envision, Antagonize, Brother, Pummel at AS220 Provi RI
January 17 (Thursday) The next Buy Me Boston book event is at the Boston Public Library 6-8 PM Here's the FB page.
January 17 (Thursday) Boston Emissions presents: PowerSlut, Stars Like Ours, Dark Wheels at Once Somerville.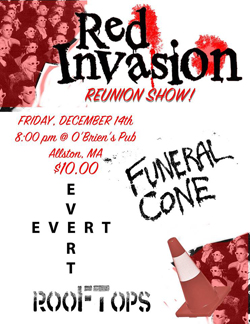 January 18 (Friday) Tsunami of Sound, Keytar Bear, The Chelsea Curve and Little Billy Lost at Sally O'Brien's in Somerville.
January 19 (Saturday) The Gobshites, Time Out Timmy, Mongorellis, Punk Band, and Jimmy Jacked at the Midway for a 3-7PM show.
January 19 (Saturday) Nat Freedberg, Watts, Justine and the Unclean, Duck & Cover at Once Somerville
February 8 (Friday) Hey Zeus Record Release & Listening Party (Argonauta Records) with Motherboar, Cocked N Loaded, Labor Hex at Once Somerville.
February 16 (Saturday) Stop Calling Me Frank, A Bunch of Jerks, The Knock Ups, and Tsunami of Sound are at The Midway for a matinee show 3-7PM.
CONTACT US AT....misslynbgn@yahoo.com Send us your gig listings, your news and anything else ya got!! You want your CD reviewed?? Contact us for that too.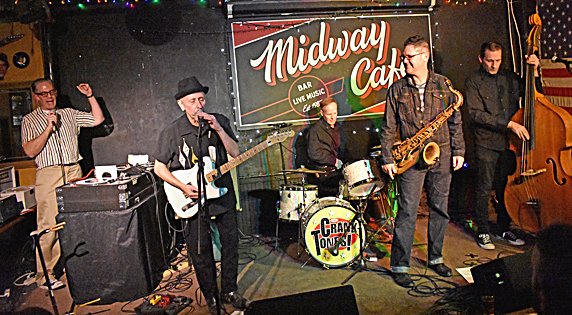 Easy Ed and The Cranktones
Photo: Blowfish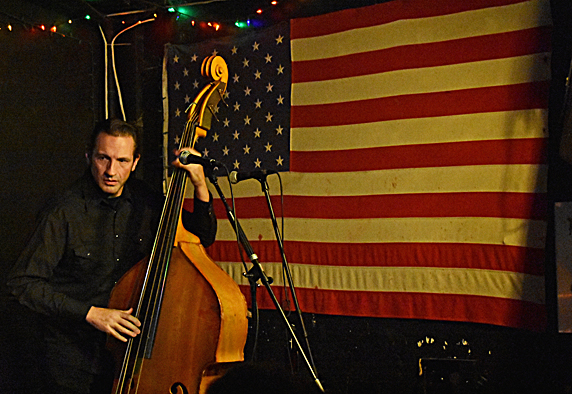 Johnny Sciascia - The Cranktones
Photo: Blowfish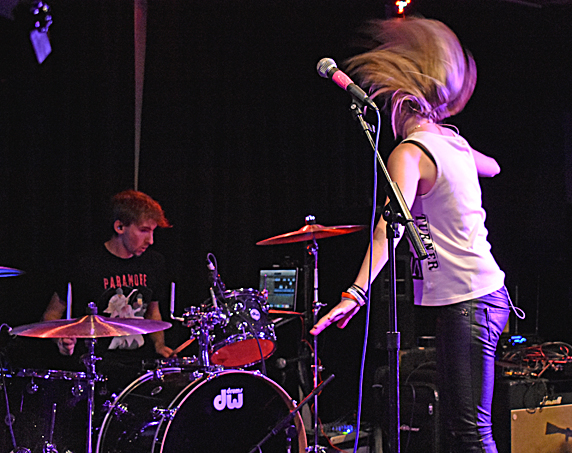 Blindspots
Photo: Blowfish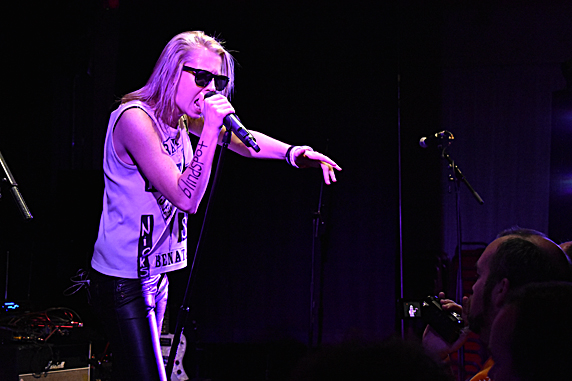 Blindspot
Photo: Blowfish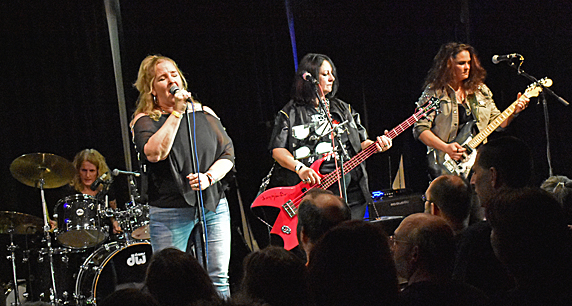 Lizzie Borden and the Axes
Photo: Blowfish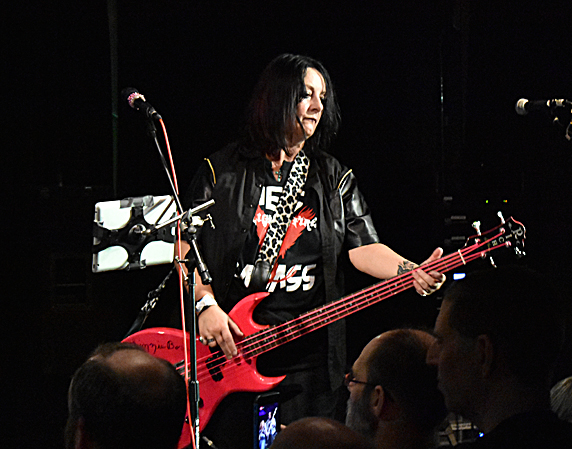 Lizzie Borden - Lizzie Borden and the Axes
Photo: Blowfish