The BGN News Archive
December 4, 2017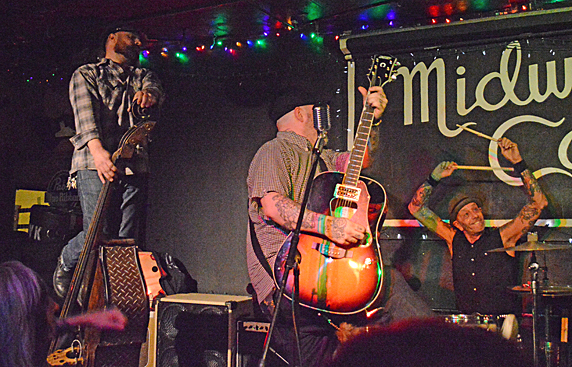 Diablogato
Photo: Blowfish
We got an early night out on Monday at Great Scotts. It was Dead Trains CD release show. The Rough Cuts were earlier on the bill.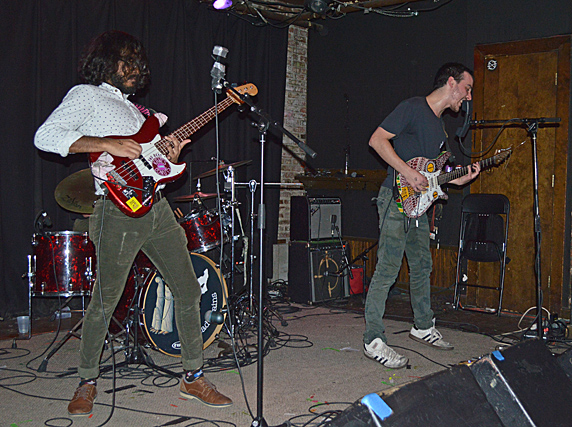 The Rough Cuts
Photo: Blowfish
The Rough Cuts from Fitchburg had two old style cheap looking microphones so you knew it was going to be a low fidelity workout. Indeed the vocals sounded like they were coming out of a six inch transistor radio. We knew from their Bandcamp page that they had a messy garage style. The great thing was that they weren't just being noisy. All their songs had inventive twists in them, both with sound and songwriting. They got some wacky sounds from those microphones, tons of echo and other effects made the vocals go off into the ionosphere. ..or was it the guitar? Hard to tell.
When a group's sound is primitive you expect the songs to be primitive also. The Rough Cut however had all sorts of twists and turns in their songs. They changed more than a few times as they went along. They seemed like a sonic collage at times. They are well rehearsed because they had lots of tempo and rhythm changes to hit and they hit every one. They also ran their songs together so at times it was hard to know if it was a new section of the current song or the next song. We liked that challenge. See them work their way through the song in the video above.
They reminded us of the Zip Tie Handcuffs. They both have the idiosyncratic songs, some with a little psych in them and the echo-laden vocals.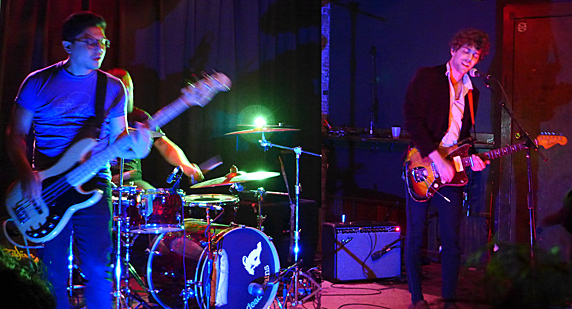 Dead Trains
Photo: Blowfish
We saw Dead Trains a year ago down the street at The Wonder Bar. They do a stripped-down rock/blues style with a punk attitude. We of course wanted it to be more punk all around but they know what they're doing. They had a lot of people up front soaking up every note. Led Zeppelin comes immediately to mind with a lot of their riff based songs. Catch the video above to hear that. That video is "Shake Em On Down" from their new Big Fun CD. The good early week shows have been sparse lately but this was a good one.
Once continues to have creative booking. They get some high profile shows like Friday's Richard Lloyd and Dream Syndicate show.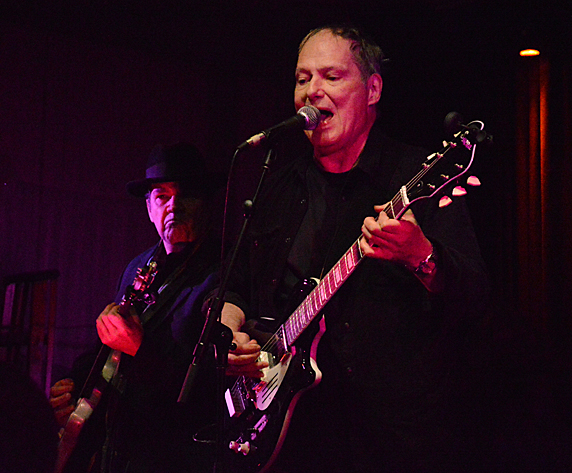 Richard Lloyd
Photo: Blowfish
Dream Syndicate seemed like the big draw but Lloyd has a lot of fans too. He's a guitar hero for a musical movement that decried guitar heroes. How did that happen? His and Tom Verlaine's extensive guitar workings in Television were more instrumental compositions that became the framework for the song rather than straight soloing, although that's in there too. Richard's solo records brought his muscular guitar work to his own compositions. We have a whole list of favorite songs from those albums. We've seen him twice. One occasion was at Church in 2008.
It's hard to not just talk about the Television material. Those majestic compositions scale the heights. Without Verlaine's interaction they still can transport you to the high heavens. Lloyd has the magic in his fingers and the band was right there with him. When he hit the opening riff to "Marquee Moon" there seemed to be a collective gasp. You knew what was coming and he didn't disappoint.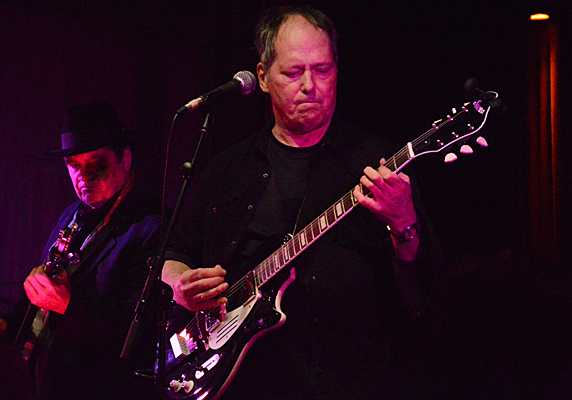 Richard Lloyd
Photo: Blowfish

Lloyd has a different voice than Verlaine but it didn't matter too much. He also played "See No Evil". John Hess said he liked those versions better than the ones that re-grouped Television did at the Paradise around 2002. We thought it was pretty close too and the sound at Once was better than the Paradise gig as we remember it. But not to ignore Lloyd's other material. "Alchemy" the title cut of his first solo album also has the killer intro riff. We remind everyone that Reddy Teddy's Matthew McKenzie played on that record. He played "Pleading" and "Field of Fire" a longer guitar jam from the Real Life album.

Lloyd himself didn't have much to say. He seems pretty blah up there. We were way back in the crowd so these videos are only good to get an idea of the sound. We have "Marquee Moon" and "See No Evil".

You could feel the buzz for Dream Syndicate. John Keegan saw Wynn in his group the Miracle Three at Church in 2015. and in the Baseball Project in 2014. We saw Wynn play the Medicine Show album in 2010 at Church.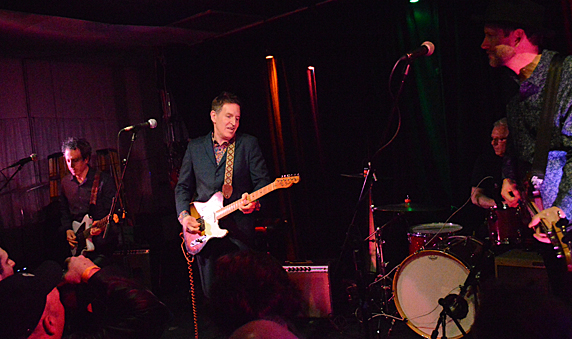 Dream Syndicate
Photo: Blowfish
All eyes went to Steve Wynn as he walked out looking smart in a suit jacket. Their first song kicked up a lot of guitar work right off the bat. Wynn's soloing had a lot of Lloyd's sound and technique. It was a good transition. As the set went on their sound changed, its emphasis getting more and more psych. They did a few songs from Days of Wine and Roses and many other albums. It was a long set, about two hours long, then they did a few encores and then a few more songs.
This was their first show on the tour and they were super happy at the audience response. They had a right to. Once was full and few left before it was all done. The audience was older as would be expected. We didn't see many young people at all. Deep into the set they did a long psych jam that would have sounded normal coming off the Boston Tea Party stage in 1968. There were times during the jams when you could see a blissful look on Steve Wynn's face. Like Lloyd, Dream Syndicate didn't have a thrilling stage show; they concentrated on playing the music only.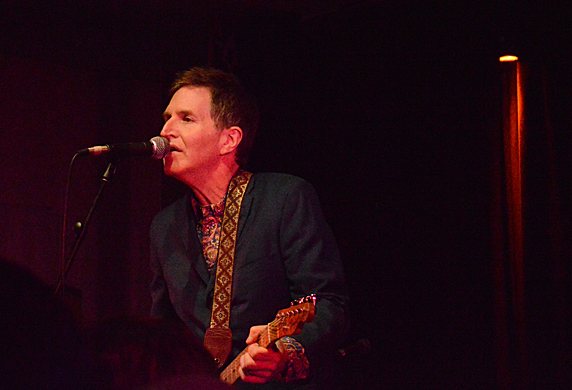 Dream Syndicate
Photo: Blowfish
A lot of their material relies on the steady repetitive rhythm section. The guitars work together to make a ringing thick sound that rides over the rhythm like a wave. It's so easy to let it wash over you and soak it in. One of the encore songs had Boston in the lyrics and morphed into "Refugee" by Tom Petty in the middle. Here's a video taste of the action.
It was a long wide ranging show that had an impact from it's size alone. Something you had to experience at the club.
Still on a high from Friday, the buzz continued with a party atmosphere at the Midway on Saturday.
Duck & Cover
Photo: Blowfish
We walked into a full club with Duck & Cover blasting away. We have been struck by the wide variety of D&C fans. Their inventive punk has an undeniable appeal. It helps that they are as tight as hell as a group.
This night the drummer caught our attention. He was getting a great sound from the back-line drum set. That was true all night too by all the drummers. As each drummer played, the drum head on the front ripped more and more. After Jesse Von Kenmore, the thing was in tatters and John Lynch was asking for restoration money.
Other punk groups should be watching the way D&C work a song. They make sure every song has an intro, ending, hook, a change-up and development. They elevate the genre. They got good attention with their showing in the Rumble. We think they should be getting more now.
They have a good number of songs now that you wait for them to play as they did at the Midway. "Wasted" and "Stand Corrected" are at the top of the list. They do a glorious "Way of the World" by Cheap Trick too. Video above. And we got this far without mentioning Chris Brat's voice. We were happy when Dan Kopko of Watts mentioned how he is in wonder of Chris' hard vocal attack. Great set.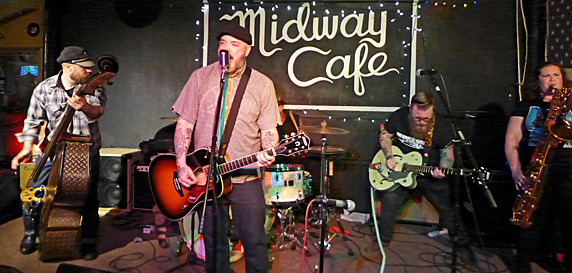 Diablogato
Photo: Blowfish
Then it was on to Diablogato. We saw them at the Middle East in October. As we said then, we like Diablogato better in the small clubs; so here we were and yup, they were in your face good. The songs were hitting their mark especially. You could catch their character, some more rockabilly than others.
| | | |
| --- | --- | --- |
| | | |
With Jessie on drums every song starts at the upper end of the rocking scale, so that's going on. The guitarist brings things back however with choice rockabilly licks sweetened with the whammy bar. Add in the baritone sax and you have Diablogato's signature sound. The bass player is doing insane things on stage with the standup bass. He's sitting on it, he's standing on it, he's dancing with it, he's twirling it and inevitably slapping the hell out of it.
It was two hard rocking sets and we knew what Watts was going to do. They do it every time. It's a rocking blitzkrieg, a domination via rock that there's no use in fighting, and that's what they did.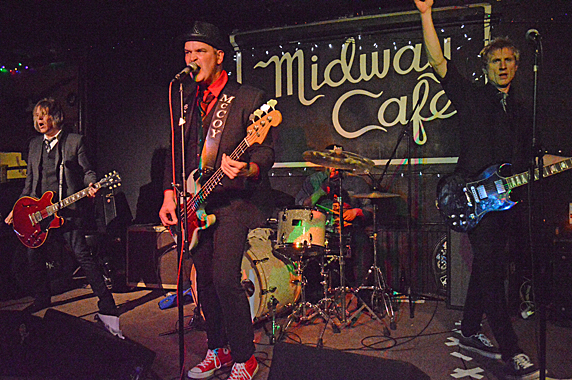 Watts
Photo: Blowfish
They had the last set and plenty of time so they had a long set list. They have three CD and a few singles to draw from. It's all tried and true material. They concentrated mostly on their last CD, they started with "The Black Heart of Rock n Roll", hit "Up All Night", "She's So Electric", "Flash of White Light", "Strut Like A Champ" and "Bye & Bye". Not only do they all sing together but all take turns singing lead. Each of them could sing the whole set themselves.
Watts' sound has changed since the first CD in 2007. They are much more high-powered now. The latest EP, released this night, has them changing just a bit again. Two songs have falsetto singing on them. Something they didn't do before. They are not changing the formula just adding to it. It's like Muck and the Mires, we don't want them to change, but it's up to them to keep things interesting and still have the attributes we love them for. Mission accomplished on that. Video of new song "We're Through With Rock n Roll" is above.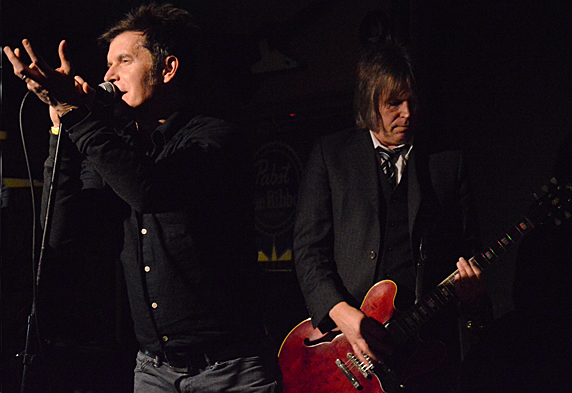 Lee Harrington and John Blout
Photo: Blowfish
They brought surprise guest Lee Harrington up on stage to sing "Father Christmas" by the Kinks. That's the first Christmas song of the season for us. Lee was acting all kooky up there and was very entertaining. He said he loved the group so much that he was offering sex to all of them in the parking lot. It seemed to be agreed on with John Lynch stipulating, "no condoms". They then played an AC/DC song in memory of Malcolm Young, it wasn't wake like it was party time. Video above. Then Chris Bratt and Mike from openers Bunch of Jerks got up on stage too. John Blout had the half sung/half yelling vocal down and when Chris Brat's vocal was added it was full bore AC/DC.
A short note: Props to the sound guy, every group sounded hot and balanced.
Quite a night. For us it was two nights with five bands in a row of resounding rock. You gotta love it.
More band photos below the show listings.
John Keegan also has a review and photos on the Dream Syndicate/Richard Llyod show. Click on photo below for the page.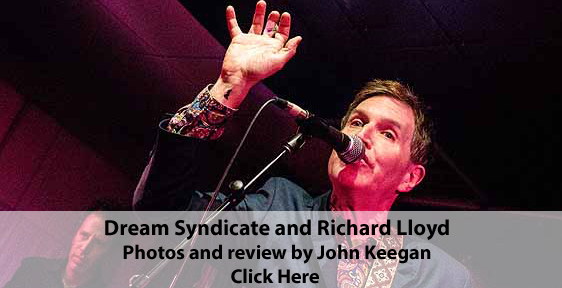 And it seems everyone was at this Dream Syndicate show. Mark Davis was and too much is never enough we guess because here are his photos of the show. Click the photo below.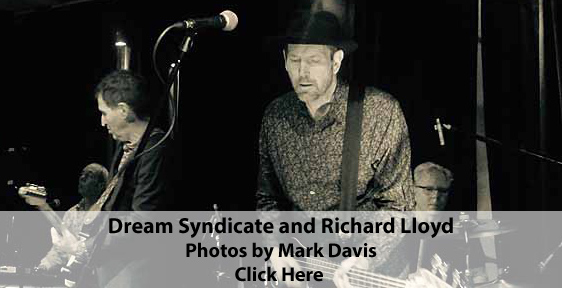 ---
And in other news.....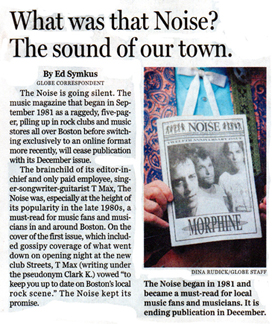 Thursday's Globe had an article that revealed that this December's issue of The Noise will be it's last. That was a shocker. The Noise has been going since 1981. That's 36 years of work. T Max managed to get print issues into all the clubs and record stores up to a few years ago when it went digital. In the print issues the masthead listed over 30 people that contributed to compiling an issue. T Max was the only paid person. People believed in the Noise's mission; that's how they managed to last so long. Francis Di Menno and A.J. Wachtel were two of the writers who were still going strong right to the end. T Max will now concentrate on his music career. There was an article/interview on us in 2013 (Read it here) We appreciated the attention and the whole scene was served well by The Noise.
T Max's final words are here. In Parting
I lot of people were upset to see Johnny D's in Davis Square get flattened this week. That place is irretrievably gone. Something else will be in its place. See the pics on Boston.com
The Connection posted on Facebook that they are mixing their new album with David Minehan at Wooly Mammoth. Rum Bar potentate Malibu Lou said the band is shopping the music around, meaning it might not be on Rum Bar this time.
Saturday March 17th 2018 / St. Patrick's Day. Thundertrain is getting together for a reunion down at jetBlue Park in Ft. Meyers, FL!! .
---
Here's some good shows coming up .....
December 5 (Tuesday) Carissa Johnson is at Dusk in Providence, RI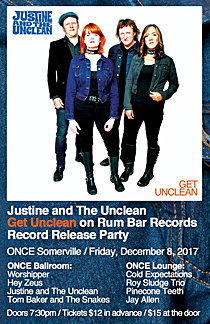 December 8 (Friday) Rumbar records is throwing a HUGE record release party of the new Justine and the Unclean record Get Unclean....It's at Once and there will be bands in the ballroom and in the Lounge. Check out this list!: In the Ballroom- The Upper Crust, Hey Zeus, Tom Baker and the Snakes, Justine and the Unclean ....In the Lounge - Cold Expectations, Roy Sludge Trio, Pinecone Teeth and Jay Allen - doors at 7:30 show starts at 8:15.
December 9 (Saturday) The Raging Teens are turning 21 this year.. and that's "Drinkin' Age!" There's releasing a 45 called "Drinkin' Age" on Swelltune Records to celebrate their 21 years as a band! AND that means The Raging Teens Holiday Shindig Record Release! With The Raging Teens, Nate Gibson, Bloodshot Bill, Sean Mencher at Great Scott. FB page
December 9 (Saturday) Radiator Rattlers, Brix'n Mortar, Lipstick Boys, The Grubs at The Chit Chat Lounge in Haverhill FB page
December 10 (Sunday) It's time for the Annual Rockin Holiday Flea Market and Bloody Mary Bash- 11AM-5PM at Once Ballroom. Since it's always FREE ADMISSION they ask that you bring a small toiletry ( shampoo, razors, toothbrushes, etc) to donate to the residents of ROSIE'S PLACE if you can. Not required but it would be nice if you did. Checkl out the FB page for more info.
December 10 (Sunday) The Boston Hassle and Ignore Rock'n'Roll Heroes present their joint effort, Black Market a bi-monthly one-day flea market featuring handmade artwork, prints, patches, records, tees, pins, ceramics, jewelry, zines, body care, tea, macrame; vintage clothing, accessories, books, as well as tarot readings, haircuts, live drawings, and more! 12-6PM at The Massasoit Elks Lodge
55 Bishop Allen Dr, Cambridge, Massachusetts 02139 Here the FB page for vendor lists etc. $1 entry fee!!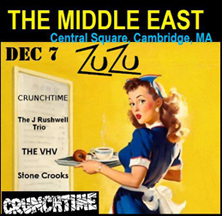 December 10 (Sunday) Loser's Circle and Special Guests are at The Midway 4PM show

December 10 (Sunday) Horton's Holiday Hayride featuring Reverend Horton Heat & Junior Brown with special guests The Blasters & Big Sandy at The Sincalir (7-11PM show)

And further out we have...

December 11 (Monday) Rock and Roll Tacos & Trivia at ONCE Lounge 7-10PM...always fun!! FB page

December 14-16 (Thurs-Sat) Bowery Boston presents Street Dogs Wreck the Halls Thursday 12/15- with special guests The New Darkbuster & Taxi Driver at The Sinclair - Proceeds benefit Massachusetts Fallen Heroes

December 14 (Thursday) Boston Compass: Confront Your Issues party and pop-up art show at Garmnent District. They'll be artists DJs snack and shopping Nd its free! 6-9PM FB page for more info

December 14 (Thursday) The Hi-End, The Peasants, Trusty Sidekick at Sally O'Brien's

December 15 (Friday) The Evil Streaks, Muck And The Mires, The Downbeat 5, The Black Cheers at O'Brien's Pub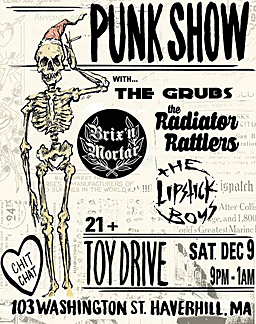 December 15 (Friday) Tragedy, The Scrooges, Rawstrum at The Middle East Up.
December 15 (Friday) Street Dogs Wreck the Halls with special guests The Pinkerton Thugs & The Abductors at The Sinclair
December 16 (Saturday) Roy Sludge is doing a 4PM show at Atwood's.
December 16 (Saturday) Street Dogs Wreck the Halls with special guests A Wilhelm Scream & Michael Kane & the Morning Afters at The Sinclair
December 16 (Saturday) Bent Shapes with Beware the Dangers of a Ghost Scorpion @ Great Scott- this is Bent Shapes' FINAL SHOW
December 17 (Sunday) Thrash N Bang's Annual Xmas/Pizza Party Show! with Crimespree, CAC, The Grommets, The Sewer Buddies, and Jenn Lombari & special guests (Matinee 4-8PM)
December 17 (Sunday) The Dazies, Hallelujah the Hills, The Knock Ups, Courters at Koto in Salem
December 20 (Wednesday) Solstice Party 2K17: Gizzards, Coralcola, Full Color, Totaled at O'Brien's
December 20 (Wednesday) Crimespree, Worm, Parkinglot at the C Note in Hull
December 26 (Tuesday) KCUF, Loser's Circle, The Essays at O'Brien's Pub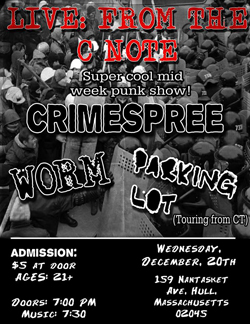 December 28 (Thursday) The Knock Ups, Gene Dante And The Future Starlets, Godmouth, Set Fire at O'Brien's Pub
December 30 (Saturday) When Particles Collide, Old Jack, Petty Morals at The Lizard Lounge
December 30 (Saturday) 3 Parts Dead, Z28, Test Meat at Koto in Salem
January 6 (Saturday) Nervous Eaters, Watts and David Age & The Regrets at ThunderRoad FB page
January 6 (Saturday) Fur Purse Album Release Party with Whore Paint, Shepherdess, sister at The Midway
January 9 (Tuesday) The Hi-End, Ski Bunny and Monty's Lobster at OBrien';s
January 13 (Saturday) Stop Calling Me Frank, State of The Union, The Johns, Angel Martins at The Midway for a ear;ly show at 4:00 PM
January 13 (Saturday) Lyres, Paul Collins Beat, Boston Cream at Thunder Road FB PAge
January 14 (Sunday) The Black Souls, Crunch Time, I Wish I Could Skateboard, Vanishing Point at The MIdweay for a early show at 4Pm
January 20 (Monday) U.S. Bombs, Wimpy Rutherford & The Cryptics, The FUs - at the Dover Brickhouse Dover, NH - Here's the FB page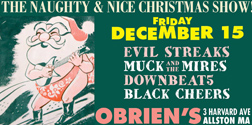 January 27 (Saturday) Red Mantis, Silver Screams, Wrought Iron Hex & Greylock at O'Brien's
January 27 (Saturday) Il Mostro, Mercury On Mars, Uncomfortables, Silver Screams at O'Brien's Pub
February 11 (Sunday) The Thigh Scrapers, State of The Union, Girl On Top, Lily Black for a early show at 4PM at The Midway
February 24 (Saturday) A Bunch of Jerks, Muck & the Mires, Jay Allen & The Archcriminals, Hambone Skinny at The Midway 9PM show
CONTACT US AT....misslynbgn@yahoo.com -Send us your gig listings, your news and anything else ya got!! You want your CD reviewed?? Contact us for that too.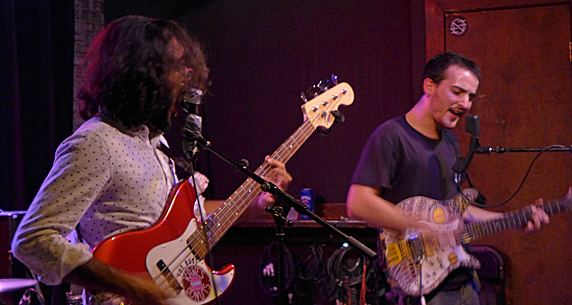 The Rough Cut
Photo: Blowfish
Dream Syndicate
Photo: Blowfish
Richard Lloyd
Photo: Blowfish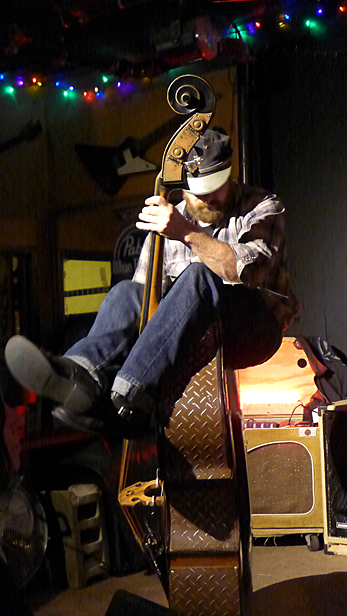 Diablogato
Photo: Blowfish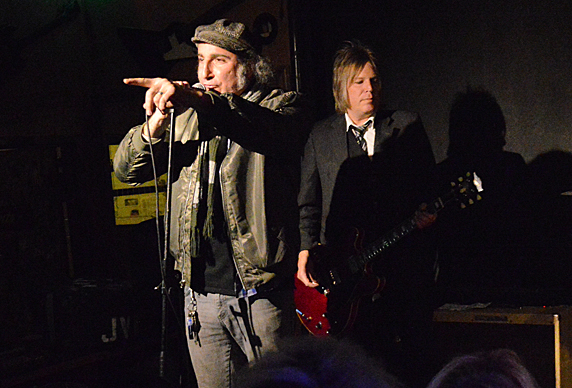 Miami Lou introducing Watts
Photo: Blowfish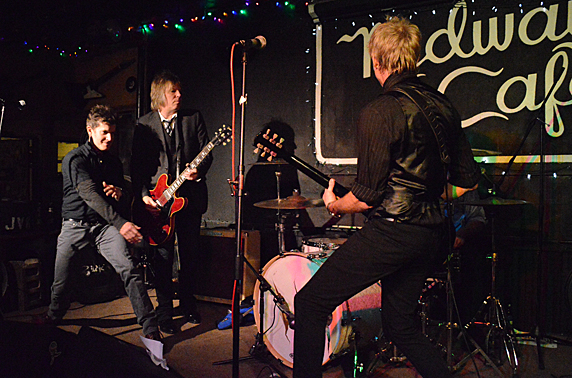 Lee Harrington with Watts
Photo: Blowfish