The BGN News Archive
December 5,2016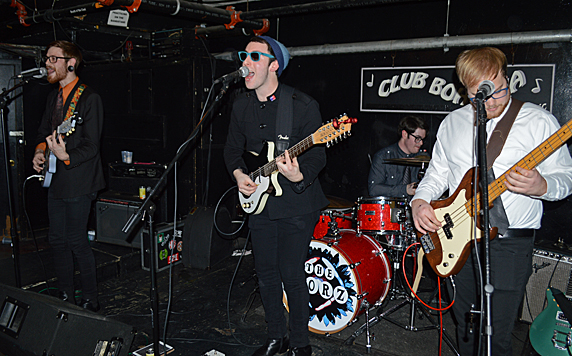 The Forz
Photo: Blowfish
It was a frustrating week trying to get some good sounds. It was a matter of the bills working against us.
Friday the object was to hear Today Junior at the Midway. Even getting there at 10pm thinking it was late-ish the first band was just beginning. That act was Sports Coach an electronic dance act; one guy and his equipment. It was an odd fit for the bill but people listened and liked.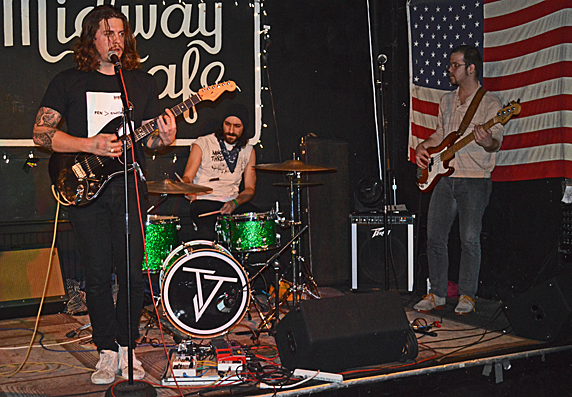 Brushes
Photo: Blowfish
Brushes have a new split EP with Today Junior. Initially I couldn't see the compatibility because they were very controlled and low volume. Eventually they got noisy in a few sections and you could hear a semblance to Today Junior. They also did some high background vocals which are a Today Junior trademark and, finally, they did have the Mike TJ's drummer. Check out their Soundcloud page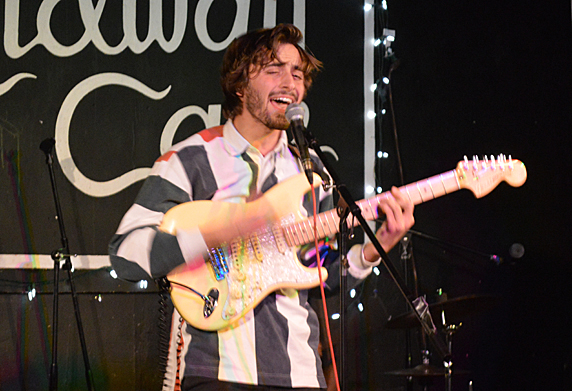 Spirit Ghost
Photo: Blowfish
Next up was Spirit Ghost who sound pretty good with their Bandcamp material. And truth be told they weren't bad but the patience was wearing thin and the idea that the Today Junior set would end an hour and a half later, we fled the premises.

The new split Brushes/Today Junior EP release is here

Saturday was a similar situation at Club Bohemia. The object then was to see Brit-beat via Brockton, MA from The Forz.
The Forz
Photo: Blowfish
A search for some material from the bands who had sets before The Forz turned up nothing. When we got there it turned out they were two groove/ light funk bands playing. That's the stuff that's usually going on upstarts at the Cantab. And wouldn't you know it, downstairs was full up, just like the upstairs is with these same type acts. How would The Forz even face this crowd? More bad luck - the acts were running late and Forz would go on later than scheduled. This time we fled the premises but came back.
Most of the crowd left after the second act. That was to be expected...but some did stay and The Forz went gamely on. The rock beat after all the groove beats was jarring at first.
| | |
| --- | --- |
| Original Song | Here Comes Your Man |
| Psychotic Reaction | Open Your Eyes |
They've been impressive since the first time we saw them in January of 2015. And - they've gotten better! Everything was in place with vocals and instrumentally, they all are very good players. The bass player has a warm tone and is in the pocket. The main guitarist now plays a 12 string for several songs and he milks it for all it's worth. He plays riffs that are both memorable hooks and move the songs as well as giving that distinctive tone. Wonderful stuff.
All the songs were notable. The originals are well written. They sound like Beatles/Zombies concoctions, that's their thing. The covers they choose are ones that work well live. They're getting known for their cover of Psychotic Reaction by the Count Five where the drummer gets to show his stuff. This time they ran it straight into Nazz's Open My Eyes. They even did Here Comes Your Man by the Pixies.
But truthfully, it's the originals that'll distinguish them and they seem to be creative on that level with their new CD they released a while back. Bandcamp page
We had to go through some electronic dance music and funky grooves to finally get a good old dose of rock and roll. Sometimes it ain't easy.
Walking to the car we saw the old storefront for Weirdo Records was still there and empty. Sigh.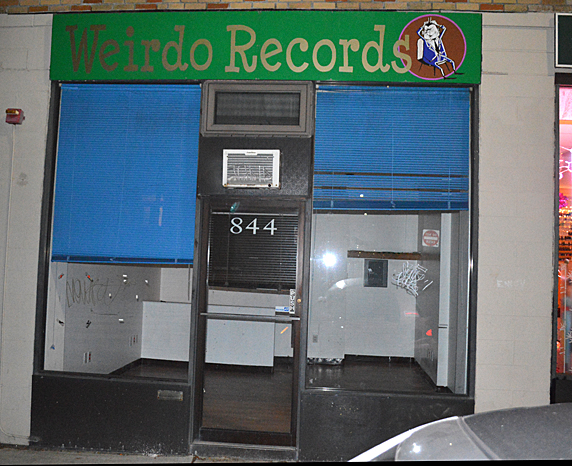 Weirdo Records Mass Ave
Photo: Blowfish
And in other news.....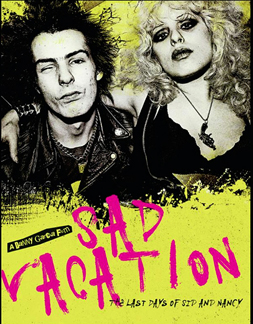 From Danny Garcia who brought us Looking For Johnny now delivers Sad Vacation - The Last Days Of Sid And Nancy. Starting this Friday Dec 9 through Dec 15. the film will be at the Regent Theater in Arlington. The documentary is focused on the last days of Sid and Nancy at the Chelsea Hotel. They were wallowing in drugs and you end up wallowing in the details of that drug life as a result. That's depressing, the whole subject is. This is not a feel good movie. The problem is that as punks we care about Sid. He looms large in the punk narrative. So, you want to go.
You will see Sid in a lot of shaky videos. Didn't he ever get a quality taping? Just the My Way video it seems (it's not shown). They cast a few possible culprits for Nancy's murderer (if not done by mishap by Sid). Some talk about how nice Sid could be but that seems to get lost in the shuffle. Also, there's heretofor unseen photos of Sid and Nancy and the soundtracked has music from Vicious as well as the Heartbreakers, and a bunch of other bands you want to hear.
You can buy tix & check out the skedge here. AND on Friday (12/9) the DVD will be available for purchase here.
Karen DeBiasse and David Simmons are proud to announce the opening of their new web site for our Guitar Repair and Music School Businesses AXE GRINDER. Check it out!!
Uranium Daughters have a new CD out called OZ. Check it out here.
Here's some good shows coming up .....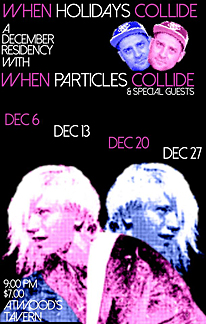 December 6 (Tuesday) When Particles Collide are doing a December Residency every Tuesday at Atwood's Tavern, 7PM show
December 9 (Friday) Peter Murphy "Stripped" -This is A rare opportunity to see Peter Murphy performing (with an ensemble - 3 piece in all) semi-acoustic versions of his music from throughout his illustrious career (um, $25 Advance / $35 Day of Show / $30 VIP Early Bird / $35 VIP Advance) 7 PM Doors
December 9 (Friday) our new faves State of the Union are having their Second Annual Holiday Extravaganza out in Lowell at Dudley's. On the bill are State of the Union, The Only Things and Arlen. Here's the FB page for directions etc
December 9- 13 (Fri- Tues) Danny Garcia's Sad Vacation (a film about Sid and Nancy) is showing at The Regent Theater. You can get tix here.
December 9 (Friday) Major Stars, Taiwan Housing Project, Mini Dresses and KSZNK are at O'Brien's
December 10 (Saturday) Charlie Don't Surf will be on A Crash Course for the Ravers with Brian Young on WMFO 91.5 1-4PM
December 10 (Saturday) Thrash'n'Bang Christmas Party at the Midway with The Martians , DestrOi, Crimespree, Pink Parts and Jenn Lombari (of Lucky United) this is a 4-8PM show.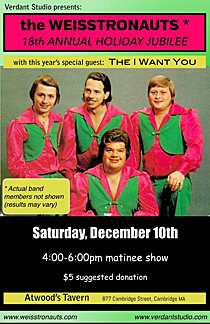 December 10 (Saturday) The Weisstronauts 18th Annual Holiday Jubilee at 4:00 pm at Atwood's
December 10 (Saturday) Cask Mouse, Diablogato, Salem Wolves, and Nick the Barbarian are at Great Scott.
December 10 (Saturday) Nicole Tamaro Productions Christmas Party with The Silver Mirrors, Legendary Rockin Prophets and + free snacks & swag all at the Greek in Union Sq Somerville.
December 10 (Saturday) Psychic TV at Brighton Music Hall
December 10 (Saturday) The Upper Crust, Tiger Bomb, and The Downbeat 5 are at The Spotlight Tavern in Beverly
December 11 (Sunday) Boston Hassle's Black Market - perfect for getting holiday gifts!! This one-day event boasts everything from secondhand to handmade: artwork, zines, body care, nail art, records, baked goods, patches, pins, books, T-shirts, leather goods, knits, woodwork, pottery, local honey, vintage clothing, jewelry, tea, haircuts, tarot card readings, face-painting, portraits, & MORE!! at The Elks Hall in Central Square Cambridge 11AM- 5PM Here's the FB page
December 11 (Sunday) Check out Sparks at the Armory: a Sunday afternoon acoustic show celebrating the release of "Bizarre Animals," a new photography zine by L.A. photographer Tucker Leary. Starts at 2pm at arts at the Armory Cafe, on the bill are Sam Moss, Vincent and Nicholas Ward of The Furniture.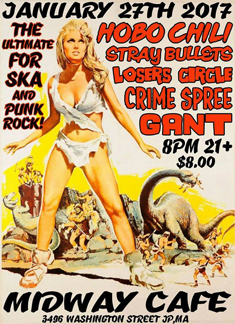 December 11 (Sunday) X___X, NE Patriots and Shiny Beasts at The Middle East - doors are at 7PM for this show. Check out the write up and vids from when we saw them in 2014
And further out......
December 13 (Tuesday) When Particles Collide are at Atwood's Tavern, 7PM show
December 13 (Tuesday) Shitted Wizard, Shatner and Petty Morals are at O'Brien's
December 17 (Saturday) Roy Sludge is doing at 6PM set at Sally O'Briens
December 17 (Saturday) Just in time for the holidaze- This ain't your granma's flea market....It the Rockin' Holiday Flea and Bloody Mary Bash at Once in Somerville! It's an ALL DAY PARRTAAY and it's Free Admission, Open to all ages,11AM- 6PM THIS is where you get your gifts for everyone! There'll be Tasty breakfast tacos from Cuisine En Locale! Tons of vendors selling: Vintage clothing + Collectibles, Tons Photo booth with Panda Clause and DJ spinnin' music! Here's the FB page
December 20 (Tuesday) When Particles Collide are at Atwood's Tavern, 7PM show
December 23 (Friday) Raging Teens 20th Anniversary Boston Reunion! at O'Brien's (FB page) also on the bill Roy Sludge, Ten Dollar Mistake and DJ Easy Ed's Record Hop between sets!
December 27 (Tuesday) When Particles Collide are at Atwood's Tavern, 7PM show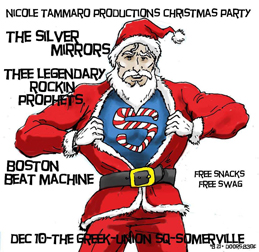 January 7 (Saturday) The Johns, The Martians (mems of Bim Skala Bim/Rock Bottom), The Cold Expectations (Album Release) and Medical Maps at The Midway
January 7 (Saturday) The Last Ones, Tsunami of Sound and Stop Calling Me Frank are at Sally O'Briens
January 13 (Friday) Lyres, The Charms, the modifierS at The MIddle East Up.
January 14 (Saturday) Now here's a show you won't want to miss Brian Young's A Crash Course for the Ravers (WMFO 95.1FM 1-4PM) has Andy California as a guest.
January 27 (Friday) Ska and Punk night at the Midway with Hobo Chili, Stray Bullets, Losers Circle, Crime Spree and Gant!
February 10 (Friday) The Upper Crust, Watts and Petty Morals are at great Scott
February 10 (Friday) Lux Lives East Coast is coming again -this event is in Salem at Koto, on the bill are Thee Fabulous Itchies, The Evil Streaks and The Nebulas. Here's the FB Page Lux Lives is a chance for Bands and DJ's and fans to come together to celebrate the life of Lux Interior. Since it's inception, Lux Lives East Coast has raised over $10,000.00 for Lux and Ivy's favorite charity Best Friends Animal Society. This is a GREAT event all around!
March 8 (Wednesday) The Sheckies, Mongorellis, The Prozacs, Meat Depressed at Koto in Salem
CONTACT US AT....misslynbgn@yahoo.com - Send us your gig listings, your news and anything else ya got!!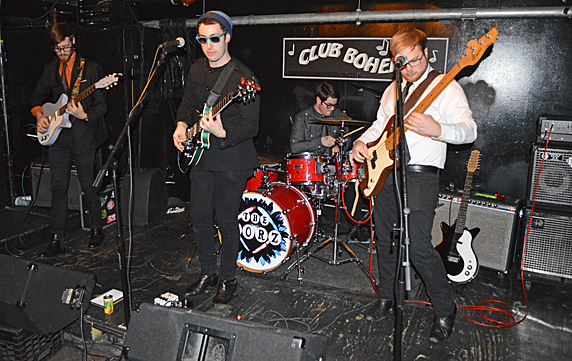 The Forz
Photo: Blowfish