The BGN News Archive
December 6, 2010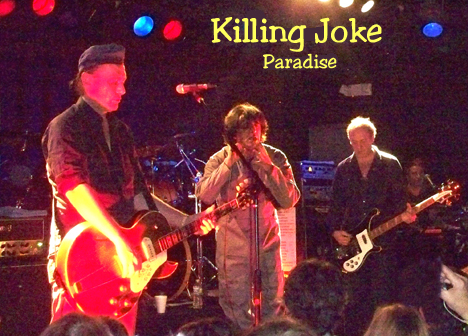 So off we went to the Killing Joke/Black Helicopter show at The Paradise Saturday the 4th....Wendy Walsh posted a comment on Facebook saying it looked like everyone relived their art student days...YEAH! They were either reliving them or living them...as usual a lot of younger people in the crowd too; Lots of black and studs and troubled tortured souls (and those posing as such) in the audience....Black Helicopters were great Killing Joke were excellent. They did all their old tunes which was fun.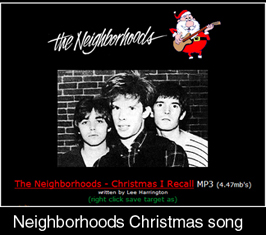 The Neighborhoods who seem to be in gear these days have a Christmas song up.....Christmas I Recall - Neighborhoods
KICKSTARTER did the job for the JJ & Thee Cuban Heels project. They reached and then surpassed their goal. That means the CD will be able to be finished and pressed. JJ Rassler is one of the guys who is writing and performing at a rate equal to the old days....the old days: that would be the late seventies for you unknowing youngsters.
Johnny Angel sent a MP3 out of his latest recording project. It's a surprise. It's in the country vein....very country. Nicely done, I would say, although Angel says it is only a preliminary mix. Take a listen to a sample of it....Matrimony Blues by Johnny Angel.
Ed Moose emails that he just finished the story he began over a week ago......
He says:
I just finished telling the story, about 5 minutes ago, to the 91st person. It wound up lasting through 16 cities and towns, 7 counties, 2 time zones, a full moon, many a lozenge, 63 trips to the bathroom, about half of which, were port-o-lets, and 2 full-body scans. Are you ready for the sequel?
And more essentially he clues us into his yearly Christmas sale: I am going to have my massive, and extremely important, Picture Paradise open house and Holiday sale, at my fabulous gallery, studio, store, in 16 Proctor Street, 3Rd Floor Salem, December 10, 11, 12. I'll be putting up a ton of new items, including many from my personal archives, which were never before, for sale.
Ed's store in Allston Rock Village was legendary, this is a chance to see/buy his amazing collection.
So...comin' up....
THIS Thursday night, December 9, at 8:30 PM, WGBH-TV 2 will be showing "Voices From The Basement" a documentary about Boston's Filenes Basement Store which could include an interview with former store clerk "Richie Parsons and the Unnatural Axe song "Shopping For a Friend".
Richie can be seen in photo #9 on the WGBH photo exhibit page about the documentary right here - Oh I miss Filene's Basement!!!! I remember the awesome bargains I got while they still had the excellent markdown system.
Friday, December 10th Watts' CD Release show at The Rosebud...
and over at The Plough they have Three Day Threshold...
Saturday the 11th has another Nancy Neon Show at Cantab : XXX-MASS Party Kenne Highland, The Last Ones, Sticky Business and The Pandemics.
Over at The Midway on Saturday are: Zip-Tie Handcuffs, Tenafly Vipers, The Acro-brats and Tired Old Bones....maybe Swid will wear his leather studded "banana hammock".
This weekend Friday 'til Sunday December 12th Ed Moose Savage is going to have his massive killer Open House at Picture Paradise...but I asked him for info and never got it!! Ed what's the address for your damned store??? Its somewhere in Salem......I went last year...an incredibly impressive array of vintage schtuff.....
and Friday, December 17th is The Raging Teens Rock n' Roll Odyssey at TT's!!...
Also on the 17th is a Yule Twang Holiday night with Twang Em High, The Brooklyns and other Special Guests at The Rosebud....
But there's also a great show at The Paradise with Street Dogs, The F.U.'s, Wicked Whiskey and Continental.....
contact us via email here click click click