The BGN News Archive
December 7, 2009
The Amory Friday Dec. 30.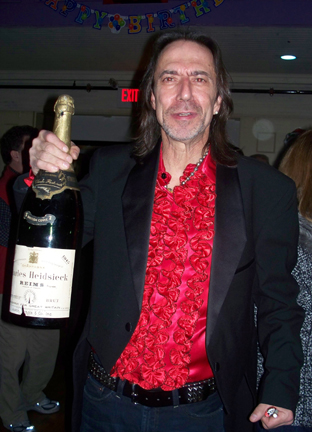 Wayne knows how to party for his bday!!
Photo- Miss Lyn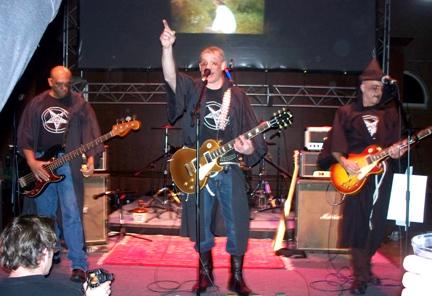 The Satanics
Photo- Miss Lyn
We love to celebrate our friends and their birthdays so Friday night we headed over to the Armory to celebrate Wayne Viens and his birthday. AND he had the Satanics playing…a reunion long over due!! There were lots of old friends there and we had an awesome time…..and Saturday night we ran over to The Rosebud in Davis Square to catch The Port Charles Quintet as well! Fun night despite the snow!!!
The Amory Friday Dec. 30.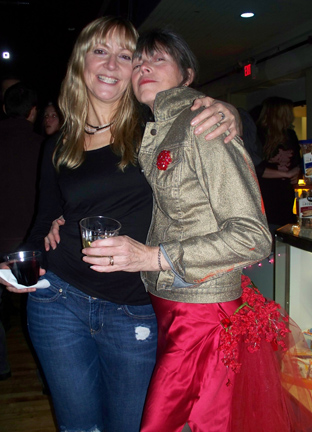 Lovely Ladies honor Wayne: LInda Viens and Jan Collins
Photo- Miss Lyn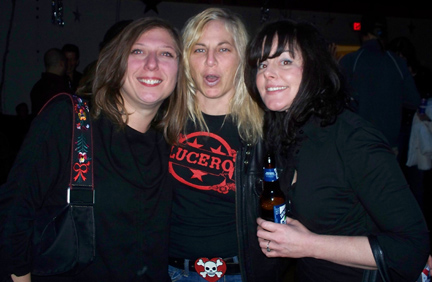 ...and more lovely ladies here for Wayne!
Andrea Gillis, Nicole Tamaro and Michele Paulhaus
Photo- Miss Lyn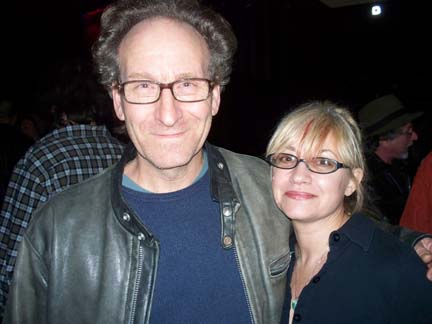 ...and old friends too: The Neats' Phil Caruso with Beatgirl
Photo- Miss Lyn
so we have this….. Saturday 12/12 a Nancy Neon Nite at the Cantab with The Varmints, Classic Ruins, The Greg Allen Complex and Red Invasion…YEAH!
Man there is a hell of a show over at The Midway also on Saturday Dec 12th: Thee Flakes (ex-360's) , Up Your Bucket (featuring members of Kilslug and Groinoids) and Payload (ex members of The FUs and Strawdogs) …sounds like it is worth the trip!!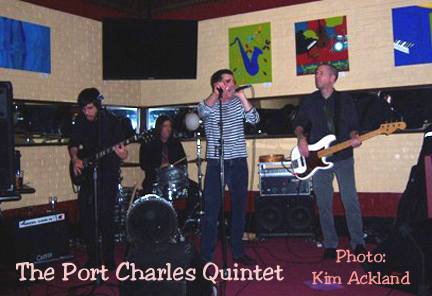 Monday Dec 14th is The Curses, The Egos and The Mess Me Ups at Charlie's Kitchen….
Wednesday Dec 16th has Husker Du's drummer Grant Hart at The Middle East UP promoting his new release (he plays guitar & sings) called Hot Wax
The Last Ones are at the Midway on Saturday Dec. 19th and then again a little while later….
and it'll be a perfect time to escape all the family insanity of Christmas go to Church on the 26th; to see The Varmints, The Boize, The Last Ones, and The Doom Buggies…
Monday, December 28th is Razors In The Night and Hate & War at Charlie's Kitchen…
And get your tix now folks because First Night is loaded with good music all over town!!
First off: The Neats reunite in support of the recent reissue of their early recordings on " Neats 1981-84" , and play at the Orpheum along with Buffalo Tom and The Lyres. Then over at The Parkman Bandstand features Jordan Valentine and the Sunday Saints, with The Fatal Flaw. Jenny Dee and the Deelinquents bring their girl group sound to The Park Plaza. The Painted Lights, Walter Sickert and the Army of Broken Toys and Cirkestra play at the Hynes, and Emmanuel Church features a triple bill of Drew O'Doherty, Kristin Hersh and Chris Brokaw and Geoff Farina performing pre-WWII country blues. WOW!!!
alrighty folks I gotta run….have a good week and email me please!!!