The BGN News Archive
December 7,2015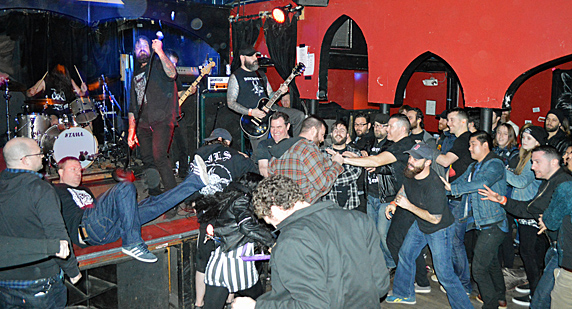 All Pigs Must Die
Middle East
I wanted to see Parquet Courts at TT's over a year ago but it sold out before I tried to get tickets. They've gotten ample airplay and have gained popularity quickly. This show at the Middle East on Saturday sold out also.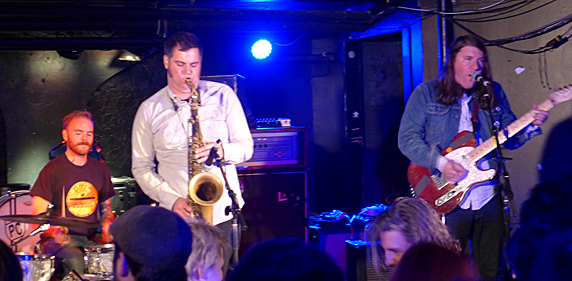 The Dazies
with guest Tommy Quartulli on sax
I arrived in time to see The Dazies who were having their three year anniversary. I never saw the band but I did see singer Mickey Holland do a short acoustic set during the TT's closing celebrations. For this gig they had quest Tommy Quartulli from Barrence Whitfield & The Savages playing sax for a few songs. As a band The Dazies combine pop, garage, indie and some folk influences. The overall sound is rough, too rough to give a pop gloss to the sound. They showed their garage side with Do The Snake. They played one new song that I just fell in love with called I Was Hypnotized that indeed cast a spell. I'll be on the lookout for that release. It's worth pursuing their Bandcamp offerings. The early ones are real basement quality recordings but the later single song releases sound better and show them developing. They are a very likable group of guys. The singer thanked the audience for giving them attention and he was so right. This full club listened to every note. It was a pleasure to see.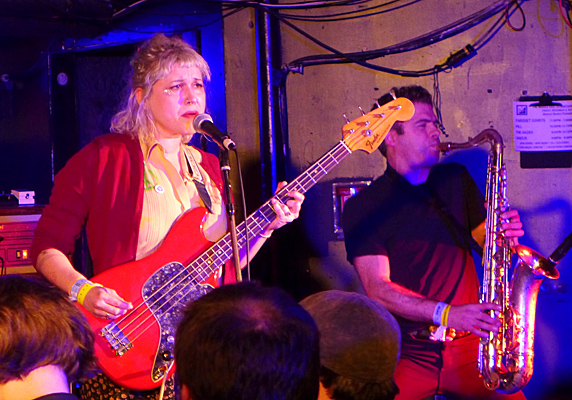 Pills
The audience also paid complete attention to Pill, but I was left cold. They had a variety of noisy backdrops where the front person did a sort of heightened talking a la Happy Flowers or Niagara in I'm Bored (and I was). There was no singing per se although their earlier recording seem to indicate they did a little in the past. Bandcamp.

Parquet Courts
At this point standing in the full club with the bad air the night was getting to be the familiar test of endurance. Parquet Courts perked things up though. They started with a short jerky bit then a long meandering bit which turned out to be a good warm up and I think that's what I was meant to be. When the first real song came it was a worthy reward. They did a lot with their two guitar presentation. They obviously spend a lot of time arranging the songs. The guitars did dual lines and then intertwined with two separate leads and then the traditional lead/rhythm duties. Overall they had an indie feel but got louder than usual for that genre. There were some catchy songs along the way. They never truly rawk out, there's always a restraint there. Even when the rest of the band seems to want to take off the drums nails them down with a strictly measured staid beat. I would say that's a negative but that's just their thing, it's what they are. Their periods of a heightened groove (let's call it) generated crowd bouncing not moshing. Here's a short video of crowd bopping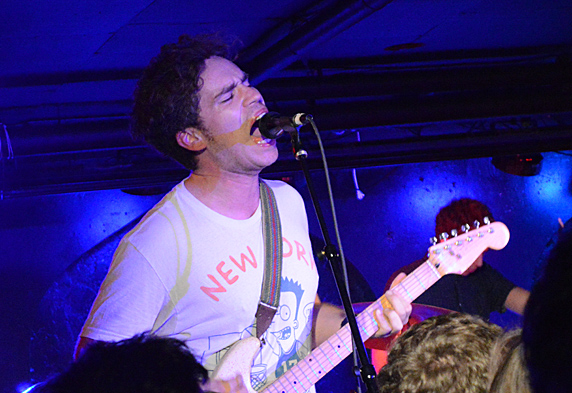 Parquet Courts
The band has it's nerd side and I think the audience was nerdy too (and I am) and they were soaking it all up. There were some songs that commanded attention and generated crowd singing more than a few times.
I like them overall and especially the fact that they don't slip into a genre. They're trying different ways of doing things. In that sense they remind me of Titus Andronicus who are also looking for new ways to rock.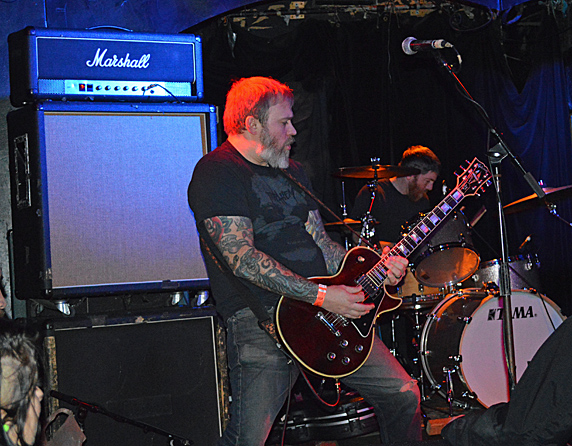 Wormwood
Saturday it was the hard stuff at the Middle East Up. Wormwood, I had seen before. They are mostly slow tempo doom style. They have some singing and a few leads but it's the low end that's their calling card. They sit on that sludgy roar and at the high volumes you tingle from head to toe. They have it down pat.

All Pigs Must Die
The club was close to sold out and you could sense the crowd was excited for All Pigs Must Die. They went from doom slow to hardcore fast. The singer had a menacing demeanor. The drummer knew his stuff and was a big part of what makes them powerful. All the songs seemed apocalyptic. The whole thing was very dark and to me fit the horrible days we're having out there in the world. There was hair flinging and head nodding before the moshing started up. I was a way's back in preparation for that but still got pushed a few times. I thought I was alright still but the moshing got even more intense and I got banged pretty good. I actually limped out of the club but no lasting effects, not even a bruise, the next day. This songs gives the story
There was a hardcore show earlier in the day starting at noon in the same room and then another after starting at 11 pm. Three shows in a day, that's working a room.
In other news.....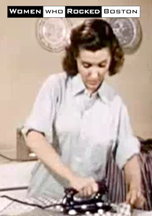 Peter Prescott of MOB and many other groups has a Kickstarter Campaign for his current group Minibeast. We saw them a few weeks ago at Cuisine en Locale and found them very interesting. It showed how much talent Peter has.
Andrew Szava-Kovats never sleeps. He's released a book from his documentary Women Who Rocked Boston which he released just two weeks ago. There's extra material in the book - including a playable reprinting of the Clubland game the BGN published in 1982. The book is available at Amazon.com Purchase here!
And don't forget the Documentary! (You can purchase the DVD here!) It'a portrait of women who helped shape the Boston Rock Music Scene, from the 1970s to the 1990s. Includes Live clips from the Bristols, Jen Trynin, Tracy Bonham, Juliana Hatfield and more... Miss Lyn is in there of course as well as some of our faves: Laurel Blanchard from Lou Miami, Lilith , Misscarriage editor and bass player Carmen Wiseman, the great Jane Hudson of Jeff & Jane/Rentals, the active again Melodye Buskin of Phobia/Lou Miami and the beautiful and articulate Linda Viens.
Joanie Lindstrom went real far afield this time with a trip to the Balkan counties. Countries you only hear about on the news. Still there are record stores and she manages to meet Kevin from the Shods and Lauran from Cheater Pint. Joanie's Balkan Vacation.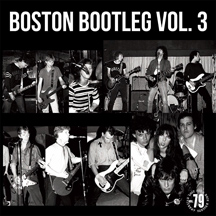 There is a foreign released comp called Boston Bootleg Volume 3 - American Lost Punk Rock Nuggets #79. The description will get your interest: "They left 1/4-inch reels of tape at the local radio stations and got played on the air. Sometimes vinyl would follow, usually not. This two-LP set, based on these ultra-rare tapes, is an incredible and unique documentation of the Boston punk scene in the late 70s-early 80s, with 30 killer tracks from 22 of the top bands (including Unnatural Axe, the Thrills, La Peste, the Dogmatics, Baby's Arm and Lou Miami & the Kozmetix), all unreleased or hard to find. A must for fans, collectors and anyone who was there" The price is $35.00. Yikes. But seems worth it. Check it out here.
And here's a David Johanson interview from an old FFanzine circa 1981
Nancy Neon is now actively writing her blog Nancy Neon Reviews. Check it out!!
This isn't about music but I'm sure many of you out there reading this love Christopher Walken like we do. It may not be a hilarious SNL skit or a crazy scene from The Prophecy but he's one of 6 celebrities helping Lidia Bastianich celebrate the Holidays on her PBS special Home for the Holidays on Dec 11.
Here's some good shows coming up this week.....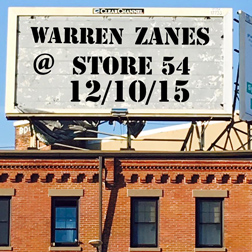 December 7 (Monday) Zip-Tie Handcuffs, Marianne Toilet and the Runs, Mike Woo's Raging Bone and Power Animal at Opus Underground Salem.
December 8 (Tuesday) Rocket From the Tombs is at the Brighton Music Hall!
December 8 (Tuesday) The Modern Voice, VAT, Baylies Band and The Korps featuring Ken Kaiser and Kenne Highland at The Midway
December 9(Wednesday) The Hi End, Old Soldiers and Junky Love are at The Midway.
December 10 (Thursday) Warren Zanes is at Store 54!!!! He'll be playing music and reading from his book.
December 10 (Thursday) Alice Highland at The Cantab down.
December 11 (Friday) Excellent show with Black Cheers, Silver Screams, and Darker Hues at the Greeks in Union Sq Somerville. FB Page here.
December 11 (Friday) Rockin Bob Punk Band, 138, Mongorellis, Labor Pains, And Fishhead are at Koto in Salem.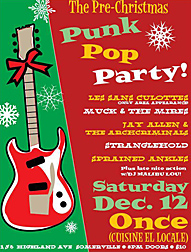 December 12 (Saturday) It's the Pre-Christmas Punk Pop Party with Les Sans Culottes, Muck and The Mires, Jay Allen and The Archcriminals, Stranglehold ( their only area appearance before The Mighty Bosstones Hometown Throwdown Show at the end of the month) and The Sprained Ankles at Once at Cuisine en Locale. (FB page) Jay Allen & The Archcriminals are also celebrating their digital release on Rum Bar Records. and you can download or stream their latest at http://rumbarrecords.bandcamp.com/
December 12 (Saturday) its the 4th Annual Punks for Tots show at the Dover Brickhouse in Dover, NH. Bring an unwrapped toy or 2 canned goods and you get in for free! The Guts (reunion), Genuine Rust, Whiskey Kill, Jimmy Jacked, Diablogato FB event page
December 12 (Saturday) Black Souls with Dennis Most & The Instigators, The Breakfast Project, and Bronson at PA's
December 12 (Saturday) Fireking and John Powhida at Store 54
December 12 (Saturday) The Neighborhoods are down in RI again, this time at The Met in Pawtucket. (Here;s the fb page) (Buy tix here)
December 13 (Sunday) The Rockin' Holiday Flea Market and Bloody Mary Bash (formerly at TT's) is now at Once (Cuisine en Locale) There'll be Vintage clothing + Collectibles, Tons of rare vinyl records, Knick Knacks, Jewelry, Homemade snacks, Music Memorabilia, Cool Holiday Gift Ideas, If you're looking for it, chances are you'll find it there. ...and of course the Bloody Marys!! It all takes place from 11AM to 6PM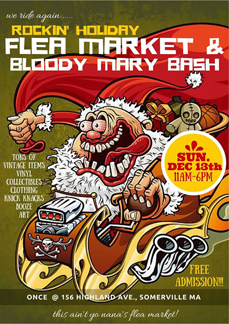 December 13 (Sunday) and then there were two!! another Holiday Flea Market - this one Black Market, is by Boston Hassle: everything from secondhand to handmade including artwork, zines, records, body care, baked goods, books, patches, pins, T-shirts, leather goods, knits, woodwork, pottery, vintage clothing, jewelry, tea, astrology readings & MORE!! 11AM- 5PM at the Cambridge Community Center. More info here.
December 13 (Sunday) and when you're done shopping head to Sally O'Brien's in Union Sq for Roy Sludge at 6PM. These shows are So popular - last time we tried to Sludge it up at Sally's we couldn't even get in!! So get there early.
And out in the future we have.....
December 16 (Wednesday) at Once Lounge in Somerville there's a festive night of music and merriment. They are collecting unwrapped gifts for children currently in foster care. They're looking for range from toys, books, art supplies, sporting goods, electronics, personal care items, clothing, coats, gloves, hats, and gift cards. Please enjoy the bands and bring a gift: Walter Sickert & the Army of Broken Toys, Lemon Merchant Allstars, Goddamn Glenn and His Red Cup Ensemble, Parlour Bells, Johnny Blazes and the Pretty Boys, The Static Dynamic, Los Texicanos, Axemunkee and The Knock Ups
December 18 (Friday) The Downbeat 5 are opening for Tim Gearan at Atwood's.
December 18 (Friday) The Rationales, When Particles Collide, The Static Dynamic and Stars Like Ours are at Great Scott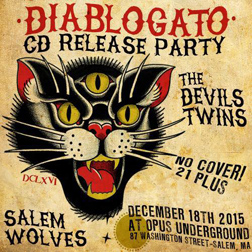 December 18 (Friday) Diablogato's CD Release Party at Opus Underground Salem also on the bill The Devil's Twins and Salem Wolves - and its FREE!
December 19 (Saturday) A Crash Course For The Ravers featuring DiabloGato. That's 1-4PM WMFO 95.1 on your radio dial.
December 19 (Saturday) There's a "Rockin' Winter Party" at O'Brien's with Jittery Jack, Diablogato and Easy Ed's Record Hop between sets.
December 19 (Saturday) The Figgs and The Upper Crust are at Great Scott
December 20 (Sunday) It's Thrash 'n' Bang's 5th Annual Holiday Party at The Midway with The Pity Whores, Fast Time, Honest John, Lucky United, Bad Movies and Unlisted!! Also FREE pizza. Only $5. Starts at 4PM!!
This year the Might Mighty Bosstones have decided their shows should feature all old school Boston garage and punk bands!! This is a AWESOME and most wonderful idea!! Here are the line ups: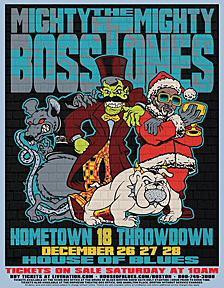 December 26 (Saturday) Hometown Throw Down with the Mighty Mighty Bosstones, The Neighborhoods and The Upper Crust at the House of Blues
December 27 (Sunday) Hometown Throw Down with the Mighty Mighty Bosstones, The Real Kids and The Queers at the House of Blues
December 28 (Monday) Hometown Throw Down with the Mighty Mighty Bosstones, The Outlets and Stranglehold at the House of Blues
December 28 (Monday) Shiny Beasts, Dippin' Sauce and Classic Ruins are at The Midway
January 2 (Saturday) The Petty Morals celebrate their newly released EP Marked Women at Great Scott along with The Organ Beats, Watts, and Stars Like Ours
January 3 (Sunday) Roy Sludge is at State Park in Kendall Square this is a regular evening show.
January 7 (Thursday) It's a Book Release Party for Brett Milano's Don't Thank Me All at Once (The Lost Pop Genius of Scott Miller), at Store 54. If you'd like to grab a copy beforehand you can do so here Amazon.com
January 16 (Saturday) The Fathoms, Tsunami of Sound and Richie Parsons at the Midway
January 16 (Saturday) Roy Sludge is at Sally O'Brien's - this is a 6PM show.
January 16 (Saturday) OC45, Point Blank, Meat Depressed, The FUs at Koto in Salem.
January 22 (Friday) Goddamn Draculas, Red Sky Mary and Watts are at Johnny D's
January 29 (Friday) The Dictators - NATUR - Neutral Nation are at The Parlor Newport, Newport RI (FB page for more info)
January 30 (Saturday) The Dictators - Lenny Lashley's Gang of One - Nick and the Adversaries - Neutral Nation are at Great Scotts
January 30 (Saturday) Lyres, The Paul Collins Beat and the modifierS are at The Middle East Up. BUY TIX here
February 17 (Wednesday) Poison Idea, Child Bite, The FUs, LIVVER and Profit Margin at The Midway
CONTACT US AT....misslynbgn@yahoo.com - Send us your gig listings, your news and anything else ya got!!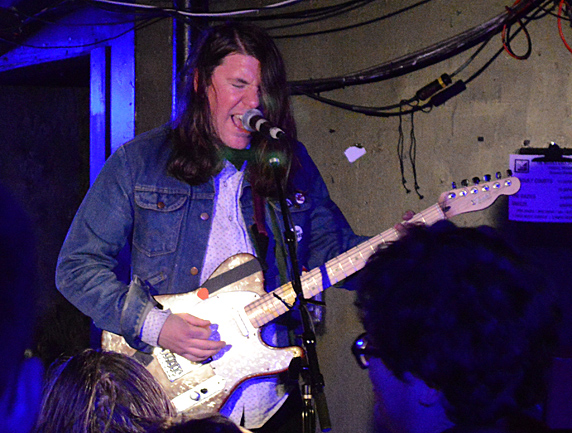 The Dazies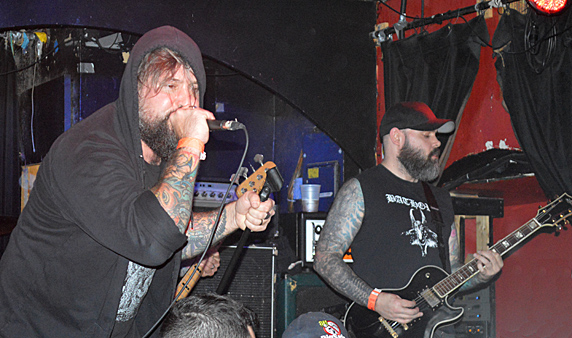 All Pigs Must Die