The BGN News Archive
December 7, 2020
This week there were record cases of the virus. Now, we wait for the vaccine. It seems like the initial shots will be available just weeks away. Those will be for front line personal and people in long term living homes. When the regular public will get it could be months away. Thus, live music is still months away. It's been nine months now. That thought would have seemed impossible last March as we went into this.
Being without live music is hard but it's more important that we as a community get through this alive and well. Hang in there, don't give up being careful!!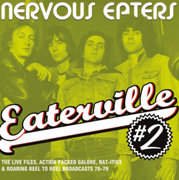 We were delighted when Eaterville came out on Penniman Records in 2004. It had great Nervous Eaters songs and generous liner notes. Now a few years later we have Eaterville 2. The songs are from live recordings and broadcast recordings.
The lineup of songs is Hot Steel and Acid / After Your Good Time's Gone / I'm A Degenerate / Necessities / You Smell Like Fish / Red On White / Just Head/ On The Avenue / Someone Else In Your Arms/ Last Chance / You Want Me Back Again/ Loretta.
You can order and hear two songs on the Penniman site. One thing we know – if it's the Eaters, it's all good!!
And speaking of records....there's a new record store in Marblehead!! Jamie Talia just opened Pleasant Village Records and Collectibles this past week. A few people have made it up there already. Mike Howlett has made a few scores so that's a few choice items you missed out on. It's at 191 Pleasant St, 2nd floor. The hours are: Mon Th Fri 1-7, Tue Wed 4-7, Sat Sun 11-7. Get there quick and see what awesome stuff you can scoop up! Jamie says: "New stuff comin in everyday"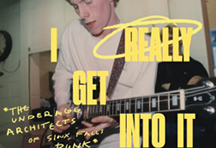 The BGN is all about that group of people that came together starting in 1974 and grew into the punk scene in Boston. That same dynamic happened across the US and in Europe. And it's happened since. The movie I Really Get Into It is about how punk bring kids together in 1992 in Sioux Falls, South Dakota. Punk groups sort of played there because they were driving though that area to get to another gig anyway. The kids in that area started up zines and they had a scene.
It's an uplifting story of the power of punk to bring kids together and give direction to their lives. The documentary can be bought on DVD now and you can see the trailer at: https://www.ireallygetintoit.com/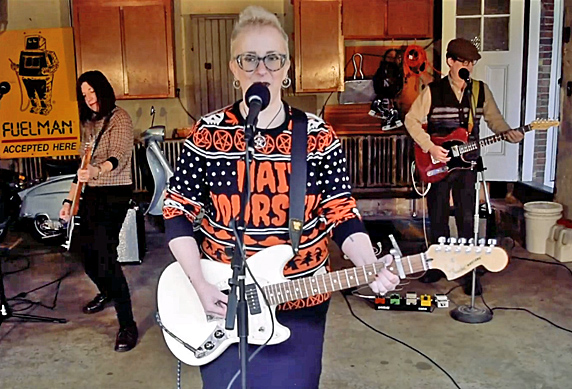 Garagecast
Well they do it every week –Linda's Garagecast finds a pop punk classic you haven't heard in a while and they do it Garagecast style to brighten up your Wednesday.
This week the song is "Crash" by the Primitives. This week's guests with Linda Bean Pardee are Lisa McColgan and Kevin Coombs.
Nancy Foster (out in LA now) and Jeff Kabot will be doing a garage music podcast called Pleasant Screams. She's got excellent taste and vast knowledge so we'll be on the lookout for that.
Gutterbug is a new indie film with the Boston punk scene as the backdrop. The soundtrack includes music by: Nice Guys, Black Beach and Guerilla Toss. There's a basement show in the movie that was reportedly shot at The Black Lodge in Allston and there's a scene has Great Scott in the frame.
The film itself seems pretty gritty. The story line is described as: "A crusty punk named Bug grapples with the realities of homelessness, mental health, drug use and toxic friendships. On his 21st birthday he resolves to find his way home, a decision that leads him and his misfit crew down a dangerous path." It's available on Amazon, Google Play, ITunes and Vudu.
Salem Wolves put out a light hearted video of their song "Never Die!!!". Cut out figures of the band flee some famous movie monsters. The tune is nice and snappy too. Just 2:21 minutes. The song is the title track of their new album. The album has a rough garage sound with strong vocals, we're loving it.
The song "A.B.C.A.B." has a nice build up to a sustained roar. The drummer is going crazy in the middle of the song. It makes you feel like you're in the middle of a story somehow and by the time it ends after 3:40 you feel like it's been an experience. All nicely done.
The album is available now on Spotify and Bandcamp
Linnea's Garden has a video for their song "Superspreader". The title plays off the pandemic term but the song is actually about someone who spreads heartache.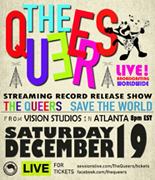 The Queers are having a live stream record release party on Dec. 13th, for the new album Save the World. Tickets are $10.00 and can be bought here on Sessions (along with tour T shirts) and Save The World is up on Spotify. Check out The Queers extensive merch and discography on All Star Records too!!
Speedfossil have a nicely done video of "Spruce Street", it's very smooth indie pop. Check it out on their Bandcamp page.
And we have our first New Year's (live stream) show!! Rebuilder is doing it at 3pm on New Years Day. Also on the show with them playing a few songs each are: Wolf-Face, Catbite, Sharkie, Dylan from Spanish Love Songs, Matthew Spence, and Piso Beach Disaster. It will be on the Noon Chorus page on Facebook Cost- $10.00. You can get tickets here.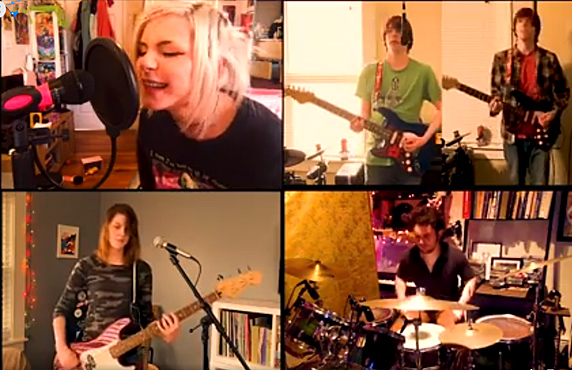 Lily Black
The Lily Black Band has done a vid of The Pretenders' "Precious". It was recorded at Q Division. The video is on Facebook here. The band has a number of cover vids you might want to check out here. Lily Black will also be doing a live stream concert at the still functioning ONCE Virtual Venue on Dec. 12 with Paper Tigers, We saw Paper Tigers on the Midway livestream in September and were much impressed....more info in listings below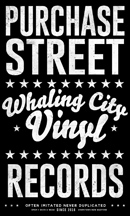 Stubborn Hearts will be doing a live stream from Play Arcade in New Bedford on 12/10. it's part of the December VAHA! Mini-Concert. On the broadcast they will also talk to Roger Chouinard, the owner of, Purchase Street Records, located at 767 Purchase Street, New Bedford. We've been there, it's one of those record stores with the stuff is jammed in everywhere. It's lots of fun to shop there! See links etc. below in the gig listings.
The BBC website had an article on Jonathan Richman in July of this year; In "The radical positivity of cult pop star Jonathan Richman" Nicholas Barber pays tribute to a remarkably uncynical musician and his fearless guide to life. It's nice to see Jonathan getting attention but it's a big build up but doesn't tell you anything new, other than Jonathan continues to win over dedicated listeners. Read it here.
Terry Kitchen who was in the Rock n' Roll Rumble in 1986 with Loose Ties and wrote The Next Big Thing, a book about Boston music in that era (which we reviewed here) , has a video out of a new song called "Opposite Day". On bass is Stephen Gilligan, he's got a long Boston rock history. They do a subtle costume chance through the video. Check it out on YouTube.
PODCASTS........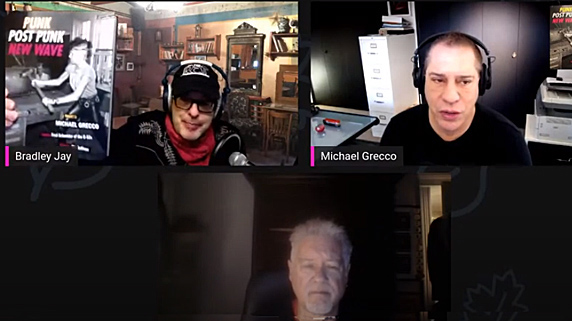 Bradley Jay with Michael Grecco and Jim Sullivan
Bradley Jay interviewed Michael Grecco who has a new photos book out called Punk Post Punk and New Wave 1977 – 1989. Michael worked for magazines in Boston so all the photos are from the Boston club and scene. Bradley Jay also had on Jim Sullivan who wrote the intro to the book. All three of these guys were deeply involved in the punk scene for some time so there are plenty of back stage stories. Photos include bands like The Cramps, Dead Kennedys, Talking Heads, Human Sexual Response, Elvis Costello, Joan Jett, the Ramones. The video is on YouTube.
Kids Like You & Me had Tara McManus of Mr. Airplane Man on their podcast this week. We always want to hear about how people got into the scene and who they saw. Tara name checked Gang Green, Jerry's Kids, Freeze, and the Meat Puppets. She talked about her time in Memphis also.
A while back Kids Like You & Me did an interview with Chris Strunk. Chris wrote a small informative zine called Long-Gone Illegal Punk Venues of Boston. That means basically house shows from 2000 to 2015. The photos are by Al Quint. They make a good economic case for the house show. Club dates just cost out of pocket money that most don't have. There is a whole world in those house shows and we found this podcast very interesting.
CDs/ Music.......
We got the heads up from WMFO's Skybar on a duo called RC95. Boy, is he so right on these guys! They only have one song on Bandcamp, but it only takes one song, we say! "Fade Away" is the tune and it's some tuneful punk…now, your turn to hear your next favorite group.
Back in 1986 a few notable Boston musicians formed The Junk Ranchers. That means Jimmy Ryan, Tony Pinto, Ron Ward, and Nick Cudahy. They recorded an album but the band broke up before they finished recording! Now .... however many years later...they mix the album and release it. It's called 86 which refers to that year way back when it was recorded. It sounds like a gem of its era, it's clear and jangly indie pop in all its glory! If they had stayed together it's possible they would have make a mark on the scene.
The site A Pessimist is Never Disappointed has an article about the band and the record. Read it here for more info.
Slovenly records has released a new 6 vinyl 45 collection box set of all Bo Diddley covers He's Bad!! 11 Bands Decimate The Beats of Bo Diddley. Among the artists are The Mardi Gras Kings and Andy California both of which have Andy MacBain. You can preorder it now, it's coming out in February 19 of 2021.The vinyl is $55.00. The digital copy will be $10.00 on Bandcamp. The Bandcamp page.
Try to keep up with Rum Bar Records releases….just try. This week they rolled out a few more albums. This one, East Side Drive by The Heartdrops from NYC and the album is from 1999 but Rum Bar are giving it another go. They sound like a great bar band and the album sounds like it was recorded in a bar too. There seems to be no filter from their guitar amp to your ear.
There's no local connection with Surfin' Kitty X-mas, as a matter of fact the band behind this, The Wasagas, are from Canada. There are two things to recommend it though. One is all proceeds go to Pinetree Cat Sanctuary in the Grand Bahamas who neuter and feed all the abandoned cats on the island. Two, there's a lot of new surf material on it and it's all excellent. Most are seasonal of course. If you are a surf fan you will enjoy this guaranteed.
To get the album and give to a good cause go to Bandcamp
The Hi-End rock like crazy on their latest single. They tackle "Heart of the City" by Nick Lowe and "Tonight" by the Boys. Between the two guitar crunch and Carlevale on vocals they can't miss on material like this. It's a done deal.
Christmas and Telamor were made to be together. Telemor is unrelentingly positive, that's his thing, and Christmas is an optimist's playground. Thus, Telemor does his Christmas song "Christmas Party". Be prepared to be cheered up.
And still in the Christmas spirit we give you the Black Threads version of "Angels We Have Heard on High". Justine Covault and bandmates take the song on a double time ride. It's a fun and tasteful rockabilly version with Justine's trademark voice. It makes you want to see the group play this live in a small cozy club…that's our Christmas wish.
There's quite a few benefit compilations this week and they are all worthy efforts. This one is from the Keep Safe Boston people who have done a lot of good through the years. All the money from this goes to Wonderland, "a private non-profit organization that works on behalf of children engaged with the Massachusetts Department of Children and Families. They work to provide comfort and dignity to children in traumatic situations and enrich childhoods that have been impacted by abuse and neglect."
Right off – Baabes are on this! They do "Maad Johnny" which is exclusive to this comp. There's also The I Want You's Christmas song from last year which was on the top of our list – "I Know What You Don't Want for Christmas (It's Me Right)". The first cut "Dream Police" by Reilly Somach is heavily echoed and just seems to float by – not unpleasant. Matt York's "Scent of Sin" has acoustic guitar but the arrangement and recording are above normal and the background vocals make it special. The Winter Project has "Scars Above" on the comp so we had to give that one a few listens.
Listen and consider giving to the cause!!
| | |
| --- | --- |
| | |
Josh Sievers of Hobo Chili has put together The Leftovers Compilation, a compilation of 35 cuts from bands that span a lot genres with generous ska cuts. DNZL's cut, "Blue Magic" is killer. The Coffin Salesman has a fast representative called " Prayer for Dead Actors" – are they famous yet? Looks like a new song from Blame it on Whitman, and there's OC45's righteous "City on a Hill" is on here. Nick Hebditch does a solo stint with his "Comrade Death". "So Far Gone" by the Quiggs is a reminder how good they are. There's even poem by Jake Tringali titled "Apocalypse, Red Lipstick". Duck & Cover and K.C.U.F. are also included. The proceeds go to the Greater Boston Food Bank and the Midway Cafe. Good cause and awesome bands we miss BADLY!!!
Miracle on Comm Ave 2020 is the fourth release in a series of (mostly) acoustic holiday collections for the benefit of Child's Play Charity, all proceeds will go to Child's Play, an organization that buy toys for needy children. Any Griffin plays "My Christmas Best", Coffin Salesman do "Elf Blood Blues" that relates the story of a murderous elf. One cut that made us laugh all the way through was KCUF doing "The Cran-Siberian Dorkestra Sings Frosty". It's a spot on sendup of the Trans-Siberian Orchestra's made-to-please style all to the service of "Frosty the Snowman". Absolute genius. (You can purchase here and there are links to previous volumes.)
Coming up.....
Virtual/ Streaming/Online Events.....

Dont forget to check out Linda Bean Pardee's Linda Garagecast every week.

Tuesday Dec 8 @ 6 PM - Punk Rock Aerobics!! Never mind the buttocks and get a workout that rocks out! LINK.
Thursday Dec 10 @ 5-6 PM - Stuborn Hearts will be doing a live stream from Play Arcade in New Bedford on 12/10.as part of the December VAHA! Mini-Concert. FB event page is here.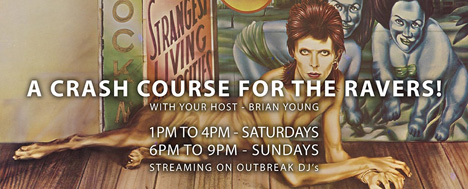 Saturday Dec 12@ 8PM - Lily Black Band, Paper Tigers on Once Virtual Venue - Event page is here.
Sunday Dec 13 - Girls Rock Campaign Boston winter social.....FB page here.
Thursday December 17 -7-9:30PM - Talkin' to Dracula and his Crew: Goth subculture and horror, a lecture - Miskatonic Institute of Horror Studies Brooklyn NY FB page
Live shows??? .....
April 19, 2021 (Monday) Rescheduled - Dead Can Dance at The Wang Theater
April 29, 2021 (Thursday) Circle Jerks Plus Special Guests at the paradise (this is a reskedged show) FB page
CONTACT US AT....misslynbgn@yahoo.com Send us your gig listings, your anything else ya got!! You want your CD reviewed?? Contact us for that too.
---