The BGN News Archive
December 8, 2014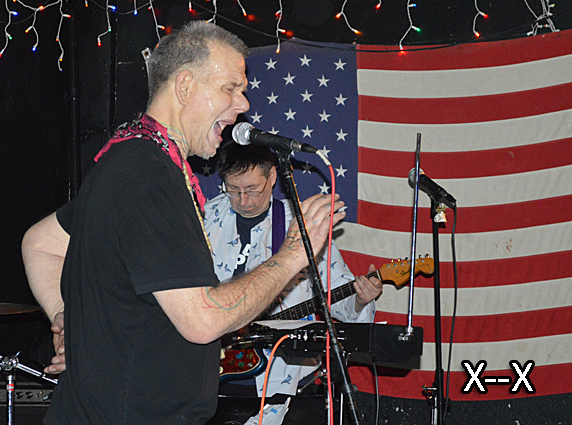 An email from Eric Law gave me a heads up to a gig at TT's on Wednesday. Kris Rogers the keyboard player for Kurt Baker and The Connection was doing his own solo project; Kris Rodgers and the Dirty Gems.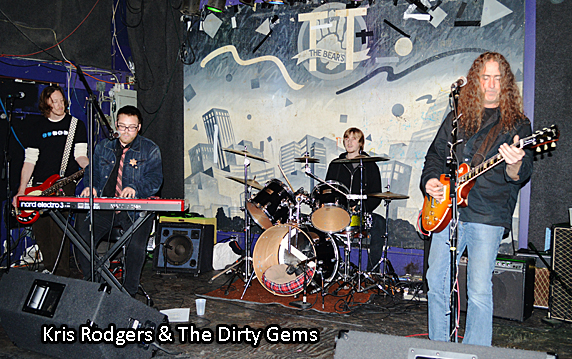 Kris is one major component in the groups he's in, injecting texture and tons of energy into the mix. In his own lead outfit the keyboard is now at the center, driving the sound. The prime example of the piano led group is Elton John and indeed there was a little of that going on. Kris has a lot of keyboard technique and it shows up in his songs, which tend to be full of changes. Lyrically he has lots to say. So the songs seemed very generous. The kicker was that he had a husky mid-range voice that fit the material perfectly. It was a welcome change up to all the usual guitar centric groups that are my diet.
Kris has a cool Christmas EP…A Dirty Gems Christmas. and his Kris Rogers latest LP is called Headlines ...check 'em out!! And listen to one of his songs here.
We decided to hit The Midway where X_____X, an old Cleveland punk group was playing. They were getting publicity with their story (Notably in the NY Times ), that being they were a short lived punk band in 1978 and band members are from The Electric Eels and Rocket from the Tombs.
Before we got to hear them we were stunned by the odd Corn Mo who took to the stage before them.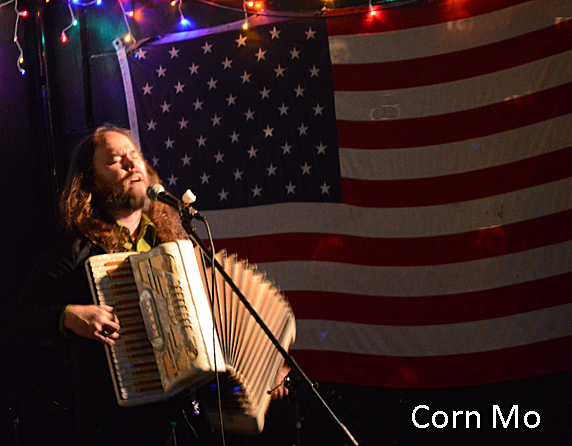 For two songs he stood playing an accordion (and hitting a cymbal lying on the floor with a drum stick stuck in his shoelaces) and belted out two seemingly angry songs. He had a powerful voice. He then said, "The first song was called Frankenstein the second was about my time in the circus. Now I'm going to play a song about my favorite Game of Thrones character". He then switched to piano which he played very well. He began telling long between-songs stories which were odd and somehow interesting and did it in a loud formal declarative style that screamed weird. One of these threads was that he was writing fan fiction about his elderly aunt; another about living for 200 years with a 3D printed super-sized heart and lungs.
Are you following this?... because it was hard for us, but not unentertaining. He still had another trick up his sleeve. He left the piano put on a prerecorded backing track and sang a heavy metal version of Hava Nagila (Well it was a bar mitzvah song with Hava Nagila in it….oh man…try to explain these things!). Then it was over, but what was it? That was WILD. Turns out Corn Mo has quite a career track and is not just some kooky JP character. Read more about him here.
The Major Stars did a fine job of regaining the stage with a three guitar attack and a thundering rhythm section. The overall sound is a messy one but that's their intention. The overall primitive assault eventually wears you down and you give in to it. The ace in the hole is the singer Hayley Thompson-King (also of the Banditas) who is the opposite of everything going on around her. She is very precise and focused. With her voice to center everything, it all works out. Many of the songs sound similar but their last was slower and stood out. It went a long time and was a sixties style jam. All their influences seemed to come from the sixties and pre punk seventies.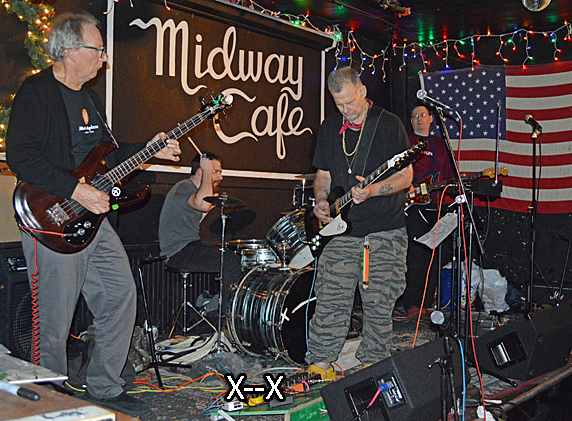 X____X took a long time to set up...a LONG time. Um, Midway closes at 2am and we knew then that was now our fate. The main character on the stage, the singer John D. Morton, (of Electric Eels fame) was dicking around seemingly wasting time, or was it some kind of performance art of endurance, who knows...(we hear he's known for doing this all the time). Miss Lyn got impatient and clapped her hands and said, "let's go." Morton bristled at that and shot out an admonishment: "Are you up here? Are you in a band? Do you know what we have to do up here?" and continued, warning that he had a lot of things to set up and was going as fast as he could. Just as he said that he got a phone call....and took it!! He was saying, "I'm on stage now….I'm going to play…not now, I'm busy". Yup it must've been performance art in itself.
Finally they got going. They seemed like they must have been in a time capsule from 1978. It was art punk in the style we used to hear all the time at the Underground and The Space. They still were clumsy with their instruments; over 35 years you think they would get proficient, but that was part of the charm. You could see them floating ideas and working out concepts. One odd moment was when Morton cut a long bamboo tube with a reciprocal saw – the meaning? Who knows. They succeeded in bringing back elements of punk that we loved back in the day and we don't see as often now. I wish there were more old punks there to see it and get a buzz from it.
Oh, and sure enough it was now close to 2am but what a friggin' show.
Boston Hassle put on this show and they get the credit. They are constantly getting interesting and non-mainstream music into the clubs these days. And we definitely appreciate it!!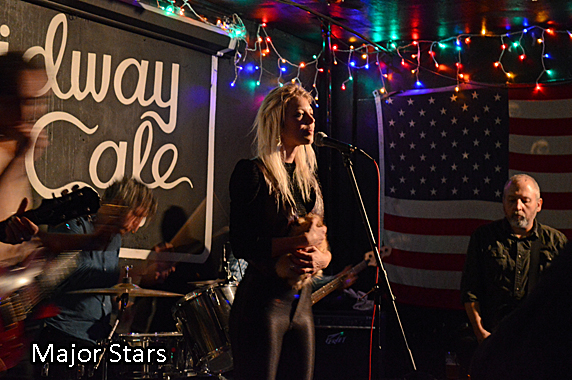 In other news: Captain PJ is in rehab after his stroke and workin' it to get bettah. There will be a Captain PJ Benefit Show December 27th at Ralph's in Worcester (read more below)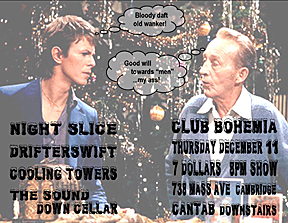 And Kenne Highland has returned from his trip to Chicago to play at the Good Vibes Festival at The Empty Bottle. He tells you about it in his Kenne Highland at Large...(he went to the David Bowie show too.
Monday Dec 8th - there's punk rock burlesque at The Midway with Dinah DeVille, Hellbent Hussy, The Bloodstains and a bunch of hot babes invite you to join us for an evening of studded leathers and ostrich feathers, and everything in between. I have a feeling this one will have a Christmas theme...should be quite entertaining!!
Monday Dec 8th - in Salem at Opus Underground - Bloodshot Bill, Jittery Jack and The Radiator Rattlers.
Monday Dec 8th (It's a busy Monday!! ) Exit Verse, The Thalia Zedek Band and Andrew Sadoway at Great Scott's.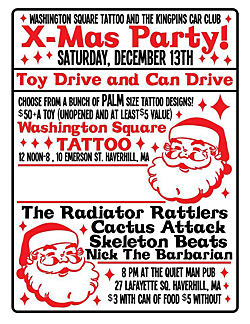 Weds., Dec 10th - A Keep Safe Boston event is a benefit for Planned Parenthood League of Massachusetts and features 2014 Boston Music Award nominees Parlour Bells and The Color and Sound, Corin Ashley (of The Pills!), The Rationales. It's a Brighton Music Hall and ity is an early show starting at 6PM.

Weds., Dec 10th - At The Middle East Up there's Black Beach's Record Release Show, also on the bill are The Creaturos, The Fagettes and Magic Shoppe
Thursday, Dec 11th - Mr. Airplane Man is reuniting for one show at Cuisine en Locale. Also on the bill are Triple Thick and The Good Time Boys - a good night for dinner and some music as the localvore dinner starts at 6PM. You can get tickets here.
Thursday, Dec 11th - Here's a great thing to do for Christmas, give money to the Homeless while listening to some great music at the 10th Annual Boston Christmas Cavalcade to Benefit the Homeless at Johnny D's in Davis Square. There's LOADS of bands playing such as...Boston Typewriter Orchestra, Sal Baglio, Bird Mancini, Dennis Brennan, Jenny Dee & the Deelinquents, John Powhida, the Darlings, Tad & Kate (of Sidewalk Driver). Buy tix and get more info here.
Friday, December 12th: The Real Kids , The Titanics, and The Nectarines are at The Midway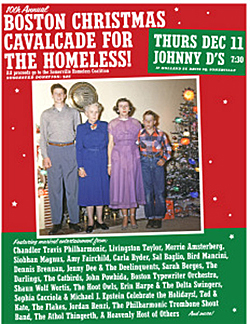 Also on Dec 12th its Dial M for MUCK at Church - It's a Muck & The Mires Record Launch Party!! Also on the bill are Daddy Long Legs (Norton Records -NYC), The Dogmatics and Thee Itchies.
Saturday, Dec 13 - Don't miss A Very Fuzzy Christmas at The Midway - this is a Girls Rock Campaign Boston Fundraiser with tons of special guests all doing xmas songs! For example Thalia Zedek with Heather Kapplow, Greg Allen's Fringe Religion, Love Love and Hilken Mancini sharing the stage with a couple of friends...and lots more.
Saturday, Dec 13 -The Radiator Rattlers, The Skeleton Beats, Cactus Attack and Nick the Barbarian are at The Quiet Man Pub (27 LaFayette Sq, Haverhill, MA) This is a cool show its a Toy Drive and a Can Food Drive sponsored by Washington Square Tattoo and The Kingpins Car Club- here's the deal The Toy Drive is from Noon - 8PM at Washington Square Tattoo you can get a palm sized tattoo for only $50 PLUS an unopened new toy of at least $5.00 value. Then bring a can of food to The Quiet Man Pub and its only $3 cover charge to see the bands. Great idea!!
Also on Sat. Dec 13th - James Straight and the Wide Stance have a NYC gig at the Alternarock Festival - check it out here
Sunday Dec 14th - Roy Sludge Trio are at The Midway for a daytime show 5-8:30PM. Always a great show!!
Before Sludging it up you can go to TT's!!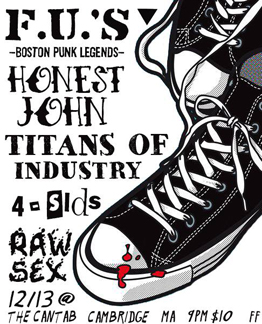 Sunday Dec 14th - It's TT's annual Rockin Holiday Flea Market & Bloody Mary Bash from 11AM- 6PM. They are saying it 's back and it's bigger and there'll be tons of awesome vendors selling vintage, vinyl records, music memorabilia, handcrafted jewelry, art, collectibles clothing AND there's killer bloody mary's and hot dogs and a visit from Santa!! Get yourt cool holiday Gifts here. ,Mars Man and Eric Law will be there selling vinyl too and Andrea Gillis will be proffering Gilly's Throwback Snack! And this year's Flea is supporting the MSPCA and they are asking that though the Flea is Free bring an item that's on their wish list (you can see that here)...you know, dog treats, cat treats, Feliway, cat beds, toys etc.....it's gonna be a fun day!
Monday Dec 15th - Great Scott is having their Holiday Party with the Scrooges and Party Bois.
Friday, December 19th there's a exciting show at TT's first off SPiTZZ are playing their first show in 2.5 years!!!, also on the bill are the Blue Bloods, Duck & Cover (having their vinyl release celebration), Quiggs, and Silver Screams - this will be a great show folks!!
Friday, December 19th - The Handymen are at The Plough & Stars
December 20th (Saturday) Jittery Jack and Bloodshot Bill are s at Atwoods Tavern on Cambridge St. in Cambridge (near Lechmere). It's a Rockin' Holiday celebration--and you'll be able to pick up a copy of Jittery Jack's new 45 "Something Wicked This Way Comes" and Bloodshot Bills "Stuffin Her Stocking" at the show. As an added treat - Easy Ed spins the platters early, late, and on the breaks.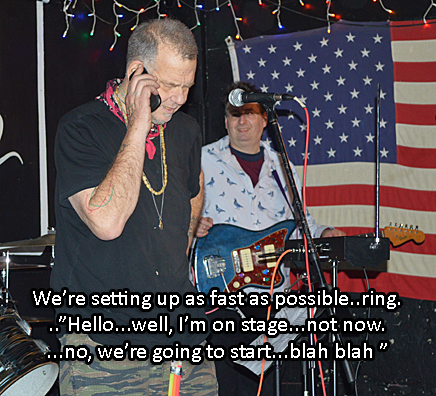 December 20th (Saturday) - It's Thrash'n'Bang's Third Annual Christmas Pizza Party withThe Pity Whores, The Radicals, Lucky United, Fast Times and Phil McCaffery. it's all happening between 4pm- 8pm at The Midway plus there's Free pizza all day long! and only a $5 cover. (All-ages)
Tuesday, December 23rd - It's TT's Christmas Party with Aquanutz, (at midnight), Mike the Considerate and the Interns (11PM) Keytar Bear (TT's staff house band!,) and others.
December 27th (Saturday) - Charlie Don't Surf, Grenades In The Archives and Garbage Point are doing an afternoon show at The Midway (4-8PM)
December 27th (Saturday) In Wistah, at Ralph's it's the Captain PJ Benefit!! So far on the bill are Musclecah, M.O.T.O., Classic Ruins, Bottlefight and Kenne Highland. Please put this in your calendar and attend, PJ will need some help.
Yikes now we're into the new year here
Friday January 5th - Sasquatch & The Sick-a-billys, The Radiator Rattlers and Diablogato are up in Salem at Opus Underground
Saturday, Feb. 7 - The Middle East has the The Drax (Goddamn Draculas) Record Release Show along with Aquanutz, Township, Planetoid, and Party Bois
Friday Feb 13th- Nice Friday the thirteenth show!!: The Cretins, Duck and Cover, Scrapes, and The Quins are at The Middle East Up
Friday Feb 13th - Tim Catz' 50th Birthday Party featuring White Dynomite, The Humanoids, Muck And The Mires, Worshipper and DJ sets by DJ Slim Jim at Great Scott's
Friday Feb 13th - The Cretins, Duck and Cover, Scrapes, The Quins are at the Middle East - this is a LeaguePodcast show
Friday, May 22 - You have been warned - Book the flight now: Sleep Chamber!! Doing their only show in 34 years in Tel Aviv, Israel at UTC+02. Not only is this their first show in 34 years - its their LAST SHOW ever.
CONTACT US AT…….misslynbgn @ yahoo.con Send us your gig listings, your news and anything else ya got!!