The BGN News Archive
December 9, 2013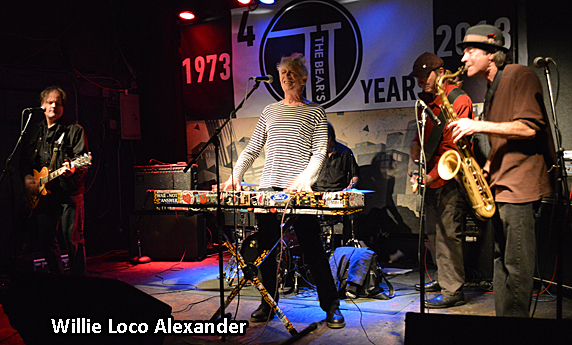 Somebody somewhere along the line mentioned that Club Bohemia at the Cantab was remodeled and smelled like roses on a summer day. Going through the door I could see the remodeling consisted of getting rid of the chairs and tables. Great, it was the only club I ever got a seat at, and no rose smell. Crap.
And come to find out we arrived too late and missed The Liz Borden Band, argh!! crap...again!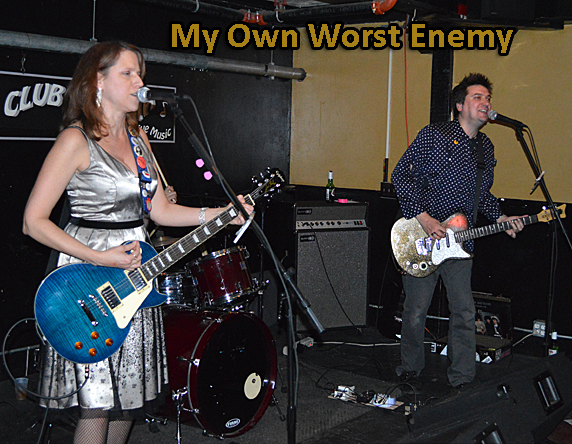 The good news was that My Own Worst Enemy was just getting on stage at this single release party. They seemed to be really excited and the set benefited from the extra sense of mission. This is the best I've seen them and I really enjoy the set with many highlights.
They score with both originals and covers. They do the Velvet Underground's Who Loves the Sun which brought out the tuneful, verging on Partridge Family, side of it. Great job.
The set clicks in early with a song from their new single called "Angel of the Underground" which people say is about Mary Lou Lord. MOWE have other songs that deal with Boston rockers. Indeed, like the Brigands who played two weeks ago, they come across as having a Boston Sound. They capture that local tribal feeling that is celebratory and inclusive. They also sound like an 80's art type band that could have played The Underground or recorded on Propeller. This comes across strongly on "Paul Revere", also on their single. There's have no bass player in this band but they get away with it by having Steve play the low strings on his guitar to fill that void.
2013 and bands are still putting out 45 singles. Now that all new material will be digital based we can say with complete confidence that the vinyl 45 is the coolest musical format there ever was, for what that's worth.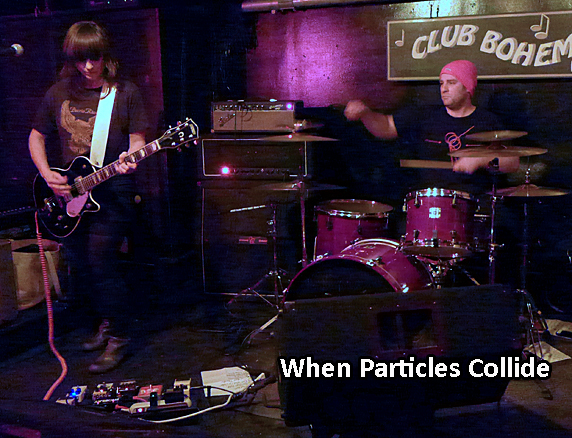 When Particles Collide is a duo and I'm not a fan of that set up. Both these people could play excellent but I thought they were shackled by the restraints of the two person group. The vocals were buried in the mix and it seemed like I was missing a lot because of it. With two extra people they did a great job on Halloween covering Green Day's Dookie.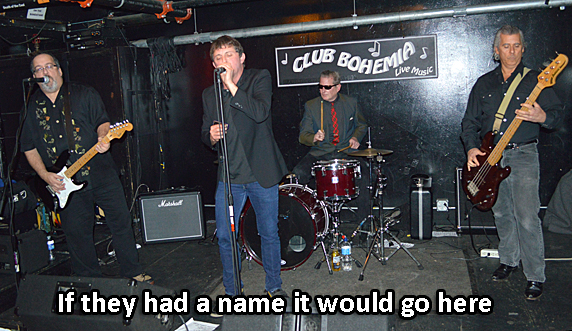 Hard to believe that we were now excited to see a band that didn't even have a name. It was Cam Akland vocals, Carl Biancucci bass, Johnny Black guitar and Judd Williams drums. To us that's as accomplished a line up as you could dream up. They are going with the Port Charles Quartet's concept of all covers. With only a handful of rehearsals we got a good idea of what this could be. They started with "Teenage Head" (and later did "Shake Some Action") and peaked with The Dictators "Stay with Me".
Half the fun was to see what songs they would pick the other half was seeing them play together with easy going confidence earned from experience. The exception is Cam who is never easy going but an energy radiating dynamo. He's a natural center of attention whenever he steps on stage.
It's 1:15 by the time it's over and the club is sweaty and neither it nor us smell like roses, that's for sure.
After sleep....and sobering up (for some of us) we're ready for the early show at TT's for Randy Black & The Heathcroppers' CD release. (Buy it here!) The reason for the early show is the usual Saturday "Hero's" show that starts later. A DJ spinning 80's music; this is the direction things are going. (Insert screaming Munch figure here.)
This turned into a night with lots of highs. The first of which was getting a set by Willie Loco Alexander. We got to talk to him and Annie and that was cool. I mentioned to them, and will say it here too, that we feel we are Willie deprived down in Metro Boston.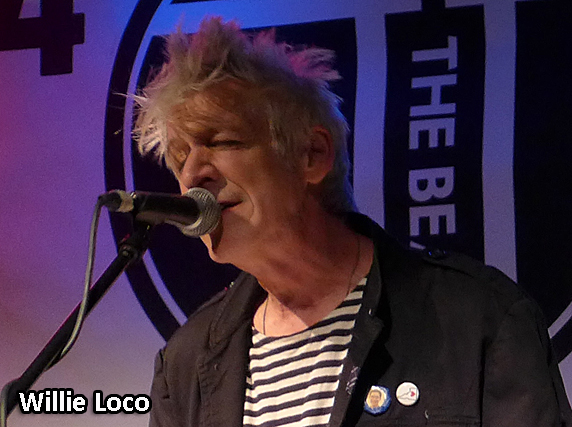 This set was like falling in love with Willie all over again. Did I forget how great his songs are? Did I forget how he makes the piano sound and how he moves when he plays it? I couldn't forget the voice, could I? I don't know…but tonight's set brought it all back. Willie started with just himself for two songs, then brought up saxophonist Mark Chenevert, then Randy's drummer Larry Dersch, then Matt on bass and Randy on guitar.
As the group increased one by one, the dynamics increased, and we get a stellar version of "You Looked So Pretty When"....and here I admit I'd forgotten the expressive qualities of this song. Another highlight was "Who Killed Deanna" from The Boom Boom's 1999 East Main Street Suite album which has the chorus of "Sum Sum Sum Summerville" which predates, but feeds into, the Sommerville-ification of everything these days. And a version of "Everybody Knows" proves again how timeless that one is.
All in all it proves to all doubters (if there are any) how vital Willie and his music is. We've seen him in all conditions and variety of musical set ups and he never disappoints and that's been true since the mid-sixties. Think about that!!
Randy was courageous having Willie as an opener but it turned out to be so complimentary a coupling that the sets flowed seamlessly. We have trumpeted Randy's new music since we saw him a year ago. A few gigs since and a CD out now confirm that initial impression. Tonight Randy & The Heathcroppers pick up the vibes from Willie's set and goes into the opening song from the CD called "Simple Things". That song has all the qualities that display his songwriting prowess; words that marry to melody and tell a story or bring forth an emotion.
The band is top notch and as the top quality songs never stop there are guests in addition to Larry on bass and Matt on drums. It seems like every writer of note wants Linda Viens to sing their songs and she helps tonight. Mark Chenevert on sax got several rounds of applause. I love that he's not the usual honking rocker. He has a more refined tone and a jazzy feel. When he gets into a solo he hits a grove and you don't mind if he would play all night. All these people I've seen before but then Randy brought up Clara Wellons of Lighthouse. She has a strong brassy voice and she made a big impression over the course of a few songs. She took a few verses of "Femme Fatale" (I'm loving these Velvet covers.) that was spot on. She captured that world weary smokey tone and was pitch perfect.
All the while Randy is directing the show and mining all the benefits from his rich songs which are even more forceful a year after debut. There was so much rewarding music in this show and we were out by 10 PM.
Now.....some stuff coming up....
Willie Alexander is the big story on the latest issue of The Noise...and The Darlings are in there too!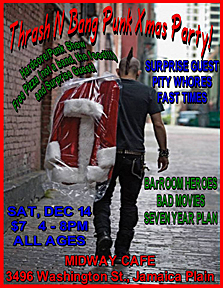 This Thursday 12/12 Watts are at Precinct it's FREE and its early...they go on at 8:30 and end at 10. Its Watts' way of saying Happy Holidays!! And across town in Cambridge there's another free show with Corin Ashley at Toad
Saturday 12/14 afternoon 1-4 PM air waves have WMFO 91.5 FM Crash Course for Ravers with special guest Carl Biancucci...and others.
Brian Young who has a whole career going on as a 'host' will be the host at the Cracker/Camper von Beethoven show at the Middle East on Friday January 17.
Ring in the holidays big time at the Midway on Saturday the 14th...starting at 3pm there's Thrash'n'Bang's Punk XMas Party with The Pity Whores, Fast Times, BarRoom Heroes, Bad Movies & The Seven Year Plan ...plus a Surprise Guest!!! and free unlimited PIZZA!!
then at 8PM there's DJ Easy Ed's Yuletide Rockabilly Blowout with Easy Ed's Record Hop, Whiskey Kill, Lynnette and the Longshots, Johnny Carlevale and the Rollin' Pins and Jittery Jack and Miss Amy
And FINALLY it's here: John Surette's punk opera Tomorrow The World will be performed live at the Middle East, Saturday Dec 14. This is a star studded event not to be missed my friends!! He's got an amazing cast with Willie Alexander narrating as well.
And up in Salem, on Saturday the 14th our pal Terry Brenner has the Asa Brebner Band playing at Murphy's Pub
Thursday December 19th there's a very interesting show at O'Brien's with The Wrong Shapes, Black Fortress of Opium, Endation and The Easy Reasons
The Upper Crust are at Precinct on the 19th also….
And Thalia Zedek is at TT's
There's a couple more Holiday shows coming up on …Saturday 12/21 :
at the Midwayit's the Weisstronauts' 15th Annual Holiday Jubilee with M.O.T.O., The Weisstronauts, Eddie Japan and Lars Vegas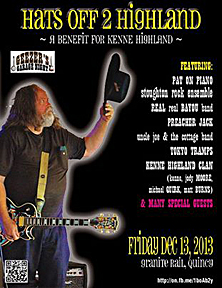 And at Church on 12/21 (FINALLY A DECENT SHOW THERE!!) …you can celebrate the holidays with The Drunk Nuns, OTP, Duck & Cover, and The Ramparts...
and here's an interview with Joe Barron of the Drunk Nuns on the blog site Run Don't Walk....
And on 12/24 Christmas Eve there's the traditional (and 6th annual) performance of The Slutcracker at the Somerville Theater...this year its even more of a holiday spectacular as Walter Sickert and His Army of Broken Toys starts the evening off...you can buy tix here.
And of course the much anticipated show…..The Real Kids, The Nervous Eaters and The Connection December 28th at the Middle East Down
I pity the poor fools who book a show anywhere else on 12/28 but since its just down the street maybe you can get in two shows this night coz at the Cantab's Club Bohemia there's The Swindlers, The Kenne Highland Clan, Greg Allen's Fringe Religion and Curtis Suburban (featuring members of The Waldos and Suicide Kings from NYC)
You have probably heard that Patti Smith is paying New Year's Eve for the First Night event...this would be a great way to bring in the new year...
And you can go Honky Tonkin' for New Year's Eve with Girls Guns and Glory doing Hank Williams tunes 12/31 at The Lizard Lounge!! they are also performing on 1/1/14
and Yikes we're now into the new year…and on Saturday January 4th there's a show at Great Scott's with a brilliant theme..We Got The Beat - A Boston Lady Drummer Showcase with The Monsieurs , Petty Morals, Apple Betty, Post Modern Authors and Thrust Club
Put this event in your calendar now folks - Monday March 3rd…Gail C. and Babysitting Calamity Booking present The Sheckies, The Pity Whores, Jimmy Jacked, The Labor Pains….not only is it a great bill but Gail C will be having one of her fabulous bake sales so arrive hungry, see a great show and leave with a wicked sugar high!!
Hey here's some releases that'll be awesome on their own but also make great holiday gifts:
Richie Parsons has a new CD coming out this week…its Richie's band The Chord Rockers…with his Italian contingent…Astrid Dante (Miss Chain singer) and Alex Vargiu….along with Frank Dehler of Unnatural Axe on Bass and Jack Clark of Jerry's Kids and Unnatural Axe on Drums…this is an international effort recorded in part in the US and in Italy…check it out here and buy it!! And you could get one of 50 collector's edition pressed on colored vinyl!! And you can preview a song on You Tube!
The Let's Go To The Rat DVD is now in stock at Newbury Comics' Boston stores, in addition to www.LetsGoToTheRat.com
EMAIL US AT…….misslynbgn@yahoo.com