The BGN News Archive
December 10, 2012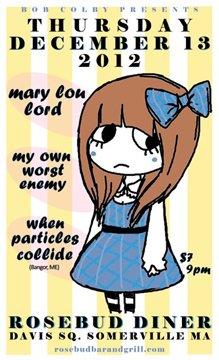 We got the latest word on the eagerly awaited Boys From Nowhere doc…it will be finished and ready to go Summer 2013. And the new trailer is almost ready and will be up sometime before month's end. SO keep checking their FB page for the new trailer..of course we'll tell you when it's up too!!
The benefit concert of the An American Revolution film about WBCN at the House of Blues went on for four hours!! Judging from the clips and material they've uncovered that should be an amazing film for us locals and sixties music fans.
Here's a clip of the Fools and then Willie Loco.
On the visual side there are some paintings by Woody Giessmann ex-Del Fuegos being shown in Allston at the Artful Edge Gallery, 55 Harvard Ave. The show is called Faces in Rock and Other Compositions. He has some portraits of some Rolling Stones but I think he should paint up some local musicians- check out his work .
All the shows scheduled for the new Harvard Square club Sinclair are being moved because its scheduled opening has been delayed because they are still renovating…that's what we hear….I wonder if they'll have it ready for Mission of Burma in January???
Well it's the holidays so we got some celebrations coming up:
And don't forget THIS Monday, Dec 10 at Charlie's Kitchen is a great show: Triple Thick is having their Release Party for their CD Dark Knight (see Blowie's review) with Black Helicopter, Love Up Time and You People.
On Tuesday, the 11th at 6PM at the Flora Restaurant, 190 Massachusetts Avenue in Arlington, MA has Brett Milano and Clea Simon reading their entries from Tales From the House Band II which is a new collection of short stories from many authors.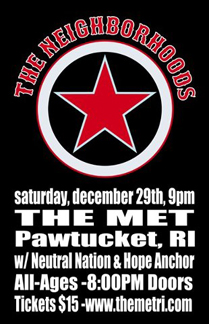 Bob Colby has come through with his promise to start booking gigs with his inaugural Second Thursday at the Rosebud- for his first time he has some great acts: Mary Lou Lord, My Own Worst Enemy and When Particles Collide that's Thursday December 13th
Friday Dec 14 is The Boston Band Crush Holiday Spectacular! With Freezepop, the most awesome Sidewalk Driver, The Field Effect, and Emily Peal at the Brighton Music Hall.
Also on the 14th is Cal Cali at the Rosebud with The FU's , The Thigh Scrapers… AND returning to the stage: Randy Black & the Heathcroppers - comprised of Randy Black - guitar and vocals, Larry Dersch - drums and Matt Gruenberg - bass…they are going on at 10PM….
Saturday the 15th there's a Hurricane Sandy Fundraiser at the Midway with the Morgan Knockers, Live Fast Die Fast, Energy, The Old Edison and Mark Lind.
And WHRB 95.3 has some of their famous 'orgies' happening now. The Cocteau Twins Orgy is on next Sunday 12/16 from 10PM till 5AM it's seven hours of etherealness…Miss Lyn is happy about that!!
Saturday Dec 22nd there a great night of rockabilly at the Rosebud with Jittery Jack and Leah and Her J-Walkers…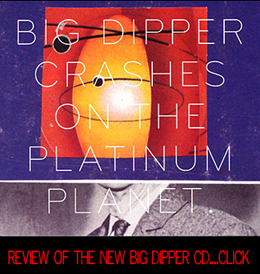 the new year…if we actually get there…: here'a a good show and a good cause on Saturday January 5th at Brighton Music Hall there's a Benefit for Brenda Wynne featuring Matalon, Raging Teens, Johnny Carvale and the Rolling Pins, Skeleton Beats, Razors in the Night, Cradle to the Grave, OC5, Never Been Caught - tickets are only $12 for all those bands and its to Benefit Brenda who was struck by a van in a hit and run accident in Allston. Brenda has other health issues as well and this just makes everything worse - get on down there and start the new year out right by doing good for someone else!!
Then at Radio (down) Saturday January 12 -Psycho, Kilslug, Impenitent Thief, and The Burnouts
Check out this neat video from Big Dipper. It's from their new CD "Big Dipper Crashes On The Platinum Planet" - first new album from 80's Indie Rock supergroup Big Dipper in 20 years. IT's sooo good. And they will be paying at The Middle East down in February!
Check this out!!!! Peter Rining from QRST's is teaming up with Jim Harold to get the Live at The Rat album on CD!!!! GO HERE to check out the Kickstarter page!! Throw in some bucks for this project and get one of the limited 1000 copies of the CD. Johnny Angel is writting the liner notes. We also heard they found some more tapes from the second night of taping and those may be released in the future if this is successful. !! OH YEAH!!
John Surette still has his rock opera in the works. He filmed an interesting 7 minute update with David Minehan talking from the recording board.
EMAIL US AT…….misslynbgn@yahoo.com