The BGN News Archive
December 3, 2018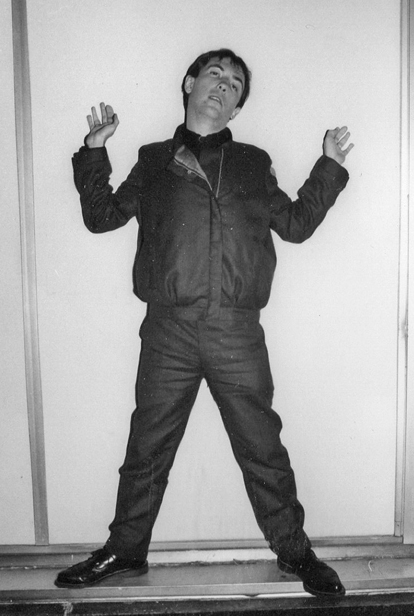 Pete Shelley

Photo: Blowfish
The death of Pete Shelley this past week was hard to take and it didn't help that it was so out of the blue.
It's been interesting to see that almost every news outlet in every media has mentioned his passing. From the view of 2018 his influence is undeniable. Those same outlets (those that existed in 1978) would not have been so kind back in the day. That's when everything punk was the reason for all the problems of the world, or so it seemed. It wasn't enough that they didn't like the music, no, it had to be corrosive to the very fabric of society.
It's also easy to see now how Pete was different with his lyrics being romantic rather than political. Many point to the album Singles Going Steady as the ultimate pop punk document of the era that still has influence up to now. The thing that is missing in that assessment is the thrill of living through the punk era as those songs were released as singles over time. Back then we went to the record store like people go to the grocery store – once or twice a week.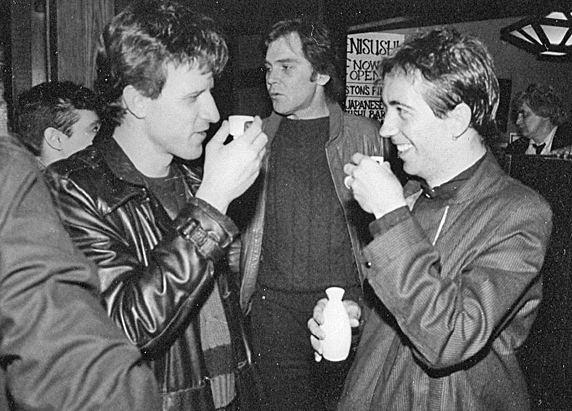 Oedipus and Pete Shelley
with Tom Lane in background.
Photo: Blowfish
Starting in 1977 we got Spiral Scratch. It was all there: the punk drill, the single string leads and the catchy melodies. Then came "What Do I Get" and "I Don't Mind" and we noticed those sleeve designs by Malcolm Garret which were another enticement. Then it was every couple of months for two years that we got a hit of Buzzcocks with "You Say You Don't Love Me" , "Promises", "Ever Fallen in Love". "Everybody's Happy Nowadays", "Love You More", "Harmony in My Head". It all seemed to lead up to 1979's "I Believe" that had an epic summing up quality that seemed to break the seams of punk conventions.
If you were steeped in punk like we were, living through that streak was like the string of Beatles' songs that did the same thing starting in 1964. It's the sort of thing that colors your life. The music marks the era and they become one.



Pete Shelley
Photo: Blowfish




Pete Shelley
Photo: Blowfish
It's part of the magic of living through that time that cannot be duplicated by just binging on Buzzcocks now. Which is not to say that we aren't binging on Buzzcocks now ourselves.

RIP Pete Shelley, one of the greats.

Note on the photos: These were taken durning a night in Boston during the Homoapaian tour. The BGN did a page for Boston Rock where some of these photos were shown.
---
O'Brien's did what they do best – an early in the week rocking show. It only took till Monday to have a worthy line up. There were very few people there which is normal for this.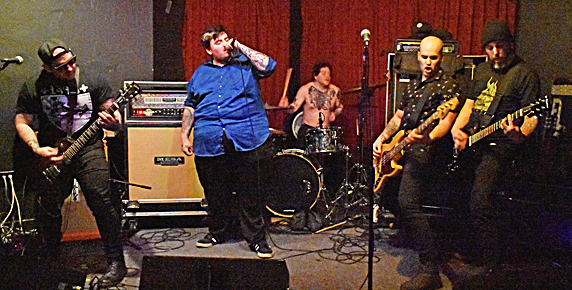 Darker Days
Photo: Blowfish
We saw the last couple of songs by Darker Days from Salem and they turned out to be their last songs ever, the band was calling it quits. They were a band that delivered the goods even from the little we saw.
The video above documents their last minute of the bands' life.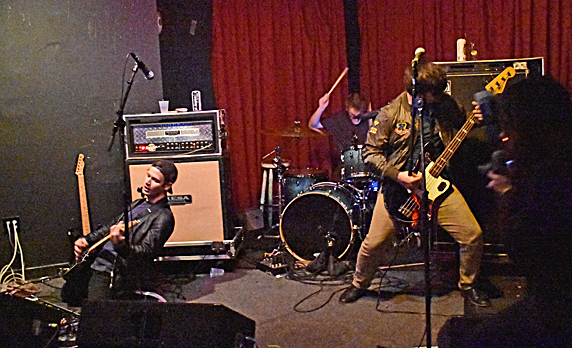 Never Loved
Photo: Blowfish
They were followed by Never Loved a South Florida band. They played as if they had something to prove. They were jumping all over the stage and in the end the guitarist climbed a speaker and was way the heck up there and leaped off.
The video below shows them in action.
They wanted to make an impression and they did with us. The songs were interesting and seem like they would grow with familiarity. Online they only have a video of Dead Inside. An EP is promised in 2019.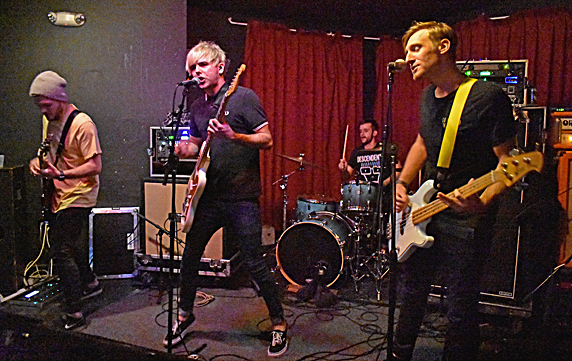 Summer Wars
Photo: Blowfish
The last band was Summer Wars from North Carolina. There was lots of emo in their punk. The music had that familiar yearning in it. It went down well in this line up and was a set that kept us entertained right to the end where we might have ducked out if it was less engaging. Their Bandcamp songs give the idea of their sound.
The totality of the three bands was just what we want when we head out and take a chance on a night out. They all rocked and gave it everything they had. Even Darker Days on their darkest night gave a set that made us wish we had seen them earlier. We wish the two touring bands had more people there to appreciate them. We know it's a hard slog and we benefit from their hard work.
It was a fast hit again at O'Brien's on Wednesday, again some punk bands. We missed Suburban Samurai who we like.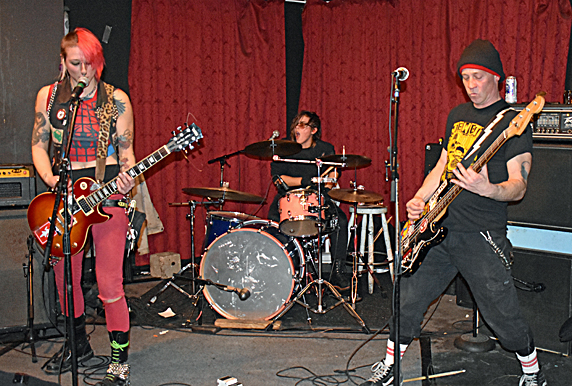 Yooth Decay
Photo: Blowfish
We saw was Yooth Decay, they were total punk like we haven't seen in a while. They looked it and some songs were just two minutes long. They sounded raw and messy but there were the vocals that cut through and there was a lot to like there. The guitarist did some cool riffs and had a classic punk tone. We liked the dynamics of the bandmates between songs and that camaraderie made it a good feeling set. They were young and punk and that alone is very encouraging. Definitely check them out ..and their Bandcamp page.
And it's all about the kids, right? That's why we went to the Midway on Saturday for the early show dedicated to Toys for Tots – well it helped that there was a good line up. Jamie from Loser's Circle set up the show. It was proof again that the Saturday early shows are a big hit as the club was full up.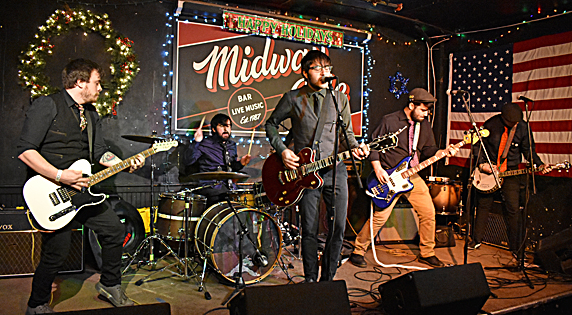 Coffin Salesman
Photo: Blowfish
Coffin Salesmen were mid-set as we entered. We saw them a month ago at O'Brien's and we were struck again at how they seemed poised for a bigger audience.
Lead man Aria was like a word volcano at the center of everything. He seemed to be taking on big subjects with strong opinions and long stories. It was very Bob Dylan-ish. Ari used to do this solo but now the large group around him is very much a part of what makes this work. Sometimes there's a Celtic tinge to the sound as the rhythm section digs deep and propels at the same time.
They come from punk and they play to a punk audience but their sound has a much wider appeal. A Rumble appearance would help them or getting on some different bills, maybe. We hope they find that next level.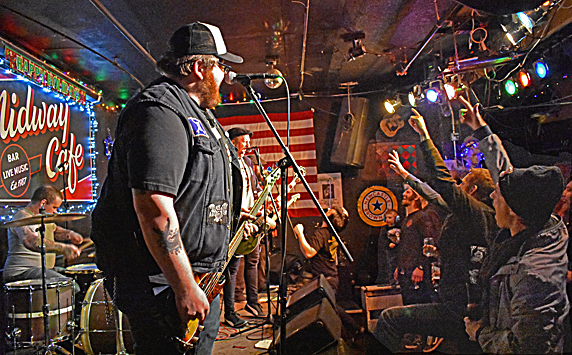 Loser's Circle
Photo: Blowfish
Jamie of Loser's Circle ended up in the emergency ward just a few weeks ago but there he was onstage for the next set. The show must go on! This was one of the best sets for these guys in a while. They played many songs from their CD Tool Long Enough and they are great punk material with meaningful lyrics and sing along choruses.
They even played one new song which fit in seamlessly. They are always a dependable punk show and that's why we try to see them every time.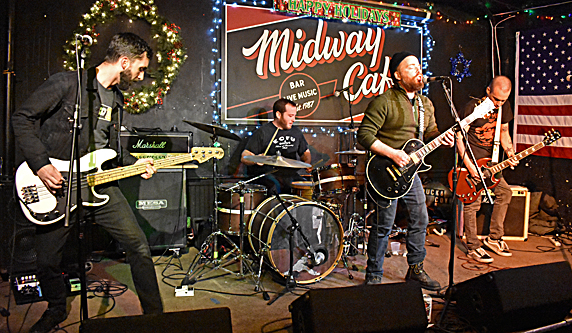 The Black Cheers
Photo: Blowfish
To us there doesn't seem to be any continuity to The Black Cheers, they just seem to show up at every now and then on a bill and blast it out. But who cares if there is a career plan when they step on stage and rock like crazy? Losers Circle are no slouches but The Black Cheers pushed everything up a notch, or two, or three.
Chris Brat from Duck & Cover is on guitar and he brings his playing power and occasional vocal back up to the group sound. Lead man Dan pushes everything to that next level. In between songs he has an acerbic wit that keeps things entertaining.
As the band was setting up we could hear the bass player doing the riff from the Buzzcocks "Why Can't I Touch It?". He had a Buzzcocks shirt on too! It was nice to get that sly tribute. Hey, we noticed Ricky! Photo.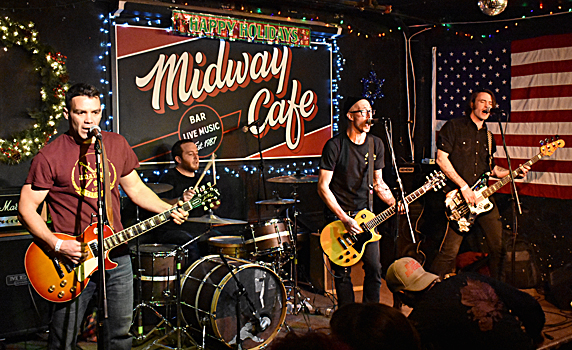 Stray Bullets
Photo: Blowfish
The drummer Scotty was a hard player. It was a surprise to see him stay on stage for Stray Bullets as their drummer too. Now, Stray Bullets came out and upped the volume and added some light ska beats that created an urge to move and dance. The crowd responded with some moshing. We hadn't seen The Stray Bullets before and we are fans now. This was a hard bill to top but they did it. They held the crowd to the very end.
it was requested that people bring toys to the show. Jamie said that they got twice as many toys this year from last year. There were a half dozen young kids at the show, all with ear protection, and boy did they need that. These punk shows seem a bit rough all around for kids but some of their parents were on stage so they know what the situation is.
Congrats to Jamie for a rocking show for a good cause.
More band photos below the show listings.
---
And in other news.....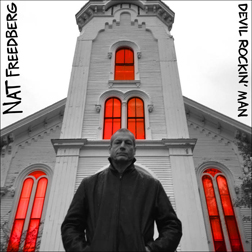 The first song from Nat Freedberg's upcoming solo album has arrived..and its a FREE downlaod!! "Devil Rockin' Man" continues Nat's fixation with the man down under. Somehow he feels an equivalency between rock n' roll and Satan. To us, it's a gift from God! But he makes a good song his way. Download here.
Fans of The Chills from Australia should know that they are coming to the Middle East on Feb 20 ( a Wednesday) and get this – it's the Upstairs. And this is their first tour since 1996!! So, if you care, you should get tickets ahead. You have been warned. Tix here.
and...TUE 2/19 Gang Of Four at ONCE Ballroom get tix here.
The Dazies have a new album coming out. Lead man Mikey Holland is an interesting guy. Vanyaland has a short piece on him as they debut the song "Panic All The Time". After that you can go to Bandcamp and hear another song called "American Lie". Holland's a newer musician that some of us older punks should be listening to.
---
Here's some good shows coming up this week.....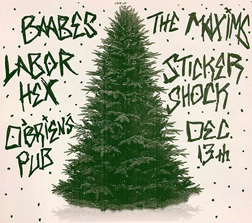 December 13 (Thursday) Baabes, The Maxims, Labor Hex, Sticker Shock at O'Brien's Pub
December 14 (Friday) Red Invasion with Funeral Cone and Brix N' Mortar and EVERT at O'Brien's
December 14 (Friday) Street Dogs: 13th Annual Wreck The Halls at Brighton Music Hall
December 14 (Friday) Kid Gulliver, State of the Union, Thee Fightin' Fish, TogetherOnTwo at the Worthen Attic in Lowell.
December 15 (Saturday) A Crash Course for the Ravers on WMFO 91.50 1-4PM has The Fringe.
December 15 (Saturday) Duck & Cover, Stop Calling Me Frank (Album Release), State of The Union, The Angel Martins Early Show 4-8PM at The Midway
December 15 (Saturday) The Swelltune Records Holiday Shindig! with Jimmy Dale (OK), The Susquehanna Industrial Tool & Die Co (NY), Jittery Jack and Miss Amy and DJ Easy Ed. at O'Brien's the night ends with the Swelltune Jamboree!
December 15 (Saturday) It's a Clash City Christmas with Charlie Don't Surf Live at Rags in Quincy!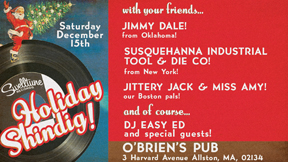 December 15 (Saturday) An Intimate Evening of Surf with Tsunami of Sound at the Plough! Msuic starts at 10PM
December 16 (Sunday) A Very Special Rum Bar Records Holiday Mess-Around...3-7Pm at The Plough...its a LONG list of people you want to see perform...check otu the FB page.
And further out we have......
December 19 (Wednesday) A Very Fuzzy Christmas ...Holiday Tunes performed by local Boston rocknroll heroes! ALL AGES! All proceeds will be going to benefit the non-profit feminist organization Girls Rock Campaign Boston 6-Midnite at The Burren. Again its a insane list of awesome talten you won't want to miss...including Stephen and David Fredette (scruffy the cat), Mary Lou Lord, Fuzzy, Tanya Donelly, Buffalo Tom and Fuzzy.
December 20 (Thursday) 7th annual Spectacular Gift Drive for DCF Wonderfund! In support of foster families in the Boston area, letís spread good cheer with this holiday celebration. with Hail Santa- Boston Rock's holiday season super group featuring Michelle Paulhus (Stars Like Ours), Ali McGuirk, Bice Nathan (Hey Zeus), Chip Nicolai (Goddamn Draculas), Peter Moore (Count Zero) also on the bill When Particles Collide and Salem Wolves- NOTE: Please bring unwrapped gifts for children of all ages—toys, books, art supplies, electronics, musical instruments, clothing, hats, coats, sporting goods, gift cards (older kids like these)...this is an 8-Midnight show at Once Somerville.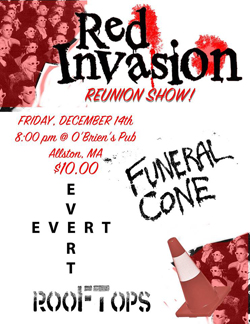 December 21 (Friday) BLOWWstice: Darkest Days (a Wrestling and Punk show!) BLOWW is back with a vengeance! Featuring a rowdy lineup of wrestlers, punk bands, and cake--lots of cake--the Boston League of Wicked Wrestlers is ready to throw down in their hometown for the holidays with special guests include WIMP and the Electric Street Queens! at The Midway
December 22 (Saturday) A Crash Course for the Ravers on WMFO 91.50 1-4PM has Smitt E. Smitty.
December 22 (Saturday) Linda Viens is hosting Solstice Gathering with Music & Friends at the Out of the Blue Gallery in Allston. Musical guests will be Crazy People (Tom Tipton & Johnny Berosh), Brass Orchid (Timothy & Judith Sprague, & Johnny Berosh), Randy Black (solo) and Parma Chai. Solstice ritual is at 8PM music follows at 9PM
December 22 (Saturday) Greg Allen's Fringe Religion, Classic Ruins, 1.4.5, Fireking - Early Show 4-8 at The Midway
December 22 (Saturday) Hardcore Stadium presents The A-Team w/ Last In Line, Down But Not Out, Rampage, MFP, Restraining Order at an early show at Middle East Up 4:30 doors
December 22 (Saturday) Jingle Punk! A Lily Black Holiday Special! with Lily Black, The Knock Ups, Happy Little Clouds at Sally O'Brien's
December 23 (Sunday) Thrash N Bang's Annual Xmas Punk Pizza Party! with Neighborhood Shit, Revilers, The Hangovers, Sewer Buddies, Coffin Salesman and Jake Tringale. 4-8PM at The Midway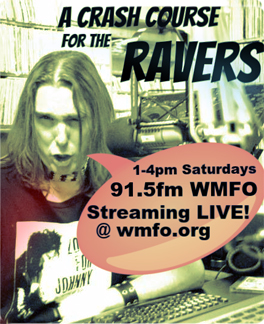 December 28 (Friday) Randy Black and the Heathcroppers, Richie Parsons Band, Vangelista, Trick Wallace Trio at McGann's FB page for times and directions.
December 29 (Saturday) The McGunks, Scotty Saints & True Believers, Steal Reserve, COB at The Midway for a 4-8PM show.
December 29 (Saturday) time & place, Hambone Skinny, Blame Shifters plus a very special surprise guest at a night show at the Midway
December 31 (Monday) New Year's Eve Bash with Something Sneaky, Native Son and Today Junior at O'Brien's Allston.
January 4 (Friday) It's tradition! The Annual NYDAY sale at 40 South St Vintage! come and grab a mimosa or a bloody mary and rock out. 50% off ALL THE CLOTHES!!!! 12-4PM FB page for more info
January 4 (Friday) OC45, The Dents, Duck & Cover, Blame It On Whitman at O'Brien's Pub
January 4 (Friday) 61 Ghosts, Little Billy Lost, JonesCreek, Thee Fightin' Fish at Koto Salem
January 11 (Friday) Not A Wasted Night: A Benefit for Chris Doherty of Gang Green at the Paradise. More info to come. Keep an eye on the Facebook page for updates. Tix are $25 and you knwo this is a great cause!! You can buy tix here.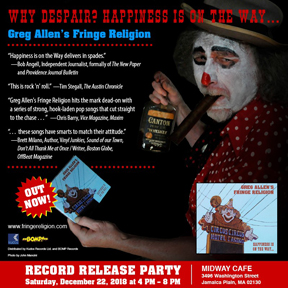 January 11 (Friday) Red Arlington, A Bunch Of Jerks, HIXX and Ski Bunny at O'Brien's in Allston.
January 12 (Saturday) Punk Rock Aerobics - A benefit for Girls Rock Campaign Boston! at ONCE Ballroom Noon to 3PM FB page.
January 12 (Saturday) IL Mostro (CD release) w/ Cortez, Scuzzy Yeti & Wrought Iron Hex at O'Brien's
January 12 (Saturday) Gene Dante And The Future Starlets, The Gala, Tiger Bomb, Smitt E. Smitty at Once Somerville.
January 12 (Saturday) The Joe Zippo Memorial Show at KOTO in Salem. Featuring: Hub City Stompers, Michael Kane & the Morning Afters, Brix'n Mortar, COB and Matt Wall will be playing in between sets.
January 12 (Saturday) Restraining Order, Envision, Antagonize, Brother, Pummel at AS220 Provi RI
January 17 (Thursday) The next Buy Me Boston book event is at the Boston Public Library 6-8 PM Here's the FB page.
January 17 (Thursday) Boston Emissions presents: PowerSlut, Stars Like Ours, Dark Wheels at Once Somerville.
January 18 (Friday) Tsunami of Sound, Keytar Bear, The Chelsea Curve and Little Billy Lost at Sally O'Brien's in Somerville.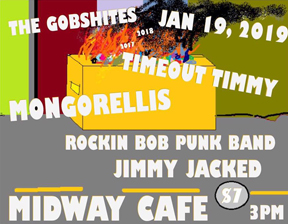 January 18 (Friday) Billy Connors Project, Stigmatics,Thigh Scrapers at Koto in Salem.
January 19 (Saturday) The Gobshites, Time Out Timmy, Mongorellis, Punk Band, and Jimmy Jacked at the Midway for a 3-7PM show.
January 19 (Saturday) Nat Freedberg, Watts, Justine and the Unclean, Duck & Cover at Once Somerville
February 2 (Saturday) Welch Boys Annual Ron Holbrook Memorial Show - proceeds go to The Pine Street Inn...featuring The Welsh Boys, Ice Cold Killers, Blue Bloods and Rockin' Bob Punk Band...at Great Scott.
February 8 (Friday) Hey Zeus Record Release & Listening Party (Argonauta Records) with Motherboar, Cocked N Loaded, Labor Hex at Once Somerville.
February 8 (Friday) Murphy's Law at the Middle East
February 16 (Saturday) Stop Calling Me Frank, A Bunch of Jerks, The Knock Ups, and Tsunami of Sound are at The Midway for a matinee show 3-7PM.
February 16 (Saturday) The Chills are at The Middle East Up.
February 19 (Tuesday) Gang Of Four at Once Ballroom!!!!!
CONTACT US AT....misslynbgn@yahoo.com Send us your gig listings, your news and anything else ya got!! You want your CD reviewed?? Contact us for that too.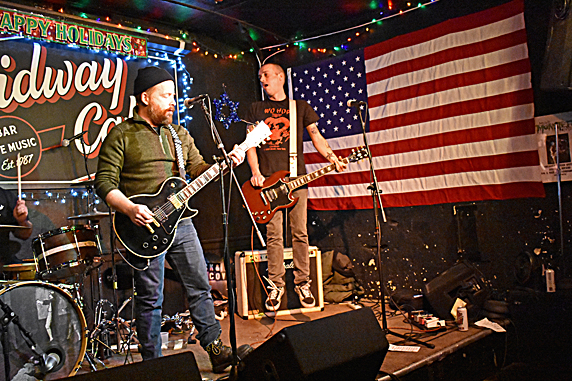 The Black Cheers
Photo: Blowfish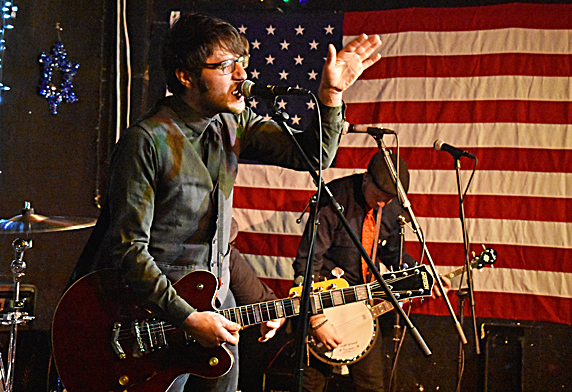 Coffin Salesman
Photo: Blowfish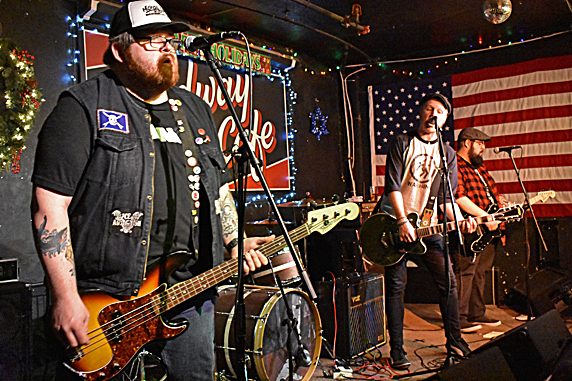 Loser's Circle
Photo: Blowfish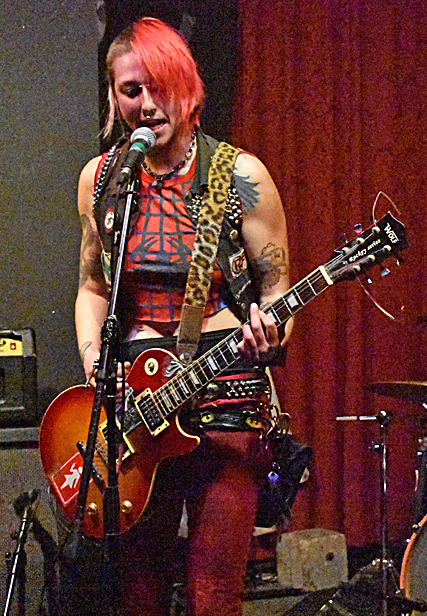 Yooth Decay
Photo: Blowfish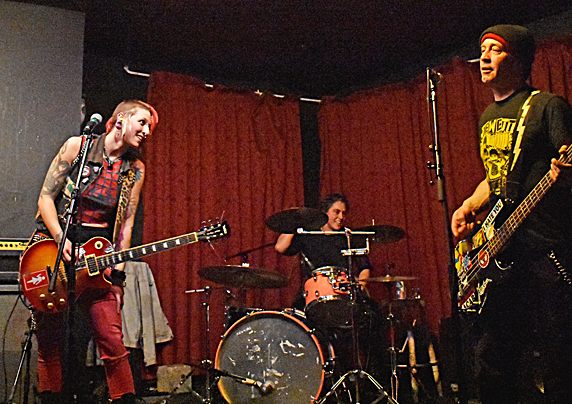 Yooth Decay
Photo: Blowfish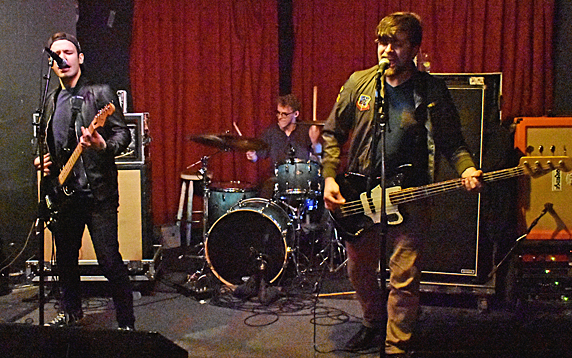 Never Loved
Photo: Blowfish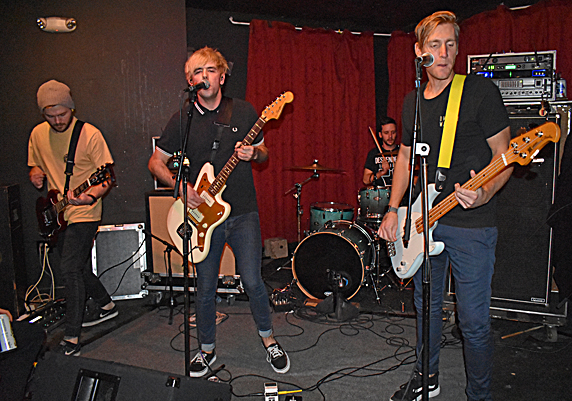 Summer Wars
Photo: Blowfish