The BGN News Archive
December 11, 2017
Justine Covault - Justine and the Unclean
Photo: Blowfish
Once we heard the weather report of a snow storm coming we made sure we got out Thursday to get a dose of noise. PA's looked like a good candidate. We saw Armpits. With that name they decided their album should be called Sweat Stains – fair enough. They were a trio with guitar, drums and vocal. Crustpunk is a label they use and that fits their attack. It was minute and a half bursts of chainsaw guitar, sputtering drums with throat singing and out and out yelling.
Armpits
Photo: Blowfish
As always it's impossible to catch the words. We did catch two, "fuck you" at the end of "Lunch Break". We'd love to hear those lyrics. On their Bandcamp page they post them. The beginning: "Fuck you, I'm on my lunch break/ I don't care about the classes your kids take/ I just want to be left alone/ with my ham sandwich mustard cheese and bologna" . Done at top volume that's pretty funny. That's right up there with the caustic regaling by Happy Flowers from yesteryear. "Beer Run" is what you think it is and there's lots who will relate to "I Need Weed" .
They get serious with "Purple Reign" a tirade against Big Pharma. Even without the words that was one cathartic set.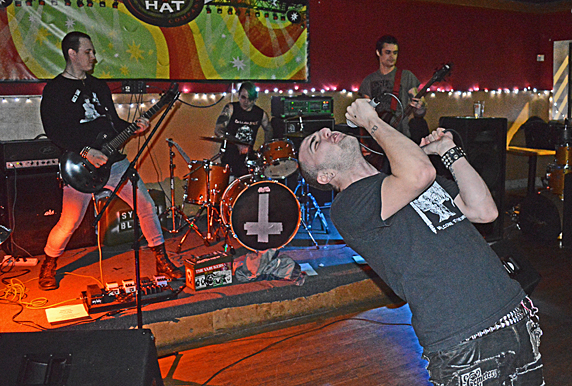 System Blister
Photo: Blowfish
The next band System Blister we have seen before back in August at Club Bohemia. They are hardcore/punk. The band is tight. The guitarist lives on power chords. The songs are written around power chord progressions and he lays them down with conviction. He does nice tasty leads in there too. We loved the drummer as much as last time. He's very busy and pumps in the excitement to the overall sound.
The singer is a force to contend with. Like last time he doesn't even pretend that he's going to be on the stage. He's on the floor and with some long legs is able to circle a lot of floor space as he literally bends over backwards to unleash his vocal torrent. One big problem at PA's though: the vocals were almost 100% drowned out by the instruments. Even with that, the singer was still striking in his performance. We hope to catch them again with a good PA system. Their Bandcamp page. Video of System Blister.
Friday it was a Rum Bar Records takeover of Once in Somerville. They had acts alternating upstairs and down playing half hour sets. You could see the rooms fill up and empty depending on which one had the music.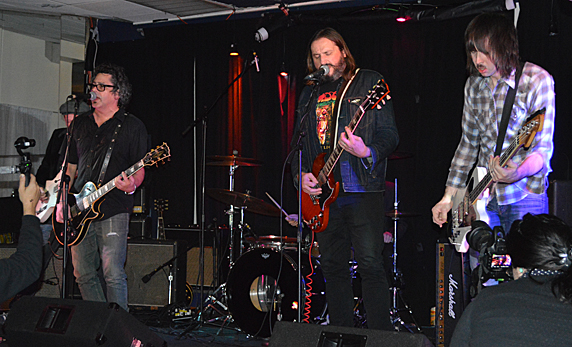 Tom Baker and the Snakes
Photo: Blowfish
Upstairs in the Lounge they had Miss Amy Griffin's band Pinecone Teeth, Roy Sludge and Jay Allen.
In the ballroom we caught some of Tom Baker and the Snakes who were in mid-set as we got there. Tom's distinctive voice was riding over that entanglement of guitars that only they can create.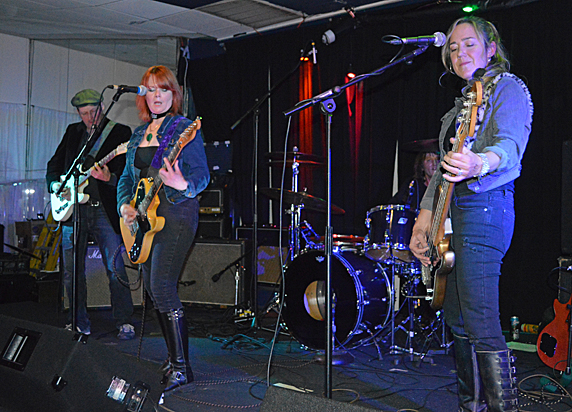 Justine and the Unclean
Photo: Blowfish
We were single-minded about hearing Justine and the Unclean. They've had a regular row of small gigs but this was in effect their coming out party and that's what it felt like.
We think their CD Get Unclean is an impressive debut. We go on about it here in our CD Review page.
Malibu Lou, Rum Bar's overlord, took control of the stage and whipped up the crowd and The Unclean began. The great news is that everything good about the CD was transmitted live too!! All the catchiness of the songs was right there. The songs are punky but smart and charming. The band of veteran players delivered them with energy and finesse. Charles Hanson on guitar was on fire, and when that guy is lit up – forget about it. He had perfect tone to the service of creative leads. He doesn't go down any worn paths. His playing sounded like it was normal rock but the side trips he took on the fret board were guitar lessons begging to be learned. Justine's rawer playing was the perfect foil that kept things rock solid.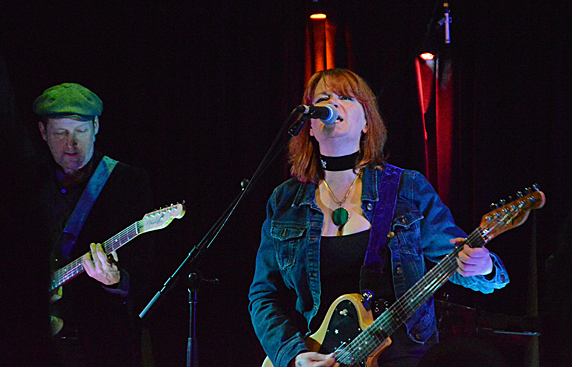 Justine and the Unclean
Photo: Blowfish
Jim Janota sounded like he was playing a 10 drum set up but he just had a normal set, he just got a huge sound out of it. He was all about driving the song along without being heavy handed but when a fill or ending needed some action… ka boom!
Then they had their magic weapon – when Justine and Janet Long sang together. What a glorious sound that was! That's when it seemed like it couldn't get any better. It was not show boat singing; it was singing that conveyed the lyrics in a way that appealed to our punk sensibilities. Who knows how or why that happens but when it does you know it. The audience certainly knew it when they were cheering after every song. This group has arrived!!
The music continued and the night had a party feeling. This was the Boston rock scene in full display.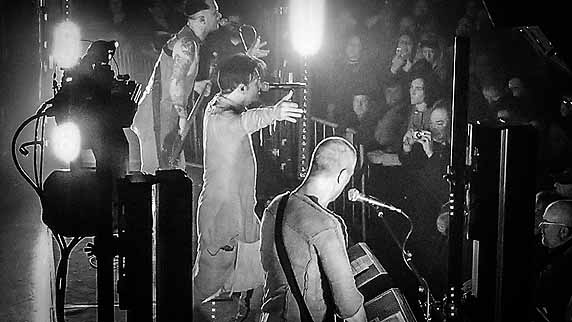 Gary Numan
Photo: John Keegan
John Keegan went to see Gary Numan at the Paradise on MOnday:
Gary Numan is no longer the twee robot behind "In Cars". He's been drinking almond milk, eating avocados and beefing up his sound. Not having followed Numan's audio output, I suspect this has been going on for awhile. He treated the packed crowd at the packed Paradise to a muscled-up show of industrial light and noise. He fronted a desert nomad clad band augmented by a knob and sample twiddling keyboard player. He plays six tunes from Savage, his substantial recent survey of our possibly dystopian future. First tune "Ghost Nation" introduces the defining elements; deep rumbling synth lows, snarling guitar, pumped-up base, the crash and whir of machinery and flitting synth twist - half lost in the din. His voice is clear and melodic over the onslaught. The light show amplifies the intensity and, I suspect, induces a few Andromeda Strain redblinkinglight moments. Oldies like "Metal", "Down in the Park" and "Cars" get ear-pleasing noise updates. Welcome to the no pleasure dome.
More band photos below the show listings.
---
And in other news.....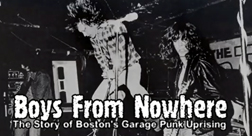 The Boys from Nowhere is finally going to be shown!! It's Wednesday, December 13, at the Capitol Theater in Arlington, at7:30 pm. The promos for this have been amazing on their own. The film is one that everyone who cares about Boston Punk has to see. It's packed with photos and music. The interviews cover all the early Boston purveyors of punk. This is a film that will mean so much as time goes on too. Event Facebook page
Backspin: X talk 40 years of love, loss, punk rock, and being 'just a little too weird' is a great filmed interview with John Doe and Exene Cervenka from X about their 40 years together in a band. Check it out here
Melodye Buskin was in Phobia and Lou Miami and the Kozmetix back in the day. Now, she's gets a cameo in the book Untypical Girls:Styles and Sounds of the Transatlantic Indie Revolution by Sam Knee. Check it out on Amazon here.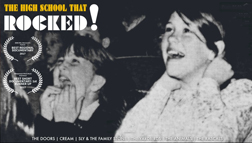 The High School That Rocked!, the award-winning 27-minute documentary short, has just been released exclusively on Vimeo on Demand after having screened at a small, select group of film festivals. The film tells the story of how six legendary bands in the Rock and Roll Hall of Fame all performed at Staples High School in Westport, CT from 1966-68, creating indelible memories for local students. Believe it or not, the Doors, Cream, Sly & the Family Stone, the Rascals, the Animals, and the Yardbirds (with Jeff Beck and Jimmy Page) all played at Staples in a two-year span. The Remains, two of whose members (Barry Tashian and Bill Briggs) graduated from Staples, are also included in the film and their music is featured throughout the documentary. The film captures a unique moment in time--one that's highly unlikely to ever happen again. Check out the trailer here!!
Here's a list summing up this year's crazy band names. There's plenty to plumb if you give it some time. They have some videos to go with it. There's: The Texas Toast Chainsaw Massacre, Jerkagram, Robot Parts for Broken Hearts, Satanic Hispanic, Moist Clown, Bleach Everything, Youth on Soda, Illuminati Sex Party, Joy Of Monogamy, Period Bomb, Art School Jocks, Headless Dentist, Punker In The Headlights, Fat History Month …it goes on and on. The best ones are the most obscene, which we leave you to find.

Marsman digitized some of Terry Brenner's tapes of Oedipus' Demimonde show from 1977. This will take you back! Check it out on Youtube
Tiger Bomb won best Punk Act in the 2017 Portland Music Awards given out by the Portland Phoenix. They still have a Phoenix up there? Read more about it here and Congrats Tiger Bomb!!
The Boston Music Awards did their thing last week. Among the winners were Clarissa Johnson and Weakened Friends and Nice Guys (for Punk/Hardcore Artist of the Year ).
If you haven't 'liked' us on Facebook you are missing a few things we posted lately like: The priest blessing the new Brookline Record store. The rock and roll votive candles. A story in a NYC paper on older punks (like us) who haven't given up the ghost yet. This week's look at Punk's Past - see what happened 5 years ago or 40 years ago. BGN Facebook
---
Here's some good shows coming up .....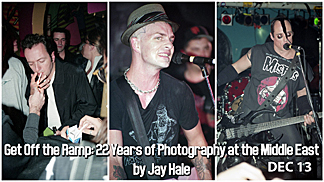 December 11 (Monday) Rocker Zine's Rock and Roll Tacos & Trivia at ONCE Lounge 7-10PM...always fun!! FB page
December 13 (Wednesday) Finally The Boys From Nowhere shown to the public!! See it in its entirety at The Capital Theater Arlington - 7:30PM . FB page
December 13 (Wednesday) Get Off the Ramp! 22 Years of Photography at The Middle East showcasing the photography of Jay Hale, he's seen many bands and you can check 'em out a this show!! 7-9PM FB page
December 14-16 (Thurs-Sat) Bowery Boston presents Street Dogs Wreck the Halls Thursday 12/15- with special guests The New Darkbuster & Taxi Driver at The Sinclair - Proceeds benefit Massachusetts Fallen Heroes
December 14 (Thursday) Boston Compass: Confront Your Issues party and pop-up art show at Garment District. They'll be artists DJs snack and shopping Nd its free! 6-9PM FB page for more info
December 14 (Thursday) The Hi-End, The Peasants, Trusty Sidekick at Sally O'Brien's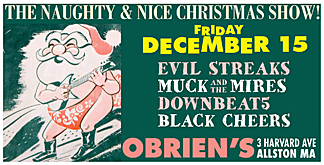 December 15 (Friday) The Evil Streaks, Muck And The Mires, The Downbeat 5, The Black Cheers at O'Brien's Pub
December 15 (Friday) Stop Calling Me Frank, Bar None, Trainwreck at Tavern at the End of the World
December 15 (Friday) Tragedy, The Scrooges, Rawstrum at The Middle East Up.
December 15 (Friday) Street Dogs Wreck the Halls with special guests The Pinkerton Thugs & The Abductors at The Sinclair
December 16 (Saturday) Roy Sludge is doing a 4PM show at Atwood's.
December 16 (Saturday) Street Dogs Wreck the Halls with special guests A Wilhelm Scream & Michael Kane & the Morning Afters at The Sinclair
December 16 (Saturday) Bent Shapes with Beware the Dangers of a Ghost Scorpion @ Great Scott- this is Bent Shapes' FINAL SHOW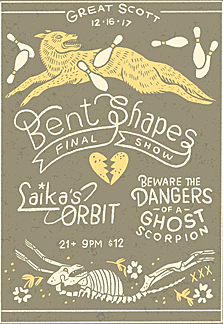 December 17 (Sunday) Thrash N Bang's Annual Xmas/Pizza Party Show! with Crimespree, CAC, The Grommets, The Sewer Buddies, and Jenn Lombari & special guests (Matinee 4-8PM)

December 17 (Sunday) The Dazies, Hallelujah the Hills, The Knock Ups, Courters at Koto in Salem

And further out we have...

December 18 (Monday) First Edit Photo Show Opening - 29 original prints of punk and rock musicians and fans, from the late 80's and early 90's by JJ Gonson at the Diesel Cafe in Union Square Somerville. FB page

December 20 (Wednesday) Solstice Party 2K17: Gizzards, Coralcola, Full Color, Totaled at O'Brien's

December 20 (Wednesday) Mr Airplane Man at Atwoods

December 20 (Wednesday) Crimespree, Worm, Parkinglot at the C Note in Hull

December 26 (Tuesday) KCUF, Loser's Circle, The Essays at O'Brien's Pub

December 28 (Thursday) The Knock Ups, Gene Dante And The Future Starlets, Godmouth, Set Fire at O'Brien's Pub

December 30 (Saturday) The Hi End are on Crash Course For The Ravers on WMFO 91.5 1PM-4PM with Brian Young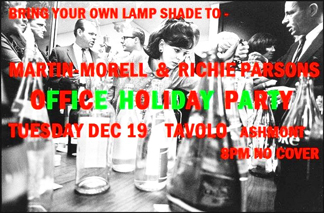 December 30 (Saturday) When Particles Collide, Old Jack, Petty Morals at The Lizard Lounge
December 30 (Saturday) 3 Parts Dead, Z28, Test Meat at Koto in Salem
January 6 (Saturday) Nervous Eaters, Watts and David Age & The Regrets at ThunderRoad FB page
January 6 (Saturday) Fur Purse Album Release Party with Whore Paint, Shepherdess, sister at The Midway
January 9 (Tuesday) The Hi-End, Ski Bunny and Monty's Lobster at OBrien's
January 13 (Saturday) FREE SHOW Pop Night with Greg Allen's Fringe Religion, Tiger Bomb, Pop Gun - at Bayside Bowl Portland, ME.
February 10 (Saturday) The Classic Ruins, TJ Wheeler, Black Cat Road for a early show at Bayside Bowl, Portland ME. Free Show! Starts 8:30 Sharp!
January 13 (Saturday) Stop Calling Me Frank, State of The Union, The Johns, Angel Martins at The Midway for a ear;ly show at 4:00 PM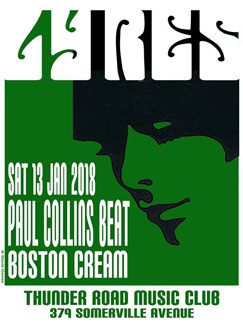 January 13 (Saturday) Lyres, Paul Collins Beat, Boston Cream at Thunder Road FB PAge
January 14 (Sunday) The Black Souls, Crunch Time, I Wish I Could Skateboard, Vanishing Point at The Midweay for a early show at 4Pm January 20 (Saturday) Muck and the Mires, Tiger Bomb, Duck & Cover at The Dover Brick House, New Hampshire 8:30 pm. for a early show at 4Pm
January 22 (Monday) U.S. Bombs, Wimpy Rutherford & The Cryptics, The FUs - at the Dover Brickhouse Dover, NH - Here's the FB page
January 27 (Saturday) Red Mantis, Silver Screams, Wrought Iron Hex & Greylock at O'Brien's
January 27 (Saturday) Il Mostro, Mercury On Mars, Uncomfortables, Silver Screams at O'Brien's Pub
February 11 (Sunday) The Thigh Scrapers, State of The Union, Pop Gun, Lily Black for a early show at 4PM at The Midway
February 2 (Friday) It's a double shot of The Dirty Truckers - they are doing two sets - the line up will be... Michael Kane & the Morning Afters, The Dirty Truckers (first shot), Tad Overbaugh, The Dirty Truckers (2nd shot) at O'Brien's
February 24 (Saturday) A Bunch of Jerks, Muck & the Mires, Jay Allen & The Archcriminals, Hambone Skinny at The Midway 9PM show
CONTACT US AT....misslynbgn@yahoo.com -Send us your gig listings, your news and anything else ya got!! You want your CD reviewed?? Contact us for that too.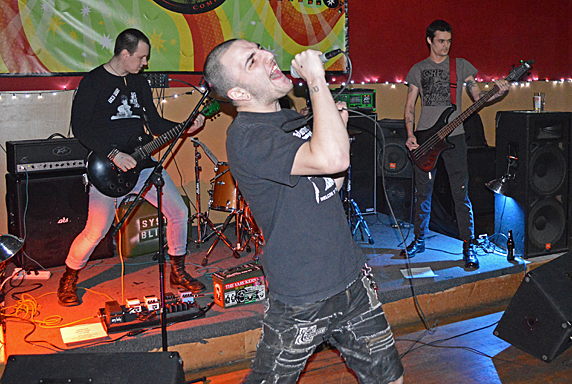 System Blister
Photo: Blowfish
Tom Baker and the Snakes
Photo: Blowfish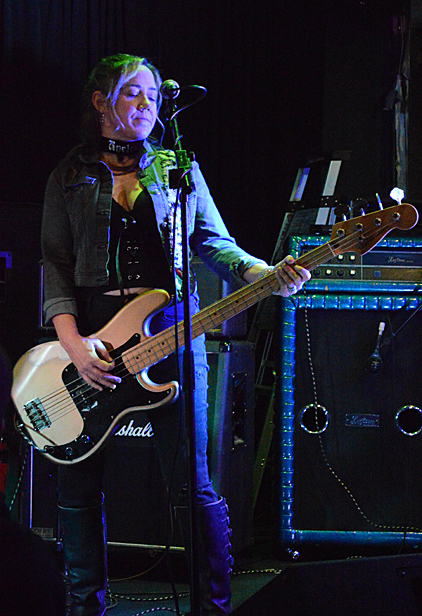 Janet Egan Long
Photo: Blowfish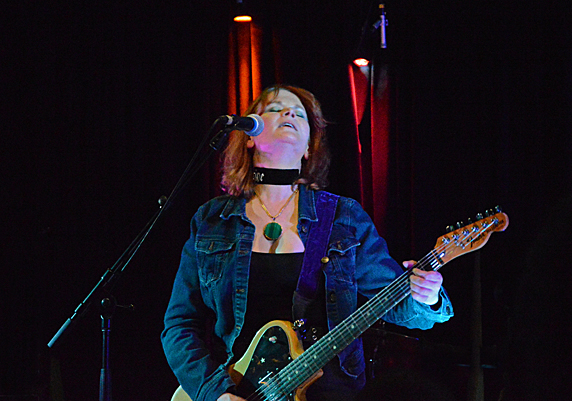 Justine Covault
Photo: Blowfish
Justine and the Unclean
Photo: Blowfish

Gary Numan
Photo: John Keegan