The BGN News Archive
December 12, 2016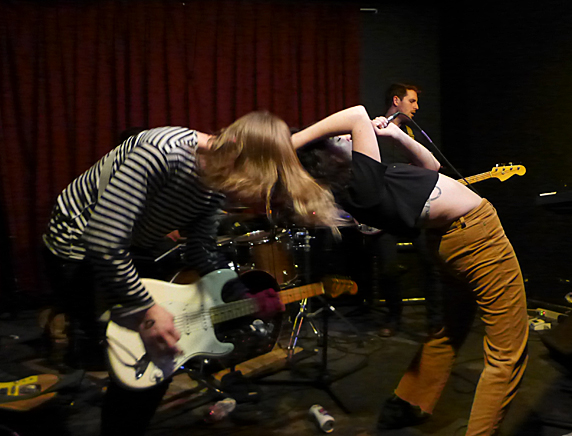 Swim Team
Photo: Blowfish
On Tuesday it was some familiar groups in a new (to us) location. When TT's and Store 54 closed people were worried that clubs would be closing all over the place. That never happened. The TT's location will be Sonia soon enough. Across the street The Out of The Blue Gallery has shows. Once turned out to have great booking all the time (Reverend Horton Heat this summer!) There are two new clubs in Salem. Now there looks like there may be another space at The Wonder Bar. It's on Harvard Ave across the intersection from Great Scott's. It's actually the old Bunratty's (later Local 186).
I didn't pay attention to the place until I saw a bill of Today Junior, Zip Tie Handcuffs and Dead Trains. I looked at the club's Facebook page and it had videos of a dance club. I looked into the club before entering and sure enough it looked and sounded like a dance club. I went in anyway and asked, "are you having groups here tonight?" It turned out yes, downstairs.
Downstairs was on the small side and way longer than wide. A bar takes up half the space. With no stage the band was right on the floor. All night I was 5 feet from the bands. There were about 25 people there. It had that feeling that you were in on something new and cool.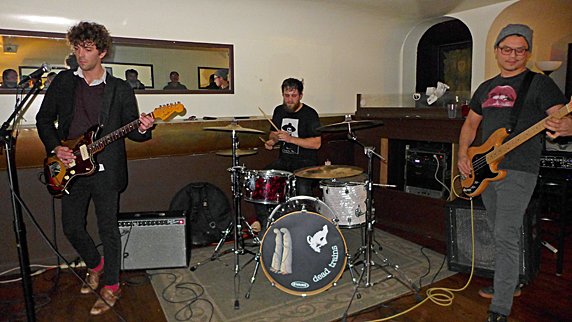 Dead Trains
Photo: Blowfish
Dead Trains were playing when I got there. They were loud and rocking. The songs were all riff based with hardly any chords at all. It reminded me at times of Led Zeppelin. The bass player was very nimble and doubled up on the riffs to give them the power. I only heard a few songs but enough to know I liked it and will check them out in the future.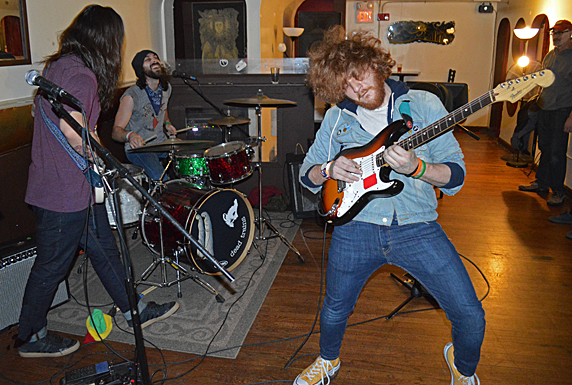 Today Junior
Photo: Blowfish
It's no secret we're big on Today Junior and they were in great form. They had new material, some of it slower songs. They keep growing with the songwriting. The set had variety with the slow songs bringing the louder and more manic material into relief. Being so close I could see exactly what Harry was doing on guitar and it's very impressive. Nothing he does is straight ahead. The beauty is when he's doing something very complicated but it still rocks out and he puts on a good show to boot. It was another exciting set. They should be getting way more attention.
Zip Tie Handcuffs
Photo: Blowfish
Now, Zip Tie Handcuffs have gotten attention. People know how good they are. This night they did what they do every set; get up there and create a chaotic roar. Whereas Today Junior will change up the pace, Zip Tie never do. It's rock rock rock. It was a thrill to be so close to these three guys as they pumped it out.
The guitarist dials his Marshall up for maximum scrunch. (On the amp he has chipped away at the name Marshall so that it reads 'harsh'. With that tone he plays lots of psych flavored riffs, all this to the service of their very individual sounding songs with their patented high harmonies. I don't think they sound quite like any other group. I asked the band who they thought they sounded like and they also thought there was no obvious contender.
| | |
| --- | --- |
| Zip Tie Handcuffs | Today Junior |
Again it was extra impressive being so close and feeling the bass/drums thumping on my chest. Zip Tie have a tour of New England lines up in January. Meanwhile you should be buying their latest CD and digest that! You can download it here and its worth it!!
We'll see if the Wonder Bar continues to book. If they do that's four rock clubs in that area with Wonder Bar, O'Brien's, Great Scott's and Brighton Music Hall. Allston rock city, no shit!!
Just random checking out music on line led us to O'Brien's on Thursday. Just a few songs at the end of their set showed Notches to be loose, noisy and full of enthusiasm. Their Bandcamp songs are very much the same as them live. We were surprised when we walked in because the club was over half filled. That's good for O'Brien's during the week.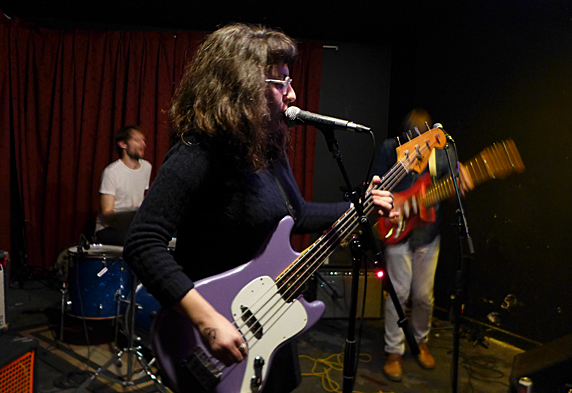 Halfsour
Photo: Blowfish
Halfsour that followed were more controlled except maybe for the drummer who was a bit of a maniac and I mean that in a good way. I liked it but wasn't overwhelmed by the whole package which is what I thought when I saw them a few months ago. Here's their Bandcamp page

But overwhelmed is what happened with Swim Team. What to expect of a band called Swim Team? They come from Cincinnati, they are young and punk. How great is that?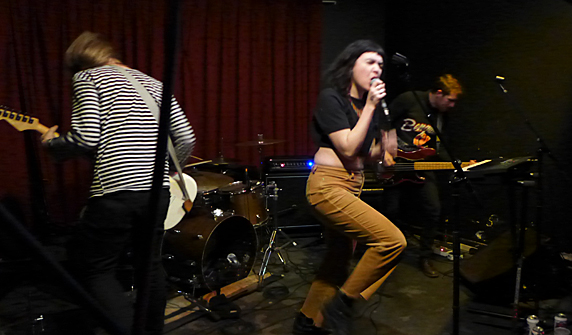 Swim Team
Photo: Blowfish
From the beginning it was front person Lillian Currens who took your attention. She had a distinctive look with a pageboy haircut and bare midriff. Her voice was mid-range. She would yell atonal punk style but then you could hear melody lines in the mix. Twice they played slower songs where she played a keyboard and would sing in a traditional way. Those hung together better as songs and had an emotional element. Then it was back to the punk oriented material that had an updated feel to it. It wasn't a complete copying of the old style.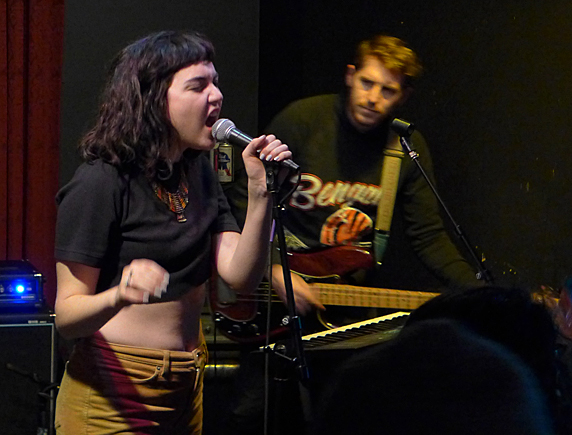 Swim Team
Photo: Blowfish

I'm ignoring the band here but they were playing an exciting punk mix. We have a short video that shows some of the action. It's worth watching to get a taste. It was hard to tape or take photos because people were jammed up close. More proof if you need it that there still are scrappy new punk bands out there deserving attention. Here's their page on Infinity Records.

Here's a song by SWim Team - Dirty Work.

Swim Team at O'Brien's


Swim Team


Again O'Brien's scores with a good mid-week bill.

It was our third Thrash'n'Bang Christmas Party at the Midway on Saturday. Last year Jenn Lombari and Lucky United signaled the beginning of feeling Chirstmassy with the rendition of Where The Fuck Are My Presents (VIDEO). I think she had another Christmas song lined up but we missed that set.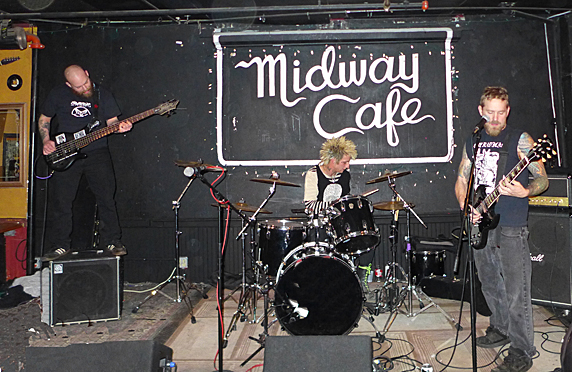 Fast Times
Photo: Blowfish
Some of the bands in the line up backed out at the last minute and Nick Hebditch got his band Fast Times together and they filled in. I saw a few songs and they were what you might call melodic hardcore. No doubting the hardcore part but the songs were something you could hang on to, not just a rush of sound.
To me this is the Holy Grail. The bass player even has a six string bass, that's not the norm for hardcore. Nick has turned out to be someone to watch for. Thrash 'n' Bang have known that for a while. Nick says they now have 12 songs recorded and 3 mixed. It will be interesting to see if they can capture this band in the studio.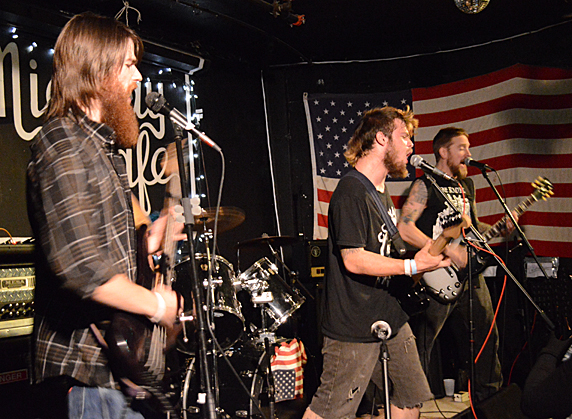 Crime Spree
Photo: Blowfish


Nick was also playing in the next band Crime Spree. Even though Nick is an engaging front man he has to step aside when lead singer/guitar player Chester Timmins starts to erupt. It's a non-stop berating, cajoling and poking of audience and band members. The music is demanding hardcore and he's putting everything he has into it yet when the music stops, or before, he's off and telling the audience he wants to see some movement out there. He's sweating but not out of breath. He has the stamina of a football team. He had everyone in the club raise their hand and he made sure it was everybody including the bartender. No reason for that but it was a funny exercise in getting full attention.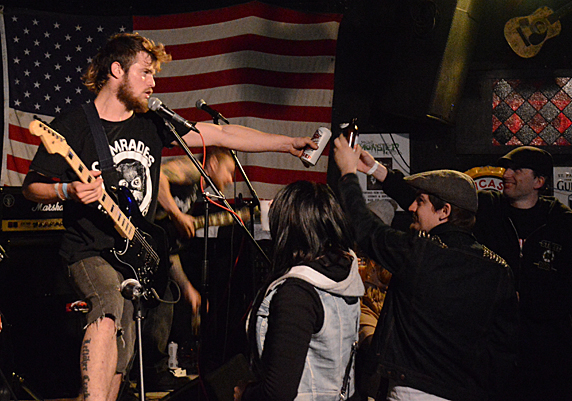 Crime Spree
Photo: Blowfish
The music was full bore hardcore. It seemed complicated and well-rehearsed although Nick said it was simple and they only had 6 or so rehearsals (although long ones). In any case it sounded tight with lots of dynamics.
Before the last song Chester he made a guy come up and he slapped his bare ass (in video below) and that last song was crazy and loose. A party ending to a wild set. Here's Crime Spree's bandcamp page
| | |
| --- | --- |
| Ass Slap and song | Crime Spree |
This gig was five dollars to get in with free pizza. I still don't feel like it's Christmas yet, but that was a gift.
And in other news.....
Speaking of Christmas gifts!!! Rocker Zine's Rock Box makes the perfect holiday gift!! It's a mystery box with music, vinyl, books and fun rock n' roll stuff in it. Every box is worth double what you pay and has free shipping! AND It's cheaper than it was last year- Nice!Get it here!!!
And speaking of new venues ArtsEmerson is jumping into the ring with special shows: "Local Boston bands and audiences haven't had the opportunity to enjoy concerts in downtown Boston venues for decades. ArtsEmerson's Black Box Sounds concert series transforms a black box theatre into a pop-up music venue to bring the best area bands and performers back to the heart of our city. Black Box full-bar is open for service throughout the concert." The dates so far are January 20 & 21, March 31 & April 1 with the likes of Zip Tie Handcuffs, Gene Dante, Upper Crust and When Particles Collide (see listings below for full info)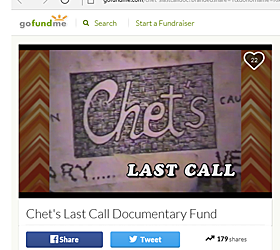 The Go Fund Me for Chet's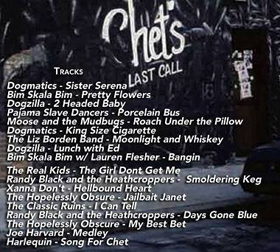 The music
The people doing the Chetís documentary have posted a trailer and boy is it good. This will be a worthy project to support. The video can be seen on their GoFundMe page . You can see some of the Once Chetstock show in the trailer. They look and sound much better than what we have come to expect on these projects. They have 18 songs out digitally now. You can get it here as part of the GoFundMe perk. Itís been a year since those concerts at Once so they have done a lot and done it well.
Here's some good shows coming up .....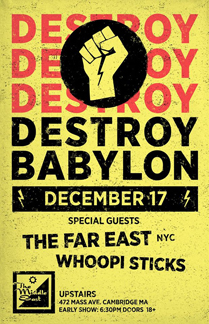 December 13 (Tuesday) When Particles Collide are at Atwood's Tavern, 7PM show
December 15 (Thursday) Shitted Wizard, Shatner, and Petty Morals are at O'Brien's
December 16 (Friday) Blue Hyenas, The Maxims, Big Jon & The Mattress Factory and The Stigmatics are at McGann's Irish Pub (197 Portland St, Boston, Massachusetts 02114)
December 17 (Saturday) Roy Sludge is doing at 6PM set at Sally O'Briens
December 17 (Saturday) Whoopi Sticks is doing an early show at the Middle East Up; along with The Far East and Destroy Babylon - music starts at 7Pm
December 18 (Sunday) Just in time for the holidaze- This ain't your granma's flea market....It the Rockin' Holiday Flea and Bloody Mary Bash at Once in Somerville! It's an ALL DAY PARRTAAY and it's Free Admission, Open to all ages,11AM- 6PM THIS is where you get your gifts for everyone! There'll be Tasty breakfast tacos from Cuisine En Locale! Tons of vendors selling: Vintage clothing + Collectibles, Tons Photo booth with Panda Clause and DJ spinnin' music! Here's the FB page
December 18 (Sunday) Continental, The Pourmen, The McGunks, The Hi-End and Sweet Babylon are doing a early show at Firehouse 13 in Provi RI. FB page
And further out......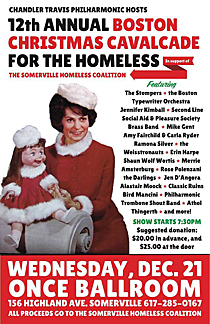 December 20 (Tuesday) When Particles Collide are at Atwood's Tavern, 7PM show
December 21 (Wednesday)12th Annual Boston Christmas Cavalcade for the Homeless at Once - such a very good cause AND lots of great music: The Chandler Travis Philharmonic, The Stompers, The Boston Typewriter Orchestra, Jennifer Kimball, The Second Line Social Aid & Pleasure Society Brass Band, Amy Fairchild & Carla Ryder, Ramona Silver, The Weisstronauts, Erin Harpe, Shaun Wortis, Merrie Amsterburg, Rose Polenzani, The Darlings, Jen D'Angora, Alastair Moock, The Classic Ruins, Bird Mancini, The Revolutionary Snake Ensemble, Mike Gent, The Boogaloo Seamus, Kimon Kirk, The Philharmonic Trombone Shout Band, The Athol Thingerth. This is to support the Somerville Homeless Coalition. BUY TIX HERE!!
December 23 (Friday) Raging Teens 20th Anniversary Boston Reunion! at O'Brien's (FB page) also on the bill Roy Sludge, Ten Dollar Mistake and DJ Easy Ed's Record Hop between sets!
December 27 (Tuesday) When Particles Collide are at Atwood's Tavern, 7PM show
December 28 (Wednesday) PHILEEP, The Justin Arena Project, As Seen From Space, Sound Bandits and Thee Sonomatics are at PA's Lounge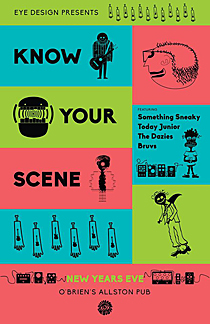 December 31 (Saturday) Eye Design New Years Eve Party with Something Sneaky, Today Junior, The Dazies and Bruvs at O'Brien's
January 7 (Saturday) The Johns, The Martians (mems of Bim Skala Bim/Rock Bottom), The Cold Expectations (Album Release) and Medical Maps at The Midway
January 7 (Saturday) The Last Ones, Tsunami of Sound and Stop Calling Me Frank are at Sally O'Briens
January 13 (Friday) Lyres, The Charms, the modifierS at The Middle East Up.
January 14 (Saturday) Now here's a show you won't want to miss Brian Young's A Crash Course for the Ravers (WMFO 95.1FM 1-4PM) has Andy California as a guest.
January 14 (Saturday) Go Blank, The Martians, Loser's Circle and Black Cheers are at O'Brien's
January 20 (Friday) The Lights Out, Gene Dante & The Future Starlets, Zip Tie Handcuffs and The Sun Lions at the ArtsEmerson Black Box series at Emerson/Paramount Center, Jackie Liebergott Black Box Theatre - 559 Washington St Boston (Link)
January 21 (Saturday) HayBaby, Creaturos, MiniDresses and Jack as part of the ArtsEmerson Black Box series at Emerson/Paramount Center, Jackie Liebergott Black Box Theatre - 559 Washington St Boston (Link)
January 21 (Saturday) an ACLU BENEFIT featuring Petty Morals , Stars Like Ours, Carissa Johnson and music by DJ Leah V at O'Brien's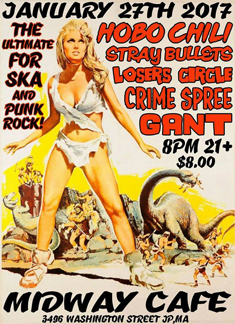 January 27 (Friday) Ska and Punk night at the Midway with Hobo Chili, Stray Bullets, Losers Circle, Crime Spree and Gant!
February 10 (Friday) The Upper Crust, Watts and Petty Morals are at great Scott
February 10 (Friday) Lux Lives East Coast is coming again -this event is in Salem at Koto, on the bill are Thee Fabulous Itchies, The Evil Streaks and The Nebulas. Here's the FB Page Lux Lives is a chance for Bands and DJ's and fans to come together to celebrate the life of Lux Interior. Since it's inception, Lux Lives East Coast has raised over $10,000.00 for Lux and Ivy's favorite charity Best Friends Animal Society. This is a GREAT event all around!
March 8 (Wednesday) The Sheckies, Mongorellis, The Prozacs, Meat Depressed at Koto in Salem
April 1 (Saturday) The Upper Crust, Sidewalk Driver and When Particles Collide as part of the ArtsEmerson Black Box series at Emerson/Paramount Center, Jackie Liebergott Black Box Theatre - 559 Washington St Boston (Link)
CONTACT US AT....misslynbgn@yahoo.com - Send us your gig listings, your news and anything else ya got!!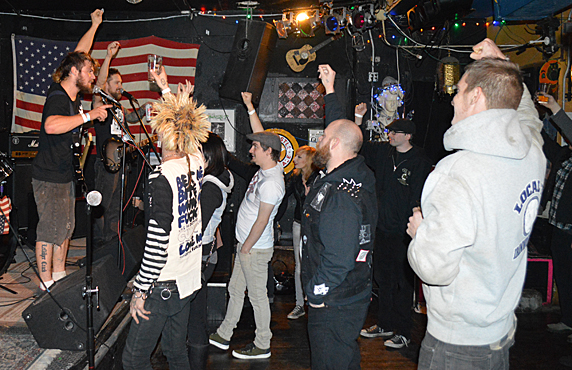 All hands in the air or else...at the Crime Spree show
Photo: Blowfish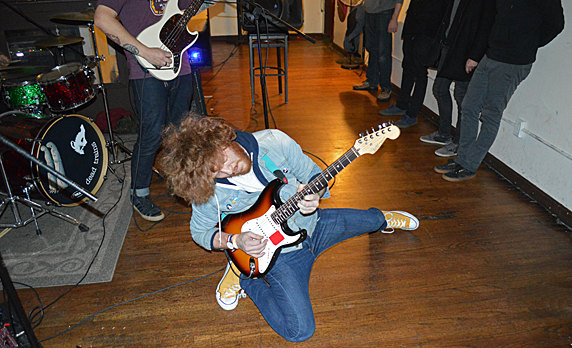 Today Junior
Photo: Blowfish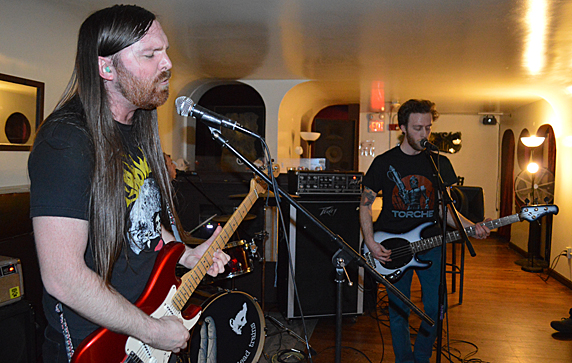 Zip Tie Handcuffs
Photo: Blowfish