The BGN News Archive
December 8, 2008
Ed Moose Savage
at Picture Paradise

| | |
| --- | --- |
| | |
OOoooOOHHhhH….I am recovering from a great party at Brett Milano's….whew it was fun….but before I went to Brett's I hitched a ride on up to Salem to check out Ed Moose Savage's Picture Paradise Open House…this guy has a super extensive and very cool collection of memorabilia…if you are ever up that way you should email Ed to have open up the shop for your perusal. He's got stuff for every room of the house and a gazillion old photos, prints and everything..amazing!!!So check out his website Picture Paradise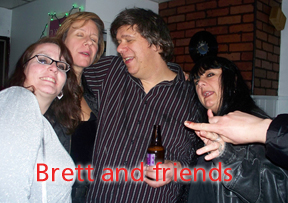 Then it was on to Brett's party…we brought party lights to help set the mood and yeehaw !!
Now being a big rock critic and all Brett knows everybody and they were all there at the party. I think I left at 2 or 3. Oh and he has the most amazing and gigantic Maine Coon cat named Cerile……..
So here's some stuff that's coming up: Wednesday December 17th, at O'Brien's is Pulp 45, The Curses and this Thursday is a awesome show at Church with Triple Thick, Jessy and the Jingle Belles, Jay Allen and The Arch Criminals and a special acoustic set by The Classic Ruins!...
and Monolith…
…this Saturday December TT The Bear's has The Bee Eaters (featuring Andrea Gillis) and Rocky Velvet!!... Looks like the Outlets are doing an acoustic thing for a little while…they are acoustic at The Plough and Stars on December 20th and then again on December 26th at the Middle East Bakery….
Also on Friday the 26th at The Middle East up is Triple Thick and Noble Rot….AND same day , over at Church is their Boxing Day Extravaganza with All Mod Cons, The Asthmatics, Chainsaw Disasters and Gibby & The Buzzkills…and the next night, Saturday the 27th also, at Church is most awesome with Cocked and Loaded, Red Invasion and The New Alibies…a punk rock Christmas!! And on the 27th, at The Cantab Lounge in Central Sq is the John Felice Birthday Celebration with Link Wrowe & the Wrowemen (featuring members of The Classic Ruins), Us Versus Them, The Mesmerines and of course the birthday boy himself: John Felice - He's going on at EARLY, as in 9PM so be sure to get there for his early set..
Ok my friends….email me with news, gig listings…whatever ya got for me….Miss Lyn