The BGN News Archive
December 19, 2016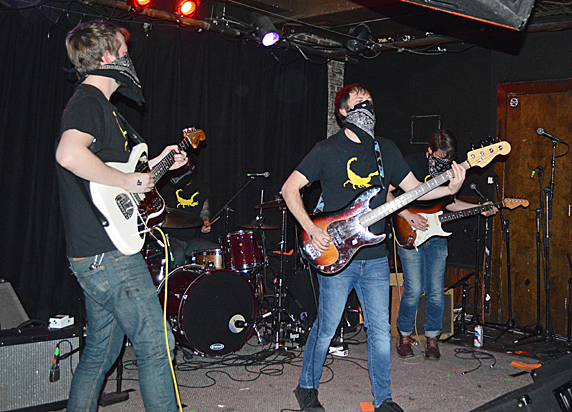 Dangers of a Ghost Scorpion
Photo: Blowfish
it seemed like everything conspired to prevent us from getting out this week. In the end it was the weather on Saturday. Even though Friday was freezing we did hit Great Scott's to hear Beware the Dangers of a Ghost Scorpion! We've seen them before in July of 2015.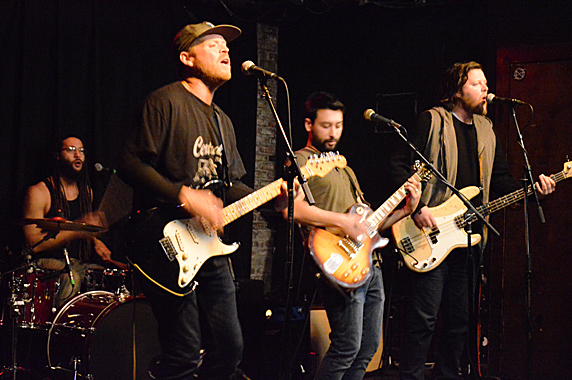 Crooked Coast
Photo: Blowfish
But going on before them was Crooked Coast from Cape Cod. Even though they are not in my musical territory I thought they were very good in an Alt-country style (they had other things going on too). The songs were extremely catchy and the vocals were very appealing. They had fans there and I could hear why. Check out their Facebook page. Crooked Coast video.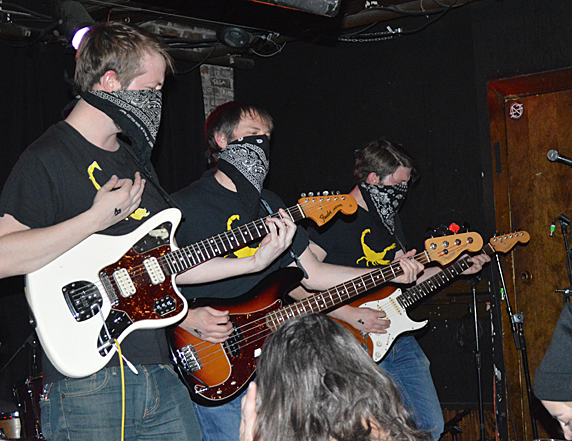 Dangers of a Ghost Scorpion
Photo: Blowfish
One of routines of The Dangers of a Ghost Scorpion is that they wear neckerchiefs during the performance and they don't talk at all while playing all instrumentals. They were onstage doing their sound check without their masks and I was surprised to see that they all had beards. I took a photo but that will remain in the locked box.
Again they impressed me with the way they write their material. It's not straight surf and they eschew all the conventions and worn out progressions. They let the melodies carry the tune where it wants to go. Everything sounds mysterious and a bit sinister but it also bounces along. They never let the tempos get slow. The crowd all came toward the stage and were surf swaying in place. They've found a way to play surf influenced instrumentals without doing all the all cover tunes and people seem to love it....and they loved it on this freezing night.
Give them a listen on their Bandcamp page.
And in other news.....

it's almost Christmas but it's not too late to get a really cool gift: Rocker Zine's Rock Box makes the perfect holiday gift!! It's a mystery box with music, vinyl, books and fun rock n' roll stuff in it. Every box is worth double what you pay and has free shipping! AND It's cheaper than it was last year- Nice! So hurry up and Get it here!!!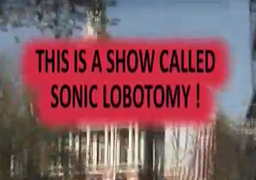 And here's a gift that will keep on giving....donate to Sonic Lobotomy!! Sonic Lobotomy is an online Boston music video site on You Tube and they have awesome videos of all our (your and our) favorite bands! They took a bit of a hiatus and are working to get back to more vids but need to set up a studio and need our help - so they've started a KickStarter campaign to raise some much needed funds...just think you donate some dough and you get to see and here great local live music because of it. So come on let's do this...get Sonic Lobotomy back up and running!! See some great videos from the past here.
And Rum Bar records has a new release from The Connection and this one sounds great!!: Winding down their 5 year anniversary as a band, 2016 saw The Connection reissue their first recordings 'New England's Newest Hit-Makers" on CD as well as the RSD Black Friday "A Christmas Gift For" LP on slabs of Red and Green colored vinyl. Songs from the bands catalog of releases continue to

receive weekly spins on Little Steven's Underground Garage, and the band continues to make power pop and garage rock year end lists. Hitting their home studio as the year came to a close, Brad Marino, Geoff Palmer and the boys in the band, including a slew of special guest veterans from the hey day when pop punk ruled the fanzines, record shelves, and airwaves, featuring Chris "B-Face" Barnard on bass (The Queers/Groovie Ghoulies), The Connection have gone back to their roots, crate digging, paying homage to their heroes in this 10 song collection "Just For Fun". Just go to RumBar Records and you can get it there.

The Forz who we covered two weeks ago has released their new album Something New • An Introduction To The FORZ on Bandcamp. Along with their originals it has the covers of Psychotic Reaction and Open My Eyes that go over so well live. Not a bad cut on it. It displays all their English Invasion and garage pop. Make it a Christmas gift for yourself. We picked the power pop sounding Julie (You're So Sweet) for our Top Ten Songs And you can catch them live New Year's Eve at Sally O'Brien's
The New Frustrations have a new EP Dee-Bacle is also available on Bandcamp. They have that garage punk sound from the 70s down pat. We haven't seen them playing live in a while. That's overdue. The lead tune is Radio Generation which looks at the power of radio back in the day compared to now. It's got a classic intro section. We have it on our Top Ten Songs. Listen on Bandcamp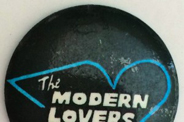 Ready for a trip? There is a punk badge (or buttons as we called 'em) exhibition currently on display at NYU's Bowse Gallery. A lot of the badges are from Better Badges from London done in the late 70's. Sounding good? You betcha. Here's some info from the Brooklyn Vegan.
Wanna go further?? There's good news and bad news. The good news: Plymouth is going to mark the 40th anniversary of a classic early punk gig with the Clash and the Sex Pistols on December 21, 1976. The bad news is that it is Plymouth, England. They're going to have two tribute bands recreate the groups. The London Calling for the Clash and The Sex Pistols Experience for the Pistols. They will also have The Broken Hearts doing Johnny Thunders and the Heartbreakers who were also on the gig. Check it out here
Keeping with the Sex Pistols a minute Pitchfork asked John Lydon to list the songs that influenced him. "The outspoken Sex Pistols and PiL frontman talks about finding freedom in Captain Beefheart as a teenager, hating the Stooges' long hair, forgiving Nirvana, loving Dolly Parton, and more." See the list here. Pretty interesting!!
Here's some good shows coming up .....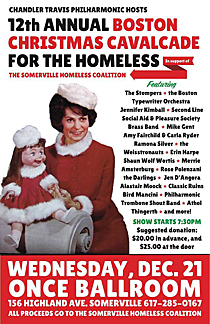 December 20 (Tuesday) When Particles Collide are at Atwood's Tavern, 7PM show
December 21 (Wednesday)12th Annual Boston Christmas Cavalcade for the Homeless at Once - such a very good cause AND lots of great music: The Chandler Travis Philharmonic, The Stompers, The Boston Typewriter Orchestra, Jennifer Kimball, The Second Line Social Aid & Pleasure Society Brass Band, Amy Fairchild & Carla Ryder, Ramona Silver, The Weisstronauts, Erin Harpe, Shaun Wortis, Merrie Amsterburg, Rose Polenzani, The Darlings, Jen D'Angora, Alastair Moock, The Classic Ruins, Bird Mancini, The Revolutionary Snake Ensemble, Mike Gent, The Boogaloo Seamus, Kimon Kirk, The Philharmonic Trombone Shout Band, The Athol Thingerth. This is to support the Somerville Homeless Coalition. BUY TIX HERE!!
December 23 (Friday) Raging Teens 20th Anniversary Boston Reunion! at O'Brien's (FB page) also on the bill Roy Sludge, Ten Dollar Mistake and DJ Easy Ed's Record Hop between sets! NOTE: An early show has been added at 7PM too!
And further out......
December 27 (Tuesday) When Particles Collide are at Atwood's Tavern, 7PM show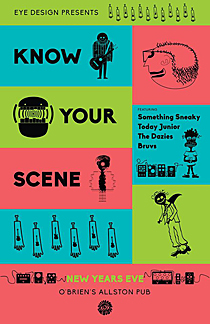 December 28 (Wednesday) PHILEEP, The Justin Arena Project, As Seen From Space, Sound Bandits and Thee Sonomatics are at PA's Lounge
December 31 (Saturday) Eye Design New Years Eve Party with Something Sneaky, Today Junior, The Dazies and Bruvs at O'Brien's
January 7 (Saturday) The Johns, The Martians (mems of Bim Skala Bim/Rock Bottom), The Cold Expectations (Album Release) and Medical Maps at The Midway
January 7 (Saturday) The Last Ones, Tsunami of Sound and Stop Calling Me Frank are at Sally O'Briens
January 13 (Friday) Lyres, The Charms, the modifierS at The Middle East Up.
January 14 (Saturday) Now here's a show you won't want to miss Brian Young's A Crash Course for the Ravers (WMFO 95.1FM 1-4PM) has Andy California as a guest.
January 14 (Saturday) Go Blank, The Martians, Loser's Circle and Black Cheers are at O'Brien's
January 20 (Friday) The Lights Out, Gene Dante & The Future Starlets, Zip Tie Handcuffs and The Sun Lions at the ArtsEmerson Black Box series at Emerson/Paramount Center, Jackie Liebergott Black Box Theatre - 559 Washington St Boston (Link)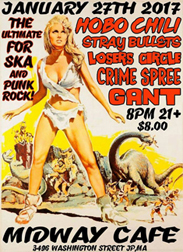 January 21 (Saturday) HayBaby, Creaturos, MiniDresses and Jack as part of the ArtsEmerson Black Box series at Emerson/Paramount Center, Jackie Liebergott Black Box Theatre - 559 Washington St Boston (Link)
January 21 (Saturday) an ACLU BENEFIT featuring Petty Morals , Stars Like Ours, Carissa Johnson and music by DJ Leah V at O'Brien's
January 27 (Friday) Ska and Punk night at the Midway with Hobo Chili, Stray Bullets, Losers Circle, Crime Spree and Gant!
January 29 (Sunday) Black Beach, Hairspray Queen, Idiot Genes and Thee Cavemyn at O'Brien's
February 10 (Friday) The Upper Crust, Watts and Petty Morals are at Great Scott
February 10 (Friday) Lux Lives East Coast is coming again -this event is in Salem at Koto, on the bill are Thee Fabulous Itchies, The Evil Streaks and The Nebulas. Here's the FB Page Lux Lives is a chance for Bands and DJ's and fans to come together to celebrate the life of Lux Interior. Since it's inception, Lux Lives East Coast has raised over $10,000.00 for Lux and Ivy's favorite charity Best Friends Animal Society. This is a GREAT event all around!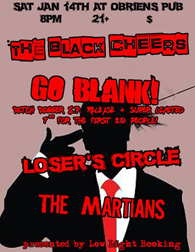 March 8 (Wednesday) The Sheckies, Mongorellis, The Prozacs, Meat Depressed at Koto in Salem
March 10 (Friday) Agent Orange, The Queers, & Guttermouth at ONCE Ballroom FB page
April 1 (Saturday) The Upper Crust, Sidewalk Driver and When Particles Collide as part of the ArtsEmerson Black Box series at Emerson/Paramount Center, Jackie Liebergott Black Box Theatre - 559 Washington St Boston (Link)
June 1 & 2 (Thurs & Fri) Reverend Horton Heat at Once in Somerville
CONTACT US AT....misslynbgn@yahoo.com - Send us your gig listings, your news and anything else ya got!!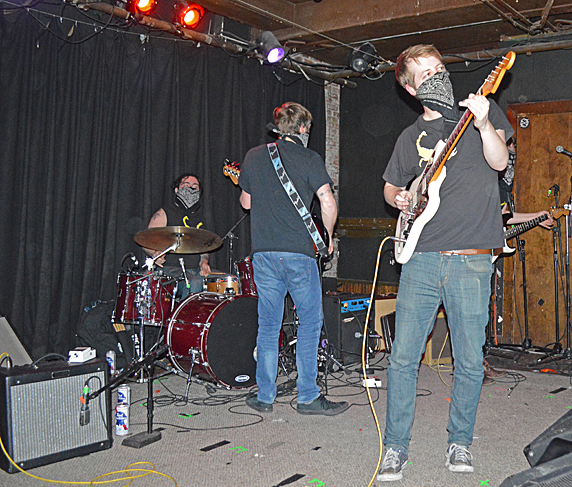 Dangers of a Ghost Scorpion
Photo: Blowfish