The BGN News Archive
December 24, 2012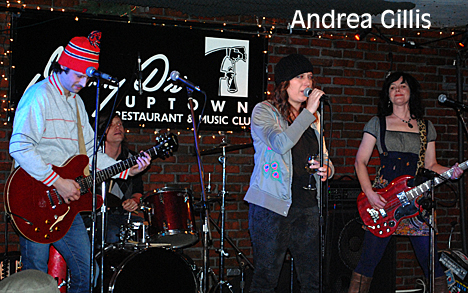 This past Friday we went to Johnny D's for Randi Millman's 17th Annual Holiday and Birthday Bash! As promised there were numerous short sets of many local rockers- and they really pretty much stuck to the 2 song set deal for this show!! Township's Marc Pinansky (SANS BEARD-YAY!! Way to go Marc) was sort of ever present on stage playing guitar. Andrea Gillis and Michele Paulhaus did a couple numbers , Jenny Dee and one of her singers got up with John Powhida in reindeer antlers no less, to do some dirty Santa songs. There were lots of variations on bands up there for the nights and everyone was out to wish Randi the best; Brett Milano, Bob Colby, Paul Robicheau, and a ton of others…….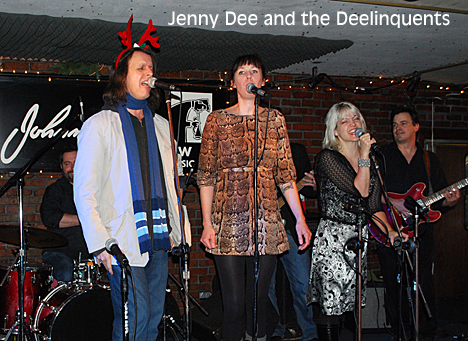 And here comes Christmas, if you celebrate that…..nothing much happening until Wednesday when Roy Sludge plays at the Lizard Lounge
And then comes…the end…of the year that is….and to finish it off, we have the Mighty Mighty Bosstones doing their 15th annual Hometown Throwdown at The House of Blues on Dec 29, 30 & 31. But this year they have special guests The Dogmatics opening the show on the 29th. And Jerry LeHane tells us: "We will have some special guests playing with us, JG who plays keyboards in the Bosstones and was the 5th Dogmatic from 85-86 will sit in for a song or two." And there should be another special guest joining them on stage for a holiday tune or two as well!! So if you can find a ticket…get on over there!!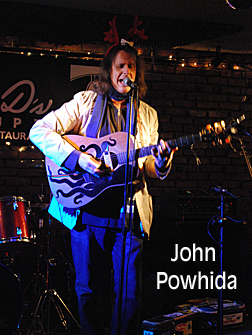 I personally think this'll be a good show: Girls, Guns & Glory do their Third Annual Tribute to Hank Williams at the Lizard Lounge on Dec 31 & Jan 1st. Opening act is special guest Miss Tess and The Talkbacks…its sending me right back to my countrty roots at the Jim 10 in Ashland!!
There is a dearth of good shows for New Year's Eve…strange, nothing much to get us to pry ourselves out of the house.
But in the new year of 2013 - there's good stuff coming up:
Thursday 1/3 at Church (what happened to Church anyway? They used to have good shows - now: almost never anything of interest) Tsunami of Sound is there with The Vivisectors and The Syptones…Saturday January 5th at Brighton Music Hall there's a Benefit for Brenda Wynne featuring Matalon, Raging Teens, Johnny Carvale and the Rolling Pins, Skeleton Beats, Razors in the Night, Cradle to the Grave, OC5, Never Been Caught - tickets are only $12 for all those bands and its to Benefit Brenda who was struck by a van in a hit and run accident in Allston. - get on down there and start the new year out right by doing good for someone else!!
Thursday Jan 10 there's also a good show at Church with Brian Carpenter & The Confessions, Do Not Forsake Me Oh My Darling and Endation
But wait it's Bob Colby's second Second Thursday at Radio with Nin Violet, The Milkman's Union and Uranium Daughters that Thursday too!
JJ and Thee Cuban Heels gear up for Portsmouth NH, Jan 11 at the Press Room Portsmouth, NH from 10 till closing...
It's Powerpop night over at The Rosebud on Saturday 1/12 with Watts, The New Frustrations and The Kurt Baker Band and if that's not your thing
at Radio (down) that night there's -Psycho, Kilslug, Impenitent Thief, and The Burnouts
The Live at The Rat album to CD project is now officially underway on Kickstarter: Peter Rining from QRST's is teaming up with Jim Harold to get the Live at The Rat album on CD!!!! GO HERE to check out the Kickstarter page!! If you like this idea and will most likely want the CD then prepay now by making a pledge on Kickstarter!!
Check out Joanie Lindstrom's New Mexico and Arizona Vacation...lots of sunshine there and Bobby Goldsboro!
And with the Holidays coming up I want to share this sentiment from Billy Rath's FB page: "I wish you all a very Merry Christmas!!!! If you are sad, not very merry, put on some good old Rock 'n' Roll... It is very good for your soul. And don't just sit there get UP and move your feet, clap your hands... twist the night away and put a smile on your face as you act crazy! - Rock 'n' Roll is good for your soul!"
EMAIL US AT…….misslynbgn@yahoo.com