The BGN News Archive
December 26, 2016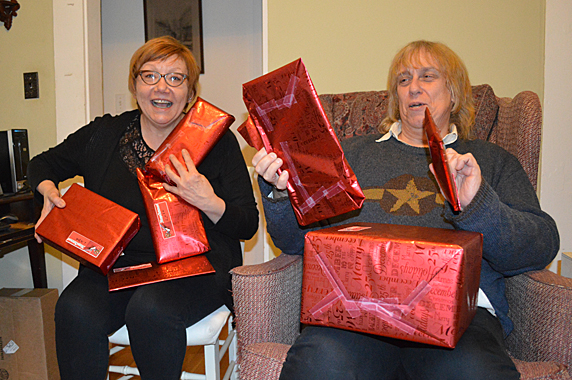 Felice Navidad - Miss Lyn and John
Photo: Blowfish
We had a Merry Real Kidsmas coz we had John Felice over for an interview on Friday. We all had a fun time. We talked about the old days but also what was going on now and what's ahead. It was a long conversation and will take time to transcribe. That will appear soon!!
We knew the end of the week was going to be busy so we got out on Monday to O'Brien's to get some music in. We tried to time the sets to catch the second band but ended up seeing the third. The sets were going by fast and the last set ended at 11:30 which was fine by us. The club was about half full which is good anywhere on a Monday.
Great White Tourist
Photo: Blowfish
Great White Tourist came from Manchester, NH. They were playing a sort of geeky rock with emo vocals. The guitars were doing some good things but they got lost in the jumble a bit but I caught some nice hooks in there. It was the bassist who saved the day. He was holding down the center of it all with some melodic runs. My ear kept going to him. Every bass player should be as good as that guy.
It was the EP cassette release party for Birdwatching. So many groups are doing cassettes now. I watch my cassette collection growing with disbelief.
Birdwatching's Bandcamp page got me interested. They are indy punk band with some smarts. I liked the unusual lyrics. In a song about a failed conversation they sing, "If our words had wings and propellers would they collide?"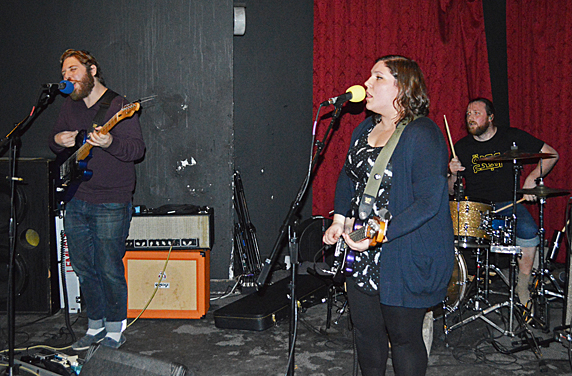 Birdwatching
Photo: Blowfish
Live I wasn't getting as much from them. I find that happens sometimes when I can't hear the words, which is just a casualty of the live show. But then they played their last three songs run together and they had more intensity and were a bit more cohesive sound wise, and at that point all they were doing was working. Maybe they just were getting warmed up. A lot of sets now are so short we might be losing out on that very real effect.
You don't want to waste a night out especially with the effort it takes to get out the door on a cold night like this one was. It was all worth it with two new bands for me that were putting a lot of thought and creativity into their sets.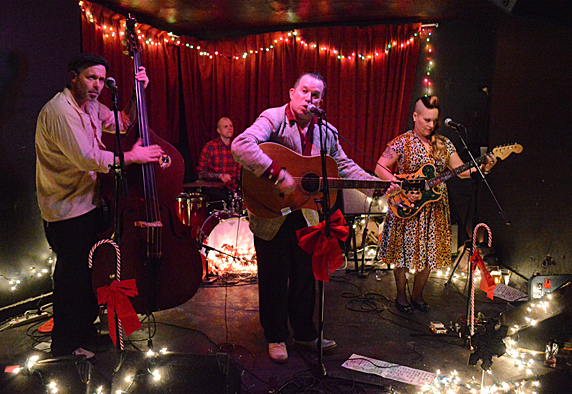 Raging Teens
Photo: Blowfish
We spent the rest of the week preparing for the interview with John but we went from the interview straight to O'Brien's O'Brien's for the Raging Teens' 20th Anniversary early show with Easy Ed spinning records. One of our long standing recommendations is to go to any Rockabilly show with Easy Ed on the turntables. They are good feeling shows with quality rockabilly. The original 9PM show sold out immediately when announced so they added an earlier show at 7pm and we were able to get tickets for that.
Easy Ed and Beth
Photo: Blowfish
The later show had Roy Sludge and John Funkee and other guests. The earlier show just had The Teens and that was still fine for us. Kevin Patey is a dynamic front person. He makes it a party night delivering vocals that are the center of the action. All the songs are a little different and have elements that get your attention. They trade vocals, or have the backing vocals answer the lead vocals, they make sure each song has its own rhythm and on and on, anything to keep things interesting.
| | | |
| --- | --- | --- |
| All Night Boppin' | | |
Then there's Miss Amy on guitar. She has the history of rockabilly under her fingers and infuses it with imagination. It's a never ending onslaught of riffage.
We couldn't believe how good our rocking day was with the John Felice interview and then some cool rockabilly, THEN the Raging Teens ended their set with a Real Kids song – All Night Boppin'!! (Video above) This was beyond belief. We walked out shaking our heads and smiling wide!!
And in other news.....
Zip Tie Handcuffs will be playing Shea Stadium on January 14! What a gig. Facebook page.
You want to be in the next Rumble you have to get your music in this week. INFO
Here's some good shows coming up .....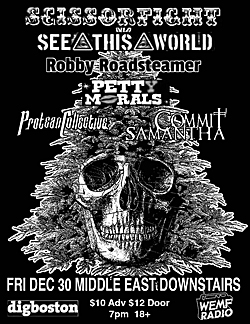 December 27 (Tuesday) When Particles Collide are at Atwood's Tavern, 7PM show
December 28 (Wednesday) PHILEEP, The Justin Arena Project, As Seen From Space, Sound Bandits and Thee Sonomatics are at PA's Lounge
December 30 (Friday) Axemunkee, The Additions, Dragn Bangers at PA's Lounge
December 31 (Saturday) DnA's Evolution, A Bunch of Jerks, & Nymphidels do an Early New Year's Eve show at the Midway- starts at 4PM.
December 31 (Saturday) Then there's the night time New Years Eve Show at The Midway with Bryan McPerson with special guests Mark Lind, Live Nude Girls and Matt Charette
December 31 (Saturday) Eye Design New Years Eve Party with Something Sneaky, Today Junior, The Dazies and Bruvs at O'Brien's
December 31 (Saturday) New Year's Eve at Once with Somerville Symphony Orkestar, Dirty Bangs & Psychic Dog
And further out......
January 6 (Friday) The Billy Corners Project, The C Note in Hull with Liz Borden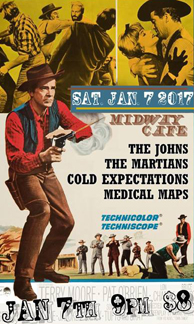 January 7 (Saturday) The Johns, The Martians (mems of Bim Skala Bim/Rock Bottom), The Cold Expectations (Album Release) and Medical Maps at The Midway
January 7 (Saturday) The Last Ones, Tsunami of Sound and Stop Calling Me Frank are at Sally O'Briens
January 13 (Friday) Lyres, The Charms, the modifierS at The Middle East Up.
January 14 (Saturday) Now here's a show you won't want to miss Brian Young's A Crash Course for the Ravers (WMFO 95.1FM 1-4PM) has Andy California as a guest.
January 14 (Saturday) Special afternoon show at Atwood's Tavern to celebrate the release of the"Jittery Jack meets Darrel Higham platter" - there's be two rockin' sets, copies will be for sale...no cover but a minimum $5 doantion is suiggested. Atwood's has awesome food too!
January 14 (Saturday) Go Blank, The Martians, Loser's Circle and Black Cheers are at OBrien's
January 14 (Saturday) Sidewalk Driver, Goddamn Draculas, Party Bois & Swivel at Great Scott's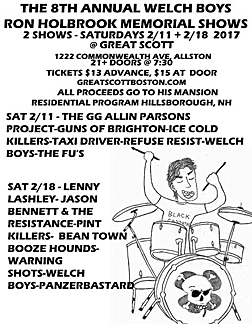 January 20 (Friday) The Lights Out, Gene Dante & The Future Starlets, Zip Tie Handcuffs and The Sun Lions at the ArtsEmerson Black Box series at Emerson/Paramount Center, Jackie Liebergott Black Box Theatre - 559 Washington St Boston (Link)
January 21 (Saturday) HayBaby, Creaturos, MiniDresses and Jack as part of the ArtsEmerson Black Box series at Emerson/Paramount Center, Jackie Liebergott Black Box Theatre - 559 Washington St Boston (Link)
January 21 (Saturday) an ACLU BENEFIT featuring Petty Morals , Stars Like Ours, Carissa Johnson and music by DJ Leah V at O'Brien's
January 24 (Tuesday) Adam Ant is at The Wilbur
January 27 (Friday) Ska and Punk night at the Midway with Hobo Chili, Stray Bullets, Losers Circle, Crime Spree and Gant!
January 29 (Sunday) Black Beach, Hairspray Queen, Idiot Genes and Thee Cavemyn at O'Brien's
February 4 (Saturday) Oh this is gonna be a GREAT show!!: OC45 (CD Release/Tour Kickoff), On The Cinder (NY), Fast Times and Back Door Key (it's also their EP Release) at The Midway (FB page here)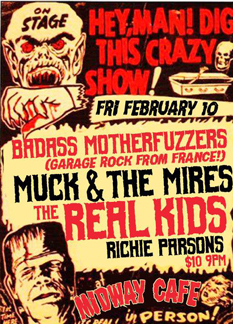 February 10 (Friday) Badass Motherfuzzers, Muck & the Mires,The Real Kids, Richie Parsons at the Midway
February 10 (Friday) The Upper Crust, Watts and Petty Morals are at Great Scott
February 17 (Friday) Lux Lives East Coast is coming again -this event is in Salem at Koto, on the bill are Thee Fabulous Itchies, The Evil Streaks and The Nebulas. Here's the FB Page Lux Lives is a chance for Bands and DJ's and fans to come together to celebrate the life of Lux Interior. Since it's inception, Lux Lives East Coast has raised over $10,000.00 for Lux and Ivy's favorite charity Best Friends Animal Society. This is a GREAT event all around!
February 25 (Saturday) The Billy Corners Project at the Cantab with Corrola Deville and Jimmy Bez
March 3 (Friday) Robyn Hitchcock at Once
March 8 (Wednesday) The Sheckies, Mongorellis, The Prozacs, Meat Depressed at Koto in Salem
March 10 (Friday) Agent Orange, The Queers, & Guttermouth at ONCE Ballroom FB page
April 1 (Saturday) The Upper Crust, Sidewalk Driver and When Particles Collide as part of the ArtsEmerson Black Box series at Emerson/Paramount Center, Jackie Liebergott Black Box Theatre - 559 Washington St Boston (Link)
June 1 & 2 (Thurs & Fri) Reverend Horton Heat at Once in Somerville
CONTACT US AT....misslynbgn@yahoo.com - Send us your gig listings, your news and anything else ya got!!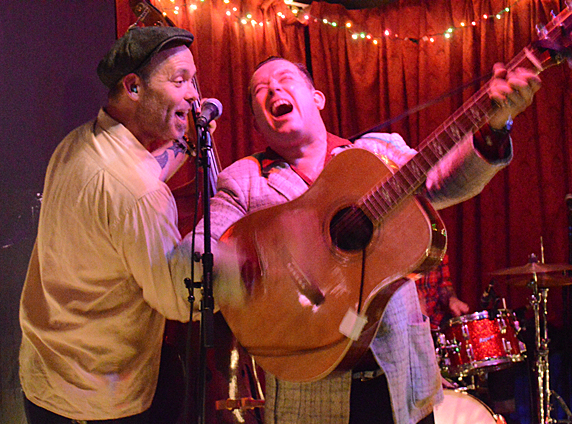 Raging Teens
Photo: Blowfish
Raging Teens
Photo: Blowfish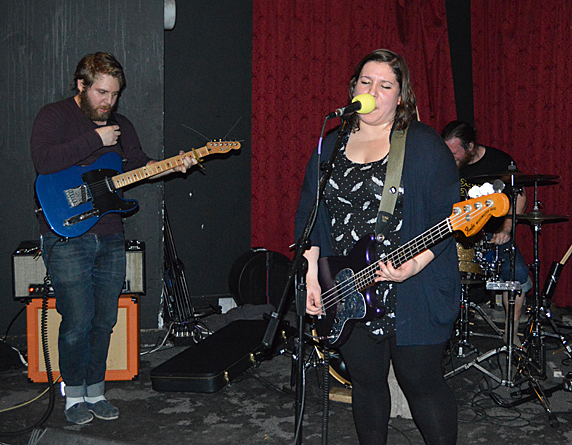 Birdwatching
Photo: Blowfish