The BGN News Archive
December 27, 2010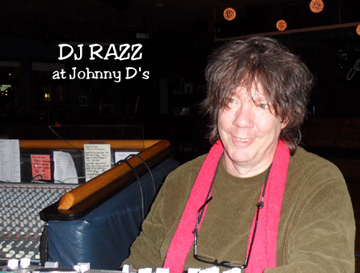 Well it felt like a snazzy cocktail hour on Christmas Day over at Johnny D's with DJ Razz "spinning" some tunes. And he accompanied it with a three hour slide show of vintage images...cool shots of families, cars, mid-western houses, hip party goers, book covers, LP Covers...lots of fun....head over on New Year's Day (8-Midnight) too!!......
Now coming up .......TT's on the 30th looks interesting with their "Dry Run to NYE" with a variety of performers through the evening: films, video, spoken word etc.....
You can celebrate a Punk Rock New Year's with First Night's Jan Crocker shows, check this out:
Back At You! Punk Vids from the KINODV Archive....Three different shows at the Stuart St. Playhouse Theatre 200 Stuart St. Boston.
Show times are: 2:00-3:00PM....6:30-7:15PM....8:40-9:10PM
Sample of the band- Human Sexual Response, Unnatural Axe, The Cure, Mission of Burma, La Peste, Thrills, Robin Lane and The Chartbusters, Buzzcocks and so much more!!. See a sample video here More show details here at the First Night 2011 website!!
Then for New Year's Eve there are a variety of choices....And of course for a royal New Year's Eve there will be the Upper Crust at Church along with Apple Betty and Lights Out
And on New Year's Day night...DJ Razz fires up the music for your pleasure at Johnny D's in Davis Square, this time the music will be rock'n'roll with an appropriate and thoroughly entertaining slide show. .....definitely worth the trip!!!!
After a while on New Year's Day at Johnny D's you can head over to The Plough for Mente ...now that's a way to ring in the new year!!
Now when you're home and hungover on Sunday you can watch some rock on the TV.... Bandwidth TV episode #55 featuring Electric Mummy http://electricmummy.com/ at 12pm on Cambridge Community Television (CCTV) Ch 10 ....you may also watch the full episode here (scroll down for whole episode link): http://cctvcambridge.org/electricmummy. This episode will air all throughout JANUARY 2011 on CCTV in Cambridge and on public access stations in Boston, Somerville, Brookline, Belmont and Malden.
And there's some cool stuff to look forward to in the new year...
Lyres are at TT's in January 7th along with HHR, Cradle to the Grave and the Satin Kittens......
......also on the 7th is Fox Pass at The BeachComber in Quincy MA. They go on at 9pm. They also have a video up on You Tube which is a good chance to hear one of their songs from their latest CD...Hurry Cherrie video.
And on the Saturday the 8th Eric Martin & The Illyrian's are at The Plough...
Another line up that could be very interesting is at O'Brien's on Friday, January 14th is The F.U's with Rampant Decay and a special set with Rico Petroleum with Psycho!!
next night; on Saturday the 15th is the Noise's 30th Anniversary show at Precinct with a great line up: The Coffin Lids, Sprained Ankles, JJ + The Cuban Heels, Jay Allen and The Archcriminals and Corolla Deville
Pretty much guaranteed to be an incredible show; on January 29 is The Konks, The Tampoffs, Tunnel of Love and Triple Thick at Great Scotts ...wow that is one hell of a line up and I think this may very well be The Konks final show.....a sad thought!!
Armageddon Shop, the fantastic Providence RI record store, is now open in Harvard Square at the former site of Twisted Village.
So I hope your Christmas was wonderful; and here's wishing you a Fab new year's celebration and a most awesome new year!!!
you can send your holiday wishes to us here click click click