The Reddy Teddy History
Reddy Teddy Personnel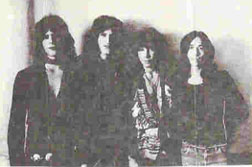 There were essentially three Reddy Teddy line-ups during the six-year history of the band from 1972 to 1978. Two of which occurred twice. Reddy Teddy was originally composed of four musicians. Lead guitarist, Matthew Mac Kenzie and lead vocalist, John Morse remained members of the band from the beginning in 1972. Bass player, Ted von Rosenvinge left the band in 1973 and was replaced by Scott Baerenwald. Drummer Joe Marino left the band in 1974 and was replaced by Douglas Orilio/aka Bug Witt. Bug was later replaced by Joe Marino who rejoined the band in 1977.
The History of Reddy Teddy
In 1964, ten miles north of Boston in Winchester, Massachusetts, the future Reddy Teddy boys: Matthew, Joe, John, and Ted, attended 6th grade, while Scott was ahead in 8th. Even then, Matthew was respected for his talent and taste in music by both his peers and the older kids. He played Who songs before we ever heard of them, states Ted. While brothers Mike (drums) and Mal (guitar) helped guide Matthew through his various stylistic investigations, Matthew and Reddy Teddy were also being influenced by another Winchester band of the 60's, the legendary "Luv Lace Lads", led by Scottıs older brother Stephan Kent Baerenwald/aka Swine/aka Stephan Lovelace.
By the late 60's, high schooler Matt teamed up with Luv Lace's vocalist, Scott Baerenwald and drummer Billy Thayer to form "And Other Railroad Stories". It then became clear that a certain style, wavering somewhere between The Who and Cream, had emerged from Matthew's songwriting efforts. With his Rickenbacker power-chording through the music, his stage dynamics thrilled all.
By 1971 Matthew and Scott joined Boston rock veteran, Willie Alexander, playing Boston bars and beach venues in the band "Bluesberry Jam." And then it happened: One day, while driving down Mystic Valley Parkway, Joe, Ted and John picked up Matt who was hitch-hiking home. They stopped on the way to jam in Joe's basement where the three had been rehearsing with another band. The chemistry was immediate. Their style worked as a perfect foil for Mattıs distinct talents and in early 1972, Reddy Teddy was formed and they began to practice.
Between rehearsals, Matthew would take quick jaunts to New York City in order to peddle songs to the record companies and by the fall of 1972, Reddy Teddy had been playing steady gigs in the Boston suburbs. It was then that, while performing in their hometown of Winchester, in front of a packed town hall, they were successful in impressing Mercury's Paul Nelson. As a result, later in December, the band drove to New York and made a demo at Mercury Records. They then made another demo at Boston's Intermedia Studios which produced and inspired an ultimately never released version of "Teddy Boy" and "It's Breaking Me Up". Mercury then offered a record deal to the band. After consideration, Reddy Teddy concluded that it was another typically drawn, one-sided agreement and chose to turn the offer down.
In the spring of 1973, after a brief foray into the field of construction, and with no other acceptable recording deal in sight, Ted finally opted for engineering school. With Scott now replacing Ted, the newly arranged Reddy Teddy recorded "Boys and Girls"' and "Helping Hand", at Aengus Studio in Framingham, Massachusetts. "Dream On", was just beginning to break when Aerosmith invited them to open their New England shows, scheduled to run into the early fall. One night after a concert, the band's van containing Matt and the road manager, crashed into a phone pole causing minor injuries and major equipment damage. The band received an insurance settlement that afforded them new gear with enough leftover to relocate. They chose the big city. They would go to Boston.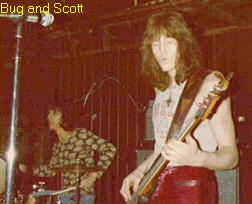 The "Kilsyth Manor" Years
"Kilsyth Manor" was a 7 bedroom Victorian on the Brookline/Brighton line. More has been forgotten than has been remembered about the Kilsyth days, nevertheless, anyone who set foot in this residence has memories of one house party or another. At these affairs it was not uncommon to spot members of Aerosmith, Willie Alexander, and other notorious rock'n'rollers of the era.
In January of 1974, Mercury reissued its album offer, with Michael Brown as producer (creator of the band Left Banke, and author of the renowned single, "Donıt Walk Away Renee". The band accepted and spent February living in New York, and recording at the studios on West 57th. However, Mercury decided not to release the album, citing the oil/vinyl shortage. After threatening the company with a law suit, the band settled for monetary compensation and the return of their 2-inch masters. Joe decided he had had enough and left for Florida forfeiting the drum slot to Bug Witt of Utica, NY.
That summer, Reddy Teddy went back into Aengus with the masters of "Goo Goo Eyes" and "Novelty Shoes". They were remixed and released and Reddy Teddybecame the first of a wave of Boston rock bands to release a single on local label Flexible Records. The singles won favorable reviews, with airplay on WBCN and WBZ FM. By 1975 the band was firmly established as a hometown favorite in a genre of club, the premier ones being; Kenmore Squareıs heralded, The Rat and The Club a chair-tossing venue in Cambridge's Central Square.
In 1976, the band joined the roster of local label, Spoonfed Records and with WBCN DJ Maxanne Sartori and Willie Alexander assisting with production, an album was recorded that summer at Northern Studios in Maynard, Massachusetts. In December the band opened for Patti Smith at Boston's Orpheum Theatre and in 1977, former Rolling Stones manager, Andrew Loog Oldham, began managing the band. At which time, he scheduled a few showcase gigs in two New York clubs, Max's Kansas City and The Bottom Line.
The record received favorable reviews. Playboy touted the band as; "...possibly the best new American band, period". However, even with this rejuvenated interest, the sales figures remained low. By February of 1977, the parties had taken their toll on both the house and its occupants and the band vacated Kilsyth. Bug left the band and Joe returned to reclaim the drums for the final year. Their last gig was in the spring of 1978, opening for Van Halen at The Paradise..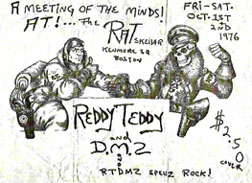 Matthew's Solo Years
After the finish of Reddy Teddy, the members went their separate ways. John and Joe returned to school, and Scott joined Robin Lane and the Chartbusters. Matt went to NYC and after a brief hitch with Richard Lloyd to make a 1979 album, he took the rhythm section (Fred Smith; bass and Vinny DeNunzio; drums) upstate for a demo at Todd Rundgren's Bearsville<, NY studios, the recording site of the songs "Girl Watching", "Here By My Side", "Too Late", and "Affairs of the Heart".
Then, after returning to Boston, Matt joined theTaxiboys (John Feliceof the Real Kids, Billy Cole and Bobby Bear). He rejoinedWillie Alexander, and was responsible for guitar and background vocals in The Confessions. Together, they recorded a single in the U.S. and a double live album in France. Also, during this period, Matthew could also be found playing with the Nervous Eaters. Except for one private reunion on Ted's 30th birthday in 1982, Reddy Teddy's original line-up never performed together again.
Matt continued writing and recording through to the late 1980's: "Girls of the State", "It Must Be Love", "Light Fingered Girl", "Just Ask Your Mirror", "Barbie Doll". Matt led one group named The Roosters (Chris Hull, Sammy Spade, Bobby Bearr) and would team up with various backup personnel. However, it was as if the celestial bodies were not lining up for the one who, over 15 years earlier, wrote and sang the words, "I'm more of a moon than a rock 'n roll star", ("Catbird Queen").
In 1988, at the age of 36, Matthew passed away from injuries sustained in an auto accident in Medford, Massachusetts. In 2004, as a tribute to Matthew MacKenzie and on their 30th anniversary, the boys from Winchester reunited as Reddy Teddywith former Atlantics guitarist Jeff Lock, to play a reunion concert (July 14) at the Paradise club at 967 Commonwealth Ave., Boston, Massachusetts.