Red on Red Records Summer Showcase
Craft Food Halls, Lexington, MA
June 2021
All words and photos by Eric Law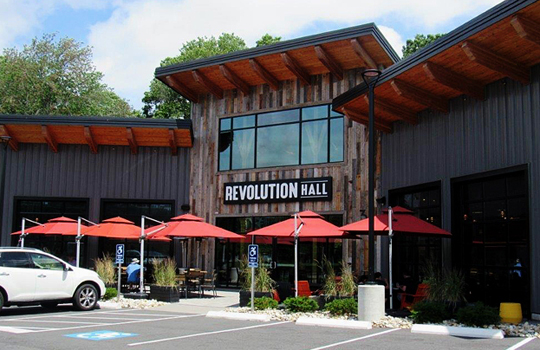 Revolution Hall in Lexington
As live music (indoors and outdoors) begins to ramp up again I had been anxiously awaiting Red On Red Records Summer Showcase. Held in partnership with Craft Food Halls in Lexington, MA, in the parking lot of Revolution Hall, this all-day outdoor music festival featured 10 of Boston's hottest bands, including seasoned veterans and a couple of debuts.
Set to run from noon to eight, everything went pretty much as scheduled. It was hot out, but there were enough trees to catch some shade under, or you could hang out inside Revolution Hall to cool down and enjoy a cold beverage or have some delicious pizza.
Red On Red Records is the label set up and run by Justine Covault. The roster of bands she's quickly assembled is nothing short of amazing! She said there were 200 tickets sold in advance. People were coming and going all day, so it was hard to say how many walk-ups there were but there were never more than 150 there at any time. What we got was a solid 8 hours of rockin' good times.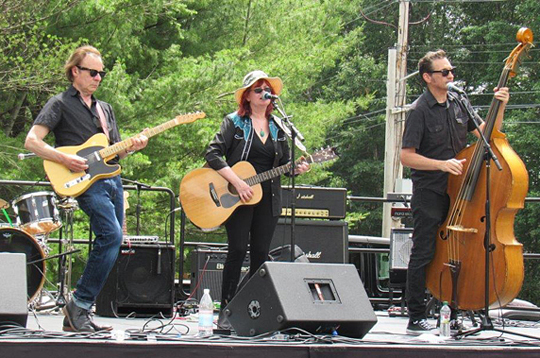 Justine's Black Threads
Kicking things off at 12:20 was Justine's Black Threads. This trio shows off Justine's love for old time country music. Featuring Justine on acoustic guitar and vocals, Johnny Sciascia on standup bass and vocals, and Jimmy Scoppa on electric guitar. They did a mix of originals and covers of Hank Williams and the Everly Brothers, among others, all wearing shades and looking and sounding great. What a way to kick things off.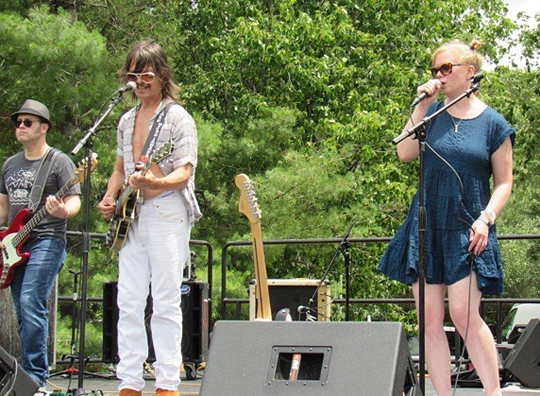 Daylillies
Next up were The Daylillies. Their bandcamp page says "composed of living relics of Boston rock and roll history, including ex-members of the Fast Easy Women, Mistle Thrush, Reverse, PermaFrost & the Feather Lungs."
Led by Laura England Klain on vocals and Ad Frank on guitar, they delivered a set of pop songs that hit the spot. Keyboards were prominent throughout . I heard more than one person say Ad Frank should be called, Ab Frank.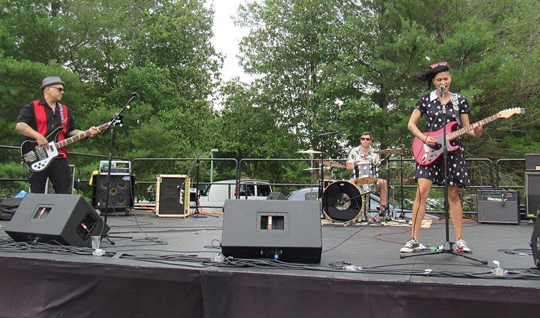 Jacklights
Next up making their debut, were, Jacklights. You'd never know it was their first show in front of people. Led by Nilagia McCoy on guitar and vocals. Their set of melodic punk was super fun and I look forward to seeing them in a club cranking out a full set. Look for the 5 song EP, "Drift" due out shortly on Red On Red Records.
Each band was playing short sets, 6 to 10 songs. Always leaving the crowd wanting more.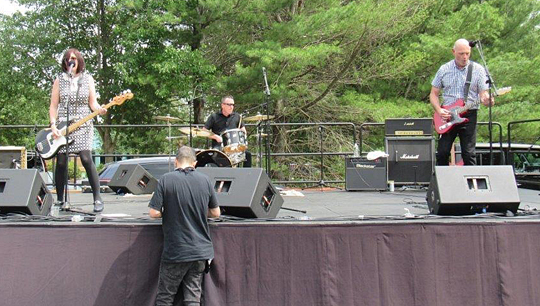 Chelsea Curve
Next to hit the stage was, The Chelsea Curve. This trio led by Linda Pardee is one of Boston's best kept secrets … That needs to change!! Smart, catchy songs are what you are always going to get from these guys. I wanted them to go on longer but there were five more bands to go.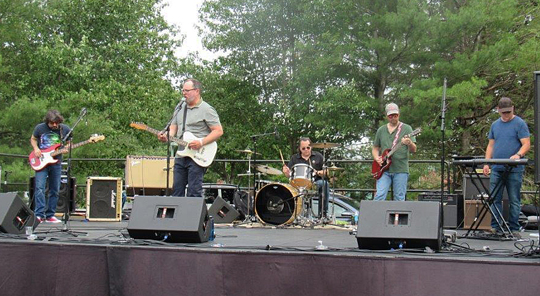 Devil Love
Devil Love led by Pete Buzzelle followed. This five piece brings the pop/rock. A sweet version of the Greg Kihn's, "The Breakup Song" is included in their set.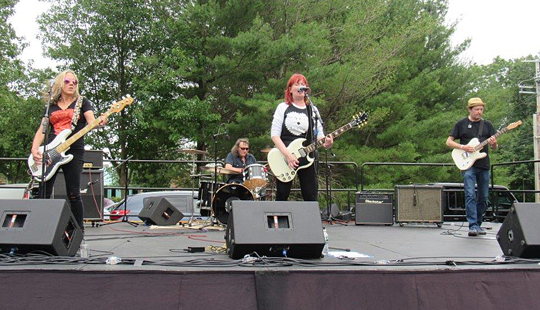 Justine and the Unclean
Next; Justine and the Unclean. Red On Red Records head honcho and her crew never fail to deliver the goods. They get better and better with every release and every show. You want rock? Then these gals and guys are for you. Their 9 song set included all their hits like, "Scorpion Bowl To Go" and "Rock And Roll Blackmail". You know a band is rockin' hard when they bring up a guest just to play cowbell on a song, which is what they did for their song "Vengeance". Joining the Unclean as ace supreme cowbell player was Lynda Mandolyn (Tiger Bomb, Crystal Canyon, Lee & Lynda). Can you say F-U-N??!!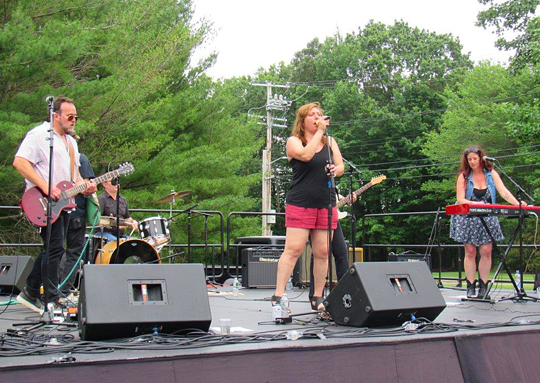 Andrea Gillis Band
Just when you think you can't be rocked any harder, on comes, the Andrea Gillis Band to prove that wrong. Andrea has been rockin' stages for as long as I can remember and she never fails to assemble a band that takes no prisoners. There are some people who are just born to ROCK. Andrea is one of those people and rock she does.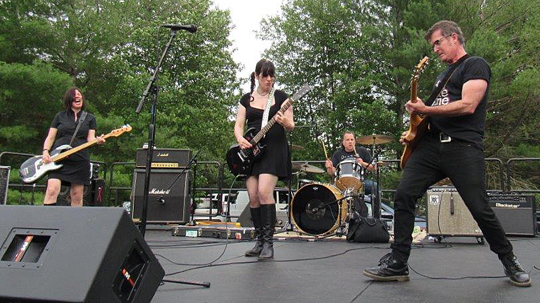 Lee Harrington & Lynda Mandolyn
Up next, the second debut of the day. Billed as Lee Harrington and Lynda Mandolyn. Earlier in the week, the video for their single, "Real Love" was released. Written by Lee, "Real Love" is power pop gem. Hearing it and seeing the video made everyone very excited to see them perform it live and hear what else they have up their sleeves. They did not disappoint! Their three song set left us all wanting more!!! They did "Real Love", another original that Lynda wrote called, "Sweet Child" and ended with a blistering version of the Cars, "Dangerous Types". WOW! Looking forward to hearing more from these two!!! Side note - Lee was playing guitar, who knew! Side note #2 - Linda Pardee was on bass!!
Linnea's Garden
After a short break, Linnea's Garden took the stage. They describe themselves as "peri-apocalyptic glam punk that you can dance to". Super fun and dancing was done. With their colorful clothes and colorful hair this trio brought it! Check out their debut EP, "Nowhere Friday Night" on Red On Red Records, of course! You can find them on all the social media platforms. Keep an eye and ear open for these guys.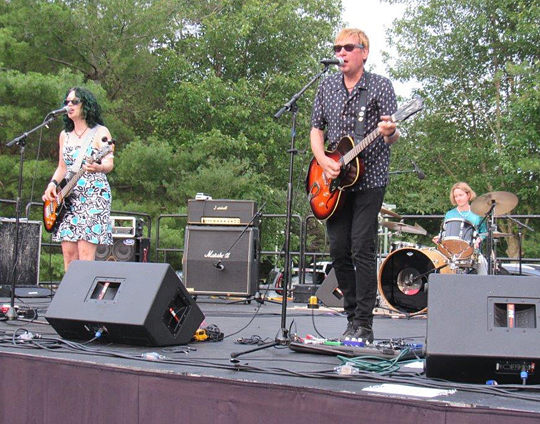 Cold Expectations
The last band to hit the stage was Cold Expectations. These guys/gals have been around for about 5 years. Back when they started they were doing country style stuff. They have morphed now into the jangly indie rock kinda thing. They busted out a killer version of Frida's (ABBA), "I Know There's Something Going On" that had everyone smiling and dancing.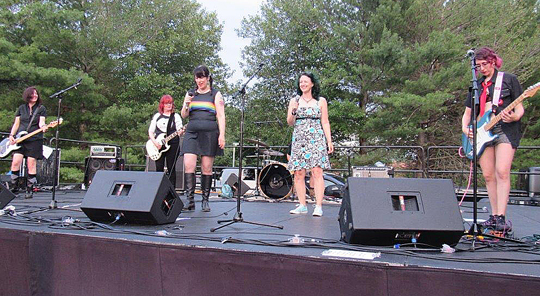 Whistle Stop Super Jam
Before they left the stage, they reminded us to stick around for the WhistleStop super jam on the feel-good song of the summer, "Queen Of The Drive-In". Due to a death in the family, Simone Burke (Kid Gulliver) was not there to sing this earworm. Lynda Mandolyn stepped up and filled for Simone. We all missed seeing Kid Gulliver play and especially missed Simone belting out this one.
What a great way to end this day of non-stop fun. Kudos to Justine for creating Red On Red Records. Her great taste in music is reflected in all the bands on only the best little label in Boston!! Looking forward to more Red On Red Record showcases as this was a complete and utter blast!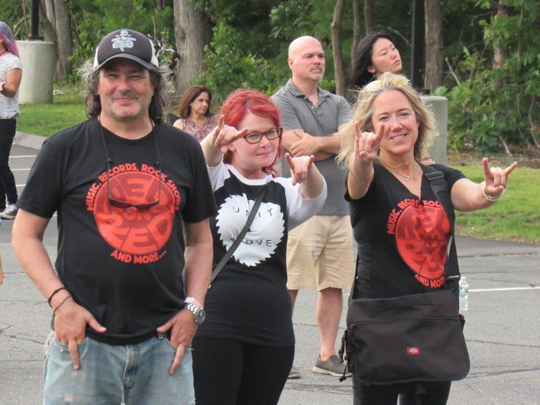 Tom Baker, Justine Covault and Janet Egan King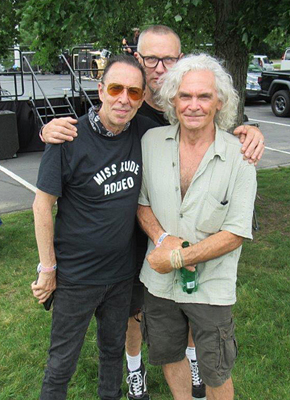 Wayne Viens, Tommy Wilson and Bill Jordan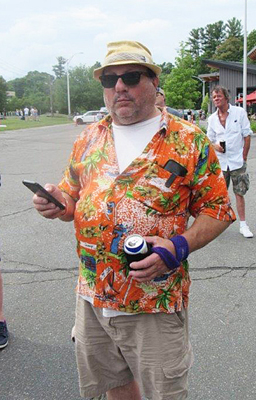 Jay Allen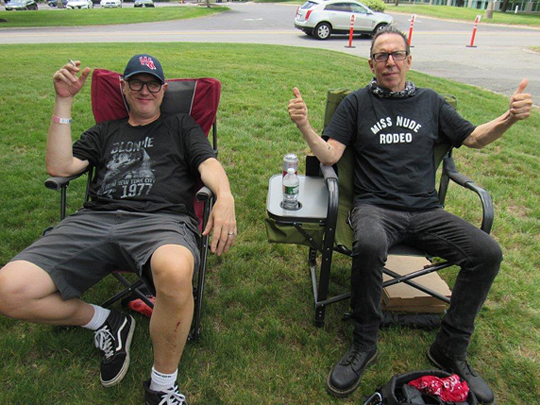 Tommy Wilson and Wayne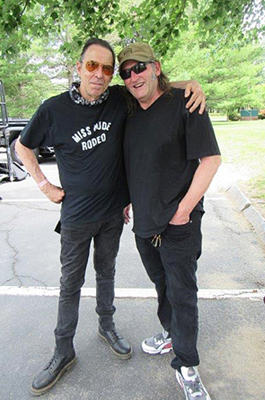 Wayne and Jim Janota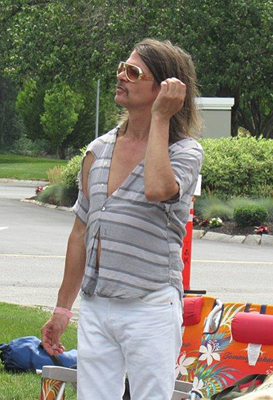 Ad Frank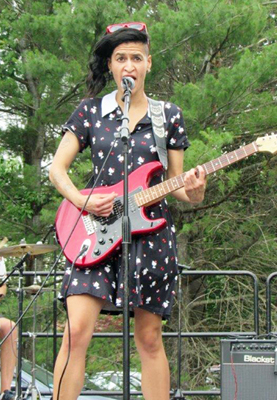 Nilagia McCoy - Jacklights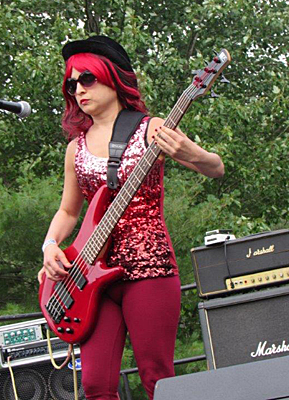 Linnea's Garden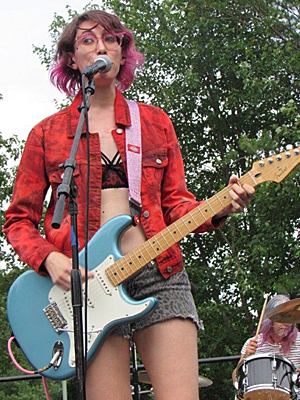 Linnea's Garden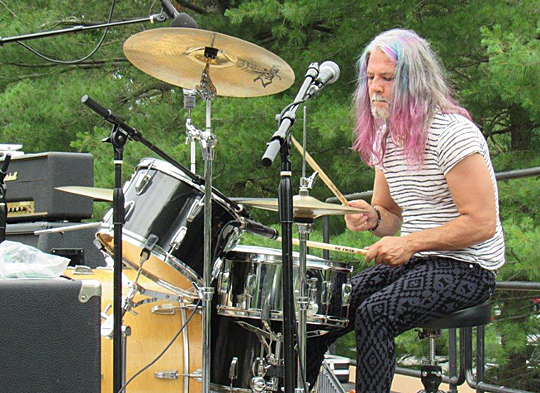 Linnea's Garden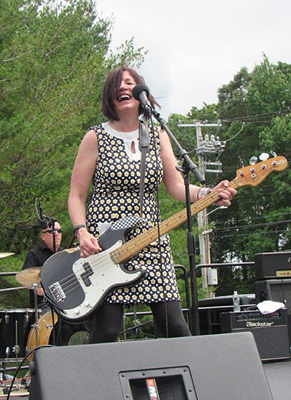 Linda Bean Pardee - Chelsea Curve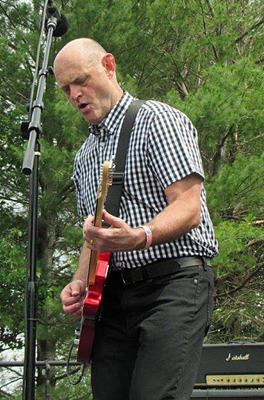 Tim Gillis - Chelsea Curve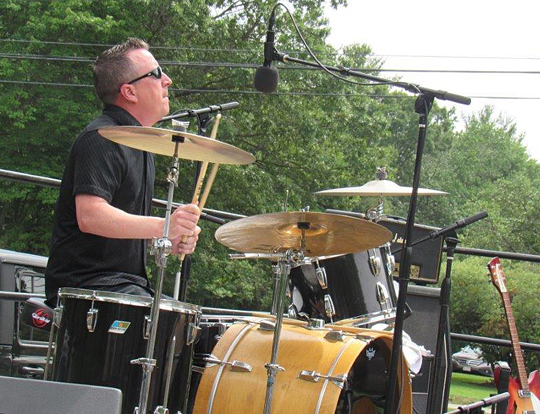 Ron Belanger - Chelsea Curve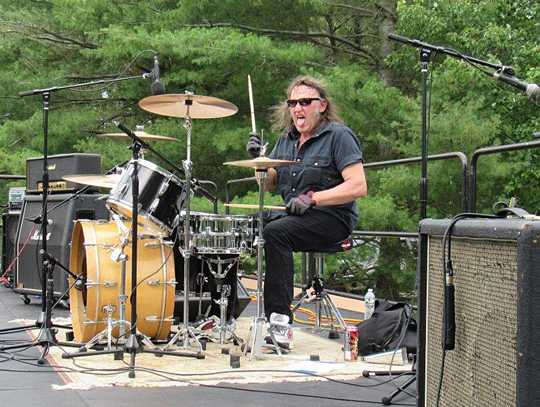 Jim Janota - Justine and the Unclean

Janet Egan King - Justine and the Unclean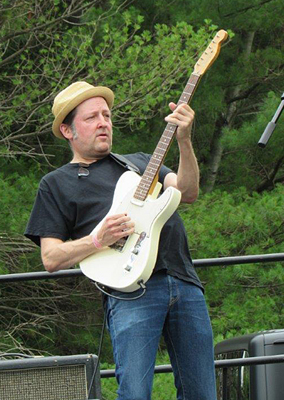 Charles Hanen - Justine and the Unclean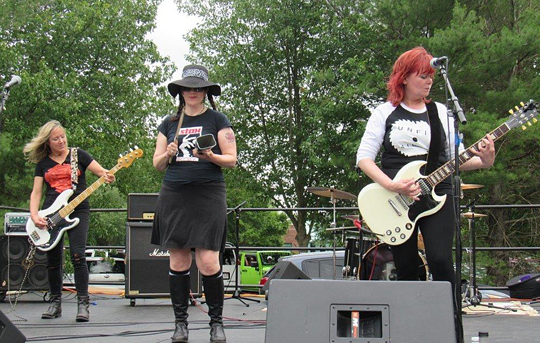 Justine and the Unclean with Lynda Mandolyn on cowbell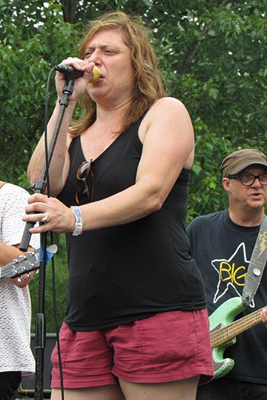 Andrea Gillis - Andrea Gillis Band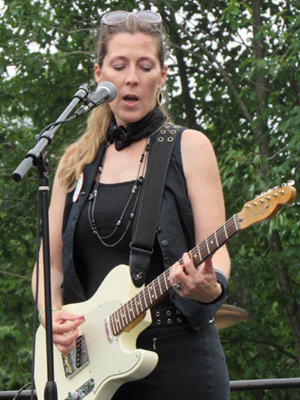 Melissa Gibbs - Andrea Gillis Band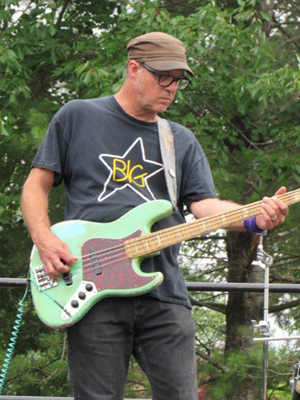 Ed Valauskas - Andrea Gillis Band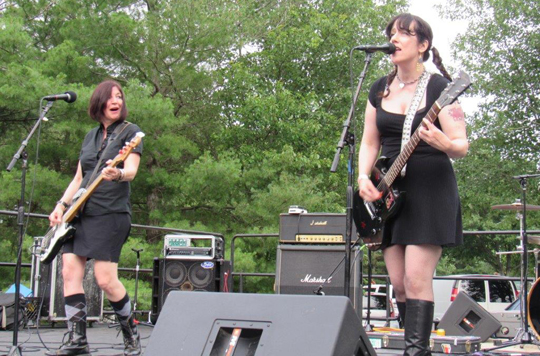 Linda and Lynda - Lee Harrington & Lynda Mandolyn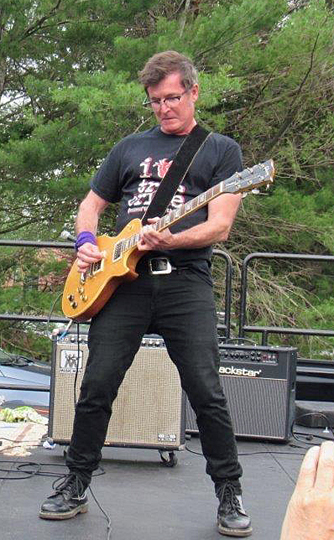 Lee Harrington - Lee Harrington & Lynda Mandolyn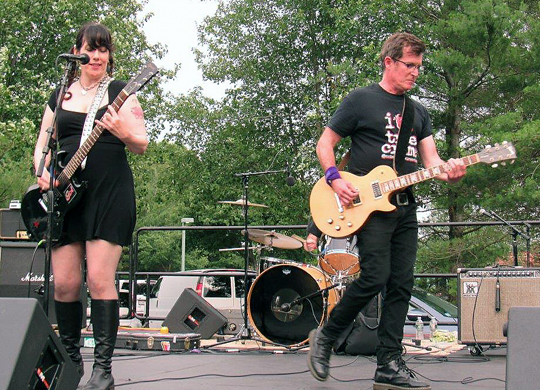 Lee Harrington & Lynda Mandolyn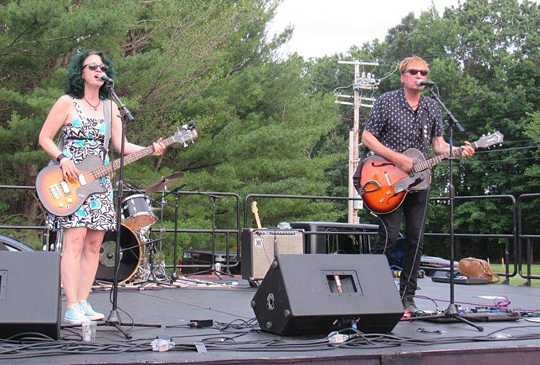 Cold Expectations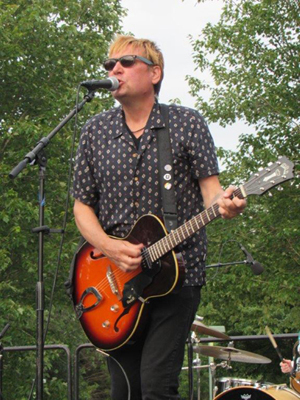 Steve Prygoda - Cold Expectations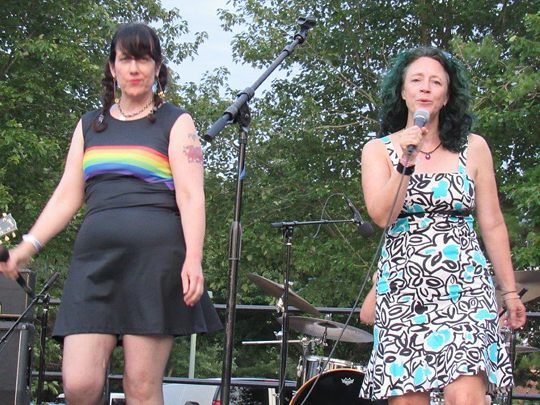 Lynda Mandolyn and JoEllen - WhistleStop Super Jam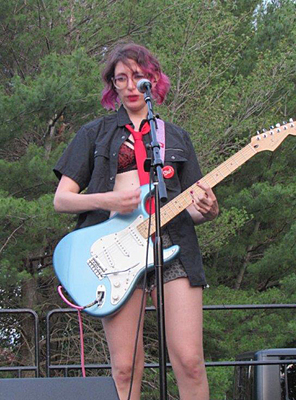 Linnea Herzog - WhistleStop Super Jam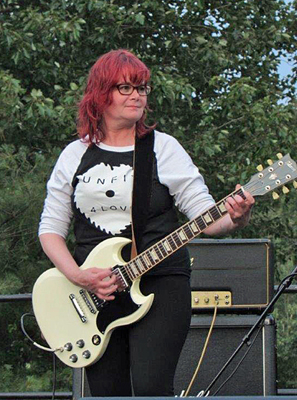 Justine Covault