Past episodes ...Click Here
Lyres In San Francisco
---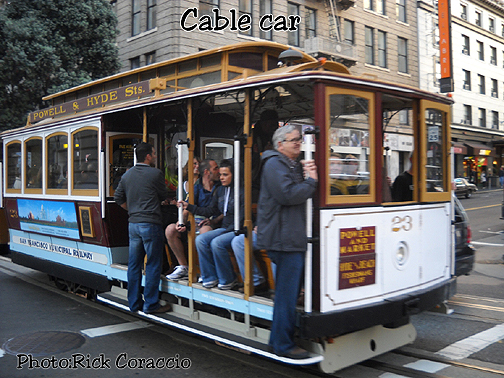 1:00 pm Friday, October 21, 2011, Wareham, MA
Time to pack for another trip with the band. Join the Lyres and see the world! I set the smallest bag in my arsenal out on the bed: a black LL Bean shoulder pack with light brown leather trim and zipper pulls. Perfect for a two night stay. Small enough to fit under an aircraft seat and still leave room for my feet. I'll be travelling with my smallest bass guitar, a Grestch Electromatic Junior Jet in black sunburst. At only 40 inches long and 13 inches wide, it's smaller than most six strings. Not my favorite axe but it travels well and it only cost me a hundred bucks at Guitar Center. Packed in its padded vinyl gig bag, it's fit in every overhead bin on every plane I've ever taken it on. Even a "full" bin usually has a couple of inches on top and that's all she needs. This baby has been to Europe a dozen times or more and I have never been asked to check it.
I usually pack way too much stuff but I am determined to not do so this time. I took a good chunk of time deciding what NOT to take. By one o'clock, a plan takes shape: one outfit to wear travelling there and back, one pair of blue jeans for stage and hanging out, one tee shirt, one stage shirt, and a pair of pajama bottoms. I toss in my shaving kit and toothbrush, then add two issues of The Week magazine, a couple of crossword puzzles ripped out of the Wareham Standard Times and Kon Tiki, a book I enjoyed very much when I was in junior high. I zip it all up and test the weight. Six or seven pounds I figure. Not bad!

2:30 pm
Time to split. I leave my awesome wife a goodbye note on a yellow Post-it: a pencil drawn stick figure hanging out of an airplane and waving, with the words "I love you Susan" written across the top next to a smiling sun. I stick it on the kitchen counter next to the coffeemaker where she'll be sure to find it. Our cat looks up at me apprehensively and glides her boney old body against my leg. They always know when you're leaving. I step outside into a gloriously sunny October afternoon and pull the door shut behind me. I feel good. The trip begins.

3:45 pm T.F. Green Airport Warwick, RI
I pull my car into the long term parking lot, catch the shuttle to the U.S. Airways entrance and join the queue for the security check. The line is short and moves along pretty fast. The whole thing takes about ten minutes. I think back to those terrible times immediately following the disaster on 9-11-01 and how awful it was to be an airline passenger. The Lyres were booked in Las Vegas on September 30, 2001. Showing up at Logan Airport a full three hours before my flight seemed totally reasonable, but because security took so long, I very nearly missed my flight.

4:00 pm
Time for cocktail! After a couple of Black Russians at the first bar I run across, I proclaim myself "ready to fly". The seats near my gate are large and comfortable, and I plunk myself down in one near a window overlooking a runway. I pull out my phone to check my email. One message from Jeff Conolly states that guitarist Steve Aquino and drummer Paul Murphy have agreed to come to a five o'clock sound-check that I have not yet agreed to attend. Dumbfounded that Jeff would think that I'd travel across country to play a gig and not show up for sound-check, I do what any self respecting bass player would do: give him a smart ass answer! I type "What day?" hit reply and go right back to my book. Less than two minutes later all hell breaks loose!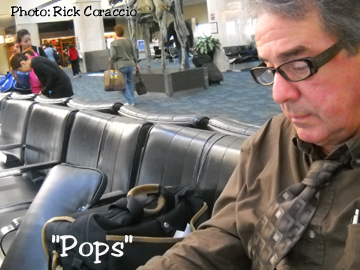 The phone in my pocket rings. I ignore it and continue reading. Soon a short tone tells me there is a message. Three minutes later the phone rings again, and buzzes with another message. Hmm. A couple of minutes later, phone call and message three, followed immediately by a text from my wife asking simply, "Any drama yet?"
Aw geez! I suppose I should listen to my voice mail, I think as I stick a gum wrapper in the page, close the book and lay it on the seat next me. While I'm digging the phone out of my pocket, it rings yet again.
The display reads "Murph Cell". "Yello! 'Sup Paul?"
"Jeff's freaking out."
"Okay, that's nice. Why?"
"He told me to call you to make sure you know when the gig is," he responds with what sounds like a smile in his voice. "Huh!?" We both start laughing at the thought. "Geez! We've only been planning this gig for 10 months, I've had my plane tickets since July! Of course I know when the gig is!"
The second I hang up, the phone rings again. This time it's Stevie Conolly, Jeff's wife.
"What's up dear?" I can hear some kind of commotion in the background.
"Jeff is going CRAZY," she replies in her heavy French accent with a touch of exasperation. "He's saying the gig is RUINED because you don't know WHEN it is. He is in the other room screaming and he is making me call you." I explain my impulsive wise cracking response to his somewhat puzzling email. "Two words," I say."I typed two goddam words 'What day?' He asked if I was going to sound check at 5:00 and I simply answered 'WHAT DAY!' It seemed funny at the time!"
After telling her to assure Jeff that I was indeed on my way to San Francisco and that I would be at sound check at five o'clock on Saturday evening, I hang up, drop the phone into my shirt pocket and pick up my book. Before I find my page, another call! It's my wife Susan. Apparently Jeff had Stevie call her at work! "This is just too funny. How the hell did she get your work number?" It's a rhetorical question but we both wonder how many cages Jeff rattled because of my two word, wise ass answer!
"Well maybe it's all out of the way now, and the rest of the trip will be drama free," Susan offers. I end the call to listen to an announcement about my flight. "Because US Airways 1855 to Charlotte is full and overhead compartment space is limited, only two carry-on items will be allowed per person; both must be small enough to fit under the seat. If your baggage does not meet this criteria, please see our representative at the gate and we will be happy to check your bag for free."
This worries me a bit. I don't mind checking my shoulder bag, but my guitar, which definitely will not fit under my seat, is packed in a soft, vinyl gig bag. Yes, it is padded but it probably won't fare too well getting tossed around by uncaring baggage handlers. They call my row and I walk up to the gate. As I hand the lady my boarding pass, she eyes my bass and quickly signals a young guy down the jetway. He's dressed in a dirty, baggy jumpsuit and large red hearing protectors, the universal attire of uncaring baggage handlers everywhere. Shit! I curse to myself.
The jumpsuit snaps to attention. "Yup, got it. Electric guitar. What 'cha got, Pops, a Fender?" he asks. I could tell he had just smoked a cigarette. Probably while refueling the aircraft. "Gretsch" I answer. "Gretsch huh. Well, don't worry Pops, we're gonna 'valet' that puppy." He puts a large blue tag around the handle. Before I can open my mouth to ask what that means, he continues, "That means we hand carry it to a special place and you pick it up at the jetway after your flight." He rips a stub off the tag and hands it to me. Ah well, I think as the Marlboro Man whisks away my little guitar, down a flight of stairs and into a wood chipper, whatta ya gonna do, except look for it on Ebay tomorrow.
7:45 pm Charlotte Douglas International Airport, NC
The plane is not quite at the gate but my connecting flight departs at 8:11pm. This leaves precious little time to track down what's left of my guitar and get on my plane. Finally they hook up the jetway and 300 people slowly make their way out ahead of me. I get to the front of the aircraft with my blue gate valet stub in hand. I thank the stewardi and the captain, exit the port side door, and in the elbow of the jetway, leaning upright against a metallic brace, I spy my little Gretsch, thankfully all in one piece, but completely unattended; yes, anyone could have grabbed her! Without breaking stride, I swing my bass up onto my shoulder and shift gears into high. I've got ten minutes. I glance up at the big board. Flight 1447 to San Francisco gate 42 on time. Gawd! I'm at gate 4! Thank God for moving sidewalks because I'm basically too old to run. I mean, I can run, but after about 50 feet I need a defibrillator. I can walk pretty fast though, and as I approach gate 42, I can see that I've made it in time. I slow my pace and out of either habit or vanity -- probably both -- I check out my reflection in the mirrored post next to a news stand.
Where is the trim, good looking young man with the feathery dark brown hair, soft chocolate puppy dog eyes and hip clothes? Who is this aging, gray haired, AARP card carrying, grandfatherly man in the button down shirt and tie, neatly pressed slacks, matching belt and brown oxfords? Damned if I know! I'm new at this elderly thing. I do know that the aging process cannot be stopped: in fact, there is no viable alternative! Still, one can embrace it or not. An individual choice. Being the kind of guy whose beer glass is always half full, I choose the former.
10:45 pm PDT San Francisco International Airport
I disembark the airplane and head directly to the Ground Transportation area. I have plans to catch up with Paul and Marie Murphy. We'd planned to split a cab to the Hotel Rex, but when I exit the terminal, I quickly realize that there are no cabs, only shuttles. After a quick call, I realize that not only is there no fare to split because the shuttles charge a flat rate per person, but we're in completely different terminals. We agree to meet at the hotel, and I toss my stuff into the rear of an aging, blue and white Ford E350 Club Wagon.
11:35 The Hotel Rex, Sutter St., San Francisco, CA
How civilized! The Hotel has a bar in the lobby. The Library Lounge. Lots of dark wood, leather and of course bookshelves, with real books! I sidle up to the bar and order an ice cold Peroni pale lager. The bartender Dave pours it into a glass he pulled out of the freezer. I take a heroic draft, about a quarter of the frosty mug, and let out satisfied "AHH. Life is good! Eh, Dave?" The gray haired barkeep smiles as I drain the last drop. "You need another one, don't you?" "Very perceptive, Dave."
Murphy and Marie show up dragging the largest carry on I've ever seen. Maybe he fit his drum kit in the thing. He orders red wine, and we're relaxed and laughing in short order. I'm surprised that I'm still awake given the three hour time difference. Let's see... my usual bedtime is 10:00... three hour time difference... that's 3:00 am Massachusetts time...all this math is making me tired. Dave looks at me and says "It's ok to take the glass up to your room." "I think I'll do just that, Dave. See ya tomorrow, I'm sure." Beer in hand, I drag my tired old butt up to room 612, flip the large flat panel TV on, and fall fast asleep watching Harry Potter and the Deathly Hallows.
4:30 am Saturday October 22
But not for long. Can't sleep. I get up and search my bag for an Advil PM. No luck. I forgot 'em. I flip through the channels on the TV. The luminescence hurts my eyes at first but soon I get used to it. An old Rutger Hauer flick is on. I think I watch most of it but sleep does not come easy.
8:00 am
Even after a restless night, I'm up early. After a shower, I hit the lobby for breakfast, coffee, scrambled eggs, bacon and croissants with jelly. It's an absolutely gorgeous morning. Tee shirt weather. Time for a walkabout; I can't wait to get out there. I have toured with this band in hundreds of cities all through Europe and North America and it is extremely rare that I got a whole day to explore. I'm pretty sure the last time was in Ghent, Belgium 1993! I tighten my shoelaces and bounce out the door. Clang clang! An old cable car clatters up a wicked steep street. People hang off the side just like in the old Rice-a-Roni commercials. I walk to the top of Nob Hill and looking back down, imagine Steve McQueen flying down the street in his Mustang. Even walking down is dangerous. The incline must be near 45 degrees! An enterprising guy could make a fortune doing brake jobs.
12:00 Noonish
I end up in Union Square, a lovely and well manicured park in the middle of the downtown area, surrounded by high end stores like Neiman Marcus, Tiffany's and the like and filled with beautiful, tanned Californians. I circle the park looking for a nice secluded spot to smoke a cigar. Nobody is smoking anywhere so I suspect that it's prohibited, but seeing no signage to confirm my suspicions, I keep searching. Finally, I spy a guy leaning on a railing enjoying a stogie. Perfect! Not too many people around. I find a wall to sit on behind a hedge and light up my Monte Cristo. Stogie guy gives me a conspiratorial nod. I nod back and furtively pull out two Gran Marnier nips and pour them both into a glass that I took from my hotel room. Yee haw! I'm like a one man crime spree! I manage to avoid the tobacco police and continue my walk.
First stop, a refrigerator magnet souvenir -- preferably one with a thermometer - then lunch. Looking for a suitable pub, I came across a mariachi band playing on the sidewalk in front of a Seven Eleven. I stop to listen: these guys are good! A guy in a red Seven Eleven apron holding a large tray of sub sandwiches approaches and offers me one. "Smoked turkey and cheddar. Made fresh daily. Please try one, sir. Compliments of Seven Eleven." Wow! Free lunch! It's damn good too. Some kind of grand opening promotion. I head off to the corner liquor store for a rack of cold Bud longnecks to take back to my room. The A Team is on HBO at 1:30. Twelve bucks for a sixpack of 12 ounce Budweiser bottles! Nearly twice the cost as in Massachusetts. Everything is expensive here.
On the way back to the hotel, I pass the Seven Eleven again. This time a young lady offers sandwiches. "Chicken salad and celery. Made fresh daily. Please try one sir. Compliments of Seven Eleven." More free lunch! Makes up for the pricy Buds. I take the sixpack back to my room and place it in the waste basket with a couple of pounds of ice toted in the dry cleaning bag from the closet. A few glasses of tap water make a nice slurry. Voila! A wastebasket beer cooler as described in the University of Rock textbook Touring 101, Chapter 4 -- Hotels and Motels, subheading "Ingesting, Imbibing, Inhaling" right after the section on "TV Tossing, Pros and Cons".
| | |
| --- | --- |
| Mariachi band | Waste basket cooler |
4:45 or so
Don't wanna be late for soundcheck! I grab my bass and head down to the lounge to meet Paul Marie. We hail a cab to 17th street.
5:00ish Bottom of the Hill nightclub, 1233 17th Street
Ten minutes and ten dollars later we arrive at the Bottom of the Hill night club, where transplanted Worcester native John O'Neil greets us with hugs. Jeff and Steve are present and accounted for. Promoter Chris Owen smiles at the sight of a complete Lyres band, back in San Francisco again after ten years. Someone pulls out a poster from that 2002 show. The mood is light, the conversation happy as we head inside.
The room is fairly large. Roughly twice the size of the Rat, or for you youngsters out there, three times the size of the Rosebud. Rectangular, with the stage at the end and a wide corridor on the right side of the stage leading to a good sized courtyard, where smokers will no doubt gather. The official capacity is 295 people. The backline is as good as it gets. A Fender Twin Reverb for the guitar, a Fender Quad Reverb for organ, and an Ampeg SVT for me. I love SVTs -- in my humble opinion, it's the best bass amplifier in the business -- but they're so heavy ya need four guys to lift them and a truck to transport them. Too impractical for bar bands like us. Old friend Russell Quan (Mummies, Phantom Surfers) provides the Vox Continental organ. Jeff is obviously pleased and is all over the thing inside and out.
We light up the amps and whip off a song for the sound man as Jeff stands in the middle of the room critiquing the house sound. He scrambles up on the stage and we do a song with the organ to check the stage monitors. Everything seems great. Short and sweet! It's 5:30 now. The doors open at 7:30, with the first of the five bands at 8:30. We're playing last, and experience tells me it's highly unlikely we'll be onstage at the advertised time of 11:30. No matter. I have time for dinner and a nap. I flag down a passing cab and head back to the Hotel Rex to do both.
| | |
| --- | --- |
| Roy Loney And the Phantom Movers | The Dukes of Hamburg |
10:00 pm Bottom of the Hill Nightclub
A hand written sign on the front door reads "Sold out." Four people who I don't know call me by name as I enter the club. I stop and chat with all of them. Californians are so easy going, and rightfully so: they don't have to shovel snow, they have the best weed, and every day is sunny and warm.
The bar in the main room is kinda small and too crowded so I make my way past the stage and out to the courtyard. I get a cold Bud from the deserted bar in back. Clouds of cigarette smoke waft up to the starlit night sky. Bottle in hand, I climb the steel stairs up one flight to the band dressing room. Not so much going on here so I just sorta wander, waiting to get onstage. It seems like forever until it's our turn to play.
12:30 am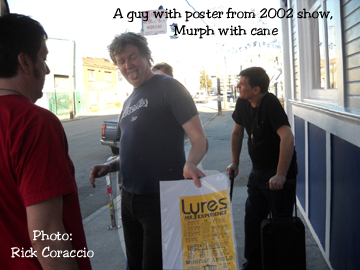 We're the last band on the bill and the stage manager says we can play as long as we want. We all know it won't be an all-nighter, because Paul has been having issues with his knee. At one point, it was bad enough to inquire about a local emergency back-up drummer in case he couldn't make the trip. I am so glad he is here with us.
Joining my fellow Bay Staters on the stage, I tune up, plug the cord into the little direct box on top of the tall Ampeg, flick the stand-by switch and test a few notes. Low E shakes the whole stage and from somewhere way in the back of the room someone screams "ALRIGHT!" I get a feeling that it's way too loud so I reach back to the control knobs and turn the master volume down to five, or half, cut the treble to three, crank the bass to seven, set the midrange to zero, and push the button that reads "ultra low." Open A sounds smooth and sweet as warm caramel. Two cold Bud bottles sit on a small ledge within arms reach. I am ready.
I glance over at Steve, who has just completed pretty much the same ritual. Jeff hits a two handed chord on the vintage Vox, opens up all five drawbars and the sweet timbre of 1966 analog technology echoes majestically off the far wall. Murphy has just taped up the three fingers of his snare hand that always smash against the drums rim. I can feel the tension and excitement in this tightly packed room. The crowd is ready too.
Pay attention Rick.
Any second now.
I talk myself through the set. We work without a list. All cues come from Jeff. He can call out any song at any time. Pay attention and the song will come to you. I fear that I won't pick up the cue, won't know the next song and look foolish, or worse, make the band look foolish.
I take a huge slug of beer to drown the butterflies as John O'Neil introduces the band. Jeff counts off the first song and the rush of the opening notes is almost too much.
SENSORY OVERLOAD!
The sheer volume temporarily knocks the wind out of me. My stage sound is way too loud and I make the appropriate adjustments. Jeff temporarily drops out of the intro, darts back to his amp and turns it up. I'm sure Steve and Paul and the sound man at the very back of the room are all doing the same. After two songs we have it dialed in and I feel more at ease. I love this part, especially when the audience is like this one. There's a give and take going on, a real connection.
Sometimes the pulse takes a hold of me so strongly that I must reel my feelings in lest I lose my place in the song. Knowing which notes NOT to play becomes more important than the notes that you DO play. The spaces, the gaps. Fit that note to the bass drum. Stop that string exactly when he pops the snare. It's so much to do.
Remember, Rick, it all comes down from the drums.
Sometimes I find myself keying in on a good dancer to help me keep time. It really works, especially if he or she has a nice sense of the beat on the "two" and the "four".
Get ready, Rick, here comes a vocal part.
I take exactly two steps forward to the Shure SM58 perched atop a straight mic stand, do my thing and step back. I know Steve's position and try to stand so that the band looks even and symmetrical from the audience. Jeff turns around, looks right at me and shouts melodically "Do Do Do Do Do," my cue to start the intro to one of my favorites "Enough of what I need," a real bass player's tune in E minor. The reaction from the audience pleases me to no end.
Reel in those feelings, Rick. Don't get too fancy. Pay attention. Here comes your vocal. I can hear myself really well in the monitors. Get ready for the false ending. Four measures, sometimes six, watch for the cue.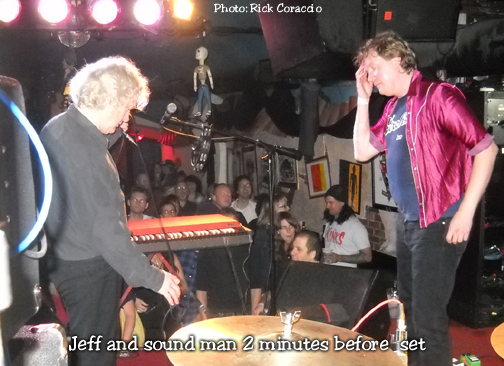 Halfway through the set , I see some good ol' fashioned slam dancing going on. I don't like it. Nobody wins with the slam dancing thing. It's just rude and selfish, four people taking up twenty square yards of valuable dance floor while most of the crowd stands at the periphery. I want everyone up front!
Jeff calls out "Don't Give It Up Now." I'm supposed to start the intro with the rest of the band but I miss it because I'm taking a pull off my beer. "Goddammit" I curse aloud and come in on the next measure. Not really a disaster if you can figure out when Steve breaks out of the intro.
Listen up Rick!
Amazingly Steve, Jeff, and Paul, all cognizant of my screw up, simply add another measure, I jump in, and off we go, business as usual.
What's the next song? What key? Don't lose the beat Rick. Here comes the change-up! Follow Jeff's cue for the ending.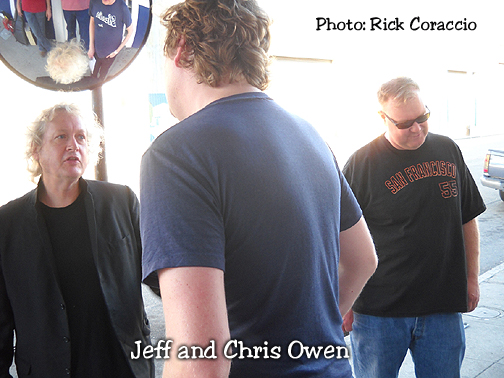 I love this shit! I feel fortunate to be doing this. Always have.
But let's face it, I'm only doing this because I was in the right place at the right time.
That place being Boston Massachusetts, that time being the seventies, where and when it all began for me, and for many of you as well, and this very magazine.
Thank you everyone for your friendship and for supporting the local music scene. And thank you, Boston Groupie News, for the chance to write about it. RC
This episode's song is......
"Don't Follow Me"
Written, performed by and produced by Rick Coraccio
Click Here
---
home | interviews | photos | features |BGN issue list | reviews
links | contact us
Copyright © 2011 Rick Coraccio. All rights reserved.