Rudy Childs Interview
January 2023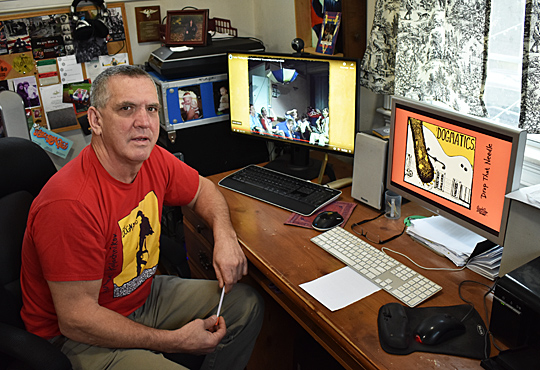 The Dogmatics - A Dogumentary
BGN - You've been rock crazy from the get go. Give us the early story.
Rudy- I was born in Washington DC, and moved to Rockland, MA at the age of 11. From 8th grade to 10th grade I was often singled out by a gang of neighborhood thugs and became their punching bag. Consequentially,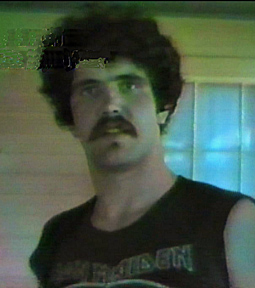 Rudy in 1984

I avoided them by signing up for after school activities, one being the yearbook committee, where I developed (no pun intended) an interest in photography. The darkroom was quite the refuge. After graduation in 1978, I brought my parents instamatic camera (w/flashcubes and all) to shoot concerts at the Cape Cod Coliseum. Being a big guy, I was able to bulldoze my way through the general admission crowd, right to the front row for the best angles. I captured numerous bands, including (but not limited to) Tom Petty and the Heartbreakers, J. Geils Band, Thin Lizzy, Black Sabbath, and a then-unknown quartet called Van Halen.

BGN - We're both fans of WRPS in Rockland. Talk a bit about that. I like their wide punk/alternative playlist that covers decades.

Rudy- When the station went on the air in 1974, my older sister Vicky was a high school freshman and a deejay there. The "RPS" stands for Rockland Public Schools, by the way. I am a fan of WRPS because it's on 24/7, is commercial free, and best of all the selection of music is pissah. They often tip their hats to local bands like The Del Fuegos, The Titanics, The Fools, and yes, The Dogmatics, and encompass all genres. They air High Voltage with the Lovely Lady Lila, a killer metal broadcast, 2-3 times a week. They play some hits, but mostly the deep cuts from bands like The Ramones, Berlin, Missing Persons, and up-and-coming acts like The People's Blues of Richmond or Higher Education.

BGN – You found a camera at a yard sale, how did you then become a rock photographer along the way? What about taking photos impressed you so much that you stuck with it?

Rudy- Once I grew out of the Instamatic cameras, I frequented a yard sale and got my first 35mm camera for five bucks. From there I was off to the races. Concerts were my thing and I brought my camera everywhere. Just like a wannabe legendary guitarist keeps himself holed up in his room practicing, I did the same at hundreds of shows with my camera until I honed my craft well. I even learned a technique where I doubled or tripled the exposure manually, way before Photoshop. Since all concerts had a "no photography" policy back then, sneaking my equipment into shows was challenging. Stuffing lenses down my pants or strategically placing a camera body in my armpits helped. I stuck with it because the better I got, the more it impressed the ladies. Plus, I love rock 'n' roll.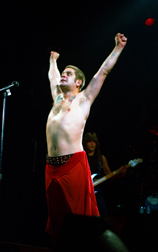 Ozzy Speak of the Devil Tour
The Ritz 1982
BGN – You've photographed a lot of rockers tell us the books that include your photos.
Rudy- At the Summer Jam '83 in Epping, NH, I photographed Marc Storace of Krokus jumping in a full-straddle off his drum riser. My heart beat out of my chest because I immediately knew it was a "money" shot. I was hooked. My portfolio remained pretty much unpublished and off the internet until 2012, when I was approached by Martin Popoff, the author of over 100 rock books. He used my photos though the years in his books on Ted Nugent, Accept, the Scorpions and Ronnie Montrose. My shots also appear in his coffee table books on Thin Lizzy, Mötley Crüe, Ozzy, Van Halen (50 of my photos, including the back cover), and Judas Priest (75 of my photos, including the front cover). Additionally, my work appears in the book celebrating the 35th year of the 9:30 Club.
BGN - You did a lot of drinking and drugging in your early days, any downside to that? Or was it all good?
Rudy- Funny you should ask. The photo chosen for the cover of Martin Popoff's Judas Priest: A Visual Biography, was taken when I was so fuuuucccckkkkkeedd up. It was the only good photo I'd taken all night, but sometimes even a blind squirrel finds a nut. In the DC area, it was popular and easy to get ahold of PCP (aka Angel Dust). It was 1982, and that particular night I had smoked a pretty potent batch, so my aggressive behavior at the show had the bouncers toss me out. I snuck back in and began snapping away until they tossed me out a second time. I proceeded to sneak in a third time and the security team was bullshit as I went out once again kicking, punching, screaming for vengeance, and even spitting in their faces. When I was high, I got creative in my "addict-think" on many, many nights. I had grandiose ideas, but it may have been the effects of the hallucinogens that I was still on from the night before. I truly had a blast most of the time, living in the moment and riff-raffing my way through life, until I didn't. I hit rock bottom and it scared the shit out of me. When I decided to get sober I did it via an extra-special long time in rehab, including a stint in the nuthouse.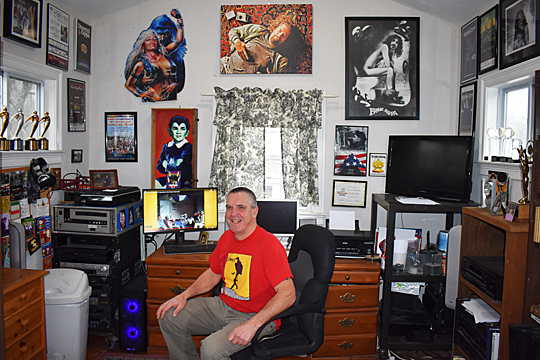 BGN – You are originally from Boston but left and ended up in DC via LA. How was the DC Scene different from the Boston Scene? What years were you there?
Rudy- Actually, I was born in DC and raised right outside of the city in Riverdale, MD. My father's job transferred him to Boston in 1971, when I was 11-years-old. When Mayor White refused Led Zeppelin a permit to play the Boston Garden in 1975, they skipped playing here during their colossal 1977 tour. I thought that was complete sacrilege, and couldn't wait to leave Beantown when I graduated high school to escape what I then thought to be a police state. I'm still pissed that I never got to see the mighty Led Zeppelin because John Bonham died before their 1980 tour would commence. In 1979 I heard about this killer event in LA called the Califfornia [sic] World Music Festival. It featured Cheap Trick, Van Halen, Aerosmith, Ted Nugent, April Wine and UFO, among others. I drained my bank account and flew to LA. Not knowing anyone there, the first night I slept in the bushes outside of an apartment building, using my duffel bag as a pillow. For spending money, I brought about 125 pot pipes with me to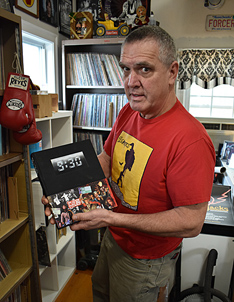 sell in the parking lot of the show, which almost led to getting pummeled by a biker gang (but you'll have to read the book to find out what happened). I also experienced LSD 25, which was in liquid form and administered into my eye via a dropper. The festival was outstanding, and with $35 in my pocket I hitchhiked my way back East, meeting a cast of characters like what Pee Wee Herman did in his Big Adventure. I ended up in DC, and stayed for 25 years.
The DC scene pretty much birthed hardcore. My wife was deep in it (practically raised at the 9:30 Club), and she believes the coolest thing about being in that scene was that it really wasn't a scene. It was just a bunch of local bands like Minor Threat, Bad Brains and Black Flag who hung out with you at diners after the show. Boston, on the other hand had a thriving garage punk scene with bands like Barrence Whitfield and the Savages, The Del Fuegos and The Dogmatics. I was a true to form metalhead, and appreciated the music in Massachusetts, but you'd never catch me at a punk or hardcore show back then. I did catch non-metal acts like Pink Floyd (was at The Wall show in 1980), Frank Zappa and Rush.
BGN - You were not a punk rock fan when you first saw the Dogmatics. What was it about the Dogmatics that appealed to you?
Rudy- Specifically, the New Wave of British Heavy Metal. Judas Priest and Iron Maiden were gods to my friends and I. Ozzy (w/Randy Rhoads) and Van Halen were the balls. If you were a diehard heavy metal fan, you had no time for punk, and never crossed the line. However, when I visited my family in Boston I'd go to the Dogmatics shows to support my friends, and because I loved their music. That band appealed to everyone. Punks, skinheads, pop fans, metalheads, the works. I also appreciated the music of new bands I heard on WBCN like Devo, the Talking Heads or the B-52s, and had a major crush on Patty Smyth from Scandal (but didn't tell my friends).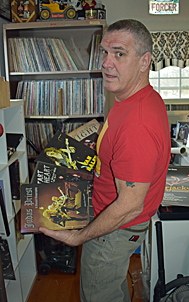 BGN – Now, You're a fan of both punk and metal. What are the common points between them? Or is it the contrast between then that gives a different kick?
Rudy- That's exactly it—the contrast gives a different kick. Live metal shows just vibrate through my bones, and when I was a virile young man it spoke to the angst I had to express. Although most punk bands were not as melodic as the metal I loved, the Dogs did. They still can write a tune with a perfect hook.
BGN - Is it true you had the idea for a Dogmatics documentary but it was untenable until they started doing shows again? How long have you been sitting on this?
Rudy- I have always wanted to tell their story, but not end it on a such a sour note as Paul's death. In 2019 my wife and I attended a Mess Around at the Plough & Stars in Cambridge, where Jerry Lehane mentioned the Dogs were about to record new material in Ed Riemer's barn. I went to that session with my video camera and began recording the band, where Peter O'Halloran introduced me to Jada Maxwell, their niece and band archivist. Jada and I met once a week thereafter to weave together what became the Dogumentary.
BGN - Talk about some of the source material you found for the "Dogumentary."
Rudy- When we interviewed Barry Hall, he brought with him ten 8mm film spools, some b&w and some in color. The phenomenal part was that they had sound recorded on them as well, going back as far as 1981. After converting them to digital, I had to re-edit the entire front end of the doc to tell a more detailed story. Additionally, Jada scanned and inventoried all of the old photos, flyers and newspaper articles.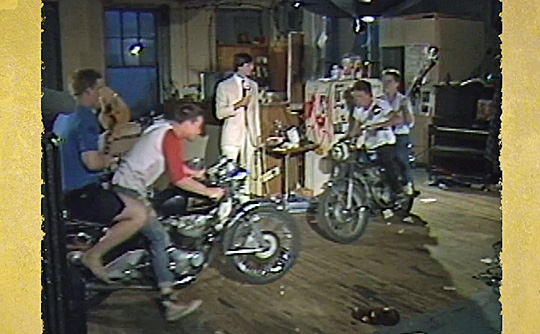 Cycle Jousting in the loft
BGN - You eventually found the Thayer Street footage in someone's closet. Tell us about that.
Rudy- When we interviewed Blowfish, he talked about lost footage from The Loft. We found an old tape in the back of Jerry's closet, unlabeled. It was an obsolete format, so when we had it converted we were pleasantly surprised to find exactly what Blowfish described. It was an episode of "The Poor and Unknown," with a 20-something Blowfish interviewing the Dogs as they drove motorcycles around their Thayer Street loft, jousting with their guitars.
BGN – AND You found the Dogmatics original recordings? – where? How?
Rudy- Yaaaassss! We unearthed original recordings of live radio broadcasts from WERS. There are 8 recordings of tunes that never appeared on any of their albums, and they are clearly influenced by Paul's love of Punk Rock. In fact, the band heard "Acid Rain" for the first time in years, allowing them to break it down and re-record it in 2021.We also handed out business cards in various places like clubs and film festivals to encourage people to look in their attics, cellars and closets for old flyers, photos or perhaps audio or videotapes of the band. It was tough at first because some of the folks who were in these lines who remembered the Dogs were Jerrys ex-girlfriends.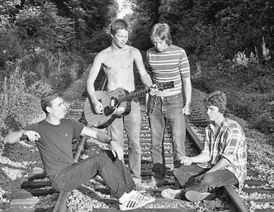 BGN - Will they be released?
Rudy- I hope so. For the Dogumentary, I had several of the old songs remastered, and it's really up to the guys in the band to do with them as they will. Stay tuned…
BGN - You had a showing of the documentary for family members. How did that go?
Rudy- Very well. Everyone was excited to see it and it was heartwarming to see reactions to the old footage. Anne O'Halloran, the matriarch of the family, received deserved laughter with her cheeky responses.
BGN - How did the family members' reactions to seeing Paul so much in the film?
Rudy- It was a very sobering moment to witness the hush that came over the crowd when the doc broached the topic of Paul's death. For that moment, the wound was reopened and it was almost like he had died again. It was tough deciding how to segue in and out of this part of the film, so we used Paul's humor and compassion to dive in and climb out of it.
BGN - The Dogmatics began in the 1980s but you knew the guys earlier in the early seventies. How did you know them? Tell us about that.
Rudy- At age 13, to escape pummeling from the aforementioned bullies, I hung out at my friend Mike "Mauler" Gilpin's father's cottage in Kingston, MA. The guys spent their summers there too, and knew Mike, so we all ran around in the woods getting into trouble, smoking cigarettes and bridge jumping into the North River. A few years later we'd all go to concerts together.
BGN - What are some things you found out about the Dogmatics doing the film that you didn't know before? Did you get a further appreciation of them by doing the documentary?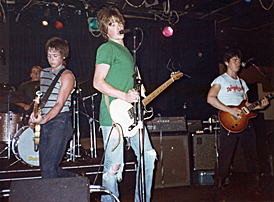 Rudy- I wish I'd gotten this on film, but in a conversation with Peter about his twin, he said something quite profound. Losing a sibling, I guess you play with stuff like this in your mind, but he said that by dying young, maybe Paul got the better end of the deal. He had his toe in the water of fame and notoriety, had fun living life to the fullest with the pedal to the metal. In contrast, Pete had to stick around without him, be responsible, get a job, pay bills, age, etc.
I also learned that Peter, Paul, Jerry & TK actually were abandoned at the Lynyrd Skynyrd concert at Cape Coliseum. It was on June 18, 1977, only two months before the fatal plane crash that killed half the band. TK had bought tickets for the show at Sears, but after paying the 25-cent service charge (per ticket) he barely had enough cash for the four tickets. Then our friend Mauler drove the guys to the show thinking he could scalp a ticket, and when he couldn't find one, he went home, leaving them to fend for themselves. They started to hitchhike home after the concert. As for the future Dogmatics and TK, they had no luck and ended up walking for miles. When they finally got off the Cape in the morning, they were still many miles from home in a town called Lakeville, MA. Tired and hungry, they came across a bakery and the aroma of fresh baked goods. Lo and behold, just like in a cartoon, there were pies sitting on a windowsill cooling off and they did what any cartoon villain would do—they swiped them. After eating a feast that couldn't be beat, they called the twins' father from a pay phone to come pick them up.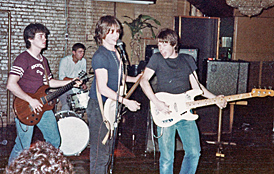 BGN - In the end did you accomplish everything you wanted to do with the documentary?
Rudy- Mostly. I wish I'd gotten interviews and stories from a wider variety of people, but the pandemic made it impossible. On the other hand, that would have made it a lot more challenging to keep the length to 90 minutes.
BGN - Are you surprised at how revitalized and productive the band is now?
Rudy- Not at all. They still have the magic in songwriting and performing. Jimmy is the oldest one and he jumps all over the stage like a madman. It's lightning in a bottle.
BGN – What's the next step for the film…will be submitted to film festivals?…and then when would a general release be?
Rudy- Once we nail down a premiere, it'll be available for general release. I'm guessing around April or May. We are hoping to have local screenings at the IFFB (Independent Film Festival of Boston), GlobeDocs (sponsored by the Boston Globe), The Woods Hole Film Festival, Salem Film Fest, and the Newburyport, Martha's Vineyard and Nantucket Festivals. The cool thing is, wherever the Dogumentary screens, the band can play afterwards.
BGN - You're not new to documentaries. How many have you done? Where can people get them? Or see them?
Rudy- The Dogumentary is my sixth full-length feature. Four of them are about heavy metal bands. One called 21 Years A Folded Flag was outside of my wheelhouse, about the cathartic journey of a son learning about his father who died behind enemy lines in Laos in 1968. His dad was a Special Forces soldier, and the family didn't find his remains until 21 years later. These are available on Vimeo:
Heavy Metal Picnic (2010), Tension: 25 Years Underground (2011), 1984 Riding Into Hell (2015) and 1985 Indestructible (2019)
I also have them available on my website store at: Rudy Childs .com/store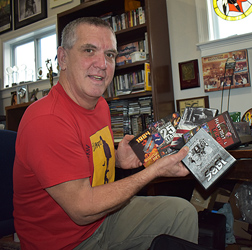 BGN - One of your trademarks is to review some current events of the year you are referring to in the film. How did that start? And what particular events do you refer to in the Dogumentary?
Rudy- When I started to make documentaries, I felt it was important to set the stage for the times. To contrast how things were so different in the 80s. The more research I did, the more I was fascinated with how much things had evolved. With the Dogumentary the old footage speaks for itself, and they have such a compelling story that I didn't feel the need to set the stage for the era.
BGN - Talk a bit about your book – what's it about and the current status of it.
Rudy- Riff-Raff and Rock 'n' Roll is a 1980s misadventure memoir, a backstage pass to my "performance" as an aspiring rock photographer that gave me access to celebrities and experiences most people only dream of—before my "tour" was canceled and I had to face the music via rehab and a psychiatric institution. I was no different than most other teenagers looking for adventure with an itch to fight authority, except I got to hang with rock stars and consume and inordinate amount of drugs along the way. Most books offering a front row seat to a private world like that of famous musicians are written by the musicians themselves or business insiders. Conversely, I'm an ordinary schmoe with a ridiculously large photography portfolio of rock stars and the scene. I also kept real-time journals of my experiences, calendar books, answering machine tapes, concert tickets, cassette and video recordings, etc. Thank God it's past the statute of limitations because the District Attorney would have a field day with all this stuff. Fortunately, I was able to redeem myself, salvage my relationships, navigate through the labyrinth of recovery and save my career. I ultimately became a husband, father and award-winning documentary filmmaker. Currently, we are querying literary agents to find the perfect one to shop the book to publishers.