You'll Pay For This
The Unnatural Axe Compilation Film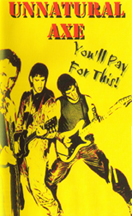 By Miss Lyn
I don't think I can GUSH about this viddy ENOUGH!!!
If you wanna be taken back in time to the good old days of 1977 or there abouts, if you want to feel like you were in Boston during that heyday period watch this video!!
Director Tommy White presents a number of Unnatural Axe songs at different venues, like Cantone's, The Club, The Rat, The Paradise and through the various stages of the band, spanning the three decades Unnatural Axe has been performing. Many of the songs are intermixed with other footage to create individual videos and between songs are more recent interviews with band members Richie Parsons, Tommy White and Frank Dehler. There's also backstage shots in various shit-hole dressing rooms, one with Real Kids founder John Felice, and interview with Jan Crocker just to name a few additional tid-bits.
The film opens with shots of Richie and Tommy as mere babes and a text explanation of how they were too young to play clubs so they played in Richie's basement. Pan to the audience and they really are in a basement with an audience of teenage friends! And the first song up is Three Chord Rock.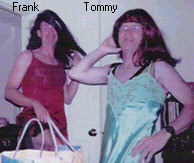 Once the band starts playing out in clubs you get to see their penchant for dress up!! Oh yes Tommy and Frank, in particular, show up from time to time in some fabulous dresses and wigs, safari gear, caveman chic, yacht club finery.
There's also Tommy dressed up as the nerdy Vernon Potts character up on stage, the basis for the movie The Creeper and the second song in this film You'll Pay For This. It's presented here with Creeper footage interspersed with the band performing the song live and it's just a taste of the vintage footage to come! You also get to see the hi-tech, special effects Creeper transformation scene, and then an onslaught of a veritable who's-who of the Boston punk scene 1978!! Whew, Peter Gates and Decibel Dennis doing the POGO, (ya, the Pogo, that's the original punk dance before thrashing and mosh pits etc) in a science lab, there's Tom Lane, Johnny Angel, Joanne Greene, Betsy Sherman, and yes, that's Oedipus, in drag, as the evil Miss Oedwina and you see her get her head cut off in a paper cutter by the transformed Vernon played by Richie Paaaaahsons.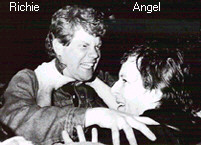 Next song up is "Today We Do The Bombin' Tomorrow You Do The Buryin'" with vintage war footage as well. Then into absolutely prize footage of Richie at work at the famed Filenes' Basement Men's Department!
Again another step back in time, things were different then my friends...it was the end of an era. Fading fast were the days of personal service, we, of a certain age and time, can remember this stuff…you'd get your windows washed by a service attendant at a gas station while he pumped your gas for free! You could even go to a discount store like Filenes' Basement and get full service. Richie was there, waiting with his tape measure to make sure you found the perfect pants just for you! And oh, the stories he can tell about measuring those in-seams…whew!! Click for picture.
This scene segues into "Shopping for A Friend". And since this is "You'll Pay For This" there's more incredible time-machine footage from The Creeper movie!
WOW!! OK, this part is really intense!!! You get transported right back to Cantone's 1978!!!! And this is AUTHENTIC stuff!! Vernon goes on a date to Cantone's with punkette super hottie Barb Kitson…I'm telling ya, if you were ever there you feel like you're back…and if you weren't you'll practically feel like you were! Click for picture.
The Creeper Movie

| | | | | |
| --- | --- | --- | --- | --- |
| Tom Lane | Angel | Betsy Sherman | Oedipus | |
They walk into the Cantone's front door, doorman Jimmy Dufour (he's the guy that looks like Johnny Rotten & was my roommate around that time) is sitting there with Ralph Fatello from the Vinny Band, there's Decidel Dennis, Merle Allin, Jeri Ann all making fun of the Creeper. Johnny Angel enters to find his 'girlfriend' with the Creeper…check it out: Jimmy (Click for picture) holds up two fingers to indicate the cover charge of "two bucks"….TWO BUCKS…talk about the end of an era!! Johnny walks through the whole of Cantone's so you get a tour of the place, even the kitchen, which always served as the dressing room. A fight ensues and moves out into the street through the other door, the one on the music side, remember?
This sequence is my favorite part of the video. These shots are priceless and make this video worth every cent of the purchase price!!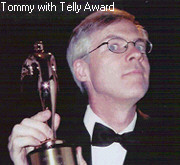 Then next up is my second fave section of the film and my fave Axe song "The Man I Don't Wanna Be" it's prefaced with short scene of Frank giving explanation of why he wrote the song. OK, now is the perfect time to pay homage to the fabulous director Tommy White…throughout this film he's doing a great job of mixing up the years, the stages of Axe, the venues with other footage appropriate to each song. What he's doing is actually making individual music videos. In fact Tommy won a 2003 Telly Award for this video! "The Man I Don't Wanna Be" is more than just your typical music video….the boys grow up….Tommy ushers you through the days of the Axe from Richie's basement, when they were sixteen, through the many years and shows and stages of life and band personnel, until they are all men, taking the ultimate step into responsibility: getting married. There's quick shots of friends on stage with them, like Johnny Angel, Dave Minehan, Fritz Erickson, Casey Lindstrom, Rita Ratt, Moose Parsons, all their various drummers and a nod to one constant in their lives; fan Jim Foley.
It's so very personal and poignant; you can't help but love the Axe even more for growing up before your very eyes and for sharing it, now in this film and in real life over the past 30 years.
And next up is more signature Tommy White when the "Can't Take Your Eyes Off Your TV" is the next song and the usual band shots are mixed with vintage TV commercials!
Other songs shown in this film are "Brain Damage", "Someone", with lots of shots from another Tommy White film the 'macabre and humorous' Bride of Frank. You also get "Summertime" and this ain't about flowers and sunshine, as any True Bostonian will understand: it's all about the Students! Then there's No Surfing In Dorchester Bay with fun beach shots of the Axe and friends like Dr Felix Krull and Lester Miserables and bikini clad women all yuckin' it up for the camera.
There's more songs: Pull The Plug, Tonight We Fight, some more contemporary footage of the band in a hotel room on a more recent Midwestern tour, and a short bit with Rita Ratt in which you do in do fact find out WHY Rita was kicked out of the band.
| | | | | |
| --- | --- | --- | --- | --- |
| In the basement. | Axe Action | Frank | Frank | |
This leads to the famous Axe song They Saved Hitler's Brain with Rita performing the screams on stage the band and cuts of the actual, laughably bad movie of the same title, which inspired the song.
The film ends with Richie talking about the band break-ups and re-forms and how the band basically will always be there, leading into the last song Youth Corps and a rich collage of stills including newspaper articles and gig listings, gig flyers, record covers, pics of friends, fans, the band …..and a final funny statement by Tommy.
The press release says this is the "definitive Axe music video compilation/documentary utilizing the wildest footage from 1977 to the present from the archives of Jan Crocker, Artie Freedman and many more."

But this film is not just about The Unnatural Axe and its history; it's about Boston scene too!
The Unnatural Axe have been such an integral part of the scene and Tommy includes so much here that you come away feeling like you too actually experienced Boston and its lovable fans and fixtures and everything that made the scene what it was and what we still love to this very day!
You can get a copy of the video on region free VHS by sending a check or money order for $15 ppd. To:
Thomas P. White
45 Bertson Avenue
West Roxbury, MA 02132
Also, Regeneration Records, 155 Harvard Ave. Allston 617-782-1313 had a few copies in stock last time we checked.
Mr. White is also looking for a distributor for the film. If you are interested please contact him at zoomaxe@verizon.net. .
---
home | interviews | photos | features |BGN issue list | reviews
links | contact us
Copyright © 2005 Paul Lovell. All rights reserved.