Tommy White Trash Film Tour
Los Angeles to Austin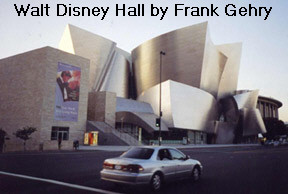 This past spring I got a call from Allison Anders who is a film producer and organizer of the "Don't Knock The Rock" Film Festival (www.dontknocktherock.com) in Los Angeles. She told me she loved my movie, "You'll Pay For This" and had added it to the festival schedule. So I made plans to bring the whole family out to enjoy the festival and see the sights.
The festival was held in the RedCat theatre in the majestic Walt Disney Hall designed by Frank Gehry, a truly amazing place! As soon as I got there I made a bee-line to the bathroom and when I came out my daughter told me they had just played the Axe song "Three Chord Rock" on the RedCat lounge sound system.
We were brought to the green room to get ready for the screening where we met Dietmar Post, Lucia Palacios, Dave Day and his wife Irene, some of the principles from an amazing film called "The Monks : Transatlantic Feedback". I found out about a band from the 60's called "The Monks" from the book "Unknown Legends of Rock and Roll" by Richie Unterberger.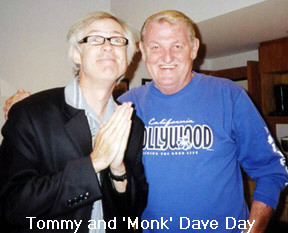 The Monks were a group of American G.I.'s stationed in Germany who, in the off hours, played rock and roll in the area clubs. A couple of German ad men saw an opportunity to make something new with these guys and changed their image and sound into something never seen nor heard before. I can only call it extreme image branding similar to the facades that Kraftwork or Devo utilized in a later decade. Needless to say you have to see this film and learn all about the Monks!
Finally it was showtime in a very modern and well equipped theatre. The place was crowded with well - wishers and transplanted Bostonians including Johnny Angel, ex-Outlet Rob Johnson and Lee Harrington's sisters - Nancy and Amy Harrington, who were on the festival committee.
As the film ran there were hoots at Richie's Dorchester accent, screams at Johnny Angel sightings and howls at the image of the bewigged Rich Kerr.
After the film I was called to the stage and treated to an "Actors Studio" style one - on - one grilling by Michael Des Barres,actor and singer, who was the host and emcee. His credits include roles on Macgyver, the film To Sir with Love and even Seinfeld. His rock & roll experience includes stints with Power Station, Chequered Past with Steve Jones and the 70's glam band Detective.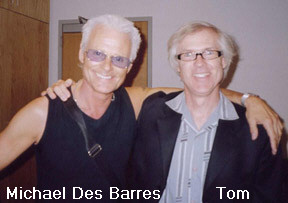 He was a formidable force to by interviewed by and had an amazing ability to dig right into the film after his one and only screening.
He questioned my personal motivations, my influences, what came first - the music or the imagery? But the most enigmatic comment was about his fascination with Richie leading to his remark "What is with this Richie fellow? Is he some kind of savant?" Which brought down the house. Finally the last question - "What's next for Tommy White?" My answer of course was a documentary about The Billygoons and a film about a kids show I used to be on called ZOOM. His reply --- "The Billygoats???!!
I wrapped up with my action statement that if I can do it so can you and as I marched back up the stairs I was approached by Kier-La Janisse who books the Alamo Drafthouse Theatre in Austin Texas, described in the book "The Film Festival Survival Guide" as the best theatre in America. She hands me her card and says "How would you like to show your film in Austin and if you've got something on ZOOM I'd like to see that too."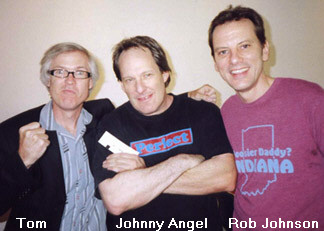 When I get back to Boston some negotiations ensue to get the Axe film on the Alamo schedule. In a follow-up email, Kier-La asks me to describe my ZOOM documentary - which is really part stand-up routine and part clip show. She offers to fly me out to do the Axe screening on a Monday and the ZOOM Lost and Found show the next night.
Yee-Haw I'm going to Austin!
2 Days before take-off the FAA adds carry-on restrictions to toothpaste tubes and gels -
Uh Oh! what about my Preparation H, Ben Gay and Grecian Formula?
After a great flight I am met by Kier-La Jannise and Henry Azzat. They drop me off at the house I'm staying at described as "a creepy old house you'll be staying in alone".
Lucky for me an ex-Billygoon lives in Austin and was stopping by soon - Marc English runs a design firm in Austin and back in Boston played guitar with my old band - The Fabulous Billygoons, for a few shows. (www.marcenglishdesign.com)
We go to lunch at ARTZ barbeque and catch up on the old and new. Then we tool around town a little. It's like a funky bit of Allston and Somerville and we visit his friends at their art galleries, work spaces and vintage shops.
The Alamo Drafthouse Theater Downtown is located in what was once the low-rent district and is now surrounded by trendy bars and restaurants. Inside it's huge and smells like beer! We check in with Shawn the projectionist to ensure the media works then take off to the "Mean-Eyed Cat".
It's getting dark when we return and get out to take a few pictures of the marquee. I hold up the camera to get the shot and a voice in my ear says "Hi Tommy". It's Austin resident Dr. Ann Messer M.D. but in a former life she was a child actor on ZOOM cast #2. We met her at a ZOOM cast reunion just two years ago where she was telling me that Austin was great for movies and film and that I have to come down. We take a couple of celebrity shots and head inside to order some food and wait for showtime.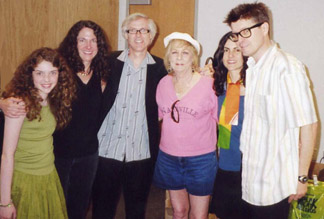 I'm having such a great time swapping ZOOM war stories with Ann that I forget what I was there for 'til Kier-La grabs the mike to start the show. The tape begins and we're off! After the film I take Q+A from the audience and a young lady introduces herself as "Crass's daughter"! I say "Lady we gotta talk- I think you were in the movie".
Turns out that Eve Richter is now a grad student at UT Austin and we catch up on Crass (Jane Richter) and speculate on the whereabouts of Candy (Kathei Logue). Eve says she saw some crazy things as a 12 year old on the Boston punk scene but says that everyone was nice and protective of her and her sister Maria back then.
The next day I'm up bright and early for radio appearance on Austin's #1 morning show. I put on my red and blue striped "ZOOM" style shirt, unwashed since an appearance with Captain Kangaroo in 1997. The cab comes by and we're off to KLBJ??!!. Having grown up in the 60's and 70's I can't think of a squarer name for a rock station but duty calls and we're off to Lady Bird's communication investment.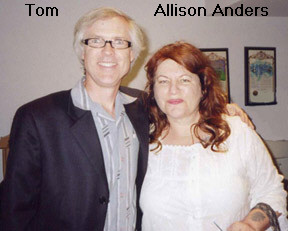 We're greeted by the program director, Angela Davis, and are brought in to the studio. As soon as morning guy Dale sees me in my striped shirt he says he remembers me from TV. We're off to a good start and we stay that way. We talk up tonight's show and when the conversation veers into my punk roots with Unnatural Axe, Dale pulls up the Axe song "Media Blitz" from Jan Crocker's site and plays it right there on KLBJ! Good thing there's no cussing on that one.
We get a few pictures with the crew and Kier-La takes me to breakfast at Las Manitas then heads back to work leaving me on the bench in front of the breakfast joint. I'm not alone for long as Marc comes by and we get back on the Austin tour bus. We get to the theater a little late, well 10 minutes before showtime and Kier-La is calling my home number in Boston trying to locate me when I walk in. I didn't want to rush my driver because the last stop was the topless beach.
I grab four bottles of water and rush in. After the previews I race to the podium! This is the first time I've done this show and I hope this works. Like the Axe film this one covers many decades and I'm happy and mentally exhausted when I make it to the end. Kudos to Dr. Ann Messer M.D. who joins me for the Q+A panel. There's safety in numbers and she fields questions like the pro she is.
There's a lot of inquiries from the kids in audience like:
"Did you go to school?
How did you get on the show?
How much money did you make?"
We got a good range of ages because kids can enjoy the clips and the baby-boomers remember when they watched the show.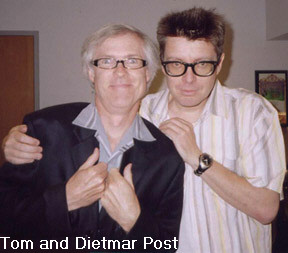 Afterwards I go to a coffee shop with Marc and Kier-La. She tells us there's two kinds of shows that generally run at the Alamo. There's the kind where 30 people show up who are "really into it" and then there's the film "sing-a-longs which sell out. I vow to myself to make a "sing-a-long" version of "You'll Pay For This". Then we're off to the Continental to check out Mike Barfield "The Tyrant of Texas Funk".
Next day Marc drops me off at the airport for my trip back to Boston. I've got lots of time to kill and when the woman at the Verizon stand asks me about filmmaking, we talk at length about the business and what a supportive place Austin is for film fanatics. I stop at the lounge/coffee shop and some of the patrons have talked the bartender into taking down the decorative "Miller-Lite" emblazoned guitars above the bar to play a few songs which they do with aplomb.
Hey - it's 9:30 AM at Austin airport, I'm having fun and I don't want to leave.
More about "YOU'LL PAY FOR THIS!" on the BGN site.
---
home | interviews | photos | features |BGN issue list | reviews
links | contact us
Copyright © 2005 Paul Lovell. All rights reserved.