The BGN News Archive
January 6, 2014
So there's rumblings about some clubs...open and closing....The Beachcomber in Quincy is now up for sale. We hope whoever becomes the new owners will continue to have bands there since it's been a tradition in that spot since it opened in the 50's...but who knows...reminds me of the Rosebud situation....*sigh*.... and what?? Quincy is gonna be a sad place coz the owner of the Granite Rail (home of Geezer's Garage Night) is currently deciding when (not if) he will sell his space too!! It seems downtown Quincy is getting a little too gentrified for these places!! damn! Kenne Highland will be bummed OUT!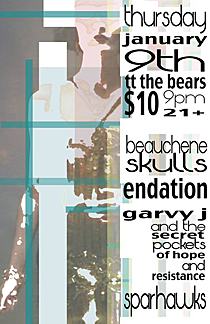 Well at least this is some good news!! Jim Seery (Triple Thick) is now booking bands on Wednesday and Thursdays at a new space under Tasty Burger in Harvard Square - its the old Jonathan Swift's space. Jim says it has high ceilings and 150 seating capacity. If you want to play there contact Jim at jimseerybooking at gmail.com.
And there's also a new performance/music venue opening up in Allston in the Studio 52 building. It's sort of on the way toward The Magic Room which was an incredibly cool venue we sadly lost. Per the Boston Globe the guys that run the the space will be opening a performance venue there called Allston Rock City Hall ( or ARCH) early this year...but alas the Globe says: "In its early stages of operation, ARCH will operate as a private event hall. That means the venue will not sell alcohol or allow public admission. Ticketing for these events will be available through online event registration sites (like Eventbrite) that promote across social-networking spheres.
Though Anton (a member of the Studio 52 team) hopes to one day acquire one of the city's precious liquor licenses, not having one will not dampen the good time. Events from birthday parties to art galleries to rock shows can be sponsored by companies including local radio stations, alternative magazines, food trucks, and yes, brewing companies."
Hey long time scenster punk/politico Joyce Linehan got a write up - as in an article on her - in Boston Magazine!! Congrats to you Joyce!!
And speaking of magazines...The Boston Compass, as noted in the latest "Kenne Highland At Large" column is becoming a paper/zine not to miss...pick one up when you see it around town. It's published by the Boston Hassle folks and has lots of listings in it!!
And check out PunkNews.org for the brand new Pixies song/viddy....
And True Age Media's Let's Go to the Rat has been sold out for he past two weeks and is now back in stock my friends....get yours now...
OK we're well on our way into January and the new year ...here's some gigs coming up:
this Friday January 10, 2014 at the Midway...there's a DJ Easy Ed Rockabilly Showcase with Rick Bounty doing all Elvis songs in honor of the King's 1/8 Birthday, also on the bill are The Red Pennys and Leah & Her J-Walkers...
Saturday 1/11/14 there's a good show at Club Bohemia at the Cantab with Tensor, Ziptie Handcuffs and the Drunk Nuns (see our Drunk Nuns Christmas Show review here we like 'em!!
Brian Young, Crash Course for Ravers, who has a whole career going on as a 'host' will be the host at the Cracker/Camper von Beethoven show at the Middle East on Friday January 17.
Terry Kitchen will be appearing, with special guest Rick Berlin, at Somerville Armory Cafe Friday Jan 17 for an evening combining spoken word and music. Kitchen will be reading from his recent novel Next Big Thing. For the music portion of his set, Kitchen will be joined by members of his '80s band Loose Ties and other guests for an "unplugged" cabaret-style performance. The concert begins at 8 PM and admission is $10. The Armory Cafe is at 191 Highland Avenue, Somerville. For more information call 617-718-2191 or visit artsatthearmory.org.
And here's what should be a very interesting night: Saturday January 18th at Club Bohemia at the Cantab...Foxpass is on at 10, Funeral Barkers at 11 then The Count Viglione along Kenne Highland doing the entire White Light White Heat lp in their Midnight Sťance for Lou!!! Kenne mentions it in his column this week....
Friday January 24th at Precinct it's a Winter A-Go-Go!! With Daddy Long Legs, Muck & The Mires and The Downbeat 5!!
Sat Jan 25th there's a cool punk rock show at The Midway, it's an early show (4PM-8:30PM) with The Bad Movies, The Pity Whores, Fast Times and Trip
Sunday Jan 26th (6-9PM) there's a special event: Craig Lewis will read from his book Punk Rock Mental Illness and Recovery for more info check out his Facebook Event page .....In our scene we have known a few folks who sadly have suffered with these problems and it's good to know there may be a way out.
Thursday Jan 26th punk rock show at TT's with The Racket, The Ungraded, The F.U.'s and Order 66
Friday Jan 31st...great gig at The Midway with Classic Ruins, Greg Allen's Fringe Religion, The Skeleton Beats and Love Love....
Boston Sci Fi Fest is coming up in Feb (7-17) athe Somerville Theater in Davis Square
Another primo gig up North Shore with The Real Kids/Nervous Eaters/PopGun. That's March 1 at the Spotlight in Beverly.
Put this event in your calendar now folks - Monday March 3rd...Gail C. and Babysitting Calamity Booking present The Sheckies, The Pity Whores, Jimmy Jacked, The Labor Pains.....not only is it a great bill but Gail C will be having one of her fabulous bake sales so arrive hungry, see a great show and leave with a wicked sugar high!!
EMAIL US AT.......misslynbgn@yahoo.com