The BGN News Archive
January 24, 2011
Well it's been a slow week for us as far as getting out goes.....nuthin' much to report...BUT we do have a new FAB guest column to present to you this week!
It's JJ Rassler's RAZZ RANTS......click here for his very first RAZZ RANTS with us!!!!we're excited to have him!!
....and as always Joanie Lindstrom travels - we get to see the hightlights. This time she invades England with a trip to London.....Click...Joanie's trip to London.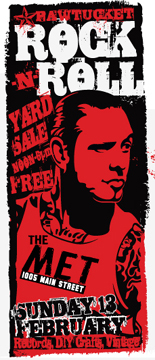 so ah what's happenin' out there? .... Thursday January 27th has a good show over at PA's Lounge with The 7Cs, Hello Ninja, Tail & Litehouse.....
Friday night Jan 28th at O'Brien's is an interesting bill with David Hull and Tony Savarino doing his solo guitar king stuff...
then There is an excellent all ages show at The Midway Saturday Jan 29th, starting at 4PM with Refuse Resist, Swaggerin Growlers, Yesterdays Heroes, The McGunks, The Pity Whores
OK this weekend is the show everyone will be at; on January 29 is The Konks, The Tampoffs, Tunnel of Love and Triple Thick at Great Scotts ....wow that is one hell of a line up and I think this may very well be The Konks final show.....a sad thought!!
And of course there's the showing of "Lemmy" at the Regent Theater on Feb 8th.... .should be quite a film to see!!
Sunday February 13th there's there Pawtucket R.I.Rock'n'Roll yard sale at The Met in Pawtucket from Noon to 6 PM and it is FREE FREE to get in!!! The folks at What Cheer always have a bunch excellent vendors so go on down!!!...
And yup....another Noise 30th Anniversary Party, this one is on Friday, Feb 25 at The Middle East with Tijuana Sweetheart, Blow Your Face Out Jason Bennett And The Resistance, Mark Lind (Ducky Boys) & Mike Savitkas (Death & Taxes) ...
And coming up on March 3rd at The Somerville Theater Jonathan Richman is doing a show featuring Tommy Larkins on the drums! - This is an All Ages show.
We got word of another Marky Mayhem benefit coming up at The Midway on Sunday March 13 in the afternoon. The lineup is 5-Point, Hixx, Welch Boys and monster upstarts of metal - Razormaze
Hey keep in touch huh?? click click click