The BGN News Archive
February 3, 2014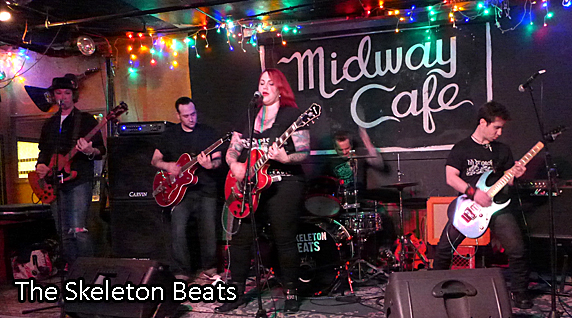 Kip Korea died this last Wednesday with liver problems. We came across Kip when he was playing bass for Lou Miami. He also played bass for Marc Thor for a while. We were looking for songs to put on some flexi discs and Kip said he had a few things he was recording. Hence the "I Hate The Beatles" flexi we put in issue #26. After Kip left the Boston scene he had a much longer career in country and bluegrass music. Bluegrass Today article. He had a winning personality as well as great bass playing. You always wanted to be around Kip.
We went for a Classic Ruins fix at the Midway this week. Also on the bill were The Skeleton Beats and Greg Allen's Fringe Religion.
We checked out The Skeleton Beats online and they had some good tunes. They looked a little psychobilly but had other influences that seems to override that. On their FB page they describe themselves as "Influenced by Dead Boys, Eddie Cochran, Johnny Thunders, 50's Rock and Roll, 70's punk, AC/DC and a dash of Joan Jett" and that just about sums it up. Fronting this band is Aimee Von Eerie who we thought was very talented when we saw her in Pulp 45 (which everyone confuses, including us, with Cult 45) when she was playing stand-up bass.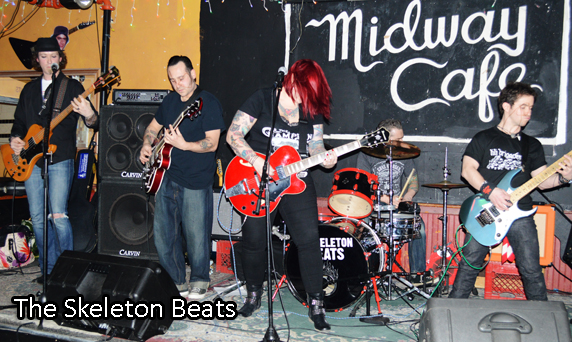 The group was solid and Amy was full on. Listen to the REVERBNATION cuts to hear her powerful voice. Live she doesn't just belt it out without taking care of the melody. I actually think the arrangements could be tweaked to reinforce what her voice is doing. Sometimes her good work isn't having the effect it could because the backgrounds are flat. I'm being picky? Ya maybe, because overall they come off as a rocking combo. Amy also has a great stage presence with funny remarks in between songs. The drummer was a big asset and had a wild flailing arm move hitting the symbol...you can see it in the video below.

We were totally thrilled when they covered All This and More by the Dead Boys. Excellent choice and a great throwbaack to the 'good old days'. Aaah...memories...Joanie Lindstrom was there and is planning on playing one of their songs on air next week. The band is working on material now for new release.
We started up where we left off last time with Greg Allen's Fringe Religion. They are doing their own thing that has a lot of early 70s pop influences, it seems to me. I still find it hard to nail down and maybe that's the point. Curt Florczak, the lead guitar player has more than a few short and tasty leads the whole night. And he adds some visuals to the show. He's a gem. They all are excellent players.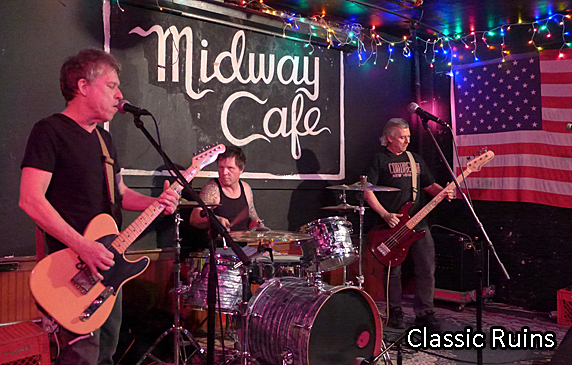 The Classic Ruins come on at midnight. The beginning of their set is heavy with covers and we sort of want to hear the old classics, as if we haven't heard them a million times a googol, but we do. Tonight we are "at Large" with Kenne Highland and have to call it a night and we head out. But were glad we caught this show.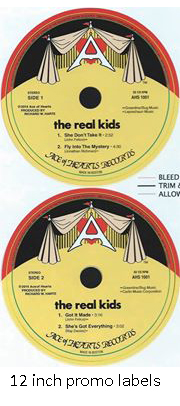 Earlier in the evening Miss Lyn and Kenne Highland checked out Tasty Burger in Harvard Square for some cheap eats just coz Jim Seery is booking it. We ate downstairs where the bands play and this place is cool! They have cheap yummy burgers and "shafts" as they call 'em (hot doggies)...your typical greasy fare - cheap but good stuff to drink - and they are open until 4AM...the place rules...
So here's a little redeeming news about the Commonwealth Hotel creating a Rat themed hotel room at their Kenmore Square location. They called Jim Harold and will meet with him this week....YES!! they are doin' it the right way! They will get his input into many aspects of the room. He says he thinks the location of the room within the hotel is important...it should be where the Rat actually was. It'll be interesting to see how this actually plays out....
Richie Parson's Kickstarter campaign is still going on.. ...He's looking to fund his new 11 release (available digital and on vinyl) "Honey & Tears" produced by Ken Stringfellow. Get on over there and help our pal Richie for this worthy effort.
The Unnatural Axe LP Unnatural Axe is Gonna Kick Your Ass is now available on iTunes as well as The Future Dads.
Kenne Highland another cryptic and interesting Kenne Highland At Large column We were there to share some of it with him this week!! (as noted above) Scroll down to just under the news for a link to his current column.
OK here's some gigs coming up and there's a LOT goin' on!:
This Feb 7 (Friday) The Kenne Highland Clan (on at 9:15) is at Copperfields with a bunch of other bands Red Oblivion A Modern Armada and Dirty Paxton
Also on the 7th is a great night at the Midway with King Sickabilly and his Full Moon Boys, Ten Foot Polecats, Cannibal Ramblers and Tigerman WOAH...that's gonna be a crazy night!!
Saturday Feb 8th Tasty Burger has an EP Release show for Speedy Ortiz along with a record release party for Sneeze and The Channels and Idiot Genes - really this place is way cool...check it out!!
Or this Saturday the 8th you can spend An Evening with Muck & The Mires when they do two sets at Atwoods on Cambridge St Cambridge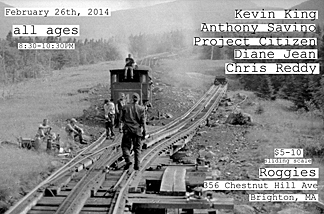 And this Sunday Feb 9 ....Mission of Burma along with Minibeast and Bugs and Rats at The Regent Theater in Arlington... 7PM doors, this is a benefit for Somererville Local First...
Thursday Feb 13th at TT's is Evolfo Doofeht, And The Kids, Streight Angular , Vary Lumar and The Flies 8:30pm And there a Valentine's Day Bash and right on Feb 14th with The Petty Morals, White Dynomite and Lord Classic at O'Brien's in Allston.
Boston Sci Fi Fest is coming up in Feb (7-17) at the Somerville Theater in Davis Square
There's a great benefit coming up on Saturday Feb 15th Veterans Advocacy Services is having a Advocacy and Awareness Nihgt with ALL proceeds going to the agency...Reddy Teddy will be playing through out the evening...its at Maynard Elks Hall check out the link for more info
At the Middle East UP there's a excellent Tuesday show on Feb 18 with Richie Ramone, The Connection and The Gobshites
Feb 22, Saturday...Greg Allen's Fringe Reigion are at The Cantab along with The Kenne Highland Clan and Billy Rath and his Street Pirates.
March 1st - another awesome Nervous Eaters Real Kids show also on the bill is Pop Gun - this one is in Beverly and anyone who didn't see the 12/28 show (and even those who did!) should definitely go- it'll be great!! It's all happening at The Spotlight Tavern
Put this event in your calendar now folks - Monday March 3rd...Gail C. and Babysitting Calamity Booking present Pop Punk Madness and Bake Sale at the Middle East with The Sheckies, The Pity Whores, Jimmy Jacked, The Labor Pains...not only is it a great bill but Gail C will be having one of her fabulous bake sales so arrive hungry, see a great show and leave with a wicked sugar high!!
WOW! this should be an awesome show Friday March 7 at The Midway: Punk Goes Accoustic with Glen Matlock and Sylvain Sylvain but ouch its $20 to get in.....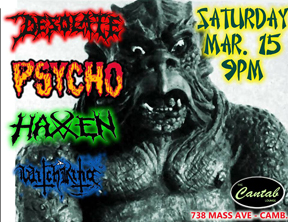 Friday March 7 The Cantab has that Boston super group that will not be named (Cam Ackland, Carl Biancucci, Johnny Black and Judd Williams
Mary Lou Lord Benefit, Saturday March 8th at the Midway Café. The lineup will consist of both long-time friends of Mary Lou, plus newer acts that she has been championing. The show will go from 9:00 PM till 1:30 AM. We will be doing short sets (20-25 min), so expect a number of acts in addition to this first list:
My Own Worst Enemy (it's also Sue's birthday!)
Kingdom of Love (featuring Linda Viens and Rich Lamphear)
Hilken Macini (acoustic)
Love Love (featuring Chris Toppin and Jefferson Davis)
So Sol (Latin/Americana)
Matt Minigell (brilliant young singer/songwriter)
At Mary Lou's request, the cover has been set low ($5) so everyone who wants to help can afford to come. However, we will have a donation bucket as well, and we encourage you to contribute as much as you can if you are able to do so. More details as they are worked out."
March 8th is also the Richie Parsons 10 Song Set performance at Store 54. And Cadillac Heart is at the Cantab
Jonathan Richman is back to the Middle East Up on March 19, 20 & 21 with Tommy Larkin on drums.
Jon Bernhardt is celebrating his 50th Birthday and 30 Year Anniversary on WMBR's Breakfast of Champions with a gig at the Middle East down on April 2 with Bevis Frond and Barbara Manning and Dump. Tickets are $20, to benefit WMBR and are available via TicketWeb.
There are some recordings of the Cars at the Rat on YouTube. Check the other videos by the poster called Buntastic they include more songs from the same gig and the full show that Ben Orr did at South Station on 2/5/95 (which I was at) and was wonderful. John Kalishes of Susan (Live at the Rat band) was on guitar.
Even we loved him because he stood up and sang for what he believed. He's a model for funneling meaning and content into songs. RIP Pete Seger. 94 years old.
New Boston Calling festival ....This one is three days and a grand total of 2, count them...one...two...local groups. I guess one thing Boston is not Calling is local groups. And another slap in the face is that they have The Neighborhood play....that's the sounds like Neighborhoods group that the Neighborhoods are suing for obvious reasons. Thank you Boston Calling you are the tops.
EMAIL US AT.......misslynbgn@yahoo.com