The BGN News Archive
February 10, 2014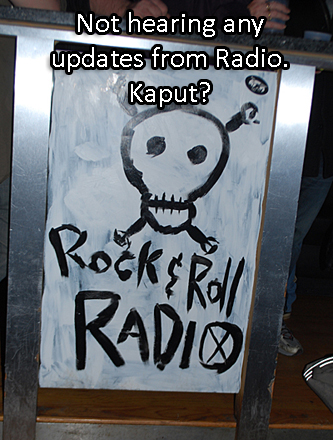 OK folks, Richie parson still has $3000 to go to get to his goal so he can out out his record....please check out hsi page and throw some dough his way.......Richie Parson's Kickstarter campaign is still going on.. ...He's looking to fund his new 11 release (available digital and on vinyl) "Honey & Tears" produced by Ken Stringfellow. Get on over there and help our pal Richie for this worthy effort.
We hear fom Vanyaland: The Brighton Music Hall has done a little teensy something to help with the parking problems in the Allston area....the program started Feb 4 and they have 13 spaces in the CVS parking lot that can be purchased for $15 each at the time you buy your ticket for the show you are attending at the Brighton Music Hall. Space is yours until an hour after the show gets over.
The Unnatural Axe LP Unnatural Axe is Gonna Kick Your Ass is now available on iTunes.
Here's a trip down memories lane: In the mid '70s, two photography students at London's Polytechnic Institute - Karen Knorr and Olivier Richon - documented London's punk scene in its budding years, a revolutionary time for music and fashion. A youth culture which would eventually inspire mainstream pop artists and fashion labels alike, here we get a look at punk's gritty origins via a collection of black and white photos. Celebrating femme-punk icons like Laura Logic, Poly Styrene and Siouxsie Sioux alongside those who partook in punk's heyday, the grainy images provide both insight and narrative to one of the most influential subcultures of the 20th century. The photographs were first shown at the Photographer's Gallery in 1978, and now they'll be exhibited at London's IBID Projects as Punks which runs until February 22. Check out the pics here...
Here's some shows coming up
This Thursday Feb 13th at TT's is Evolfo Doofeht, And The Kids, Streight Angular , Vary Lumar and The Flies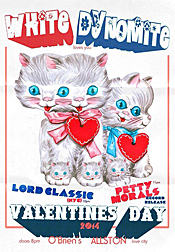 Also on this Thurs the 13th - Randy Black and the Heathcroppers will be playing a gig at the Tavern At The End of the World. This show will be a little different as Randy will be playing the acoustic guitar and a friend, Dan Cadematori, will be adding color on the electric. Of course, Matt Gruenberg will be on the bass and Larry Dersch on the drums. Randy says : "We are looking forward to this one, and those who sometimes find it difficult to hear the lyrics might appreciate the semi-acoustic nature of this gig. We will be sharing the bill with the talented and ballsy Natalie Flanagan and her band." Music starts at @ 9:30 with Natalie.
this Friday Feb 14th there a Valentine's Day Bash with The Petty Morals, White Dynomite and Lord Classic at O'Brien's in Allston.
There's a great benefit coming up on Saturday Feb 15th Veterans Advocacy Services is having a Advocacy and Awareness Night with ALL proceeds going to the agency...Reddy Teddy will be playing throughout the evening...its at Maynard Elks Hall check out the link for more info
At the Middle East UP there's a excellent Tuesday show on Feb 18 with Richie Ramone, The Connection and The Gobshites
Get yourself on over to the Plough and Stars Thursday Feb 20 - for a new Thursday residency there its Rockabilly 101 with John Carlevale and The Juke Joint Rhythm Rockers as they play the songs that made us all fall in love with rockabilly...This is a great idea!! I can relive the days of my parents taking me to the Jim 10 Country Lounge in Ashland MA
Feb 22, Saturday...Greg Allen's Fringe Religion are at The Cantab along with The Kenne Highland Clan and Billy Rath and his Street Pirates. .....Check out the KENNE AT LARGE columnn which is particularly cryptic this week...but if you can break the code your're gonna laugh.
March 1st - another awesome Nervous Eaters Real Kids show also on the bill is Pop Gun - this one is in Beverly and anyone who didn't see the 12/28 show (and even those who did!) should definitely go- it'll be great!! It's all happening at The Spotlight Tavern And one of the guys from Sonic Daze has come over from Italy to see this gig...check out their music - that's dedication and knowing a good thing when its there. Sonic Daze started out as a DMZ cover band!!
Put this event in your calendar now folks - Monday March 3rd...Gail C. and Babysitting Calamity Booking present Pop Punk Madness and Bake Sale at the Middle East with The Sheckies, The Pity Whores, Jimmy Jacked, The Labor Pains....not only is it a great bill but Gail C will be having one of her fabulous bake sales so arrive hungry, see a great show and leave with a wicked sugar high!!
WOW! this should be an awesome show Friday March 7 at The Midway: Punk Goes Acoustic with Glen Matlock and Sylvain Sylvain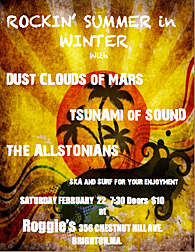 Mary Lou Lord Benefit, Saturday March 8th at the Midway Café. The lineup will consist of both long-time friends of Mary Lou, plus newer acts that she has been championing. The show will go from 9:00 PM till 1:30 AM. We will be doing short sets (20-25 min), so expect a number of acts in addition to this first list:
My Own Worst Enemy (it's also Sue's birthday!)
Kingdom of Love (featuring Linda Viens and Rich Lamphear)
Hilken Macini (acoustic)
Love Love (featuring Chris Toppin and Jefferson Davis)
So Sol (Latin/Americana)
Matt Minigell (brilliant young singer/songwriter)
At Mary Lou's request, the cover has been set low ($5) so everyone who wants to help can afford to come. However, we will have a donation bucket as well, and we encourage you to contribute as much as you can if you are able to do so. More details as they are worked out."
March 8th is also the Richie Parsons 10 Song Set performance at Store 54. And Cadillac Heart is at the Cantab
Jonathan Richman is back to the Middle East Up on March 19, 20 & 21 with Tommy Larkin on drums.
Jon Bernhardt is celebrating his 50th Birthday and 30 Year Anniversary on WMBR's Breakfast of Champions with a gig at the Middle East down on April 2 with Bevis Frond and Barbara Manning and Dump. Tickets are $20, to benefit WMBR and are available via TicketWeb.
EMAIL US AT.......misslynbgn@yahoo.com