The BGN News Archive
February 15, 2021
Red on Red had their Virtual Video Showcase on Friday. All told it was 11 pre-recorded videos and one live video of the Neighborhoods at TT the Bears in 2015. There were a few premiers too!
Justine was the host, introducing each vid. This is a new role that has cropped up – the video host. Larry Dersch is doing the same thing with Back Porch Carousel. Justine keeps things moving with just a few lines of information but it does the job and makes it more of a show.
First up were The Jacklights with "Winter"... which we think is the song of the season. Listen to how they sing the line "The winter is the longest road" – that's putting an individual stamp on your work. The Jacklights have gotten a big head start in a career in the middle of the pandemic. So, don't be discouraged out there, it can be done.
"Two Blueberries" by Cold Expectations is an instant hit with us. The video has images that follow the lyrics and bring them home. This song deserves a close listen. We talk more about the song below under CD's. Cold Expectations have a renewed sense of purpose and this song/video proves they are on the right road.
Justine and the Unclean premiered their new tune "Scorpion Bowl To Go". The eye popping background illustrations were by Crispin Wood. This is another case where quarantine restrictions are sparking creative ideas. Awesome!
"Beauty School Dropout" by Kid Gulliver is another video that takes the limit of a shutdown and turns it on its head. The super saturated color with ultra-contrasted images and a host of computer alterations makes the video pop off the screen as the song, once it gets in your head – DOES NOT LEAVE!.
And you know a live video of the Hoods – that's just catnip for a Boston punk fan. The song they do is the Nervous Eaters "Just Head". I mean!? It's a drool fest here. This was from those end of the road shows for TT the Bears in July 2015. Here's our page on that from the Archives
The video for "Non-Dramatic Breakup Song" by Linnea's Garden is much more a simple affair, but the song doesn't need more. At some point we'll look back at the work Linnea Herzog has done this year and see what it looks like in perspective, right now we just awed by a song like this. It's got a concept, a sound, a hook and a performance that all seem like it will last a long time.
There's more videos that we don't cover here. You can check out the whole video here.
It's been obvious from the very first time we heard about this that Red on Red would be a force to contend with. The impressive lineup of bands and videos here are another indication of that.
---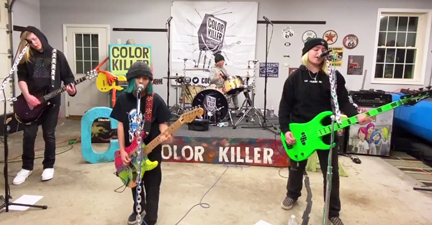 Color Killer did a live stream on Friday. It was live from Matt's Garage and hte first time in a long time they've played together int eh same room.
Our fave was the seasonal "Down With Winter" as well as "We're Not From California" and "Just Leave Me Alone" They covered REM's "The End of the World As We Know It". They whip out those double fast lyrics with no difficulty. They did "Whatever It Takes" by the Apers. We hadn't heard of them. Here it is on YouTube.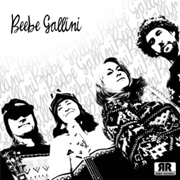 The link to the video is on Facebook here.
The Beebe Gallini Record Release Mess-Around will be on Sunday March 21 6-8 Facebook Event page!!!! This will be the Messa di Tutti Messa, or The Mess of Messes. To celebrate the new Rum Bar Records labelmates Beebe Gallini, There will be hometown pals of from Minneapolis, other pals of Beebe Gallini, Mess Around peeps, and Rum Bar's. It will be a YouTube premiere with the links to follow.
Here's the line-up:
Beebe Gallini-It's their party and we'll get drunk if we want to
Kid Gulliver (Red on Red Records Hitmakers galore
Hayley and The Crushers
Nathalie Sweet and Morten Henriksen for The Yums Yums
The bimonthly Punk Planet zine has posted all 80 issues online to download. Published from 1994 to 2007, they tried to review every record that came their way that wasn't a major label release. The reality of bad distributors and the internet killed them.
Here's an article on the Punk Planet online archive. Here is the Internet Archive page with all 80 Punk Planet issues.
Lenny Lashley is doing a live stream on Sunday Feb 28. And it's not from the Midway! It'll be from his cheap hotel room…He's recording his next album in New Jersey and since he had this live stream scheduled – well, it's from his hotel room. We'll see how "down and dirty" it will be!! Here's the live event page for this is on Facebook .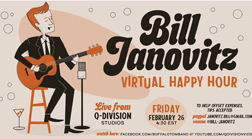 Bill Janovitz of Buffalo Tom will be doing a live stream from Q Division on Friday Feb 26. We're big fans of these live streams from Q Division. The quality of the sound provides a satisfying experience. We're hoping this will happen more often. The event page on Facebook.
The next Juliana Hatfield live stream at Q Division is Sunday Feb 21, at 4pm. She'll perform the whole Only Everything album. The event page for that is here.
It wasn't a music club but the Border Café in Harvard Square has closed as has the People's Republic bar in Cambridge. This article gives a list of places that have closed because of the Covid quarantine. It's sad to read. The article on Border's Café
---
PODCASTS..........

Al Quint was interviewed on the Talk About the Passion podcast. It's a two hour conversation that hits all the points as he gets Suburban Voice going. Al's been involved deeply for a long time and he has a lot of stories that show what hardcore is all about.
To access the interview go to the Talk About Passion site here : Talk About Passion
The Rat Tales podcast now has a Facebook page. Here's a link!! They already have some videos and it's easier to access than the set up they had before.
Rat Tales is a part of The Boston Beat podcast which has many interviews with new and old Boston band personalities. It's on AnchorFm here.
---
CDs/ Music........
Red on Red has done a big push this week with a video and some song releases.
Cold Expectations came out with "Two Blueberries a light sounding, and very appealing, pop song but it has an emotional core that gives it weight. It's worth reading the lyrics and then the liner notes on the Bandcamp page. They talk about the turn that Cold Expectations has taken this year. Looks like the alt-country thing is in the past and there's more of this new style on the way. We're happy with that. They write about the song…there's a lot of thinking going on there. Not many can articulate the creative genesis of their music like this.
This song has a lot going for it. The background vocal swoop at 1:05 and 1:20 make our heart go bumpity bump. Overall it has an indie sound. Somehow we think we have been waiting for a song like this from Cold Expectations.
Justine and the Unclean contribute "Scorpion Bowl to Go" this week. One of the joys of listening is to hear a song come on and you know exactly who it is because the band has their own sound. That's the way it is with the Unclean songs.
"Scorpion Bowl" is a quarantine song about the ups and downs of ordering drinks by phone when "home becomes a prison". Hansen takes a solo half way through and then continues his incendiary wailings under the vocals till the end. There's a lot in there from only 2:18.
The Gypsy Moths now have a vinyl version of their last EP. It's a 12 inch which is a 45 RPM. That should sound sweet. To get you in the mood here is their garage soul sound on "We Can't Go On".
Hits and Misses by The Bad Reminders is an older album but the band is going to change their name and wants to get rid of their old copies of the CD so you can get it on Bandcamp for $2.00.
They are a young band from New Bedford. They play in the pop punk vein. If there was no Covid we probably would have seen then a few times this year. We did see them in Feb of 2019 Their lyrics are interesting. The words to "How Not To Lose" remind us of Thomas Pynchon with the talk of entropy: "Perpetuating entropy will soon leave us dying and Disperse the remnant pieces with the last remaining heat"
Jay Gauvin of the Prozacs did up a solo version of "Number One" by the Queers. It is the Queers at their most romantic.
CONTACT US AT....misslynbgn@yahoo.com Send us your gig listings, your anything else ya got!! You want your CD reviewed?? Contact us for that too.
---