The BGN News Archive
February 17, 2014
Hey congrats to the folks in My Own Worst Enemy!! They were featured in Magnet Magazine !! Check it out!
It's the last 6 days for Richie Parsons Kickstarter project supporting his gorgeous new set of pop songs.... .......Richie Parson's Kickstarter campaign. He's got only a little more than a thousand to go.
And for all you musicians out there, from Fretboard Journal...The Skies are Now Guitar Friendly: Congress Orders Airlines to Let You Carry on Your Musical Instrument! 'bout time damn it!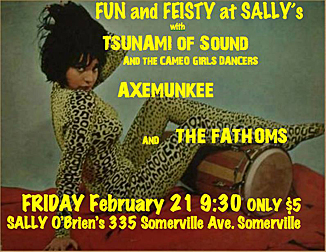 And sadly we get a definitive message about Radio not reopening in the article that came out a while ago about liquor licenses in Somerville on Wicked Local. Business owners are salivating over their license and want it!! "This pressure was evident at the Somerville Licensing Commission's Jan. 22 meeting, during which commissioners promised to revoke the shuttered Radio Bar's all-alcohol license if the owners haven't sold it by the commission's next monthly meeting, and three business owners competed for the city's one available beer and wine license."
Here's some shows coming up
THIS Tuesday!! Feb 18 at the Middle East UP Richie Ramone, The Connection and The Gobshites
Get yourself on over to the Plough and Stars this Thursday Feb 20 - for a new Thursday residency there its Rockabilly 101 with John Carlevale and The Juke Joint Rhythm Rockers as they play the songs that made us all fall in love with rockabilly...
And every Thursday - for a good shot of "R & B, Punk and Pop Drek from the has beens, shoulda beens, woulda couldas and never weres from the 50's through the present day" turn on yr radio to WMFO 91.5 and give a lissen to Alex Piandes' The Desperate Hours show....6-8PM.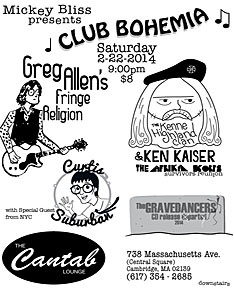 The Cantab gig this Saturday Feb 22, Saturday...is shaping up to be quite a night folks....first off Greg Allen's Fringe Religion has added: a special guest band from NYC - Curtis Suburban featuring Waldos' drummer extraordinaire, Screamin' Joe Rizzo!
But also Kenne Highland & Ken Kaiser and they are now doing a special event: Afrika Korp Survivors Reunion!!! Awesome....check out the FB page for the event and see the song list etc. (And you can read Kenne's column about this show and others this week here) Also the Gravedancer's CD Release Party has been moved to this gig too...so this is not a night to be missed...
Also on Sat Feb 22...up in the north country all you crazy mogul luvin' guys and gals...there's a Sunday River Ski Party with The Flipsides and The Jonee Earthquake Band....go listen to some cool music and do some hot doggin'!!
There is also an awesome show at The Midway on Feb 22 as well…tough call...coz they have The Bloodstains presenting TV Party Pilot Episode (there'll be more of these!) the theme being Family Night! Oh I'd like to see that with these guys....not your mama's family night....
And Sunday Feb 23rd there's Sunday Mayhem at The Midway with The FUs, That Racket and the Ungraded
Thursday Feb 27th another good show at Tasty Burger down with The Sprained Ankles, Thee Legendary Rockin' Prophets and Dots on Dice
Sadly the March 1st Spotlight Tavern, Beverly - Nervous Eaters/Real Kids show has had a major change - no Real Kids -John Felice is not doing so well and has had to pull out of this show....we wish John the absolutely best ...current bill is Nervous Eaters, Pop Gun and now.....Classic Ruins!! ....
No if you're going to the big Frank Maratta car show in Springfield Ma make sure to go to the Skeleton Beats show at the after party at the lovely La Quinta Hotel's Mount Tom Ballroom...check out their FB page for info and how to get a discount...
Put this event in your calendar now folks - Monday March 3rd...Gail C. and Babysitting Calamity Booking present Pop Punk Madness and Bake Sale at the Middle East with The Sheckies, The Pity Whores, Jimmy Jacked, The Labor Pains....not only is it a great bill but Gail C will be having one of her fabulous bake sales so arrive hungry, see a great show and leave with a wicked sugar high!!
WOW! this should be an awesome show Friday March 7 at The Midway: Punk Goes Acoustic with Glen Matlock and Sylvain Sylvain - I suggest you buy tix for this NOW folks cause it is gonna sell out!!!
Mary Lou Lord Benefit, Saturday March 8th at the Midway Café. The show will go from 9:00 PM till 1:30 AM. This list keeps changing...new bands are getting added all the time so check the link.... My Own Worst Enemy (it's also Sue's birthday!), Kingdom of Love (featuring Linda Viens and Rich Lamphear) , Hilken Macini (acoustic), Love Love (featuring Chris Toppin and Jefferson Davis)
So Sol (Latin/Americana), Matt Minigell (brilliant young singer/songwriter)
At Mary Lou's request, the cover has been set low ($5) so everyone who wants to help can afford to come. However, there will be a donation bucket as well, and we encourage you to contribute as much as you can if you are able to do so. More details as they are worked out."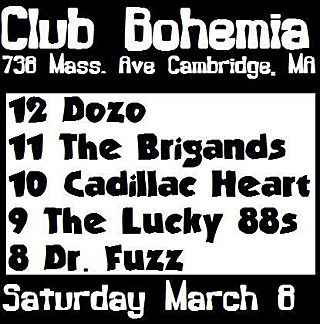 March 8th is also the Richie Parsons 10 Song Set performance at Store 54. And Cadillac Heart is at the Cantab
and we have St Patrick's Day coming up March 14th but the 15th could be an all day affair at The Midway...it starts out with
Swamp Patrick's Day Celebration - 4 to 8:30 PM with Everymen, Yankee Cockfight, The Radiator Rattlers and The Old Edison...
Then it's another DJ Easy Ed Show -this one's amazing!! With Sean Coleman coming back for a visit to Boston with Sean Coleman and The Quazars along with Leah and Her J-Walkers and The Bloodshots
Jonathan Richman is back to the Middle East Up on March 19, 20 & 21 with Tommy Larkin on drums.
Wow Friday March 21 there a mega OI!! Show at TT's with Yellow Stitches, Victory, Razors in the Night (who are great and are celebrating a record release this night) And The Warriors real Oi! Straight from London you know...(and named after one of my fave films!)
Saturday March 29 at The Midway you can get a double dose of Chris Brat plus these are some damned good bands - its The Old Edison (In case you missed them last week), The Warning Shots, The Black Cheers and Duck & Cover
Jon Bernhardt is celebrating his 50th Birthday and 30 Year Anniversary on WMBR's Breakfast of Champions with a gig at the Middle East down on April 2 with Bevis Frond and Barbara Manning and Dump. Tickets are $20, to benefit WMBR and are available via TicketWeb.
Friday April 4th at The Regent Theater is the debut of Tim Jackson's film "When Things Go Wrong": Robin Lane began as an artist singing with Neil Young in the Laurel Canyon music scene of the late 1960's. A decade later, in the Boston music scene, she achieved high critical praise with her own band, The Chartbusters, which became the 11th band to be broadcast on MTV. After the birth of a daughter she was rejected by the music business and after decades of struggle and ups and downs, she began songwriting workshops for women who have survived trauma and abuse. The film is a feminist perspective on the difficulties of sustaining a career as an independent woman in male dominated business. Directed by filmmaker and musician Tim Jackson who has played drums with Robin Lane for 35 years. The soundtrack features 21 songs by Robin Lane, many heard for the first time, with additional music by John Kusiak.
This one-time screening is to help raise money for publishing rights for Robin's Lane's own songs which are featured in the film. The film will be followed by a Q&A with Tim and Robin and live performances from Robin, The Chartbusters, Barrence Whitfield, Ramona Silver, and others TBA . You can buy tix here Regent Theater site.
April 26th Barry & The Remains are at Johnny D's in Somerville....this aint a cheap show folks...$40 for tix and another $15 food minimum if you want guaranteed seating...but hey...you just can't keep a good fan down.....so go buy those tix here.
Sadly the Standells show at TT's was canceled because lead singer Dick Dodd passed away...but that's not holding them back it seems..the show has been rescheduled The Cavestomp (Boston) Standells and Lyres is now at The Brighton Music Hall on Monday May 5th.... You can buy tix here
Thursday, May 22 at The Middle East Up...... The Woggles with Muck and the Mires, Lyres - whoa what a show!!!!
EMAIL US AT.......misslynbgn@yahoo.com