The BGN News Archive
February 20, 2023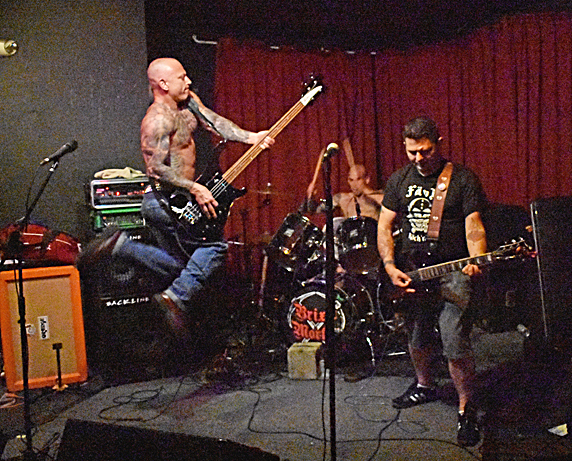 Brix'n Mortar signed to WTF Records
Brix'n Mortar have signed with WTF Records & Distro "The Home of the Underdogs" from the Netherlands. Way to go guys!!
WTF says this about the upcoming album, "Something Ain't Right sounds like a freight train - ramming you through a brick wall, and dragging you through the rubble with their heart, melody and the gritty truth!" sounds about right! A new Brix'n Mortar single and video will be out soon. And definitely check the website, there are some great videos to watch there!!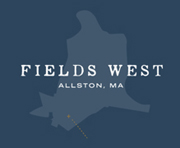 Fields West, the new club soon to open in Allston (we mentioned it last week, it's on 87 Glenville Ave) is planning on having music on a weekly basis for the first 12 weeks until May 11, It's being booked by the same person who handles Notch Brewing and The Silhouette, so the shows will be good!! Scroll down to the gig listings below to check out the up coming shows at Fields West
Then there's the Middle East where they want to build a hotel/residence and club complex at the Middle East site. There was public meeting to discuss their concerns on Feb 15. There will be another meeting on Wednesday, March 8, to be held at Zuzu's from 5-9pm. Here is an article on the situation.
The Armory building in Somerville has another tenant; Dead Moon Audio. A recording studio run by Adam Cissell and Marc Valois two long time Boston musicians.
They have a low rate for all night (1am to 9am) recording - $150.00. Dead Moon Audio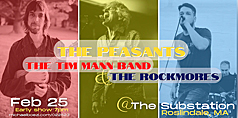 Feb. 25 there's a Peasants, The Tim Mann Band and Rockmores gig at a place called The Substation in Roslindale at 4228 Washington Street. It's a community space. That's a new sort of thing that's cropped up in the last few years. It's all about having a place to bring the people of a community together.
The way they say it: "We build, activate and connect communities. To us, community is defined in many ways, physical and geographical, professional, artistic and by those seeking connection through unique and inspired programming." Not to forget to mention they have a beer hall.
Facebook page for the event The Substation website
And speaking of community here is a speech by Scott Matalon from the Save The Sound Museum Rally last month - the fight continues.....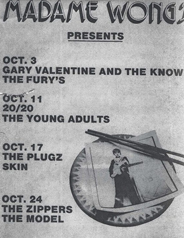 "Chinatown Punk War" - The title of this article caught our attention. It seems LA's Chinatown was not drawing customers back in 1978. A music promoter talked a Chinese restaurant Madame Wong's to book a punk band once a week. They made money and soon it was punk every day. Madame Wong, the owner, opened up a Madame Wong West on Santa Monica that had more space.
Another restaurant, Hong Kong Café (oh like our Hong Kong that we miss so much!!) saw the success and started to book punk. The two clubs were now in competition.
Madame Wong's started to book New Wave bands while the Hong Kong stayed punk. Sadly both clubs did close ...isn't that always the story?? Madame Wong's closed in 1986 and the West club closed in 1991. But the article has some great videos and gig flyer images you will want to check out! Read the article
Tickets are now on sale for all nine nights of this year's Rock & Roll Rumble at the Middle East/Sonia from April 6 to May 6. The Full Boat Pass is $104.00.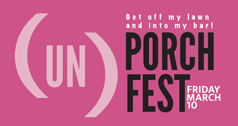 The (Un)Porchfest in Roslindale, sounds like an anti-Porchfest idea but it's actually a function to raise money for Roslindale's Porchfest later this year.
The March 10 event's tag line is "get off my lawn and into my bar" to..."Enjoy live performances at the Square Root; Distraction Brewing Company, Roslindale Substation and Midnight Morning. A $20 suggested donation gives you access to all venues." That is an excellent deal!! The FB event page
And BTW the actual Roslindale Porchfests will be on Sept. 23, 2023! Roslindale Porchfest website.
Stockton University in New Jersey has a punk rock exhibit. Shortest, Fastest, Loudest displays fliers, sculpture, a button wall, album illustration, street art, poster art, zines, and photography by Philadelphia punk photographer Karen Kirchhoff documenting the spaces, like Disgraceland, that have hosted these shows over the years. There's also an unamplified record player where people can play vinyl records like Soul Glo's "Songs to Yeet at the Sun" (assuming the needle isn't broken.)
| | |
| --- | --- |
| Flyers at Stockton Un. show | Wall of flyers - Underground |
The centerpiece of the exhibit is the Flyer Wall - more than 1,000 flyers for punk shows in Philly and New Jersey stapled to a wall, flapping at the bottom, an immersive collage that tells the history of punk and punk art, show by show. The Flyer Wall looks a lot like the flyer wall that was at The Underground back in 1980!! See above.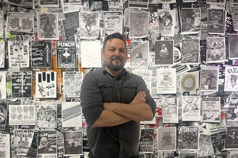 The curators are Ryann Casey and Justin Gray (Photo to the right), both were involved in the Philadelphia and South Jersey punk scenes, Casey said, "In the punk exhibition, we show the impact punk had on local communities and specifically artists but also discuss how the genre has embraced protest, antifascism, and community collaboration." and she adds "We're both old punks at this point, We were thoughtful about the ideas, that we cannot just put in the ones that are our favorites in that time period. We wanted to be able to show that punk is alive and well. It evolves and it changes."
They hit all the right notes for us!! Road trip!! Tuesday March 7th @11:30am they have Artist Panel & Reception and a Screen printing Demonstration on Wednesday April 5th @12:30pm. The full article from the Philadelphia Inquirer and the Stockton U. Art Gallery page.
Interested in shows like this?? Check out our coverage of two punk shows in NYC: Too Fast to Live, Too Young to Die: Punk Graphics, 1976-1986 - and conversation with John Lydon at The Museum of Art & Design ... and ... Punk Lust: Raw Provocation 1971-1985 at The Museum of Sex from April 2019 HERE!!!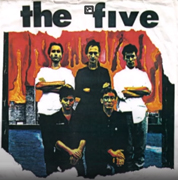 And speaking of punk rock history ...
This week we have Johnny D's Allston Closing Night Installment #FIVE from Bob Martel (aka Bob Cellar) - Ten bands and Bill Tupper as MC....those were the days folks and these are never heard before audio recordings of Johnny D's closing night! Let this be a history of Boston punk for you if you were not there!!
The fifth band was The Five (Reid Paley) - Listen to it here.
For some visuals here is the BGN photo coverage of Johnny D's closing night and the BGN coverage of the 2010 Johnny D's Reunion at Church.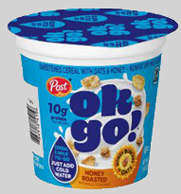 OK Go are a band that are easy to like. They got famous with their treadmill video of "Here It Goes Again." Now Post Cereal is suing the group because the company wants to make a cereal called OK GO. On the surface it just seems like overreach by Post but the story gets complicated quickly. The group had sent a cease-and-desist order to Post when they heard about the cereal. Also the group had a promotion deal with Post in 2011 for another cereal. Read more about it
RIP Burt Bacharach!! Everybody covered his songs even a few punks. The most obvious is The Stranglers with "Walk on By".
Brooklyn Vegan lines up a whole page of alternative Bacharach covers. It's an entertaining take in with some eye opening choices. We never knew Faith No More did a straight up cover of "This Guy's in Love With You". There's over 20 covers. You can hear them on the Brooklyn Vegan website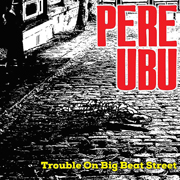 Pere Ubu will soon release their 16th album titled Trouble on Big Beat Street. It looks like all facets were directed by David Thomas.
The origins of the album and how it was done are unusual. Thomas thinks differently than most. He says: "Fifty-three years ago I read about Song Cycle by Van Dyke Parks, I didn't understand what I read but it changed me. Years later I heard the album. This, finally, is my response to hearing to that album. Long ago I determined that a song is best the first time it's played. There is nothing that can go wrong or be inadequate. Repetition allows error to enter in. These songs have been played by the band one time, as they were recorded." The group will play live on a three city tour of NYC, London and LA. Read a little more about it and see the song list on Brooklyn Vegan website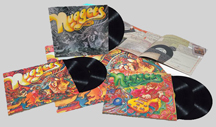 Nuggets, the garage defining double LP set compiled by Lenny Kaye and released in 1972, will have an update this year. Lenny has put together a 5 LP set. Two of the records will be the original set, three will be added material. He will have "I'm Five Years Ahead of My Time" by The Third Bardo in the collection now.
The set will be released on this years Record Store Day on April 22. More about the release on the Uncut magazine website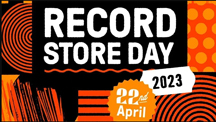 Speaking of Record Store Day, there are more records than ever being released that day. Here's is the official list on the Record Store Day website, when you land on the page please realize that there are six pages to scroll though, not just the one you land on.
There is Husker Du with a 2 LP Tonight Longhorn which is early recordings, a Cure live album, Pearl Jam – live in Melbourne, Pixies with live Doolittle plus extra songs, Garbage – new songs, and Sparks the debut LP. More info on the Consequence Sound website
---
BOOKS......
Why do we buy records for outrageous prices? Why to do travel to NYC to see a band that plays locally all the time? Why do we just have to get to that hot show tonight?
It's because we are fanatics.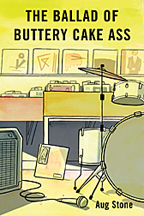 This is probably true of a lot of people who read the BGN. The record collecting part is the most obvious. Brett Milano wrote Vinyl Junkies about it. Now we get a comic fictional account of that mind set in The Ballad of Buttery Cake Ass by Aug Stone.
The story is about two fanatics who obsess with the obscure band named Buttery Cake Ass. Why are they named that? That turns out to be the funniest riff in the novel. For twenty pages the band obsesses over the name. Tortured logic dictates that name has to be an acrostic of the letters B, C, and A. As fast as the names come up, (Boiling Cherry Afterthought, Budding Cherry Aesthetic, Bridal Cream Agency, Bitter Cashew Advice, Battery Custard Arcade), they are seriously examined and rejected. It's absurd, but also very recognizable thinking we've seen in bands and fans....and we've seen some bad names.
That's what makes this book interesting, those unreasonable behaviors about the music that we all have and make us comfortable with each other. People who don't act with these odd peccadillos are the people we brand 'straight.' They just don't get it.
Stone mentions Thomas Pynchon in the book and he does have the Pynchon comic tone and the penchant for pushing ideas to an absurd end. The book is a fun read. We can appreciate the depiction of the pathology, but would the straights get it? We don't know.
Aug Stone will be book signing at Stereo Jacks on March 2. That's the perfect audience for this book.
The book on Amazon and Aug Stone's website
"Another Girl, Another Planet" is one of the greatest punk singles. There's no questioning that, right?
Now music writer Simon Wright has written a book about The Only Ones and the making of their first album with that song on it. It's The Truth - Making 'The Only Ones' has previously unseen photos and new interviews with the surviving Only Ones, Peter Perrett, John Perry and Alan Mair. Drummer Mike Kellie passed away in January 2017. Wright documents the formation and early days of the band and explains why they never achieved the massive success they deserved. The book comes out April 1 on Rough Trade, you can order it here. Want to read more? Here's an article on Vive Le Rock
---
VIDEOS......
Bands, Beer and Banter is back for its first show of 2023!!!
The videos: Devil Love "Straight to You", Bang Camaro "We Know You Know", Eddie Japan doing "Walk Away" and Jobie with "Cruel Vice".
The beers: Stone Hazy IPA, Berkshire Brewing Pilsner and Medusa Brewing Company's Laser Cat IPA.
We love the low key banter and the love of the music that these guys bring to the table.
It looks like the latest capture by Rum Bar Records is the Slamdinistas from LA. Their early 70s rock is right in the pocket for Rum Bar. The song is immediately appealing and we can't stop listening to it. It's got its hooks in us real bad. It's a well done video. The video framework spotlights the band members without being flash.
We have a Nervous Eaters commercial…a Nervous Eaters commercial!!! It's for the new album Monsters & Angels. In the vid Brad and Adam have good synergy riffing on the album. They intro some song snippets and talk up the purple vinyl LP version. It works great with the editing giving it an easy yet upbeat flow.
This is dynamite!! The Eaters are media platforms and pushing ahead like few other bands. It helps that it's a killer record, we know, but we hope other bands take the hint and follow their lead.
---
RADIO......
A lot of DJ's did love songs for their Valentine Day show. One of the better ones was Nick Wang on the Tuesday's Late Risers Club. He started with the Damned "Love Song." Other good choices were "Love Me Like A Reptile" by Motorhead and "Combat Love" by Shrapnel. He went back for The Flys doing "Love and a Molotov Cocktail.
A new one by the Monsters from Switzerland was a fave. We've talked about them before. The title ... and all of the lyrics are "I Love You." They just dish it out punk style.
There are lots of other fine punk songs in Nick's show.
The hear the show go to the WMBR Archive page and hit the link on the Tuesday 10am show for Feb 14.
---
PODCASTS.........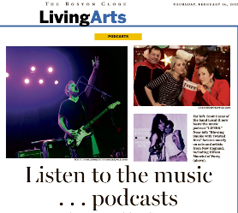 We were glad to see Blowing Smoke with Twisted Rico get a nod from Mark Shanahan in the Boston Globe last Wednesday 2/15. It coincides with the upcoming 200th episode of the podcast.
Manahan writes; "Blowing Smoke is kind of parochial, focused mostly on under-the-radar acts from around Boston and New England. Don't get me wrong — that's a good thing, especially for listeners who may be unfamiliar with, say, the discographies of Richie Parsons (Unnatural Axe), Lee Harrington (The Neighborhoods), Mark McKay (Slapshot), or Hilken Mancini (Fuzzy). I also like that Riccardo switches it up sometimes, talking to music-adjacent folks like photographer J.J. Gonson, longtime WMBR-FM DJ Joanie Lindstrom, and 18-year-old Katy Nathan, who loves Joe Perry so much she started an Instagram fan page honoring the Aerosmith guitarist."
Here's the link if you can get beyond the paywall
This week the Blowing Smoke with Twisted Rico podcast Curt Florczak, currently of Hammered Saint, is interviewed. Curt was originally from California. He was a bass player for a long time before he switched to guitar. Later he went to Berkeley. He's been in a few bands through the years which he details. He gives the story of how he ended up with Hammered Saint. He reveals that they already have three songs recorded and are mastering this week at Galaxy Park Studios.
The band is at Koto on March 11 (more info scroll below to the gig listings) .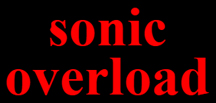 Sonic Overload's Valentine set started with The Pagens' "This Shit Called Love." Also in the set The Dead Boys "What Love Is" and Jon Spencer's "2 Kindsa Love" Al finishes the show with Gang of Four's "Love is Like Anthrax." He had a local Boston set with the Neighborhoods' "No Place Like Home", Customs "Let's Get it On" and Lyres "High on Yourself".
You can hear the whole show on the Sonic Overload web page
---
NEW MUSIC/CDs......
The Matweeds were Jerry Lehane's post Dogmatics group. Despite notable success with live shows they never released recorded music. Decades later Rum Bar Records fixes that with a seven cut Hooligans in the Vestibule.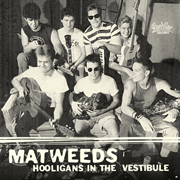 "Stay" the opening tune is irresistible. The chord progression just seems to roll along and draw you into a idealized night in a bar when everything seems to be just right. Give into the song and you'll feel the magic.
Things then crank up and it becomes obvious what a dynamite band this was.
They show their reggae chops on Ron Wood's "I Can Feel The Fire". In "Devil Knocking" and "Fear and Whiskey" they get a big group sound with keyboards and horns getting a workout. Jim Keogh's gritty voice adds authenticity to the life weary lyrics.
Jerry Lehane sings a slower "Your Love is Worn." Another Lehane song "What's Your Name" illustrates the group's scheme – get the group to dig in with the song and drive the beat and then kick it up with horns and keyboards.
Listening now,we wonder why this didn't come out back in the day!! You can easily imagine that the live show must have been impressive. The Matweeds should have had a higher profile in 1987.
At the moment you can hear "Stay" on Bandcamp
Cleopatra Records has released a new curiosity. It's the 1983 recording of Johnny Thunders singing "Can't Put Your Arms Around a Memory" but the duo, The Courettes is doing the background instruments and vocals. That's the closest thing to a new Johnny Thunders recording as you are going to get. The Couretts add a more upbeat pop tone, whether that's the right thing to do or not can be debated. The video has lots of nice live shots of Thunders.
Coming on April 7 Cleopatra will issue From The Beginning To The End, a 3CD set of Thunders' material with live and rare tracks. There are very early recording and some of his final recordings. This track with The Courettes will be in that set. You can preorder it here
---
Here's some good shows coming up .....
February 20, 2023 (Monday) Rusty Mullet, Bull Pup, Round Trip at Charlie's Kitchen
February 23, 2023 (Thursday) Dune Rats, Chastity, Oh The Humanity at Sonia
February 24, 2023 (Friday) Goth / Post-Punk Tribute Night with Gretchen & the Banshees perform as Siouxsie & the Banshees and Staring at the Sea as The Cure at The Midway. FB page.
February 24, 2023 (Friday) Triple B Records presents: Gorilla Biscuits, Restraining Order, Wild Side, Vantage Point, Truth Cult, Wreckage - warning tix are $40!! this is a 6 PM show. Middle East
February 24, 2023 (Friday) Actor|Observer, In Good Nature, Inspirit and Summer Cult are doing one of Bone Up's "Band Hangout" nights- what's a Band Hangout? Meet the bands, listen to music, snag some merch, and drink beer! It's not a concert, but it's just as cool as one! Starts at 7pm! Beer Release: Fool's Gold, hazy IPA, Food: Sekali, malaysian street food and congee bowls - FB event page.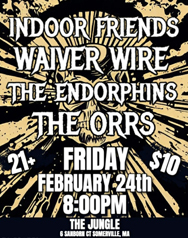 February 24, 2023 (Friday) Waiver Wire. baby bowler, Paper Tigers, Indoor Friends at The Jungle
February 24, 2023 (Friday) The City Gates, Iceblynk, The Spearmint Sea at O'Brian's. FB page.
February 25, 2023 (Saturday) Color Killer, Scooped Up, Dirty Walter & The Smelltones, Granite Danes- at The Square Root - FB page
February 25, 2023 (Saturday) Steve Brodsky & Adam McGrath from Cave In, Kal Marks (solo) & Erik Wormwood at Fields West, Allston
February 25, 2023 (Saturday) THE SPAWN OF SEWAGE SHOW with Spewage Sewage, Burt Bacharach, Eyespressedin, DONE, Gnasher doors at 5 Shred City FB page
February 25, 2023 (Saturday) Thrust Club, Saturniids, Sorry Ma at State Park
February 26, 2023 (Sunday) Lucretia's Daggers, Richard Crowe, Auction-Mom at The Jungle
February 27, 2023 (Monday) The Roland High Life, Tiffy, Sorry Ma at Charlie's Kitchen
February 27, 2023 (Monday) Jesus Camp, Rawstrum, White Bear Principle, Bomb Pack at O'Brien's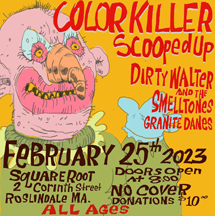 February 28, 2023 (Tuesday) Suicide Squirrels, Acute Madness, Authentic Dissent, DnA's Evolution at The Midway
March 3, 2023 (Friday) Actor|Observer, In Good Nature at Free Street - Portland, ME
March 4, 2023 (Saturday) The Dogmatics are on A Crash Course For The Ravers on WMFO 1-3PM. And if you haven't yet, check out our interview with Rudy Childs who made the Dogmatics Dogumentary!
March 4, 2023 (Saturday) Pretty Late, Burp, Dead Trains, Austin Bullock at The Midway (night show)
March 4, 2023 (Saturday) Actor|Observer, In Good Nature at Taffeta in Lowell, MA
March 5, 2023 (Sunday) "I Am Not Gone" A Tribute To Asa Brebner LIVE - The Burren - Facebook page
March 5, 2023 (Sunday) Actor|Observer, In Good Nature at Alchemy. Provi, RI
March 6, 2023 (Monday) Key of Caustic, Degenerates of Punk, Burp at The Silhouette
March 7, 2023 (Tuesday) Punk Rock Aerobics at Faces, Malden - 6:30-7:30PM bring a mat!!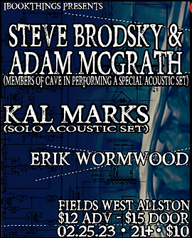 March 8, 2023 (Wednesday) The Tossers, The Gobshites, Rogue March - Middle East Up
March 10, 2023 (Friday) Freqs, Mollusk, Hotel Black, Knock Over City at The Jungle
March 10, 2023 (Friday) The Scratch, The Downhauls, Scumbari - Middle East Up
March 11, 2023 (Saturday) Grayskull Booking & Hardcore Stadium present Slapshot, Crown of Thornz, Risk, Neighborhood Shit at The Middle East Down
March 11, 2023 (Saturday) Enemies List Big Band, Luxury Deathtrap, The Addition, High and Dry at The Midway
March 11, 2023 (Saturday) Linnea's Garden, Soraia, Justine and The Unclean, The Idiot Kids at The Jungle
March 11, 2023 (Saturday) Jim Healey, The Chelsea Curve, David Harrison & Uncle Jay at Fields West, Allston
March 11, 2023 (Saturday) Pre St Patty's Day Bash with Worm, Pint Killers, C.O.B., Far Above the ground, The Woods, Dogs in The Woods at The C Note, Hull. 7:30PM. FB page.
March 11, 2023 (Saturday) Sly Fang, Hammered Saint, The Jacklights at Koto in Salem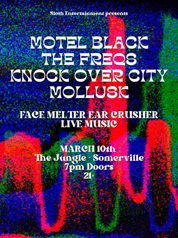 March 11, 2023 (Saturday) Grave Tripper, Swarm Catcher, Arch Druid at Shred City (52 Main St #3, Wilmington)
March 16, 2023 (Friday) Feep, Zigmont, Today Junior at Notch Brighton - FREE- 7PM - just bring some shelf staple foods to donate
March 17, 2023 (Saturday) St. Patrick's Day Punk Rock Market. There will be bands, food and vendors include Skindress Taxidermy! Vendors start at 6pm and bands at 7:30pm. It's at the VFW Fidelity Post #1011, 20 Stevens St, Peabody, MA - Facebook event page
March 17, 2023 (Saturday) St. Pat's Shit Show with Vomit Dolls, Fish Face, Set The Bar Low, TFR, Throw - at Shred City (52 Main St #3, Wilmington)
March 18, 2023 (Saturday) The F.U.'s, Cuidado, Duck & Cover, Black Helicopter at the Gerry No. 5 Veteran Fireman's Association, Marblehead - FB page.
March 18, 2023 (Saturday) Caustic Echoes, I The Conqueror and more at Shred City (52 Main St #3, Wilmington)
March 18, 2023 (Saturday) The Mach Bell Experience, The Cynz, Tiger Bomb at Geno's in Portland ME.
March 19, 2023 (Sunday) Barroom Heroes, COB, Degenerates of Punk, Taken by Vultures, Already Dead - 3:00pm matinee at The Midway- FB page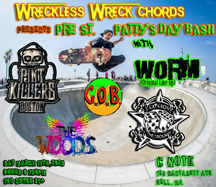 March 20, 2023 (Monday) Blame It On Whitman, Senseless Optimism, Dewley & Traders at The Silhouette
March 20, 2023 (Monday) Vanishing Point, Ruffian Dick, A River Of Trees, Captain Easychord at The Midway
March 23, 2023 (Friday) Sweetie, Zip-Tie Handcuffs, Twelveyes at Notch Brighton - FREE!! just bring some shelf staple foods to donate
March 24, 2023 (Friday) TREE @ Ralph's Rock Diner - FB page
March 25, 2023 (Saturday) Condition Baker, Classic Ruins, The Grandstand Jockeys, Sand Machine at The Midway for a Matinee 3-7PM
March 25, 2023 (Saturday) Baabes, Linnea's Garden at Sally O'Brien's
March 25, 2023 (Saturday) The Freqs, Deprogrammer Cult, Rue, Ghost Planet at The Worthen Attic, Lowell
March 30, 2023 (Thursday) Modern Day Idols, Powderhouse at Notch Brighton - FREE - just bring some shelf staple foods to donate
March 31, 2023 (Friday) The Church - The Hypnogogue Album Tour at The Sinclair FB page.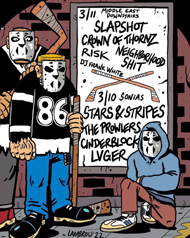 April 1, 2023 (Saturday) Holy S%&T I'm turning 60 - Jay Allen's Birthday Show with Justine and The Unclean, Tom Baker's Double Down, Muck and The Mires, Stop Calling Me Frank, The Shang-Hi-Los, The Spackles (Ex-A Bunch of Jerks), Jay Allen and The Archcriminals, Spiller, The Dogmatics, Quest for Tuna at French Club, Waltham, MA, 5pm to Midnight- FB page
April 1, 2023 (Saturday) Children Of The Flaming Wheel, OOF(NYC), Germ House at Fields West Allston
April 4, 2023 (Tuesday) Minx, The Melted Chapsitx, The Electric Aces, Pete Cassani at O'Brien's
April 8, 2023 (Saturday) Hobo Wizard, EZ Cheef, Grave Tripper, Unharrowed at Shred City (52 Main St #3, Wilmington)
April 8, 2023 (Saturday) Screamin' Rebel Angels, Diablogato, Helen & The Trash Pandas at Askew, Providence, RI - FB page
April 14, 2023 (Friday) Glowbox, Speedfossil, Girl with a Hawk - music starts at 8PM at Sally O'Brien's
April 15, 2023 (Saturday) Cold Expectations (Record Release Show), Hammered Saint, Butterknife at The Square Root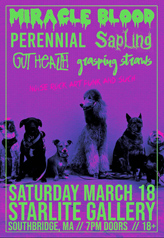 April 15, 2023 (Saturday) Harris, Sidewalk Driver, Stars Like Ours, Aaron and the Lord at The Crystal Ballroom - FB page.
April 20, 2023 (Thursday) Black Flag at the Middle East Down - 2 sets- Set 1 the band performs the album My War, Set 2 - Blag Flag classics. $30 TIX here FB page
April 20, 2023 (Thursday) Gang Green, The USM (a full member reunion), Far Above The Ground Grip Bite at Alchemy in Provi, RI. Doors at 7, Music at 8- FB page.
April 22, 2023 (Saturday) Welch Boys, Loser's Circle, ChumHuffer, Cry Havoc, Scumbari at The Midway for a Matinee at 3PM
April 22, 2023 (Saturday) White Dynomite, Casket Rats, The Long Wait at Garage B at The Speedway by Notch - 8:30 music - FB page.
April 22, 2023 (Saturday) Lenny Lashley, Centrist Class Traitor, Already Dead, Time and Place at Fields West, Allston
April 22, 2023 (Saturday) The Thigh Scrapers, Mad Painter, The Stigmatics, Johnny Plankton & the Sea Monkeys of Sole at The Jungle - a matinee show - 3:30 PM – 7:15 PM. FB page.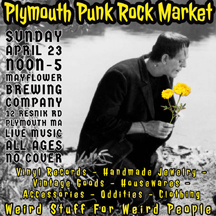 April 23, 2023 (Sunday) Plymouth Punk Rock Market - Spring 2023 edition! Mayflower Brewery Plymouth - FB page to keep up to date.
April 28, 2023 (Friday) Emo Night Karaoke with live backing band & special guest Monica Whitlock at Middle East - Downstairs.
April 29, 2023 (Saturday) Brunt of It, Hans Gruber & The Die Hards, Nick & The Adversaries, Sgt Scag at The Midway - FB page
April 29, 2023 (Saturday) Jeff Rowe, Matt Charette, Hall Monitor & Mike Moderski at Fields West, Allston
April 30, 2023 (Sunday) Scream Along With Billy - Lou Reed's Berlin - Once at The Rockwell - 7PM. Tickets
April 30, 2023 (Sunday) Gorilla Biscuits, With Honor, Gel, Peace Test, Anklebiter, Bulletproof Backpack at The Met - Pawtucket, RI. All Ages - Early show 2PM- 10PM - FB page
May 5, 2023 (Friday) Township and Stars Like Ours at The Burren - 7PM FB page.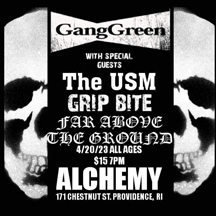 May 6, 2023 (Saturday) Dark Spring Boston Festival at The Middle East Down - line up coming - FB page.
May 6, 2023 (Saturday) Alexander, Tuxis Giant, Housefires & Al Z (Tatooine Punk Scene) at Fields West, Allston
May 12, 2023 (Friday) MOD NITE with The Sharp Class (UK); Chelsea Curve, Tiger Bomb, Muck & The Mires, DJ Sherman at Geno's Portland, ME- FB page
May 13, 2023 (Saturday) Muck and The Mires, The Chelsea Curve, Sharp Class, Tiger Bomb at The Jungle - FB page
May 13, 2023 (Saturday) Kepi Ghoulie with his best lineups ever! Bface on bass and Atom Bomb on drums at Faces, Malden - TIX
May 19, 2023 (Saturday) The Downhauls EP Release! at The Lizard Lounge - more info to come on the FB page.
June 26, 2023 (Monday) The Murder Junkies 30 Year GG Deathaversary Tour (Playing a full set of all old GG songs) with local lineup Psycho, Midnight Creeps, Scümbari - At Alchemy, Provi, RI Doors 7pm Music 7:30pm - FB page.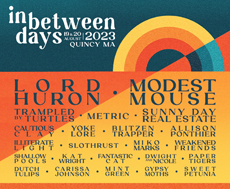 August 19 & 20, 2023 (Sat & Sun) In Between Days Festival - 2 Stages, 2 Days, 24 bands ... and Cool Vintage and Local Market Place, Vinyl Record Pop Up Shop, Food, Modest Mouse , Weakened Friends, Paper Tigers, Clarissa Johnson, Dutch Tulips and the South Shore's own Gypsy Moths. You'll want to get your tickets now because they have a 'tier' system. They have some "tier" ticket scheme so the longer you wait the higher the ticket prices are. FB page
October 11, 2023 (Wednesday) The Mission UK & The Chameleons: Deja Vu Tour 2022 Rescheduled to 2023!!! also on the bill Theatre of Hate
CONTACT US AT....misslynbgn@yahoo.com Send us your gig listings, your anything else you've got!! You want your CD reviewed?? Contact us for that too.
---
---