The BGN News Archive
March 8, 2021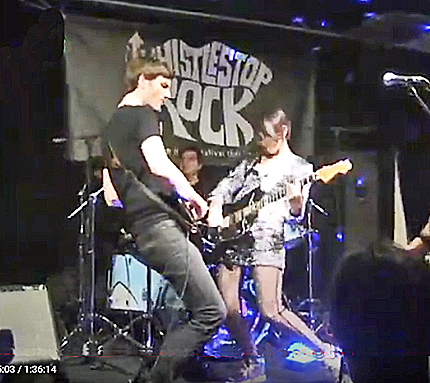 Linnea's Herzog had a big week...a two hour video showcase and a new EP .
About 10% of Massachusetts residents have had the Covid vaccine and that number is rising regularly. There's a glimmer that some entertainment venues will open with limited capacity as the months move on. When will we see a full club? Who knows! More likely it will be outside shows as the weather warms.
Governor Baker seemed to open the door on inside music but it was revealed that there can be some instrumental music but no singing indoors, or use of wind instruments. John Keegan you are outta luck!
A Wall Street Journal article notes the concert experience will change: "In addition to deeper cleaning protocols and ubiquitous hand-sanitizing stations, concertgoers can expect lots of touchless technology, digital ticketing, contactless entry, and purchases of food, beverages and merchandise using mobile phones will be the new norms. Whether certain tickets will require proof of vaccination, a negative Covid-19 test or a mask might also vary by market, promoter and venue." Read the full article here.
So, we wait......
Linnea's Garden had their "Nowhere Friday Nights" EP Release Show on the Once Virtual Venue platform. It was a two hour show packed with groups. The video for this is above.
It started with "Non Dramatic Breakup Song" which just gets better the more you hear it. This is the second video above.
| | |
| --- | --- |
| Carissa Johnson | Gene Dante |
That was followed by guest bands: Carissa Johnson on acoustic guitar doing the song "So Far So Good", Corner Soul did an electronic driven tune, The Chelsea Curve with a punky rave up, (Which reminds us that we miss the Garagecast a lot!!!), The Jacklights were represented by their "Winter" video, Crystal Canyon had a very atmospheric sound and the colorful manipulated visuals of the video matched the tune for a dreamy experience and Gene Dante, even with his guitar turned down low for minimal accompaniment, had a dynamite song going on. We don't know if that was a new or old one, but we want to hear it with the full group treatment.
| | |
| --- | --- |
| Chelsea Curve | Crystal Canyon |
There are many more acts in this show, it's your job to get in there and view. (Here's the link to the entire show) The show began with a gem by Linnea's Garden and it suitably ends with another; "Science and You" off the new EP. It has that line "I don't believe in God, only science and you." The direct link to that is here.
Linnea had some press this week to with an interview in the Allston Pudding. Here you go!
The WhistleStop Rock show at Once a year ago have been talked ever since. The show was the fast fruition of the WhistleStop Rock idea and one of the last shows before the Covid lockdown a week later.
Last week they posted highlights from the whole show on YouTube. It was a long show, so even people who showed up might not have seen every group. You know, even in the future when we can get back to live shows they should have videos available like this, especially for long shows.
| | |
| --- | --- |
| Shang Hi Los | Locette |
The video is well edited, so no dead spots and it moves along fast. It starts with Justine and the Unclean, with close ups of Charles Hanson's fingering – we love that. Then it's the Shang Hi Los. We got more familiar with the Shang Hi Los material after this show so it's interesting to hear "Skipping Records" done live. They play two other songs that are not recorded yet.
The Chelsea Curve set here was the best we've ever seen. They were getting better every show. This lockdown interrupted their natural development. We're looking forward to them live on stage again.
Locette again impresses in this video. The voice of the lead singer will draw you attention immediately. They have a good thing going on. Kid Gulliver came on like gangbusters. They do "Beauty School Dropout". It's gorgeous pop with the strong drums by Sandy Summers that puts the rock in it.
| | |
| --- | --- |
| The Chelsea Curve | Kid Gulliver |
We're so used to seeing Linnea Herzog in Linnea's Garden this past year that it's a revealing comparison to see that last Powerslut show. You can see that Powerslut indeed had the power. Great show altogether!
The Black Cheers announced that they'll have a new video out 3/21/21. They've got some new attention by linking up with Rum Bar Records. Their Facebook page is here.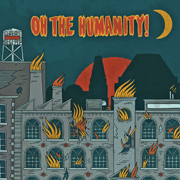 Oh the Humanity! are on the brink of releasing their new album Wit's End. They received some press on the New Noise website. There you can hear a teaser single from the self-titled album. That song injects a few nimble twin lead moments in its metal/punk attack which serves a bed for singer Kevin Athas to do his thing.
Live we've seen how this band delivers some deep and moving moments. It's what we are always searching for.
Dinosaur Jr. is on their way to their 12th album entitled Swept It Into Space. They released a single song called "I Ran Away" on YouTube. It has an acoustic beginning but adds a neat electric guitar riff and then a typical Dinosaur Jr. distorted lead. Kurt Vile ads some 12 string. We love it!! You can hear it on YouTube here.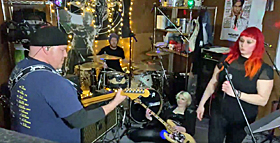 Gretchen Shea of the Knock Ups is the world's biggest U2 fan. She sang on stage with them once! That story is here. The Knock Ups took the occasion of the 40th anniversary of U2's first appearance at the Paradise on 3/6/81 to play a live feed performing some of that first U2 album Boy.
The BGN was at that show too. It's still an amazing memory after all this time! The feeling in that room is hard to express. This band we were seeing for the first time was giving a concert for the ages and everyone in the room came out realizing that. Remember, U2 was the support act for that night, that's how new and unknown they were. It was so exciting to watch and hear this new band. The guitar sound was so unique. Really, it was truly a significant show!!
About 10 years ago Blowfish was at the Stax Museum in Memphis when he ended up face to face with Bono. Blowfish mentioned the show and Bono came back with the exact date and said he remembered that show vividly also.
The video for the Knock Ups live stream is on Facebook here.
The Guns of Brighton are fighting what they call "The lull in Action for Live Entertainment" with some videos. They started this Sunday morning with a version of "Spiderman" that was done by the Ramones in 1995. They promise more in the future. See the video below.
Danny Boyle's effort of turning Steve Jones' bio into a series on the Sex Pistols in definitely in the works!! Do these things ever turn out good? Well, the photos look like a close recreation but of course they also look like a recreation. See one above. The Playlist website has an article, with said photos. Check it out here. The series, Pistol will be on FX. They have that awesome recreation of A Christmas Carol which was a 'not to be missed' show!
U-Ey at the Buoy and Deathhand will do a live stream from Midway Cafe,on Saturday, March 13, 2021 at 7 PM EST – 9 PM link is on Facebook.
Joe Count Viglione spends a lot of time promoting others. With the shutdown he's concentrated on his own material more. This week he has lined up a load of videos of his songs on a YouTube channel. His material goes from electronic back to acoustic renderings. Joe's YouTube channel is here.
Last week we talked about the new Blondie graphic novel coming out. This week the Far Out website posted some photos. They also revealed that it will be "interspersed with artistic interpretations of 10 songs from their catalogue." If you go to their website you can also see a very early Blondie video of them doing "X Offender". It was called "X Offender" because the record company didn't want to call it "Sex Offender". How far we've come. The link to the website is here Far Out.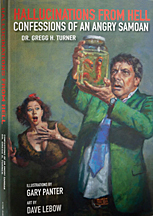 We didn't see this one coming – a book by Gregg Turner from the Angry Samoans titled Hallucinations from Hell: Confessions of an Angry Samoan. Very early punks may remember Gregg from Back Door Man magazine. He later wrote for Creem. He was also in VOM an outrageous (that was the point) group at the very beginnings of punk. All that was in addition to the Angry Samoans records. Andy Shernoff of the Dictators gives a promo blurb: "Gregg takes the essence and ethos of punk rock and spews it all over the page. I'm just glad I don't have to clean it up."
Hallucinations from Hell: Confessions of an Angry Samoan is published by Rare Bird and a signed copy is now going for $26.00 on their website (here)
and for your viewing pleasure.....Please Kill Me video of the week: The Plasmatics!!
The Dictators are back together and planning on touring in the future...sans Handsome Dick. Read more on Please Kill Me.
Podcasts...................

The Metal Priestesses Podcast had teacher/author/punk Nancy Barile as a guest. It's a zoom interview with six people, one of which is Jack Grisham from T.S.O.L.. Nancy gets her stories in. She was originally from Philadelphia and revealed that she plans on going back there because mainly it's cheaper, always a concern living around Boston. There's a lot of old punk war stories through the 70 odd minutes. Check it out on YouTube.
CDs/ Music................
Sundazed Records has two albums by the Hypnosonics, a side band of Mark Sandman, on the way. One album was recorded at Fort Apache and the other at Q Division. They have a Morphine sound and as such will be must get for Morphine fans. At the same time it goes a bit more afield and that is an aspect of interest.
The official release date is April 16. They can be preordered. The Fort Apache album can be ordered here. The Q Division recording can be ordered here.
Death Pesos released a new album this week. It's a live set from WMBR's Pipeline show. That seems like such an obviously good idea. Why aren't other bands rushing out to do that?
The jammed-in-the-studio set up of WMBR suits this loud trio to its advantage. They put out their patented stoner rock with little fuss. The raw and live sound is exactly what we want to hear now. It's liberating to hear that after so long without it. Catch the cool sound of the deteriorating reverb/delay between the fast stop and starts at the beginning of "Headless Camel".
This is a very listenable set and maybe the best we've heard from Death Pesos. The Pipeline engineers did a good job capturing the loudness in the recording.
A nice touch was leaving the Jeff Breeze intro to the band. Jeff died a few months ago. He did the Pipeline show for 17 years. The album is on Bandcamp: Live On Pipeline | Death Pesos (bandcamp.com)
These guys know how to construct a big heavy riff, just listen to the beginning of "Edge" and then get that guitar at the 2:25 mark, it's right out of the Iron Butterfly songbook.
And yes, more about Linnea's Garden because that whole video show was to promote their new EP Nowhere Friday Nights. The EP has the two songs that have gotten a lot of attention already: "Science and You" and "Non-Dramatic Love Song".
"Replacement" has a 50's or 60's feel to it. It's a song about a love affair that ended and the new love or 'replacement'. Like all of Linnea's songs she takes a nuanced look at what might be going on…is it good or bad, real or a cover up?
"Glitter" is a heady swirl of a sexed up bacchanal. It a wild party song for our times.
"Friday Night" is perfect for the coronavirus cocooning we are doing. It's about pretending you are going out and having a great time because it's Friday night and that's what you always did.
Michael Kane and the Morning Afters released a single this week to proceed their album. The song is "Carol Kaye". Michael's voice seems to get raspier as time goes on. He sounds somewhere between Bruce Springsteen and Steve Forbert in this effort and the song works like material from those two artists too. They sold a cassette version with handwritten lyrics as a promo and they sold out very fast.
CONTACT US AT....misslynbgn@yahoo.com Send us your gig listings, your anything else ya got!! You want your CD reviewed?? Contact us for that too.
---