The BGN News Archive
March 22, 2021
Arcadian Records is releasing the Rick Coraccio Anthology CD. Rick has been at the center of Boston punk since its inception. He went from The Boize to DMZ to the Lyres to the Shambles to The Last Ones.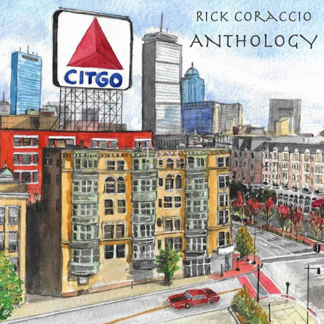 The Last Ones' shows these past years have been very memorable. Live Rick plays guitar and keyboards and the band not only has a garage sound but specifically a Boston garage rock sound. That hit us at home like nothing else.
Rick has always recorded through the years and others like Cadillac Heart ("Andrea Knows") have covered his tunes, but they never got enough attention. Even for die hard Boston fans the tunes in this Anthology will be new. It has a generous 24 cuts. Two have been recorded in the last year or so.
One is "Dream of a Poor Man's Mind". We talked about that song when we saw them at O'Brien's in May of 2019. We have a video of the song on the page. It has a "Sweet Jane"/VU vibe to it.
For a few years Rick wrote exclusively for The BGN in Rick Coraccio's Personal Journal writing about his adventures with Lyres and his other bands. At the bottom of each of those pages Rick would include one of his songs. Some of those are on this Anthology!
There's a load of good songs here that people should pick up on. The CD can be pre-ordered now for $12.97 at Acadian Sun Records.
| | |
| --- | --- |
| | Guns of Brighton |
The Guns of Brighton do "God Save the Queen" in their second in a series weekly videos. They nail the sound, too!! They have fun running around in the vid too. It all serves to perk us up in our coronavirus cave shutdown.
| | |
| --- | --- |
| | Dropkick Murphys |
The Dropkick Murphys did their second live stream St. Pat's Day show called Still Locked Down. These Dropkick Murphys' shows are legendary. One of the ironies of the pandemic shutdown is that we all get a chance to see this show whereas getting a ticket would be next to impossible in normal times.
They have big screens behind the band with impressive visuals from a churning sea to a cathedral interior. The sound was clear and balanced, much better than the usual live stream.
The new "Chelsea Curve Singles Club" starts March 31st. They'll release a single a month on Red On Red Records! Linda Bean Pardee has a super cute promo video on it too. Watch it on Facebook.
| | |
| --- | --- |
| | Tsunami of Sound |
Tsunami of Sound did there stint on the Jim McCue's Stream of Comedy show on Thursday. It was a sort of mini Comic Con and Tsunami was the 'house' band. doing musical interludes and introductions - like the "Munster Theme" for the Eddie Munster interview. That was a good gig to score during this period. It looks like there will be more of these if the shutdown continues.

Back Porch Carousel did their thing last Sunday. This show has become very welcome during the shutdown. It's like having a friend over for the night.

Randy Black did a new song "What the River Did". This format allows you to give a close listen to Randy's guitar accompaniment which is always of note.
Eric Martin did a Scott Walker song. Scott Walker is a good match for Eric with his deep voice.
Peter Zarkadas broke it up with a blues by Little Walter.

Watch it on the Back Porch Carousel Facebook page.

Richie Parsons and Eric Martin live streamed at the Midway on Thursday. They've done that match up before and it's a good one. Richie's songs are top notch and Eric fine picks the songs that showcase his voice.

Richie did the set that we've become familiar with. The Midway sound has been getting better and it sounded fine with Richie. The vocals were clear and it captured that sinuous viola of Elisa Birdseye. You get a lot of bang for your buck with a viola, it adds so much texture. Some of the songs were: "When Fall Begins", "Blue Sands", "This Is For You", "Rainy Day", "Love Letters", Thalia Zedek's "She's All I Need", "Winter's Dream", "When You're Dancing" The Tomato Monkey's "Fire Escapes:", "Mixed Tape" and ending with Willie Loco's "Everybody Knows".

Eric Martin did his set solo. It takes no time at all to be awed by his voice. How can he not be picked up by some talent scout of any sort? It defies reason. Meanwhile, we get to hear a set with a voice from the gods.

Then you wait for the songs that he picks out. This time there was one by Leonard Cohen, Bacharach's "The Look of Love", an obscure one by Norma Tanega ("Walking My Cat Named Dog") "No Stranger Am I", Jacques Brel and two songs by Scott Walker. He even pulled the Delfonics' "Didn't I (Blow Your Mind, This Time)" out of the hat. He ended with "Windmills of Your Mind".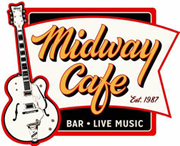 Eric has that talent that sticks out in any time and any setting. We are lucky to be able to have him on our scene.
And a word to the Midway who have been proactive during this whole pandemic lockdown, they deserve a tip of the hat. The Midway has tried a few things in this last year and have been consistent in keeping the music alive and having a stage for musicians to use, there aren't many now. Bigger clubs are silent, smaller clubs have folded, but the plucky Midway keeps it going. Thank you to The Midway folks!!!!
The Aquarium Drunkard posted an interview with Jonathan Richman on March 16th. Jonathan is much more forthcoming than usual. You get the idea of where Jonathan is right now, he's listening and thinking in a certain sphere and he creates from that space. Now, it's Indian music that is attracting him. This interview gets into the things that inspired Jonathan for this work. Read it here.
We talked a bit about Jonathan's latest album titled SA last December. And for historical reference you can read the BGN interview with Jonathan from 1980.
The Weisstronauts did a live stream video they called You Had To Be There: Weisstronautical Stories from the Long & Winding Road. It basically a band member Zoom session where they related some of their favorite band moments.
One of the stories was about the tour they did with Doug Yule as bassist. They actually convinced Doug to come out of retirement and go on the road. Another time they dreaded playing at a girl's camp but the 200 young women danced like crazy and had a great time. Then there was the time that three members of the band forgot what song they were playing…as they were playing it!! Ya, that happened.
This band conversation went off very well. We think it's a great idea for other groups to do too!!
| | |
| --- | --- |
| | Weisstronauts |
The documentary Danny Says came out in 2015. It told the story of Danny Field's influence and accomplishments in rock and roll for several decades. We knew him as the manager of the Ramones and met him several times back then. Well, Danny Says is now free to see on YouTube. There is a short ad every ten minutes.
Before Danny got involved with the Ramones he was working with Electra Record with The Doors, Leonard Cohen, Judy Collins, David Peel, MC5 and the Stooges. He also had a short flirtation with the Modern Lovers and there are some early photos of the Lovers taken by him that we hadn't seen before.
Another popular music documentary The Wrecking Crew is also free on YouTube, with commercials. The Wrecking Crew were the unheralded backing musicians who were on almost every hit of the sixties and seventies.
---
SHORT CUTS..........

We heard "I Love Punk Rock" by The Fades on Mondays' Late Rises Club. It's "A punk rock tribute to punk and the greatest punk bands ever!" and it's from their album Ragnarok. Video to the right.

Brian Young has stopped his association with Breakout DJ's. He'll eventually be back at WMFO with A Crash Course for the Ravers when the Covid dies down or before, if he goes remote.

Stop Calling Me Frank posted on Twitter that they did some recording this week and will have something to say about next week.

Kenne Highland was in the studio recording Asa Brebner's "I'm In Love" at Tom Hamilton's Lowell Street studio for the second volume of the Asa Brebner tribute CD. The group: Larry Newman on bass, Al Hendry on drums, Schmel on guitar, John Keegan on sax and Gee Julie and Larry on backing vocals.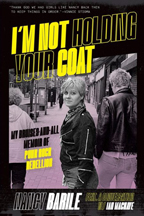 And this week Please Kill Me interviewed Nancy Barile about her book I'm Not Holding Your Coat, the Philadelphia punk scene and women in hardcore. Read it here.
It's Spring and the weather's warming up....You need a sunny feeling today? Look at the new video "Sunny Feeling" by Muck and the Mires.
The documentary on the Sparks titled The Sparks Brothers will be released on June 18 this year. Please Kill Me has an excellent article on Sparks. Included are the trailer for The Sparks Brothers and 3-4 new Sparks videos as well!! Check it out here.
Coming up..........
Bands, Beer and Banter Episode 5 is coming up this Thursday (3/25) at 7pm. You want to watch it, trust us. Link on their Facebook page
Lenny Lashley's Gang of One next live stream is imminent in fact it's this coming Sunday March 28th! Details soon on his Facebook page
The Governor of Rhode Island announced there will be outdoor music allowed this summer. We are sure Dusk will be having shows. They've already listed one for Sunday March 28th with The Hangovers, Sleep Mode and others. Link here.
The Jungle is starting a benefit series..... they still plan to open again...we look forward to that!
PODCASTS..................

This week on the Blowing Smoke with Twisted Rico podcast Steeve interviews Geoff Palmer of the Connection/Queers/The Guts/Solo.
Geoff talks about the work he's done during the pandemic lockdown. There was a good story how he tricked himself into The Queers. Geoff has a lot going on so there's a lot covered in the interview.
There was another podcast posted on Blowing Smoke, this one of Curtis Casella of Taang Records. Curtis bemoans the lack of albums by many early Boston punk acts (Le Peste, Neighborhoods, Unnatural Axe, Outlets) that stunted their popularity. We can't argue with that.
He relates the beginning of the Taang label with a Gang Green tape. Curtis is a big talker and has all inside stories of the bands on his label. He has a list of releases that he's doing for the next Record Store Day.
After The Shang Hi Los won the Coolest Song in the World for "Sway Little Player" on Little Steven's Underground Garage, Jen D'Angora was interviewed by Mighty Manfred (of the Woggles). That interview is now posted. Manfred does a good job. Manfred focuses on Jen's early influences and that's a fruitful exploration. Jen says that a whole Shang Hi Los album may be done by June.
This week's Above the Basement podcast posted an interview with Jen too. This one was with Jen and her husband Ed Valauskas, the studio manager of Q Division. It's a 50 minute session. We felt like we got a lot of Shang Hi Los info in this. Jen revealed that the vocals for their record were done separately, in different studios actually. It's hard to believe with the chemistry between Dan and Jen's vocals on "Sway Little Player".
Rum Bar Records got the love this week on The Ledge podcast. Scott Hudson played two and a half hours of all Rum Bar releases. That sounds like a lot but he could have played three hours of albums just released this week! Prolific and exciting, Rum Bar has helped to keep up our spirits all year!!
You can hear The Ledge Podcast here (hit the 'Download MP3" button)
The Rat Tales Podcast now has a "Pest List" – that's live video compilations. Pest List #2 has: The Nervous Eaters, Unnatural Axe, Thee Cuban Heels, The Wayoutz (Richard Mirsky), Probable Cause, Richard Nolan's last show with Cadillac Heart, and The Neighborhoods. Watch it here!
Pest List #3 has: Classic Ruins, Nervous Eaters, Unnatural Axe, The Wayoutz, Willie Loco, O Positive and the Neighborhoods. Watch it here.
---
CDs/ Music........
The song is "Tunnel of Love", the Maxi-single is titled Love Letters, the group is called Kewpid.....all that and the graphics would lead you to think this would be some lovey dovey sweet thing, not at all. It hits HARD! Being stuck indoors for a year it takes a nice dose of loudness like this to jump start us.
They are another Rum Bar find from New Hampshire.
During our year long shutdown we've come to depend on a few people to keep coming up with the rock. Brad Marino is one of those. He's on the verge of another album and has released a single to get some attention.
"Even the Score" and "What Do You Know" are further reminders that Brad never fails to produce quality rock. This has us primed for the 13 cut album.
Rum Bar's Electrolux have a full album out now. Some of the cuts have been around and we are familiar with them. Their song "My Mom" is a great song for Mother's Day. They boast "My mum can kick you mom's ass".
We also like the song they have about St Marks Place called "St Marks '96".
Rum Bar likes to tease you with a few singles before they bring out the album. They did that with Beebe Gullini and we loved the song "My Way of Thinking". Now they have the whole album out and it's a kicking garage rocker all the way through.
They cover the Bee Gee's "To Love Somebody" which cranks, and it has to, in an effort to match their vocalists' hefty blast.
The closing track is another driving garage rocker, "Nobody Loves the Hulk". This track has it all, the stomping drums, the vocalist letting it all go, and a ripping guitar solo.
Jeff Hudson (of The Hudsons) has a new album called Electric Power. It's 80s synth pop with the Jeff's artiness that gives things a twist. One song is titled "Make Some Art". It has a real throwback feel and that's what's good about it. It's been awhile since we've heard the bleebs and bloops like this. We also like it when he adds the guitar in the mix which helps to make "Hot Dayz" our favorite song of the album. He does a remake of The Hudsons "Los Alamos". Speaking of mixes, he farmed out his main track "It's Working Real Good" out to a half a dozen people who have done remixes.
You can hear it on Spotify.
CONTACT US AT....misslynbgn@yahoo.com Send us your gig listings, your anything else ya got!! You want your CD reviewed?? Contact us for that too.
---