The BGN News Archive
March 23, 2020
The day after we posted last week's news things changed dramatically.

Last Monday it was finally nailed in place: no live shows till April 16, but it looks like it will be much longer than that now. "The show must go on" does not work when the government issues a ban. There's a whole line of cancelled and postponed shows that may be rescheduled ... or not.
It's going to take years to reboot from this crisis in all levels of life not just the music scene. It will be interesting to see what things will be like after it's over. Will it be a straight continuation of the way it was before? Will it be a transformative event where things will be different? Will all the clubs come back as they were or will some not make it through the other side? Many musicians are rescheduling like things will be exactly like they were before this pandemic.
The last week has seen people doing on line concerts. Linnea Herzog led the way with a vid concert almost every day. Jay Allen did a few. He ended his first virtual show with the wonderful "Toaster Oven". That can be seen on Facebook still… HERE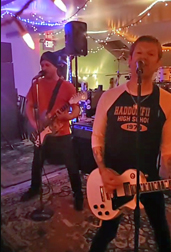 Most of the virtual shows were acoustic or one instrument. It took punkers like The Von Traps to do an all-out full band concert. It was recorded with a phone and the sound went in and out but still it was a typical rowdy Von Traps show. Like they pledge: "When we play We will rock your face off!!" Hearing those songs and seeing those guys did us a world of good. Thank you Von Traps!! You can catch that video on the Flipp Site on Facebook or The Von Traps Facebook page. And like them on FB too if you haven't already!
The Facebook page called Entertainment for All also has many acts posting. C arissa Johnson posted a half hour set and it's one of the better efforts out there.
Then there was the Dropkick Murphys doing two hours of their St Pat's day show. That had good production values. You can view it here
The latest local live streaming concert project is on Facebook and it's called Above the Basement and it's all Boston connected acts. They had multiple acts per night from March 19 to March 22. Maybe they will be doing more. Sets run from 5PM to 10PM. Be sure to like and follow and you'll see some music there. Above the Basement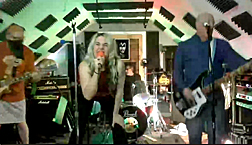 Thursday A Bunch of Jerks posted a 15 minute segment on the Flipp Site. They did some new songs and their cover of Bowie's "Moonage Daydream". It's a fun one to watch with Stabitha playing to the camera. You can find that video on their Facebook page We are hoping there will MORE of these rockin' posts out there as time goes on.
Then there was Alex Piandes on Facebook who did an hour of stream of conscious talk, sitting in a Barcalounger and calling it The Recline of Western Civilization. His show The Desperate Hours is on hiatus at WMFO. He's a true local character. He's doing some Podcast versions of the show during the WMFO down time. One is here
Once Somerville has set up a GoFundMe page to help their staff while they will be closed. Help JJ and her staff here!!
One thing to look forward to is I Am Not Gone the Asa Brebner tribute cd. It's been gaining steam. There are rumors that some notables are joining up and that may result in a release show at the Arlington Regent Theatre. We remind you to help the GoFundMe page for the tribute CD.
Billy Connors released his cut, "Fine Lovin' Mama" on Drooble
James Melanson of Pop Gun released a version of "Walking in the Rain" by Flash in the Pan. He nails it. That slow noir bass line ... he's got it. He adds a very stylish and sultry horn that's not in the original. It's just a coolest thing. Here it is Walking in The Rain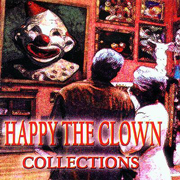 The group Happy the Clown existed from 1980 to 2000. We missed them but their entire catalog has been released and it's very interesting. In the group was Al that we know as the guitarist in Cal Cali's Glider and now playing with Kenne Highland in Kenne Highland Airforce.
Happy the Clown have elements of psych, shoegaze and lots of Jesus and Mary Chain. See if this song called "Way Out" doesn't remind you of JMC. Over the course of their albums they veered here and there. That's all well explained on this article from Record Crates United. It comes with some streaming songs.
All the albums are on the Bandcamp page
WMBR is setting up a system where the DJ's can record their shows at home and their recodings will be played in their time slots. No non-student is allowed on the MIT campus now. At the moment they are broadcasting some old shows. WMBR Listen
Rick Harte always has a few things in development. The latest, an album called The Ace of Hearts Story, is ready.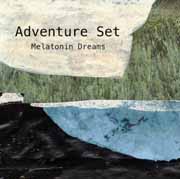 It's a review of his recorded projects over 40 years. It's not the hits but representative tracks. We will have more info next week.
Adventure Set has a new song out - Melatonin Dreams. It's in the electronic pop genre that they don't veer from. The legendary Ken Scales is on vocals. Back in the day he had that certain something that kept every eye in the club riveted on him. Notes ping out in a cloudy soundscape as Ken keeps the vocals intimate. That reflects the lyrics where the barrier between real and imagined is shifting. At the end the lyrics repeat: "I'm not asleep. I'm not awake. I'm in between."
It puts you in a hypnagogic state too if you let yourself go with it. We have to think that they did everything they wanted to do with this transporting track. You can buy "Melatonin Dreams" on Bandcamp
A while back we reviewed the doc The High School That Rocked!. (Our review is on this page) It's about a high school where a bunch of amazing bands play at their auditorium: The Doors, The Beau Brummels, The Rascals, The Yardbirds, The Animals, The Remains, Buddy Miles, Cream, and Sly and the Family Stone. It's a sunny and uplifting story that would go down great right now. The doc is now free on YouTube. We suggest you take it in to perk up your day. Here it is.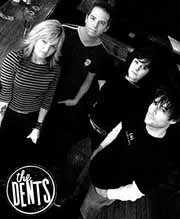 The Dents are back. They've always kept a foot in the door with a gig now and then and have released some recordings now and then. Rum Bar is releasing one song now called "Last One Standing " and will have an EP later on. "Last One Standing" is a rush of punk. It has Jen's voice that makes it stand out immediately and boy can that group pound it out. It's loud and hard as nails. It very much has the sound they make live in a club and boy do we wish we could hear it that way now, sigh.
Click here for "Last Man Standing" on Bandcamp.
One of the last shows to get in before the clubs all closed was Adam Sherman and Sal Baglio and the Amplifier Heads at the Back Room at the Burren. Adam has been working for a few years with the Billy Connors Project and then on his own solo efforts. With this show he's finally getting the attention he deserves. The show also crystalized the Back Room of the Burren as a new club showcase in Somerville. John Keegan was there and we have his report and fab photos. Click the photo link below to access.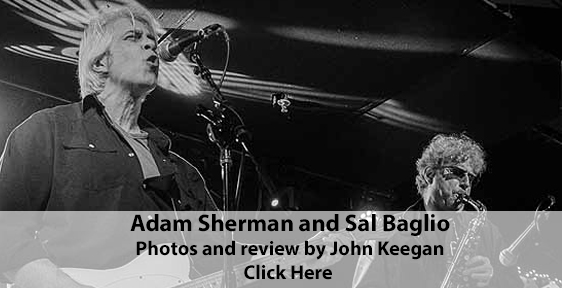 ---
So here are some shows to look forward to after things are hopefully back to normal....maybe.....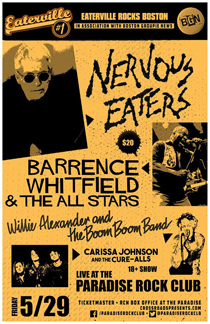 April 17 (Friday) FU's, End of Hope, Northern Skulls, & More at O'Brien's
April 17 (Friday) Dark Thoughts, Conmen, Spiral Heads, PCP + the Knives at The Hong Kong
April 17 (Friday) Appendix, Destrucktions, Innocent, Bloodsuckers at the Democracy Center 45 Mount Auburn St, Cambridge FB page
April 17 (Friday) The Dogmatics, Stop Calling Me Frank, The Billy Connors Project at Sally O'Brien's
April 18 (Saturday) A Crash Course for the Ravers has Kid Gulliver as guests!! 1-4PM WMFO 91.5
April 18 (Saturday) Rock and Bowl at Cape Ann Lanes, Gloucester with U-ey at the Buoy, The Heavy Denims, Jittery Jack FB page for more info
April 19 (Sunday) The Undertones at The Paradise
April 24 (Friday) StrangeColorSky, blindspot, The Only Things, Silvertongue at The Worthen House Lowell.
April 25 (Saturday) 24-7 Spyz, Binge Magick, Rockin Bob Punk Band at Thunder Road
April 25 (Saturday) Punk Night at The Office with Color Killer, Loser Birds, Jerry's Got Jokes, Pigeon Man, + More bands TBA at The Office
121 South Ave, Whitman, Massachusetts FB page for more info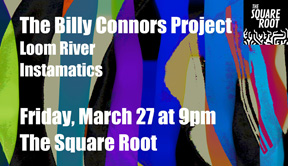 April 25 (Saturday) WhistleStop Rock Festival Western Massachusetts - featuring: Heather Rose In Clover, Kid Gulliver, The Cold Expectations, OTP and special guests State Of The Union at HiLO North Adams - FB page
April 26 (Sunday) The Macc Lads at Once 7PM doors. FYI: "The Macc Lads are an English punk band from Macclesfield, Cheshire, England. Self-proclaimed the "rudest, crudest, lewdest, drunkest band in Christendom", the Macc Lads used irreverent, foul-mouthed and politically incorrect lyrics; common lyrical themes were binge drinking, sex and fighting."
April 30 (Thursday) GBH at Brighton Music Hall
May 8 (Friday) Salem Answers-Night 1: This is a music fest to celebrate and encourage the arts, magic, equality, and diversity of Salem! 7-9 at Koto: Accoustic sets with Pink Malahares, Coffin Salesman, Jenn Lombari - 9:30 to close at Koto: Salem Wolves, Oh The Humanity!, Radio Compass, Bad Larry's....9:30 to Close at Opus: Marianne Toilet and the Runs, Losers Circle, Red Ledger, Hyber, Subourban Sunrise FB page
May 9 (Saturday) A Crash Course for the Ravers featuring Glider WMFO 91.5 - 1-4PM
May 9 (Saturday) Divine Sweater, Eagle Jesus, Louzy, Jailbait matinee show 3-7PM at The Midway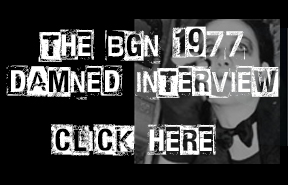 May 9 (Saturday) Salem Answers-Night 2: 7-9 at Koto: Acoustic sets with Live Nude Girls, C.Murray, C.Okeeefe - 9:30 to close at Koto: Brix'N Mortar, Hellbound Hitmen, Skytigers, Motel Black and Silver Screams...9:30 to Close at Opus: The Gala U.S., Z28, The Von Traps, The Downhauls FB page
May 10 (Sunday) SalemAnswers-Night 3: 7-9 at Koto: Accoustic sets with Carissa Angelo, Opus, Vilanvs, - 9:30 to close at Koto: Stiff Propisition (Glamtastic covers members of Bacterial Husk, Sexcrement, and Brix'N Mortar), Master of Beers (Metallica), Aces High (Iron Maiden), Warthog (Ramones ). FB page
May 14 (Thursday) The Thigh Scrapers , 61 Ghosts, GLiDER, and Sara & the Scaliwags at Thunder Road
May 16 (Saturday) Baabes, The Knock Ups, Mister Vertigo, Motel Black at The Jungle
May 16 (Saturday) The Hi - End Record Release party at The Square Root
May 22 (Friday) Guilloteenagers, Stigmatics, Acrylic Killers at The Square Root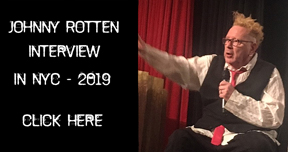 May 22 (Friday) Cal Cali Band, The Last Ones at Tavern at the End of the World
May 24 (Sunday) Negative Approach, ACxDCx , Bandit at ONCE Ballroom
May 29 (Friday) Easterville Rocks Boston with Nervous Eaters, Barrence Whitfield & The All Stars, Willie Alexander and the Boom Boom Band, Carissa Johnson at The Parardise
May 29 (Friday) Tsunami of Sound, Kid Gulliver, Jonee Earthquake Band, Doug Macdonald Band, The Thigh Scrapers at Pete's Bar & Grill in Quincy
May 30 (Saturday) Stray Bullets, Duck & Cover, Disco Rice, Silver Screams at O'Brien's
June 5 (Friday) Booze & Glory (punk/Oi - U.K.), The Drowns, Battery March at Great Scott
June 5 (Friday) Booze & Glory (punk/Oi - U.K.), The Drowns, Battery March at Great Scott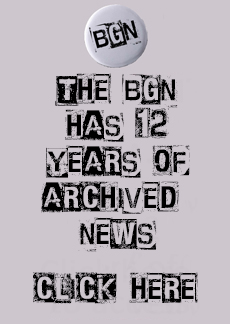 June 6 (Saturday) Thigh Scrapers, Straight Johnny, The Cretins, Electric Joey, Bad Sandy at The Midway 3-7PM matinee
June 6 (Saturday) Jay Allen and the Arch Criminals Record Release Show at The Square Root
June 13 (Saturday) Lyres and GLiDER at ONCE Lounge early 6:30-9PM show
June 13 (Saturday) Sugar Cones, Diablogato, Bunch of Jerks at The Square Root
June 14 (Sunday) Fourth Annual Out of the Blue Art Gallery Benefit FB page for more info as it comes.
June 27 (Saturday) Stop Calling Me Frank, Nat Freedberg, Brad Marino at The Square Root
June 28 (Sunday) The Amplifier Heads, The Thigh Scrapers, 1.4.5., The Stigmatics at The Midway 3-7PM matinee
July 3 (Friday) Andrea Howlett's X-Ray Specs Tribute Show at The Square Root
July 18 (Saturday) The F U 's, GLiDER, Screw Cart at 9 Wallis Beverly
September 4 (Friday) The Zulus at The Paradise
September 17 - 21 The New England Shake-Up! Year Seven! in Framingham FB page
CONTACT US AT....misslynbgn@yahoo.com Send us your gig listings, your anything else ya got!! You want your CD reviewed?? Contact us for that too.