The BGN News Archive
March 26, 2018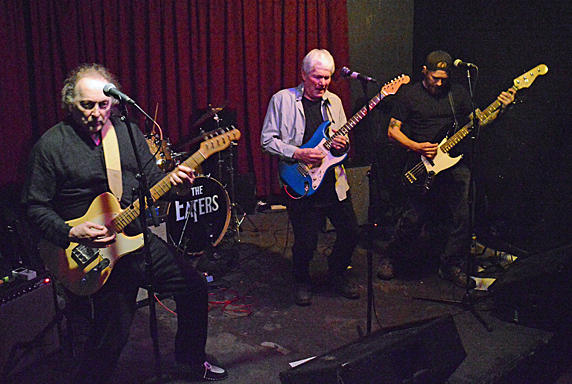 Nervous Eaters
Photo:Blowfish
---
We hit O'Briens on Tuesday to beat the forecasted nor'easter on Wednesday. There were about 20 people there. Setting up was Times Like These.
Times Like These
Photo:Blowfish
Listening to their demo posted on YouTube they seemed to be playing well done pop punk. The recording cleans up their sound a bit, live they were looser. We sort of like them both ways. They had tricks that made you hang on their vocals. There were sections where the melodies suddenly stuck out and hooked you. Hard not to like that.
They are from Long Island and the O'Brien's show was the last show on the tour. They didn't seem tired or frazzled rather upbeat and party ready. They were talking with the crowd and had lots of banter that they had to rush to fit between the songs. They were constantly kidding each other. It was a fun set all around. We would head out to see them next time they came around.
Here's another hit of their pop punk….Too Little Too Late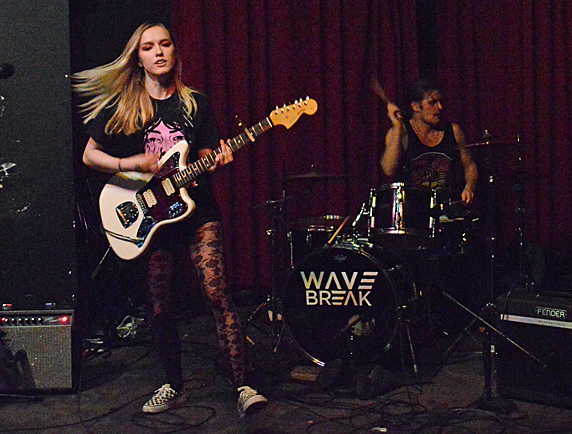 Wave Break
Photo:Blowfish
Wave Break is a Boston band that started a year ago. They were too loud to be indie and too hard to be poppy. They had punky with well written songs. Usually a band that has more complicated songs tend to let the sound get soft to let the songs stand out. That's not the case with Wave Break. The band attack was aggressive. First they rocked then let the songs do their work. And some of the songs did get buried a bit but they came through time and again and for those times you could see what they are aiming for.
The main guitarist was playing raw all the time. He had a ragged distortion that underlined everything. Over that the singer had a clear voice. That combination is the main sound that brands them. They had a few fans that knew their material. Maybe they're getting attention we don't know about too. We'll be looking out in the future to see what they do.
The storm never came so it was back to O'Brien's on Thursday. The hard rocking Black Beach was the attraction for us.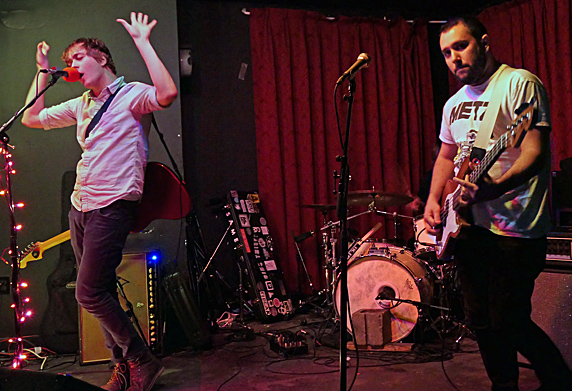 Bike Thiefs
Photo:Blowfish
Up first was Bike Thiefs (that's how they spell it) from Canada. It took a couple of songs and then we got that feeling, 'we found a great new band'. They're a trio that put out an angular arty noisy din. Mission of Burma came to mind and especially The Fall. You can hear that in the first video below. The singer, Marko Woloshyn, often went to a half singing/talking mode like Mark E. Smith. Most impressively they had the words that worked. They weren't complaining like Smith would do, they were more poetry like.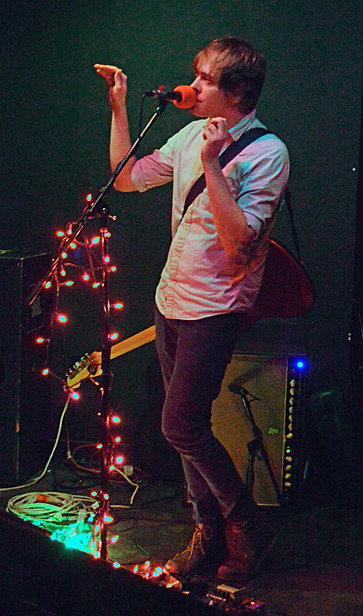 Bike Thiefs
Photo:Blowfish
Marko was able to take you to his world through his imagery like Tom Verlaine did in Marquee Moon and Reed in Walk On The Wild Side. It's sort of a dreamy demi monde that's hard to describe but when it hits it's magical. Not many can do that. As much as we may compare him to others, Marko was his own person. He knows exactly what he's doing. Talking to him afterwards about his lyrics he said that they 'work' for him so he trusts that they 'work' for others. Sometimes when Marko delivered the lyrics he dispensed with the guitar and used hand gestures to emphasize. It was unusual and appealing.
The drummer had no snare that could be distinguished just a low tom-tom sound. Along with the bass they keep a pumping center that carried every song. We have a few videos above. Still it was hard to capture those magic moments. Here's two more vids; Bike Thiefs Video One Bike Thiefs video Two
You can listen to them free here. And here's their Facebook page.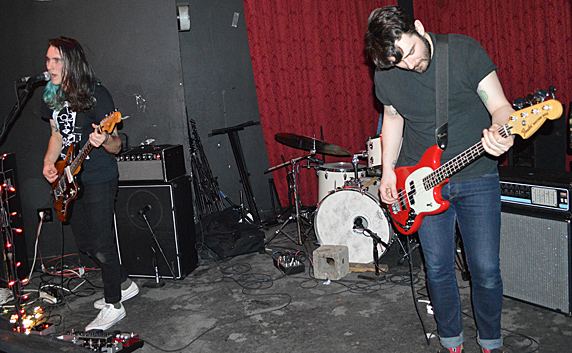 Black Beach
Photo:Blowfish
After Bike Thiefs, Black Beach went and did their own thing. The only poetry for them is the poetry of pounding out a short raw rhythm until you give in to it. They did that every song and it shouldn't be any other way. Black Beach made everything simple and primal. It's as if they have distilled all of rock into it's essentials and made it relevant today. If they are anything they 're a band that is of the 'right now' and that's why we should all be out there giving them a listen.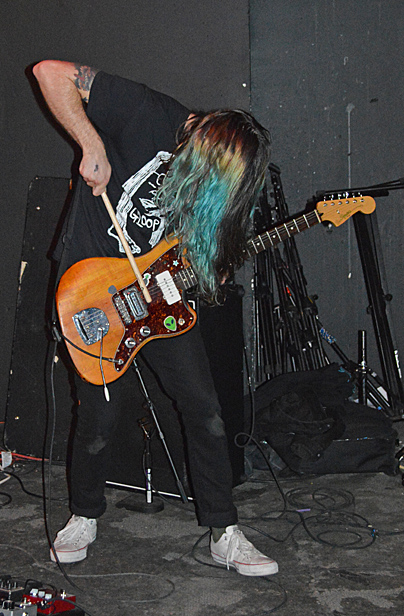 Black Beach
Photo:Blowfish
Steven Instasi played a lot…a lot of guitar but it didn't sound like the mindless soloing of yesteryear. As the drums and bass repeated a simple riff encased in a short rhythm Steven drilled into it. He was playing energy and intensity as much as notes. In the last song the drummer lost a drum stick that rolled to the front of the stage. Steven took it and used it instead of a pick. He looked like an updated version of Jimmy Page bowing his guitar. A cool moment that capped the set.
We've been seeing Black Beach since 2014 and they haven't changed much. They knew what they were doing from the beginning. They are back at O'Briens on May 5.
Saturday we went to a south of the city show in Brockton. It was the third fundraiser called Going Hardcore On Homelessness, raising money for the Mustard Seed soup kitchen.
Hardcore groups tend to pay attention to social issues and here they are doing something about the needs around them. These Brockton Hardcore fans are serious in a few ways. They also show up to gigs. This show at Max's Blues Cafe had at least 60 people there during it's earlier part and more were showing up all the time. They raised around $500.00 which can buy a lot of food.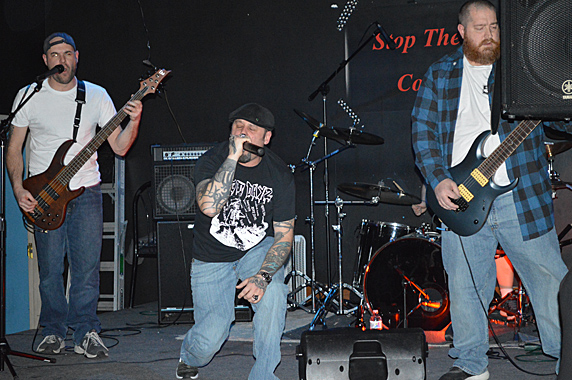 Force of Habit
Photo:Blowfish
Force of Habit was brutal hardcore. The singer began by just giving up two huge lion like growls to begin the first song. That growl was his go to bit and it was good. Even better was that you could often hear the words he was saying. The songs were not 'sammy'. They all had bits that distinguished one from the next. The drummer was a beast. See the video below to check out his action. He was a busy player with power. Some of his drum beats kept the beat and many rode over them creating constantly interesting patterns. We spent a lot of the time just listening to him. Here's a video of the drummer doing his thing.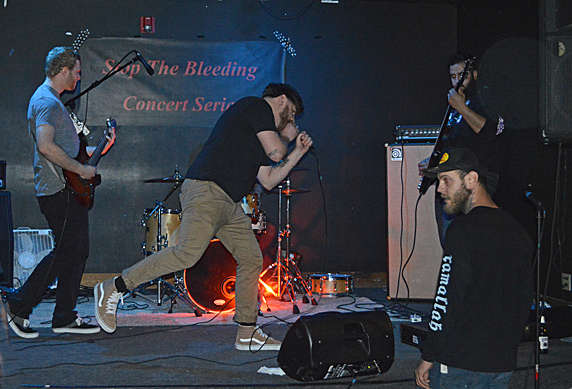 Shrink
Photo:Blowfish
Shrink came from NH. They had short songs and a short set. The music was hardcore interspersed with a Led Zeppelin sounding riff here and there. It was a combo that worked. The singer was constantly wise cracking on stage. Beer was a concern for him. He pleaded for more to feed his beer belly that he displayed. They never segued between songs. They would stop and mull around. The singer says, "Together 6 years and we don't know how to play two songs in a row. We're pathetic!" he reminded us of the front man for Buried In Leather back in 2008
We hit the road for a club hop and were still able to catch the Nervous Eaters on our third trip to O'Brien's this week. We missed Classic Ruins but did catch The Connection.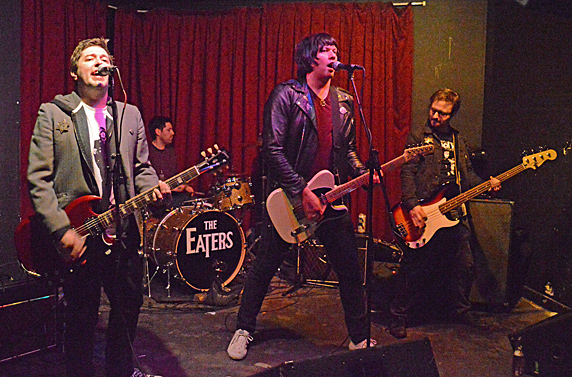 The Connection
Photo:Blowfish
The Connection are soon to release a new album. They played one new song. We have a video of that below. The rest of the material was familiar to us and we love it. They played "Labor of Love" They often play covers on this night they did one of their best – "The First Time" by the Boys, then The Dictators "Stay With Me". Their covers illustrate how much knowledge of rock's history they know. They do old rockabilly/country songs here and there too. The whole set was an upbeat affair that didn't fail to get the crowd excited. They seemed to have a formula of music and spirit that created a big dose of happiness. Similar to what Muck and the Mires do. They ended with "7 Nights to Rock". The Connection went out of their way to give propers to Classic Ruins and The Nervous Eaters.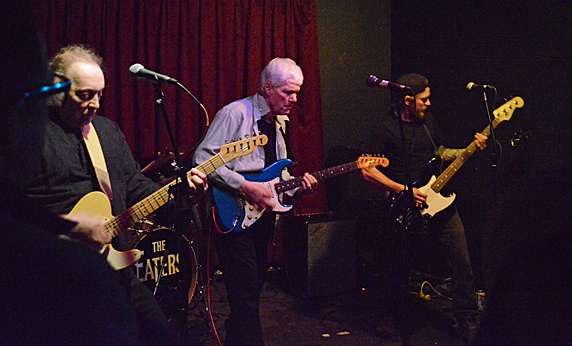 Nervous Eaters
Photo:Blowfish
We've seen the Eaters many times lately and could tell that this gig they were hitting hard. They were making the point that they still rock. McLain on drums and Nick on bass were noticeably tight in the groove from the very first. Steve and Alan were putting out the stinging leads that they are known for. Later Rick Harte, who was there, said that Steve's amp blew a tube. We couldn't tell. The set was short and maybe that why. It might have been short but it was concentrated primo material too. They played; "On the Avenue" , "Kevin", "Today and Tomorrow", "Loretta", "Last Chance" and ending with "Hot Steel and Acid" The Eaters have had some nice gigs lately with more to come. That Cabot Theatre show will be something to catch.
Rick Harte was talking about the newly expanded version of the Hot Steel and Acid album. He is doing the artwork for the booklet now.
Rick is also finishing up the new Real Kids album. It has a cover of Badfinger's Baby Blue on it. Rick takes the time to make it right and never rushes anything out – we know that.
I'm always amazed that so much time has passed but the music we love keeps on coming out.
More band photos at the end of the show listings.
Friday night John Keegan got into the Barrence Whitfield show at the Middle East Up that was sold out. Last Sunday he checked in on the ongoing Mess-Around at the Plough and the Stars. He's given us the word and the photos. Click the photo below for reports on both those nights.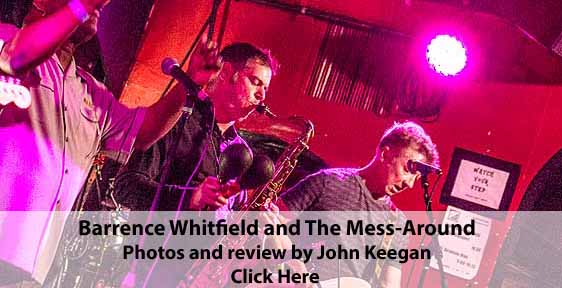 This last week we posted Mark Davis' photos of the Doin' It For Declan fundraiser at the Tavern at the End of the World. Click the photo below to get the story on that worthy get together.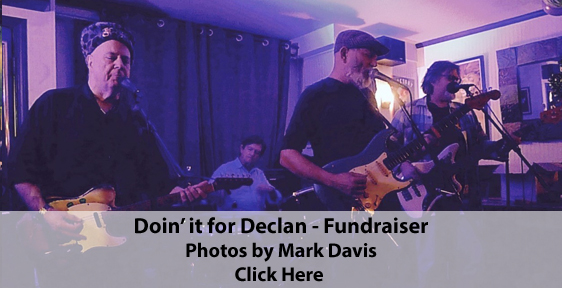 ---
And in other news.....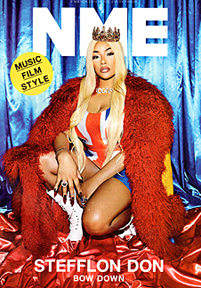 The final copy of NME is out and the print version of NME is now history. The 18 page magazine sized freebie is an echo of an echo of the magazine we used to study like the Kabbalah. Back in the day the large format newspater had a month's worth of reading in it. When you finished the next month would come out. The last issue has very little we care about now; two articles – one of David Byrne and one on the Breeders. It's a long story of changing music and the music industry and the changing newspaper industry. Such is life.

Boston Hassle (composed of 150-200 unpaid volunteers) has announced that there will be free admission to all their shows for people 18 and under: :To help showcase BRAIN Arts & Boston Hassle's ongoing & continued commitment to show-goers of ALL AGES we have decided to make our shows FREE for those UNDER 18 for the remainder of 2018. There are of course exceptions, such as shows we might simply be co-promoting @ larger venues, or festivals such as Hassle Fest 10 in November, but the vast majority of the the remaining 80-ish shows we will book this year are now FREE for show-goers under 18 years old. The youth is our future, hopefully some of them will be motivated to check out a handful of shows they might not have checked out otherwise because of this initiative."

Amazing and way to go Hassle!! This has got to increase the amount of younger fans at shows and that is much needed. Check out their website and their list of upcoming shows all over town.: Boston Hassle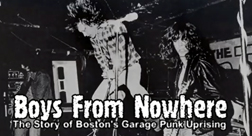 It was announced this week that Boys From Nowhere will be shown at the Cabot Theatre, Beverly, April 7 at 7:30 with The Nervous Eaters and Willie Loco and the Boom Boom Band playing after. There will also be a Q&A afterwards. People were talking about this gig at the Eaters show at O'Brien's. There is a lot of excitement for this. It seems all the problems that have held up the release of the film are over and it will be more available now. Read more here and buy your tickets too!!
The March issue of Maximum Rocknroll is out. Al Quint has another interesting column. He talks about a new book on straight edge called Straight Edge: A Clear-Headed Hardcore Punk History. Boston figures in the straight edge story. Some of the originators of straight edge complain that it became a religion, something they never wanted, and that was spearheaded by the Boston contingent of bands.
Al also mention a Husker Du collection called The Savage Young DU's. It's all early material. Al says it shows them slowly finding the style that finally represented them as they become popular.
---
This week we have a VIDEO CORNER here……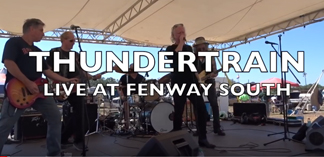 First there is a 43 minute video of Thundertrain in there reunion at JetBlue Park in Florida. They sound like the old days –they rock like crazy - and hearing the songs takes you back.
Thundertrain at JetBlue Reunion
Eric Martin's (of the Neats) son, Will, made this video of Eric telling a few stories. In one story a member of the touring group got arrested in the deep south. It was a scary time. That guy was Mark Davis who has a few photos of Eric in this weeks BGN. See above. Check out the video here. This is a nice document to have. Good idea to have a band member sit down and tell a few of their tour stories.
This is a half hour video of The Atlantics playing at the Commonwealth Pier. It was filmed by a company called VideoVisuals. It's the Atlantics at the top of their game. They do all their popular songs. They also do a cover of Gary Glitter's Rock n'Roll, Part 1.
Here's a 1986 video interview of the Prime Movers. Look at the insane amount of hair on Cam Ackland!! Wow!!. It's from a show called Thirty Go! It was done by Cathy Carter and James Berkowitz, two graduates from Emerson College. We found this on a site called No Such Thing As Was ...they have a page that is an appreciation of the Prime Movers and posts three of their songs via Youtube clips. Check it out here.
Following through to James Berkowitz's video channel there are more videos of Band 19, Three Colors, more Prime Movers, Dumptruck, Moving Targets, Capture the Flag, Gang Green, New Man and Lizzie Borden. To us, more fun than binge watching Game of Thrones. Do check out James Berkowitz' video channel
---
Here's some good shows coming up this week.....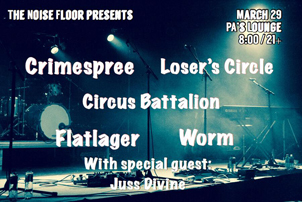 March 28 (Wednesday) The Strypes are at Brighton Music Hall
March 29 (Thursday) Loser's Circle, Crimespree, Worm, Circus Battalion, Flatlager @ PA's Lounge
March 30 (Friday) Randy Black and the Heathcroppers will be at the Tavern at the End of the World and will start @9:30.
March 30 (Friday) The Connection, Watts, Tiger Bomb, Wizzardess at The Stone Church Music Club, Newmarket, NH FB page
March 30 (Friday) Flathead Rodeo, Creepin' Cadavers, Diablogato at The 13th Floor Music Lounge in Florence, MA FB page
March 30 (Friday) When Particles Collide, OC45, The Jukebox Romantics at Fury's in Dover, NH
March 31 (Saturday) A Crash Course for the Ravers is featuring The Jonee Earthquake Band....1-4PM WMFO 91.5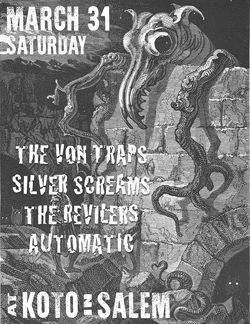 March 31 (Saturday) The Von Traps, Silver Screams, Revilers and Automatic (members of Jerry's Kids/ex-DYS/Deathwish) at Koto in Salem FB page
March 31 (Saturday) MK & The Morning Afters, OC45, Jukebox Romantics, After The Blackout at The Hotel Vernon in Worcester.
April 1 (Sunday) Hidden Knives, Wired for Sound, Whoopi Sticks, & Powerslut @Zuzu
And further out we have.......
April 3 (Tuesday) Rock and Roll Trivia w/ Erin and Brett at The Sinclair (bar) starts at 8:30
April 4 (Wednesday) Club Linehan a Go Go, Thee Fightin' Fish, Evert at Opus in Salem
April 6 (Friday) Skinny Mike's Birthday Party with M.O.T.O, Duck and Cover, Hambone Skinny, Trainwreck-Boston at Club Bohemia/at The Cantab
April 6 (Friday) Death Pesos, Jessica Rabbit Syndrome, Sundrifter and Canadian Rifle at O'Brien's
April 7 (Saturday) CatalinaShortwave, TheThighScrapers, Helen, TheNoShows, CornerSoul at Club Bohemia/The Cantab. Hosted by Catalina Shortwave and Helen
April 7 (Saturday) At the Cabot Theatre in Bevelery a screening of Boys From Nowhere AND sets by Willie Loco and the Boom Boom Band and The Nervous Eaters. Link for tix etc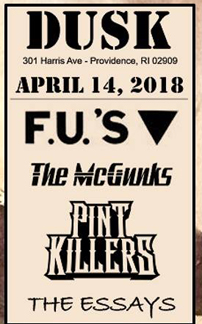 April 11 (Wednesday) L7 are at the Paradise. They are playing with the Death Valley Girls (who played in town with Roky Ericson last September.)
April 14 (Saturday) Jittery Jack & Miss Amy Griffin with Johnny Sciascia at Atwoods - 4-6PM show
April 14 (Saturday) The F.U.'s, McGunks, Pint Killers & The Essays at Dusk in Provi RI
April 17 (Tuesday) 1476, Crimespree, Crowfeeder, John Trudeau at Koto in Salem
April 17 (Tuesday) My Life With The Thrill Kill Kult: 30th Anniversary Show at the Brighton Music Hall
April 19 (Thursday) Lessener, SICK MINDS, Taxi Driver, Fox Nüz at O'Brien's Pub
April 21 (Saturday) The McGunks, Jason Bennett and the Resistance, The Dimwits, Loser's Circle an early show 4-8:30 at The Midway
April 21 (Saturday) The Bush Tetras (their FB page) are at the Middle East Up - early 6:30 show. They are touring to promote their new record! Get tix here.
April 21 (Saturday) The Residents are at Brighton Music Hall.
April 22 (Sunday) Hardcore Stadium presents: The Unseen, American War Machine, Moose Knuckle, The Von Traps at the Middle East - this is an ALL AGES show - starts at 6PM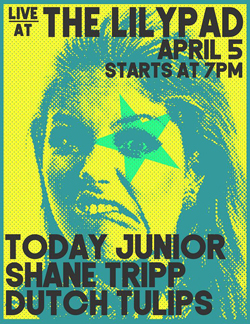 April 22 (Sunday) The Unseen, American War Machine, Moose Knuckle, The Von Traps at The Middle East UP- this is a 6PM show
April 22 (Sunday) Punk Night at The Hotel Vernon!! with The FU's, Punk Band ( ex Jerry's Kids), Working Poor USA, Braindeth and Lewd...
April 22 (Sunday) The Bush Tetras are at Cafe Nine in New Haven CT
April 25 (Wednesday) The Guilloteenagers, Houston & The Dirty Rats, Sewer Buddies, Blame It On Whitman at O'Brien's
April 27 (Friday) Bad Luck 13, Full Blown Chaos, Enrage, Grudgeholder, One Less Scumbag, LHB at Maximum Capacity Chicopee. MA FB page
April 28 (Saturday) Cranktones and DJ Easy Ed at The Midway. Early 4:00 PM Show!
April 28 (Saturday) Booze&Glory, Antagonizers ATL, Brix'n Mortar, Pint Killers at Hordcore Stadium on Bishop Allen Drive Cambridgbe 7PM - Midnight FB page
May 10 (Thursday) Maple Mars w/Corin Ashley and Richie Parsons at the tavern at the end of the world
May 10 (Thursday) Mickey Rickshaw and Buster Shuffle at Thunder Road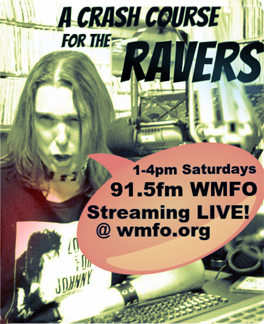 May 11 (Friday) OneLessScumbag, TheGreatWar, Brix'n'Mortar, Chasms at The Chit Chat Lounge in Haverhill MA FB page
May 12 (Saturday) The Nervous Eaters with Justine and the Unclean, The Hi-End at The Midway 8pm show
May 12 (Saturday) WEMF Night with The Stigmatics, Crunchtime, Greg Allen's Fringe Religion at PA's Lounge
May 12 (Saturday) Crimespree, Pruf, Crossthreads at The 13th Floor Music Lounge in Florence, MA
May 17 (Thursday) Tsunami Bomb, Diablogato at Once
May 19 (Saturday) A Crash Course For The Ravers 1pm to 4pm on 91.5FM Medford. featuring Simon Ritt talkin' 'bout Johnny Thunders!
May 19 (Saturday) The Knock Ups, State of the Union, The New Frustrations, The Imposers at The Midway- early show 4-8Pm
May 19 (Saturday) Celebrate Sue (Miniachello's) 50th Birthday!! at Sally O'Brien's celebrate Sue with friends and family and food and drink and cake and, of course, MUSIC! A stellar lineup of bands and special guests is in store. More details to come on that, although a few surprises will be kept under wraps. FB page for updates
May 20 (Sunday) It time again for Slimedog's 22nd Birthday Party. The line up is Kermit's Finger, The Lost Riots, The Revilers, Uncle Spud, and Time Out Timmy. Linnea Svedka will play between sets. All that and FREE PIZZA too! Starts at 4PM.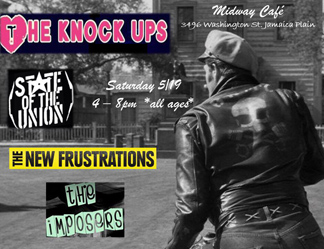 May 20 (Sunday) The Crank-tones (Record Release), Jittery Jack and DJ Easy Ed at Great Scott this is a 2PM show start
May 20 (Sunday) The Proletariat are at Alchemy in Providence RI FB page
May 27 (Sunday) The Four Point Restraints, The Guilloteenagers, Surprise Party, American Affairal (Jess & Tom of Man Trouble) at ZuZu
June 2 (Saturday) Sheer Terror, Nothing But Enemies, Brando, American War Machine at The Middle East - this is an early show 5:30-10:30
June 13 (Wednesday) doing their G.G. ALLIN 25th Death Anniversary Tour the Murder Junkies are at Cafe Nine in New Haven CT FB page
June 14 (Thursday) The Dickies (40th Year Anniversary) w/ The Queers at The MIddle East FB page for tix etc
June 16 (Saturday) GLiDER Live on Radio 91.5FM CrashCourse for the Ravers! wmfo.org stream 1-4PM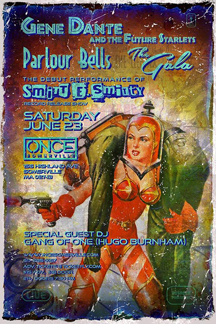 June 16 (Saturday) The Nervous Eaters, Justine and the Unclean, Stop Calling Me Frank are at Thunder Road
June 16 (Saturday) GBH with Pinata Party are at The Middle East Down.
June 20 (Wednesday) Reverend Horton Heat, Big Sandy, Lara Hope & The Ark-Tones at Alchemy Provi RI
June 22 (Friday) Tied To A Bear, Duck &Cover, The Von Traps, Sonic Libido at Opus in Salem
June 23 (Saturday) Gene Dante And The Future Starlets, Parlour Bells, The Gala, Smitt E. Smitty and special guest DJ, Gang of One (Hugo Burnham formerly of Gang of Four) at Once - 8:15PM show time!
July 1 (Sunday) G.G. ALLIN 25th Death Anniversary show with The Murder Junkies, Smoking Triples, Jonee Earthquake, They Hate Us, Malcolm Tent at The Dutch Treat Franconia NH Here's the FB page
July 11 (Wednesday) The Goddamn Gallows, The Koffin Kats, Viva Le Vox at Alchemy in Provi, RI
July 12 (Thursday) Koffin Kats, The Goddamn Gallows, Viva Le Vox at The Middle East
August 8 (Wednesday) The Blasters come back to ONCE
CONTACT US AT....misslynbgn@yahoo.com Send us your gig listings, your news and anything else ya got!! You want your CD reviewed?? Contact us for that too.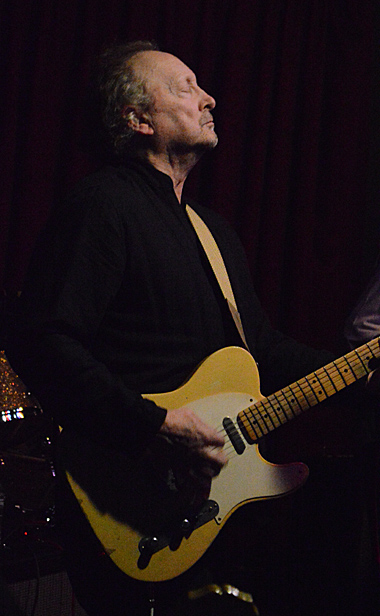 Alan Hebditch - Nervous Eaters
Photo: Blowfish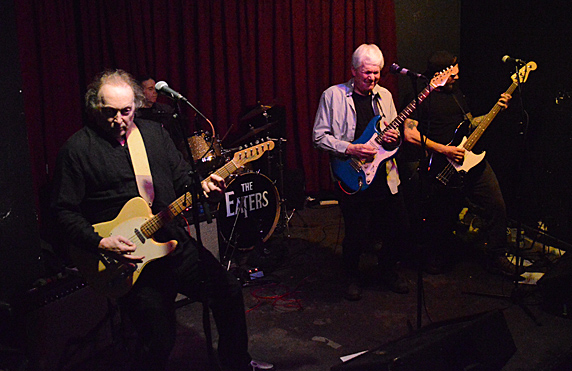 Nervous Eaters
Photo: Blowfish
Black Beach
Photo:Blowfish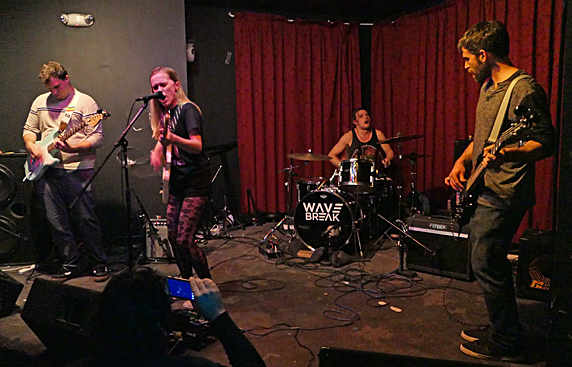 Wave Break
Photo: Blowfish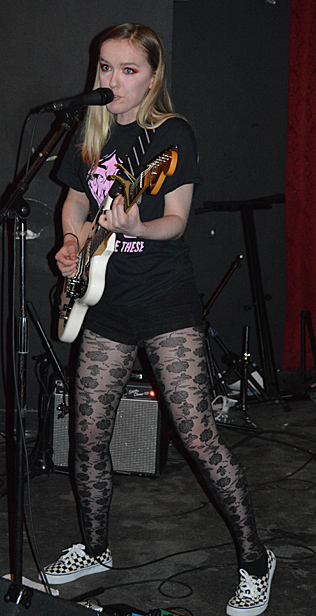 Wave Break
Photo: Blowfish
Rick Harte
Photo: Blowfish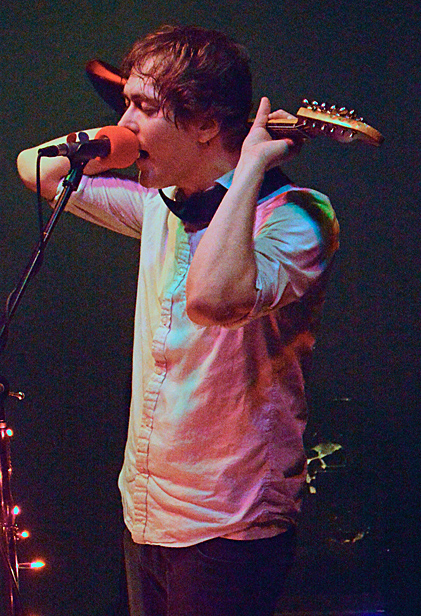 Bike Thiefs
Photo: Blowfish