The BGN News Archive
March 31, 2014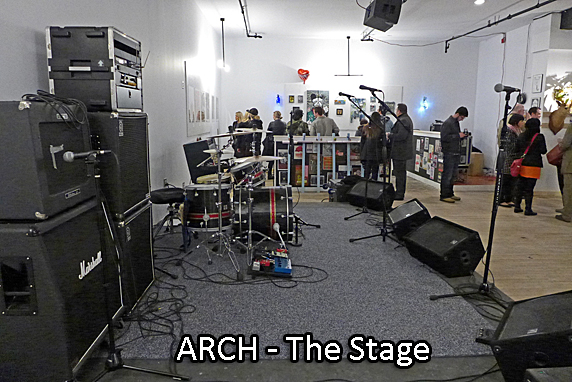 The big news this week is US. Yeah! We finally put up a page on Facebook.

Yeah we know, it'a about time right? Well....It was always a matter of time. What time we did have went into the website but now that Blowfish is retired that problem has been solved. The immediate reason was talking to Anthony Conley of Endation last week who pointed out we didn't have one and we felt like "OK, it's time".

Next up we're pondering trading the B+W TV for a color one.....but meanwhile our website viewers should know that there is all sorts of material we are posting on our FB page that is not found here on our website. But ON our website we have just posted the 1979 club listings. A lot of you folks like checking that out so we wanted to let you know. You can see it here....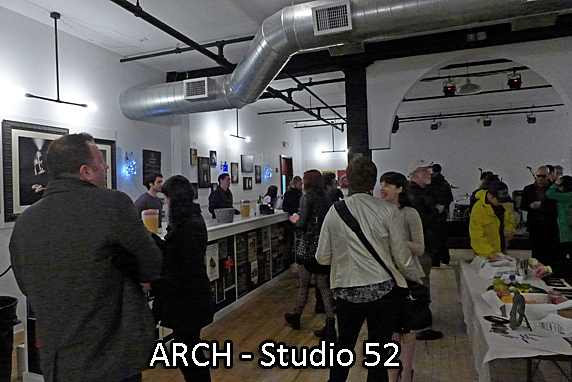 As we surf our usual sites we're constantly seeing the advance information coming out about ARCH (Allston Rock City Hall) at Studio 52, a new art and music venue. And we've been writing about it because we anticpiated the opening. They've done a great job getting the info out and building excitement. It worked for us. We headed to their opening on Saturday.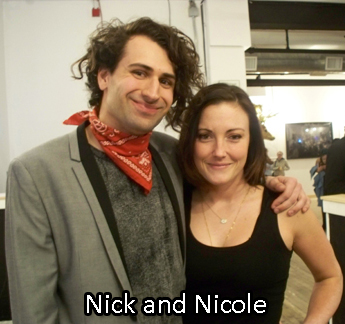 The place is in lower Allston. In our old school Allston punk world you have to not only know Allston but that there is an Upper and Lower. We parked in a mall off Western Ave next to the building. I didn't see any dedicated parking for the space itself. We got there at 6:15 and were informed that there was a private party at 7 but we could look at the art till then for $5.00. Miss Lyn clued them in that "we're from the BGN" and that got them thinking....So we got a 'tour' by the curator Nicole Marie who talked up the artists and their techniques. She was very professional and brimming with information about the artists and their work - it perked our interest.
The photographers were most striking. Lots of know how went into their elaborate photos which also are separated from the herd because of their edgy subject matter and fashions. Skulls cropped up regularly to tell you this is not the stuff of a Rockport Gallery Art walk. All the painters and sculptors were of higher quality than average. It was a lot to look at and digest.
The decent sized (137 capacity we've been told) room is white walled and spotless with cool liquor bottle lights and industrial style fixtures. Up front is a stage on a foot raiser. Amps were lined up for the music later in the night. We care about the music most of all and will be waiting to see the line ups they come up with. This is the providence of Nick Grieco, who you can see in the photo. We do know that the group we saw and loved last week - Endation - is going to be playing there on April 2nd according to Anthony.
We took off across town in the rain to hook up with Joanie Lindstrom for a pre Midway show meal at Doyle's. Joanie is having some foot surgery that will keep her hopping but not out of things. She can't drive but I'm betting she's get to some shows during recovery. She just came from a west coast trip that we will be posting in her ongoing vacation diaries.
We have been haunting the Midway lately because of the constant stream of punk oriented shows they've been booking. Thanks guys!! This Saturday they have a show put together by Mark Lind of Ducky Boy's fame. The Warning Shots, yet another band of Mark's was playing tonight. Some of the Ducky Boy's trademark sounds seem to color the first band Quiggs. This is a new band and introduces the first 'character' in a night of characters -Swid.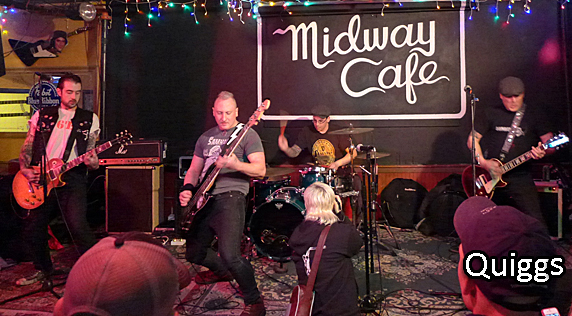 Swid is a punk bon vivant bursting with personality who just happens to play some of THE best bass in town. Joanie points out that he stands center stage and the lead singer is shuffled to the side. Swid holds the middle no problem. It just saves you from moving your head to the side to see him because you are going to be looking at him no matter what anyway.
Musically they are very good for a new group. They had some good songwriting and interesting guitar lines. I'd love to see these guys as they get some gigs under their belt. Joanie also points out that Ian (um, "El Clarko") the lead singer is the son of Audrey Clark from the 360's who's sitting up near the stage a proud mom to see her little boy! How cool is that?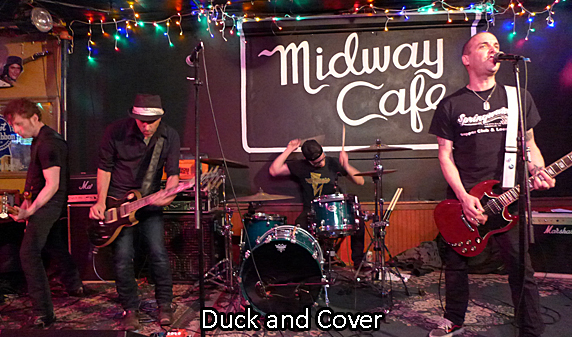 Duck and Cover has the next character of the night Chris Brat who won us over in the Marvels and more recently the Acro Brats, a group who we wish we could hear again but we should get over it because that's not happening any time soon. But Duck and Cover gives us the Chris fix. On stage he mugs and sweats. The thing we like best is his voice, it's a distinctive punk voice we love to hear. All the songs have something of interest in them and the one that always makes me laugh is the one with the tandem 70's style lead in it. It sticks out sonically and you remember it above everything else.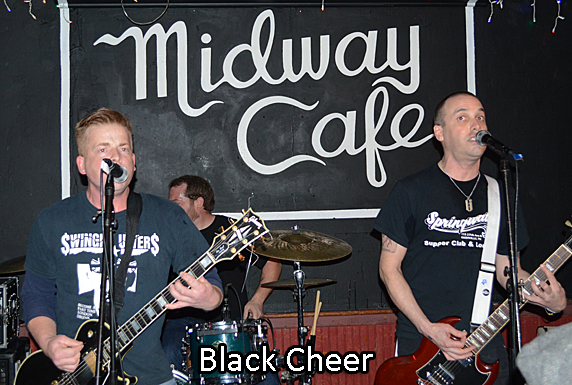 Chris stays on stage because his also in the next group the Black Cheers. They have character #3, that being Dan O'Halloran part of the Dogmatic O'Halloran clan. Dan stands nonplussed amist the confusion around him and dealing out droll comments punctuated with burps. There are lots of burps. His meal is just not sitting well but it seems to momentarily pass as he rasps out his songs. They boost up the volume and have a bigger punch than the previous groups and it's welcome. The songs are short and simple for the most part. The last two songs are the best. One being their popular "Delete Delete". The audience was loving the whole set and they leave to cheers and probably with Dan still burping.

Another new thing we got going this week is a review by John Keegan. John is a long time Boston music fan and club rat who we met a few weeks ago. He took that photo of us at the Cantab a few weeks ago. He's beginning to write and we like what he's doing. This week he has a review of a show at Johnny D's.

Dex Romweber Duo and Reverend Payton Review by John Keegan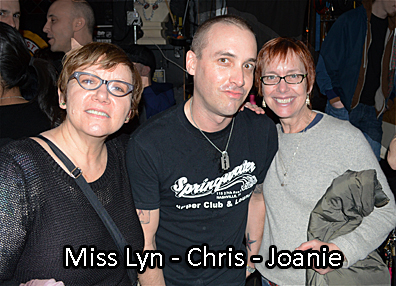 In other news Richie Parsons is getting lots of recording done on his pop CD "Honey & Tears". Jonathan Paley will be singing on his song "Love Letter". He is off to Paris to record with Ken Stringfellow this week.
After we posted our news last week we went into bandcamp and checked out the Sleep Crimes page. We had heard this song that was a twist on a Shangra La's tune and on Bandcamp got a chance to hear it again. They make the song really work in the recording. I Pledge My Love is a hoot and we put it in our TOP TEN list. have a listen for yourselves!
And for upcoming shows.....
There's a serious punk show at The Ramrod next Tuesday the 25th with Mystic Inane, Funeral Cone, Discipline, Jock's Blood and Stranger
OK folks this Wednesday, April 2 is Jon Bernhardt celebrating his 50th Birthday and 30 Year Anniversary on WMBR's Breakfast of Champions with a gig at the Middle East down with Bevis Frond and Barbara Manning and Dump. Tickets are $20, to benefit WMBR and are available via TicketWeb.
Also April 2nd is Kenne Highland's Birthday!!! HAPPY BIRTHDAY KENNE!!!!!!!!!
This Friday April 4th at The Regent Theater is the debut of Tim Jackson's film "When Things Go Wrong" which is all about Robin Lane there'll also be a Q&A with Tim and Robin and live performances from Robin, The Chartbusters, Barrence Whitfield, Ramona Silver, and others TBA . You can buy tix here Regent Theater site
April 4th at The Midway are The New Limits, The Screw-Ups, The Allstonians, The Copacetics, and DJ Nate EaseUp of Rude Sounds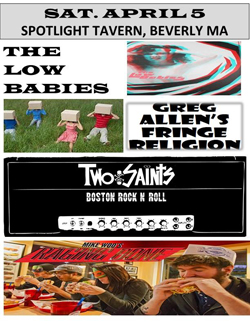 Saturday April 5th there's a great show, one not to be missed really!, at the Spotlight Tavern in Beverly with Two Saints, Greg Allen's Fringe Religion, The Low Babies and Mike Woo's Raging Bone.
Randy Black and the Heathcroppers will be performing at Club Bohemia on Saturday, April 5th. And we got set times..... 9:00 The Jeremy Wallace Band, 10:00 RB and the Heathcroppers, 11:00 Trusty Sidekick, 12:00 Matt Minigell
Friday April 11th is the Rock'n'Roll Rumble Prelims, at TT's, I'm mentioning it coz on this night it's Petty Morals, along with Feints, Summoner and Vary Lummar...good luck ladies of Petty Morals!!!
For you folks up in the Portland, ME scene the Bayside Bowl Uproar happens Saturday April 12th - at Bayside Bowl see three of Portland's most talented artists presenting some of their best original pop & rock songs for your listening & dancing pleasure...Joe Brien, all girl Portland band Tiger Bomb and the Johnny Cremains band
It seems there's never any good shows at Church anymore but on Wednesday April 16th there's a great show with The Swindlers with Answerman, The Skeleton Beats
The Saturday April 19th at The Cantab gig has changed...Bittersweets are out but instead you get The Darlings, The Funeral Barkers, FoxPass and Emily Grogan...
Thursday April 24th The Koffin Kats are back at O'Brien's along with Ten Foot Polecats,the Radiator Rattlers and Weak Week.
Saturday April 26th at the Midway is The Cheeseburger Eatin' King's Annual Birthday Circus featuring Bad Lieutenants, The FUs, Big Meat Hammer, Rough Francis, The Stand Alones, The Pubcrawlers, Bragging Rights, and Slim Francis
The 4th Annual HardCore Cotillion is Sunday April 27th (5:30-10PM) at The President's Rock Club in Quincy...this is onwe killer show folks!! You got Kilslug, Jerry's Kids, Taxi Driver, Barroom Heroes, and Keith "Fishead" Knowlton - all for 8 bucks!!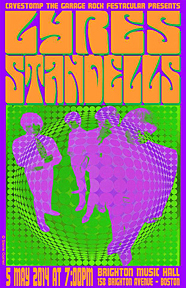 Wednesday April 30th Streight Angular are at O'Brien's...
The Cavestomp (Boston) Standells and Lyres at The Brighton Music Hall on Monday May 5th.... You can buy tix here
the Joe Coughlin Memorial Show is at the Midway on May 10th!
At O'Brien's on Saturday, May 10th we got a excellent show with Jittery Jack (their Boston record release show) , Whiskey Kill, Johnny Carlevale and the Rollin' Pins and DiabloGato
Also on Saturday May 10th is a crazy night at Club Bohemia at the Cantab with The Hixxtravaganza - playing are Hixx of course along with Scott Damgaard, Cadillac Heart and James Straight And The Wide Stance
Also on May 10th is a big ole celebration over at Store 54 - Tom Wilson turns 50 and he's celebrating with The Upper Crust playing and its byob...should be quite a night folks!!
Wow this is a very special not-to-be-missed event: At The Regent Theater on Sunday May 11th (7:30PM) - A Boston Film Premiere Event: "Looking For Johnny" - The Legend of Johnny Thunders PLUS The Daughters Reform to Play LIVE! I know they interviewed some Boston rockers for this film, too!
It's a killer weekend over at The Midway on Friday, May 16th with The Other Girls, BrownBooze (featuring Rod van Stoli and Jordan Valentine of BrownBoot!!! she's in town for a couple shows this weekend -see below too) ) and Saturday, the 17th with The Hudson Falcons , The Sprained Ankles, The Black Cheers and Spectacle
OK people mark your calendars for April 17th there's two cool things that night:
You know it's summer when Cal Cali is back in town and he's back to celebrate his birthday on May 17th at The Tavern at the End of the World with Asa Brebner, Richie Parsons Duo and Emily Grogan
Al Janick's St. Stanilaus Polka Party on May 17th...this year its at Anthony's on Highland Ave sin Somerville and he's got his Plastyczny Ser Orkestra consisting of world famous musicians like , Kevin Hensleyski on Guitar, Matt Burkeski on Drums and Shaun Wolf Wortiski on Bass...along with The Warsaw Marching Accordion Army and the Horny Karkow Horns...and if that weren't enough he also has special guests The Pierogi Triplets (Jordan Valentine & Jenny Dee)!!!
Thursday, May 22 at The Middle East Up....... The Woggles with Muck and the Mires, Lyres - whoa what a show!!!!
Sunday June 1 at The Middle East down is The Cro-Mags, Anti Nowhere League, Taxi Driver and Neighborhood Shit. This is an early show folks, doors are at 6:30PM
The 2nd Annual Rat Beach Party is already well in the planning stages...its set for September 14th& 15th and here's a list of bands so far: Saturday night- Red Parrot Beach Bar starting at 7PM: Hardwired -- Heavy Weddle & Sweet Release -- Severance (or Band To Be Announced) -- JetSet -- Billy Rath & The Street Pirates -- Open Jam to close
Sunday afternoon/evening: Red Parrot Function Room, Beach Bar and Back Room Lounge starting at 12:00 -- The Beachcombovers (Function Room) -- Hardwired (Beach Bar) -- The Boize (Function Room) -- Gino Caira Band (Beach Bar) -- Count Viglione Love & Flame (Function Room) -- Hixx (Beach Bar)-- State of Union (Function Room) -- GraveDancers (Beach Bar) -- The Derangers (Function Room) -- The Workers (Beach Bar) -- Liz Borden (Function Room) -- Kenne Highland Clan (Beach Bar) -- Slow Children (Function Room) -- Pop Gun (Beach Bar) -- Gyro Lula (Function Room) -- Moose & The Mudbugs (Beach Bar) -- Tsunami of Sound (Function Room) 8:30 -- Masters of The Obvious (Beach Bar) -- Red House (Beach Bar) - Real Real Bayou Band (Beach Bar) -- All-Star Jam led by Cindy Daley, formerly of Lovelace.
The Kickstarter project for PunkRockPaperScissors will be of interest to a few of us. It is a book of punk flyers. There are some Boston ones in their according to the write up.
The Replacements are playing two weekends in April at Coachella and they are having David Minehan on guitar again. (Afghan Whigs and Brain Ferry are on the bill too!)
EMAIL US AT.......misslynbgn@yahoo.com