The BGN News Archive
April 15, 2019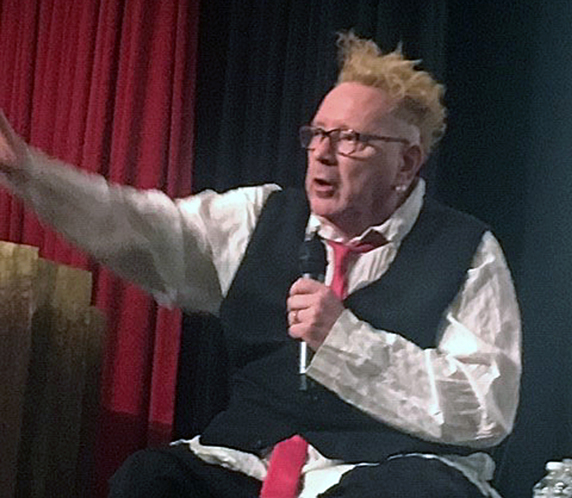 John Lydon - NYC
Photo: Miss Lyn
It seems people out there want to celebrate the 40th Anniversary of Punk. So we headed down to Manhattan to catch a couple Punk exhibitions this past weekend.
First was Too Fast to Live, Too Young to Die: Punk Graphics, 1976-1986 at the Museum of Art & Design. That show was mainly about the graphics and imagery used in punk for album covers, gig poster, buttons and the like. It felt pretty sterile but brought home the idea that, at the time, that imagery was pretty ground breaking. The focus was on bands like The Sex Pistols, The Clash and pother bigger named bands. On the day we went there was a special one hour conversation with John Lydon before seeing the exhibition. Now THAT was exciting! To finally see John Rotten in person! John sat with Gillian McCain, (co-author of Please Kill Me) for what was supposed to be a question and answer presentation. But John Lydon is a one man show so it was mainly him talking about what he wanted to talk about.
We also went to The Museum of Sex to catch their exhibit Punk Lust: Raw Provocation 1972-1985. This one felt a lot more punk and the focus here was on the sexuality of punk and the use of sexual imagery, language and attire to shock. This show is has loads of great stuff and is definitely worth the trip to NY!! Check out the photos and you'll see what we mean. To see click the link below.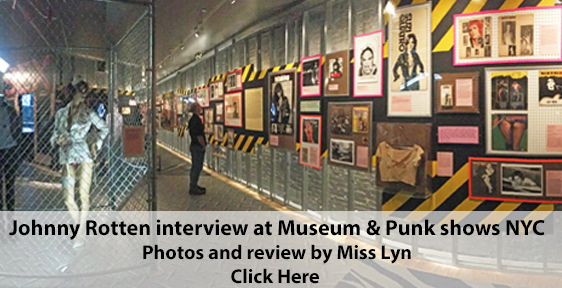 You have to put some time aside to keep up with The Connection. Along with their releases you have Kris Rodgers, Brad Marino and Geoff Palmer all with solo careers of their own. Their solo efforts are all a bit different.
Last Saturday Brad Marino was playing at Sally O'Brien's with his new CD release called Extra Credit.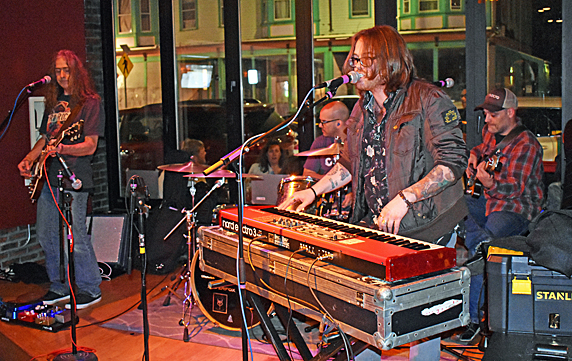 Kris Rodgers & the Dirty Gems
Photo: Blowfish
To keep things in the family Kris Rodgers & the Dirty Gems did the opening slot. (Rodgers also co-produced Brad's album.) Kris is the keyboard guy in the Dirty Gems and by listening to his solo material you can see the wide sweep of his playing. His songs at Sally O's were taken from his several albums. He has the Billy Joel/Elton John feel in his material. The last song of the set was a cover of John's "Take Me To The Pilot". Video below.
Kris also did "Every Little Crack" that was a Coolest Song of the Week at Little Steven's underground Garage show. It's hard not to like all of Kris' songs and his piano led group would probably have an appeal to a large audience. His band is top notch. The guitarist adds some meaty solos, he often sounds like Pink Floyd's David Gilmour.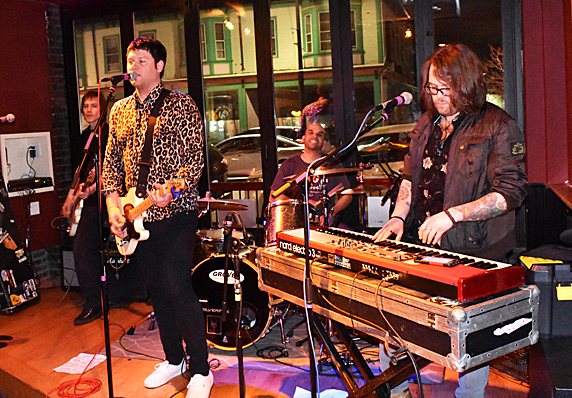 Brad Marino
Photo: Blowfish
Kris also sat in for Brad's set. Just a day previously Brad's wife delivered a baby, talk about Extra Credit! The wife said, of course go do the show. That's a rock and roll household! Brad did most of the songs from Extra Credit. One of the standouts is "C'mon, C'mon, C'mon" (video below) and "Broken Record" about a girlfriend messing with a record collection is going to be a long time fave. It's funny and all us record collectors can see ourselves in it. "Wake Up Baby" was written with Kurt Baker and you could hear some of Kurt's songwriting magic in it.
Brad takes a lot from early County and injects that into some Chuck Berry type rockers. He sang "What Comes Naturally" that has country touches and did a cover of "Bye Bye Johnny" by Berry. "It's Not Right" was a pop nugget. All in all a breezy pop set that made you want to get that CD.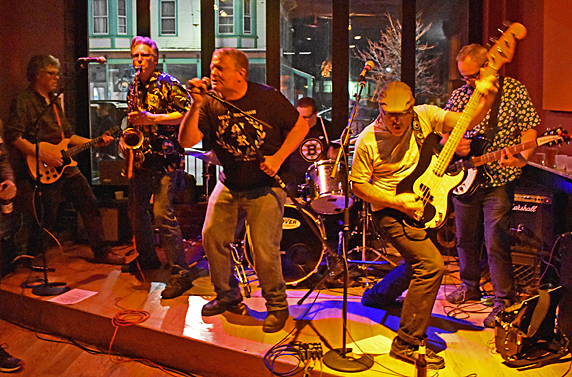 Stop Calling Me Frank
Photo: Blowfish
Stop Calling Me Frank's last show was at the House of Blues in front of thousands....so the next step….a half full Sally O'Brien's. If anything they played even harder at Sally O's. This band just loves to play, period. They were loose and freewheeling which is a perfect way to be on a late night at Sally O's. They even did a few new songs, always a sign of a healthy group. One was called "Cyclone Baby" another was so new that Lennie was singing the lyrics from a cheat sheet.
Another twist was having a guest accordionist which set up a Cajun zydeco song. That sounded very good, there's another thing they can do. One thing they don't do is the blues; you just can't be blue when listening to this upbeat mayhem. At some point Terry on sax ended up on the floor, the set was almost over, but a lot of yelling got two more encores.
That a band from the Chet's Last Call era can be out there now and have more success than ever is one of the wonderful mysteries of the Boston punk scene.
Thursday we were at Once for a good bill. Openers Duck & Cover and Minibeast are two bands we go out for on their own.
Duck & Cover
Photo: Blowfish
We saw about half of Duck & Cover's set. We know their set and songs well now. We just take it in and catch all the cool guitar interactions and the twists that make them unique and stamp them as Duck & Cover material. They had one new song that we caught and then a cover. In the past they have pulled out an occasional cover and they are always a revealing pick. This time it was "Better Off Dead" by La Peste. That reminded us of Les Lullies covering "Do The Boob" last week. It was another nod to our rich punk past in Boston which is where the BGN began and always relates too. If we like or don't like a band it's often because of our experiences in the mid-seventies.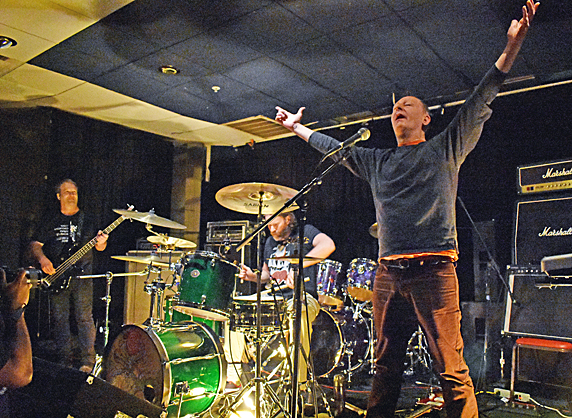 Minibeast
Photo: Blowfish
Last time we saw Minibeast was on this selfsame stage when they opened for Gang of Four in February. It seemed to us that the sound was a bit off. Whatever it was it took us a few songs until we got that pull from the rhythm section that we love.
Most people go to bands for the front man who usually is a singer or guitar player, this is a band you could go to for the drummer! Keith Seidel's busy and unrelenting machine precision drumming is almost super human. The bass player is also fantastic, it's a rhythm section to die for. Over that Peter Prescott is a sort of mad preacher/flim flam man. He adds the color from his electronic closet: it's bloops, bleeps, drop ins, dissonant chords and looped vocals. It's creepy and other worldly at times.
By the end of their set Once was just about full. It was a younger crowd than at the shows we usually attend. They loved Minibeast. That was nice.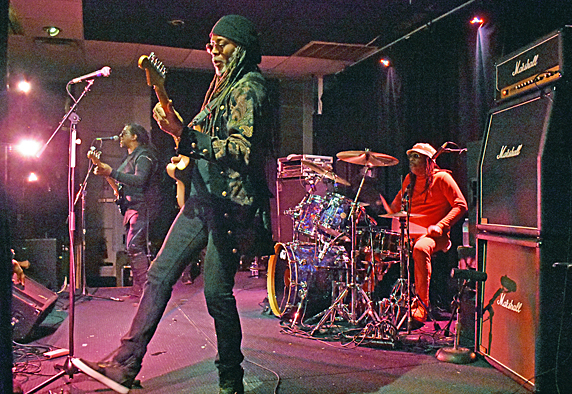 Death
Photo: Blowfish
The headliners drew this audience. Death is a group that got some notoriety a few years ago. They were playing some raw music in Detroit in 1971. They made one single that got rereleased and they were heralded as an early precursor to punk. Without knowing the backstory they sounded like an early raw hard rock group maybe. But you can imagine that in 1971 they were way out of the mainstream.
The audience went crazy for them. There was some moshing in the middle of the crowd now and then. People were singing along with the songs. That's pretty amazing. A younger audience giving an older group it's due, very very nice.
Friday it was a must-go to at O'Brien's because Actor|Observer was playing. This was the second to last show of a tour with Sparrows.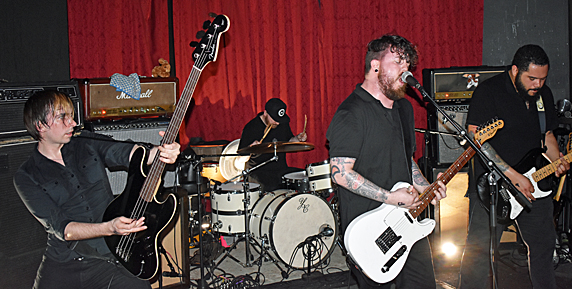 The Sparrows
Photo: Blowfish
We saw Sparrows from Toronto on a bill with Actor/Observer two years ago at O'Brien's. At that show they had no bass player but still played a powerful set. This time with a bass player they blew us away. They had the same sonic attack as Actor/Observer which is to say way heavy, loud and punctuated with pile driving slams. They balance the overpowering blast with quiet sections that have a calmness to them. The pedal boards supply the tonal effects. The songs were on the long side and had many parts to them. You really couldn't follow; you just went along the ride.
You can get some of this by listening to one of their songs on Bandcamp, like "Three Four Two Five, Three Four Two Five" but you really need the live band experience to get the full effect.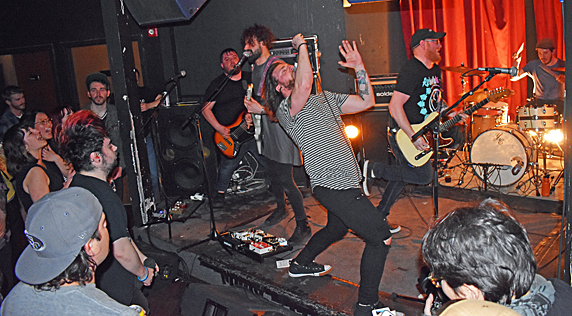 Actor/Observer
Photo: Blowfish
A lot of what we say for Sparrows goes for Actor/Observer also. They have the loud/quiet dynamic. The thing with Actor/Observer is that the material has an emotional effect as powerful as the musical blast. The set was a journey you took with the band, or you might as well have stood outside. The people in front often leaned forward toward the stage as they sing/yell along. It's all about the band audience connection.
The set started with Greg Marquis the singer singing off microphone from the other side of the club and slowly walking toward the stage. The rest of the show he's as much in the audience as on the stage going from person to person singing face to face.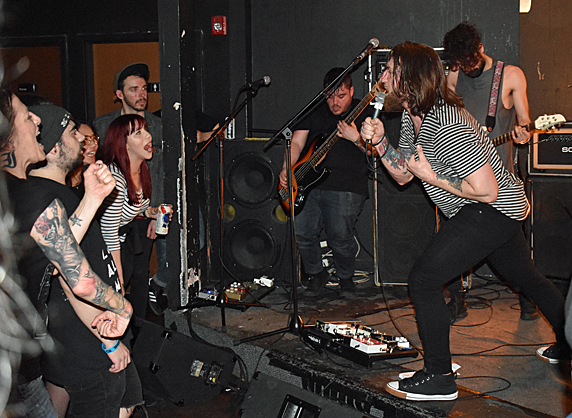 Actor/OBserver
Photo: Blowfish
One of the issues that drive the lyrics is mental health. Greg is very open with his problems and it's refreshing to hear someone talk about this. One of the song deals with taking medication for mental health issues. A lot of people don't want to take the medication. That's a real life problem. Getting it out in the open is a huge step.
As usual we left an Actor/Observer show all emotional. We rank them as one of the best groups in town.
This Wednesday John Keegan went westward to see Robyn Hitchcock at the Center for the Arts in Natick. For photos and a reviw please click photo below.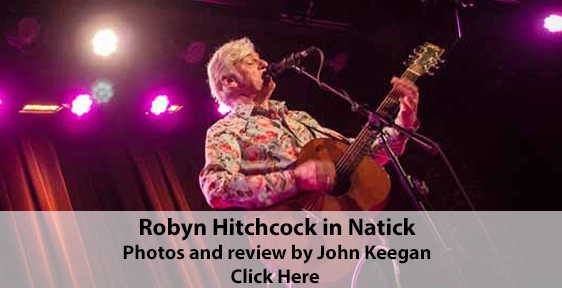 More band photos after the show listings
---
And in other news.....
In November 2018 New England writer Joe Milliken published the book Let's Go, Benjamin Orr and The Cars. In an interview he says "My goal was to paint the clearest picture possible of Ben's entire life, not just his life as a member of The Cars. It's not meant to be a 'Cars book,' although, of course the band is prominent in the narrative. This is not a backstage exposé, but rather the story of an extremely gifted, tenacious musician who knew exactly what he wanted to do in life from a very early age … and he achieved it." Joe interviewed over 120 family members, friends, bandmates, and music associates from Orr's life, as well as many unpublished and never-before-seen photos from private collections, to reveal an intimate portrait of one of classic rock's greatest talents. You can read more about the book here, or buy it on Amazon and other outlets. Milliken is also having a book event on June 22 (8:30-10PM) at 9 Wallis in Beverly, MA. The Cars' tribute band Moving In Stereo will be performing. Click here for the FB event page.
Mike Hoban and Lenny Scolletta are now doing a podcast called "The Boston Beat". The show will feature past, present & future music & arts guests from all around New England. Right now they cover some cool musicians from the sixties mostly but will have some later punk things in there at some point. Right now they have interviews with Moulty of the Barbarians, Ian-Bruce Douglas from Ultimate Spinach, Dick Weisberg from Beacon Street Union, and Harry Sandler drummer from Orpheus among others. They are at - https://anchor.fm/thebostonbeat It's real easy to hit the page and start listening
Liz Borden has done a cool thing. She's designed a sneaker that's available to buy on this site www.aliveshoes.com. Her sneaker's color scheme matches her red/pink bass.
Check out this story about Britain's oldest punk rocker getting married with a Sex Pistols themed wedding! And it seems he's The Damned's biggest fan. Hey Johnny Rotten has had a very successful marriage and we hope these two do as well!!
We talk about the Connection people (above) this week. On that front Geoff Palmer the Connection guitarist will have a new LP out soon titled Pulling Out All The Stops. There's a new video release of a song from that album called "Giving In" that can be seen here.
There's a new digital single by Death Pesos called Deceivers backed with Sarcophagus. It's stoner rock with intelligent lyrics.
The new club The Jungle opening in May has some interesting ideas going on. Like Cycling with Venom & Mayhem, that the twins from Flight of Fire playing on stage while people ride the exercise bikes! It's a 3 hour session - whew!!! First one is Thursday May 23rd 5-8PM check out their calendar here.
---
Here's some good shows coming up this week.....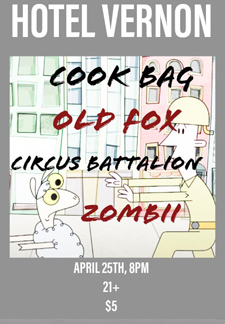 April 23 (Tuesday) Battery March, Feedbag, The Laces, Secret Spirit at O'Brien's FB page
April 25 (Thursday) The Big Sway, Oh The Humanity & Coffin Salesman at Sally O's Union Sq FREEEEE as in NO cover.
April 25 (Thursday) The Proletariat, Moving Targets, The Northern Skulls at Alchemy Provi RI
April 26 (Friday) Michael Kane And The Morning Afters, Cuidado, and Lenny Lashley at the Thirsty First Tavern Lowell.
April 27 (Saturday) A Crash Course For The Ravers has POP GUN in to play their new stuff! 1pm to 4pm at http://www.wmfo.org/popout_player.php?bitrate=256 and transmits on 91.5FM Medford.
April 27 (Saturday) The Proletariat and Moving Targets at Once
April 27 (Saturday) The Stigmatics, Mongorellis, Thee Sonomatics, Groundlift at Club Bohemia
April 27 (Saturday) Nervous Eaters CD Release, Mr Airplane Man, Corolla DeVille at 9 Wallis Beverly.
April 28 (Sunday) Roy Sludge at Sally O'Brien's 6-8:30PM
And further out we have.....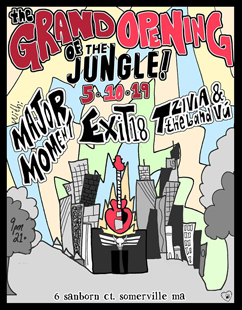 May 2 (Thursday) Rawstrum, Gideon Grey, Pinaple Jam at Thunder Road (Rawstrum on first!)
May 3 (Friday) New Alliance Studios Opening Party!! Please check out the FB page for all the stuff going on 6-10PM.
May 3 (Friday) Barrence Whitfield & The Savages w/ Muck and the Mires at The Middle East
May 3 (Friday) Corolla Deville, Stigmatics and Pop Gun at Jeannie Johnston's Pub JP
May 3 (Friday) Choke Up, Keep Score, Depressor, Matt Murphy at The Hong Kong Harvard Sq
May 3 (Friday) Mad Painter (with Kenne Highland on bass) along with The Fringe, Roll Over White and Shipwrecked at The C Note in Hull.
May 4 (Saturday) It's "LIVE DAY" on WMFO (91.5FM) featuring local acts doing 40 minute live sets all day. Same DJs at their regular times but live music all day. The Cast Irons - 9AM...Anthony Kaczyinski (acoustic) 10AM... Peter Parcek 10:50....Danielle Miraglia w/ Lisa Bastoni 11:45...Lily Black (full band) 12:40PM...61 Ghosts 1:35PM...Will Dailey 2:30...Flight of Fire 3:25....Celebutant (acoustic) 4:25.
May 4 (Saturday) The McGunks, Silver Screams, Revilers, Damnation, Live Nude Girls at The Midway 3-7PM
May 4 (Saturday) Trusty Sidekick, Bill Dwyer Band, Hambone Skinny, Richie Parsons at The Midway 8PM show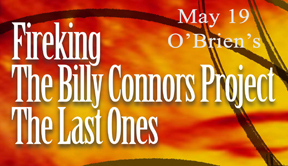 May 4 (Saturday) Carissa+Cure-Alls, Justine & The Unclean, Tiger Bomb, RunHideFight at Sally OBrien's
May 4 (Saturday) Dial Drive (FL), Loser's Circle, The Runouts at The Hong Kong, Harvard Square FB page
May 4 (Saturday) The Devils Twins, The Anti-Queens, Ratne, Bad Larrys at Opus in Salem
May 6 (Monday) Sneeze, Cult Fiction, Toothbrush, Non- at Charlie's Kitchen
May 7 (Tuesday) Dougie Flesh, Coffin Salesman, Ciderdown, Hannah Jay at The Tavern at the End of the World.
May 9 (Thursday) The Guillopointagers (Matt LeBel and Will Barry), Baluchitherium, Black Leather Lagoon, The Nuclears (NYC), The Natty D's at Club Bohemia
May 10 (Friday) The Grand Opening of Somerville's latest music club, The Jungle! with 10:50pm: Major Moment, 9:55pm: Exit 18, 9pm: Tzivia & theband Vú
May 10 (Friday) The Devil's Twins, Nemes, North By North, The Gala at O'Brien's Pub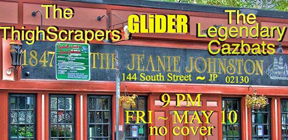 May 10 (Friday) Thigh Scrapers, GLiDER, Legendary Cazbats at Jeanie Johnston Pub in JP
May 10 (Friday) Oh The Humaity, SkyTigers, Tied to a Bear, Shrug Dealer, Weaklings at Uncharted in Lowell
May 11 (Saturday) Art Thieves, Donaher, The Last Noelle at The Jungle- 5 Sanborn St Union Sq Somerville.
May 11 (Saturday) The Knock Ups, Ila Minori, Erel, Chad Gosselin of The Big Lonesome at The Midway night show
May 11 (Saturday) Back Central, Kind, Distressor, DNZL at Thirsty First in Lowell
May 11 (Saturday) FUs, GLiDER, Classic Ruins, Screw.Cart at KOTO Salem
May 11 (Saturday) Cactus Attack, Diablogato, Jittery Jack & Amy Griffin at the Dover Brickhouse Dover NH
May 13 (Monday) Happy Accidents (UK), Greed Island, Birdwatching, Traders at Charlie's Kitchen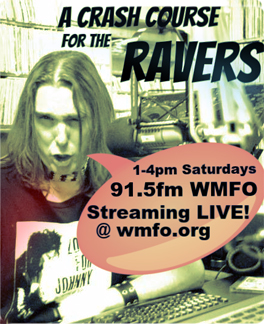 May 15 (Wednesday) Jon Snodgrass, Lenny Lashley, Micah Schnabel at O'Brien's Pub
May 15 (Wednesday) The Blasters with Diablogato and Dead Trains at ONCE Ballroom
May 17 (Friday) Lily Black, Highway Chapel, Thee Fightin' Fish, The Negans at Club Bohemia.
May 17 (Friday) Andy California, The Swettess, Heavy Connection at Jeannie Johnston's Pub in JP
May 17 (Friday) Parlour Bells, Gene Dante and The Future Starlets, and Smitt E. Smitty & The Feztones @ OPUS Underground in Salem,
May 18 (Saturday) Marko And The Bruisers, Color Killer, Shore City, Punk Band - 3-7 matinee at The Midway
May 18 (Saturday) Lily Black at Asgard
May 19 (Sunday) The Last Ones, Billy Copnnors Project and Fireking at O'Briens.
May 20 (Monday) Coffin Salesman, Molly Rhythm, Talk Me Off, Double Star at Charlie's Kitchen
May 22 (Wednesday) GLiDER live! On the Town w/MikeyDee~91.5 FM/wmfo.org live stream
May 23 (Thursday) Swivel and Modern Day Idols at The Jungle
May 24 (Friday) Lo Wreck's birthday with The Downhauls, The Dents, Duck & Cover and Skytigers at Sally O'Brien's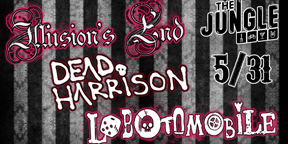 May 25 (Saturday) Lara Hope, Jittery Jack & Amy Griffin, The Demon Seeds at Opus! Salem
May 27 (Wednesday) Natterers, Yooth Decay, SAP at O'Brien's Pub
June 1 (Saturday) Vicky and the Vengents, Muck and the Mires, The Electric Mess at The Midway
June 2 (Sunday) Slimedog's 22nd Annual Punk Pizza Poetry Party featuring Kermit's Finger, Cry Havoc, Jerry's Got Jokes, The Grommets, Jake Tringali (between sets) at The Midway 3-7PM
June 2 (Sunday) the second Out of the Blue Benefit with a TON of bands….starting at 2PM -this is in order of appearance: Club Linehan A Go Go, Mimsey Mack & the Skinned Knees, Bob Cenci, Richard Mirsky Band, Randy Black & the Heathcroppers, Thee Fighting Fish, Climate Change Band, The Stigmatics, The Laces , The Thigh Scrapers, Gary Shane & the Detour, Sara Billingsley & Friends, GLiDER, Baabes, Butterscott. FB page for more info
June 5 (Wednesday) Mad Painter Live at WMFO 91.5 10PM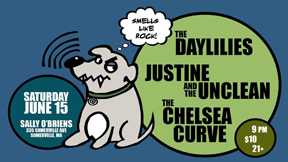 June 7 (Friday) 61 Ghosts, Cal Cali Band at Tavern at the End of the World.
June 7 (Friday) Jittery Jack & Amy Griffin at The Book & Bar, Portsmouth
June 12 (Wednesday) Glider will be on the Heavy Leather Topless Dance Party. Check out the FB page for access. 8:30-9:30PM
June 15 (Saturday) Thee Fightin' Fish, The Billy Connors Project, A Bunch Of Jerks, Club Linehan A Go Go - 3-7 matinee at The Midway
June 15 (Saturday) The Daylilies, Justine and The Unclean, The Chelsea Curve at Sally O'Brien's
June 15 (Saturday) The Gala, Zip-Tie Handcuffs, Ben & Jolly Janes, Green Pieceat at UnchARTed Lowell
June 21 (Friday) Kid Gulliver, Stars Like Ours, The Rationales at Sally O'Brien's
June 22 (Saturday) The Gala, The Dazies, Haunted Horses NYC, Lockette at The Midway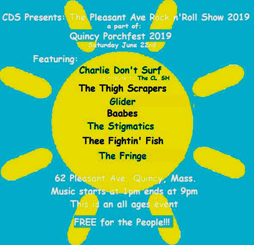 June 22 (Saturday) It's Quincy Porchfest!!! At 62 Prospect Ave Quincy you can find - Order of appearance starting at 1pm and every hour on the hour- The Fringe, Thee Fightin' Fish, The Stigmatics, Baabes, Glider, The Thigh Scrapers, Charlie Don't Surf a tribute to The Clash FB page for directions etc.
June 22 (Saturday) writer Joe Milliken is having a book event to promote his Ben Orr bio Benjamin Orr and The Cars at 9 Wallis 8-10:30PM FB page
June 23 (Sunday) Teenage Bottlerocket with Ramona, The Young Rochelles at Once
June 27 (Thursday) Powerslut, Thrust Club, Radium Girls @ The Jungle
June 29 (Saturday) The Old Edison, Coffin Salesman, Time & Place, Loser's Circle at The Midway
July 5 (Friday) Cal Cali Band, GLiDER, Mad Painter at KOTO Salem
July 9 (Tuesday) Some Kind Of Nightmare, Losers Circle, Nick Barbarian, And Live Nude Girls at Thirsty First Tavern Lowell.
July 11 (Thursday) The Thigh Scrapers, Baabes, State of the Union and The Laces at The Jungle 5 Sanborn St Union Square Somerville.
July 11 (Thursday) 61 Ghosts, Thee Fightin' Fish, Pop Gun at Opus in Salem
July 18 (Thursday) Stars Like Ours, Blindspot, Justine & the Unclean at The Jungle Union Sq Somerville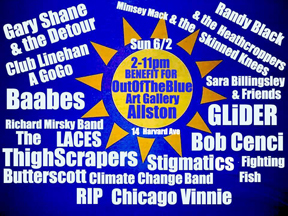 July 20 (Saturday) Dogmatics, Jittery Jack & Amy Griffin, Stop Calling Me Frank at the Back Room at The Burren Davis Sq Somerville 6-9PM folks!!!
July 27 (Saturday) Corner Soul, The Knock Ups, Motel Black at The Jungle Union Sq Somerville
July 27 (Saturday) The New England Ska Summit; Bim Skala Bim, Copacetics, Hempsteadys, El Grande at Once Ballroom
August 8 (Thursday) Otto Records present 145 & The Thigh Scrapers at The Plough & Stars
August 14 (Wednesday) Deke Dickerson, Bloodshot Bill, Jittery Jack, DJ Easy Ed at Once FB Page
August 15 (Thursday) 1.4.5., Crunchtime and Glider at The Jungle Union Sq Somerville.
CONTACT US AT....misslynbgn@yahoo.com Send us your gig listings, your news and anything else ya got!! You want your CD reviewed?? Contact us for that too.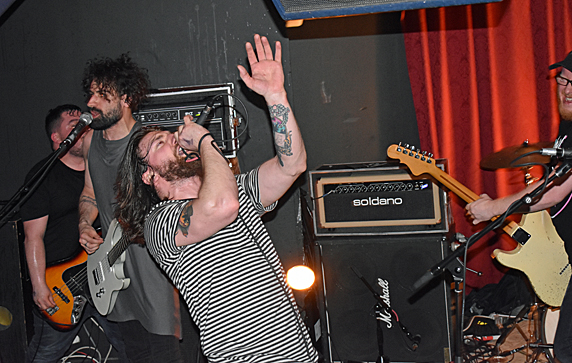 Actor/Observer
Photo: Blowfish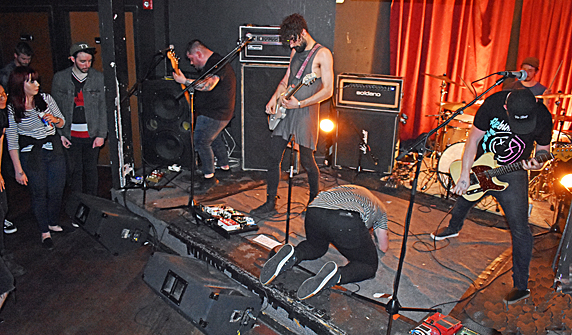 Actor/Observer
Photo: Blowfish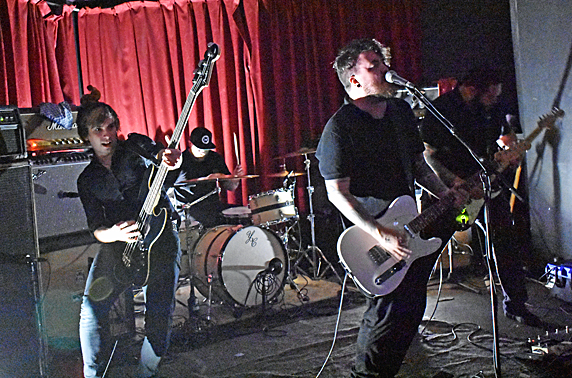 The Sparrows
Photo: Blowfish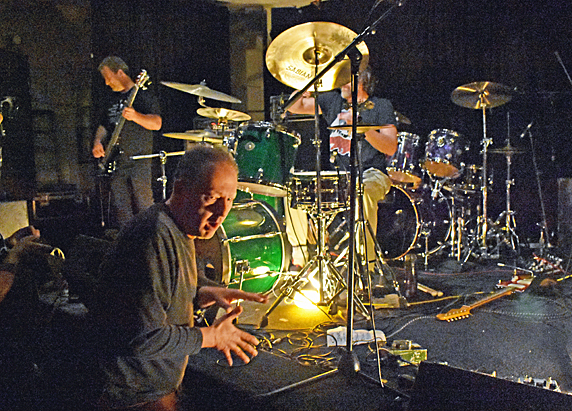 Minibeast
Photo: Blowfish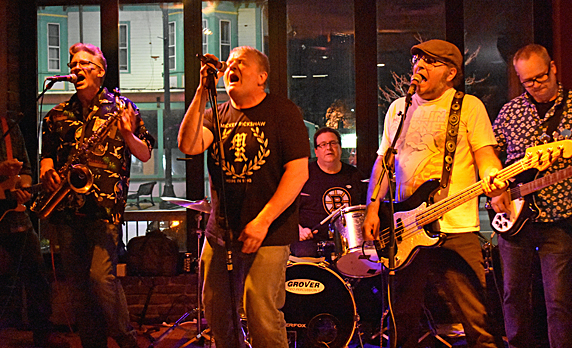 Stop Calling Me Frank
Photo: Blowfish
Stop Calling Me Frank
Photo: Blowfish