The BGN News Archive
May 2,2016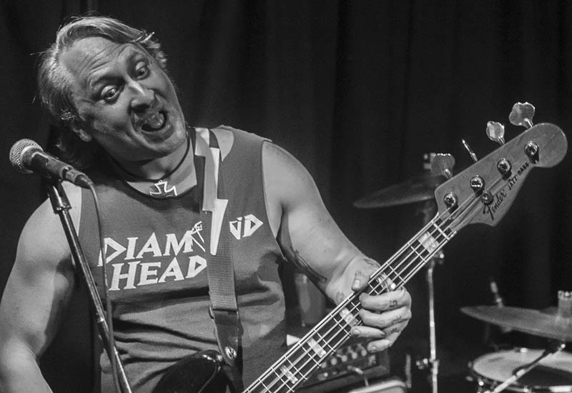 Swid with the Acrobrats
Photo: John Keegan
Oh the Abbey and how we loved it!..and oh how we miss it!! When the Abbey closed back in November of 2008 we were there (and you can see that here) and we said then it was destined to become one of the legendary clubs in town…and so it has.
Well a few folks, namely Jen D'Angora, with the help of Michelle Paulhus and Andrea Gillis (who were the first two to book Abbey shows), decided it was time to have an Abbey Lounge Reunion. We used to liken the Abbey to Cantone's because of the physical design of the space and the divider wall…what better to bring back the feeling of the Abbey vibe than Sally O'Brien's? And what better cause to donate the proceeds to than to the Eva Lipton fund?
And so we have three nights, Thursday through Saturday April 28, 29, 30th to relive those fun times at the Abbey. Thursday had Night 1 -Red Zone Cuba, Classic Ruins; Triple Thick, The Charms, The Decals, Heavy Stud, The Drags (NobleRot) and The Rudds.
Friday night the BGN joined in the festivities and what a great night it was!! We didn't want to take any chances and got there at 5PM for hangin' out, dinner …and then the show…people trickled in…..then Jen showed up, then Michele….then noticeably more people…and before we knew the bands started playing at 7.
For the story with the complete set of photos please CLICK HERE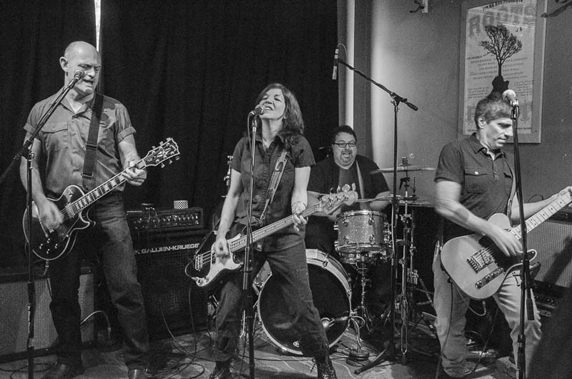 Frigate
Photo: John Keegan
First up was Frigate and they were great!! I don't remember ever seeing them at the Abbey and now I'm really sorry I missed them then!! Linda Bean Pardee and Tim Gillis share vocals and often sound somewhat X like because of it. This band is obviously inspired and driven by the punk spirit and FUN. Linda BP is the star of the show, her energy when she sings and bangs that bass are infectious! What a great set, far too short…but there were so many bands to come.
Jay Allen and the Archcriminals
Photo: John Keegan
Now the crowd was really a crowd…the show sold out around 7PM and then the line starting forming outside…people were still hoping to get in. And Jay Allen & The Arch Criminals hit the stage. Here's more fun punk attitude for ya. Jay grinds on the vocals and the power trio delivers the bare boned but always entertaining goods. Smart funny songs and a good sense of humor; it's like being at a good party when these guys are on stage.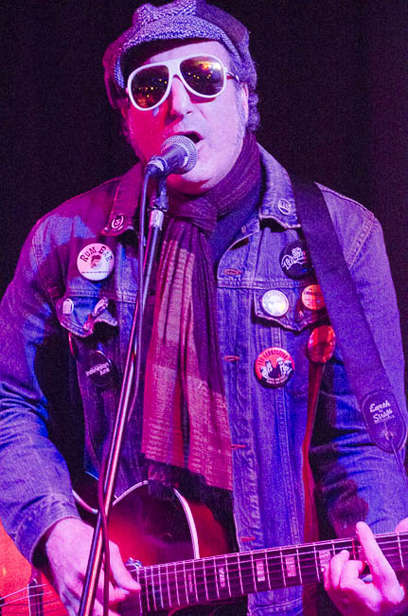 Malibu Lou
Photo: John Keegan
Then we get a dose of Boston's original Punk Rock Balladeer with Malibu Lou who takes the stage with only his guitar to sing some rousing renditions of favorite tunes while also revving up the crowd who he always addressed as Abbey Reunion…"OK Abbey Reunion are we having fun tonight?" Lou can't stay on the stage for long, he's out in the crowd like a party animal having fun and still singing and playing on. It seemed he didn't want to get off the stage either…he just kept on going… was a fun time for all!!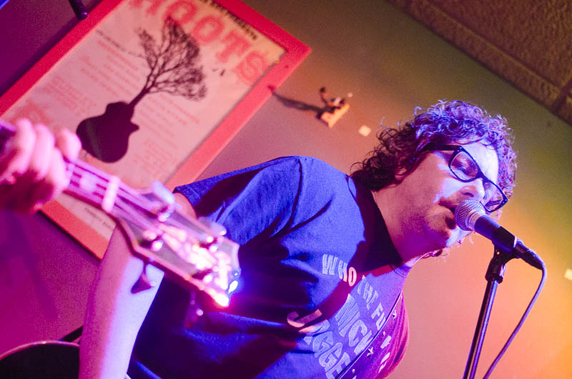 Dirty Truckers
Photo: John Keegan
Next up came the Dirty Truckers. I don't know what to say about these guys…they are great at what they do but it '70's rawk…..like Blowfish sometimes says "It's like punk never happened" and I like punk music. They did a really great cover of the Lyres "Help You Anne" though!
Now things started to get a little messed up set times wise. The Swinedells' Sean Coleman was on a 5PM bus from NYC and it was running late. But Nicole Tamarro who was the stage manager for the night moved set times around and we now get a string of some of my all time favorite bands….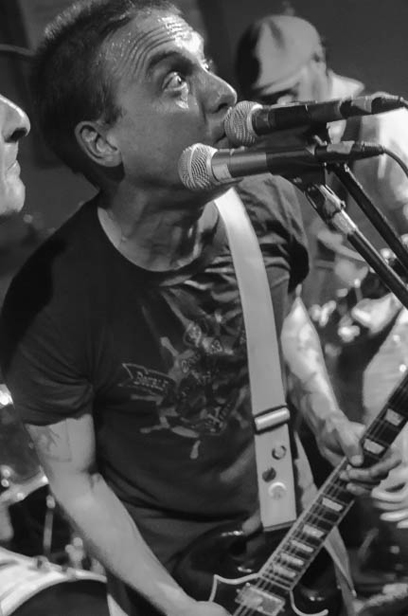 Acrobats
Photo: John Keegan
We got the Acrobrats next…and that was fine with everyone since this is a band that is much missed! And we at the BGN have never shied from stating how much we are fans of both Chris and Swid - you are guaranteed to get something really good when you put the two together and that's The Acrobrats! They played their blend of popped-up punk to what was now a very huge and close quartered crowd. People were grabbing the mikes to sing along, repositioning them so we could hear Chris's vocals loud and clear. It was a great set and the overall crowd luv was taking over the room.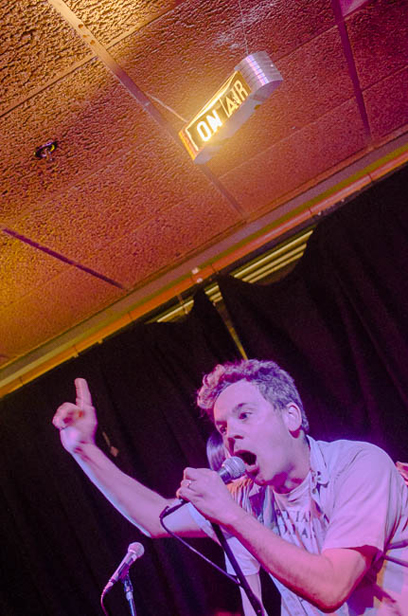 Spitzz
Photo: John Keegan
Still no Sean so up comes Spitzz…oh do I ever miss these guys!!! Lead singer Tom announces "If we suck blame it on the Swindells" but NO they did not suck, far from it - they sounded tight with a full rich hard driving sound - fantastic. Maybe they thought they needed some brush up time backstage but they got right into it. This band is so much fun to watch and listen to - straight up screaming punk with a dose of smart lyrics and a driving force behind them.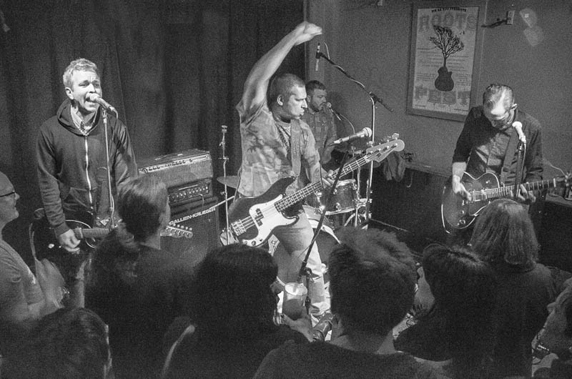 Tampoffs
Photo: John Keegan
OK, Sean finally showed up. Face to face with him just as he walked in the door, I got him a whiskey to loosen him up as The Tampoffs took to the stage for a wild rousing ride through more hard, loud punk territory. It was full on face pounding set. I just love this stuff!!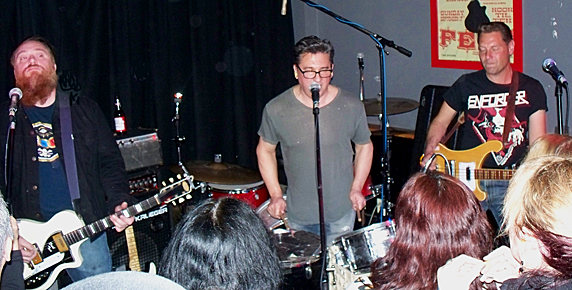 Konks
Photo: Miss Lyn
I guess Sean's still not ready to take the stage so up come the Konks, who were supposed to close the night!! People were going nuts now. Everybody love the Konks and we don't care!!! Talk about hard driving in your face…these guys are it too…more screaming and pounding by Kurt with Bob's yowling guitar and Jon's heavy bass to back him up - we love it….thank you Konks! It's always a treasure to see them once again.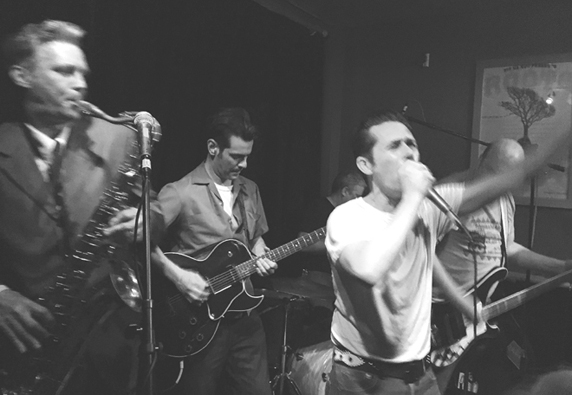 Swinedells
Photo: Miss Lyn
OK now Sean has gotta be ready coz it's time for the last set of the night….up they come...The Swinedells. Good gawd Sean's voice has blossomed even more since he's been gone!! He sings like a mad preacher who wants to save you…but one that might need a little savin' himself. We get the sax player from Stop Calling Me Frank and Mr. Jeebs Mc Cocktail on drums. We also get excellent playing from everyone in the band and it feels like a rockin' circus tent revival and we have all been saved in a dirty kinda way!! What a way to end the night.

Michele Paulhus
Photo: Miss Lyn


Jen D'Angora with the merch
Photo: Miss Lyn
Now all the proceeds made from these three nights will go to the Eva Lipton Fund and Eva's dad Ivan Lipton was on hand to take to the stage to give us a little Eva update and say thanks. It was touching and moving and we wish him and Eva all the best. Eva needs a lot of care and there's care that's not covered by insurance and it doesn't come cheap by any means. We are all happy to help. They had Eva bracelets and Abbey booklets among other merch for sale, also to go to the Eva Lipton Fund.
This was such a great night, we are sorry we can't bring you reports on all three nights. But we have no doubt whatsoever they were all equally as great.
A HUGE thank you goes out to Jan D'Angora, Michele Paulhus and Andrea Gillis for working so hard to put this all together. It was not a walk in the park and everyone appreciates the efforts!
You can order the Abbey Lounge Reunion Poster here at Daykamp Etsy. (all $$ from poster sales to Eva Fund too)
You can see videos and pictures of Eva's progress at Team EVA.
(To donate using paypal.com send a donation to EvaLiptonBenefitFund@gmail.com, or donate at any Rockland Trust branch to "Eva Lipton Supplemental Needs Trust" account)
Oh and uh...Our intrepid photographer, Mr. Keegan, went to "great heights" to get a couple of shots. This didn't sit well with the sound man. The negotiations did not go well so our Johnny got the boot. But we have to say the sound was astounding...but alas not everyone has the best taste when it comes to choosing friends and Mr Sound Man proved that to be true.
For the story with the complete set of photos please CLICK HERE
Earlier in the week Blowfish went to O'Brien's. A check online showed the line up to be on the punky side.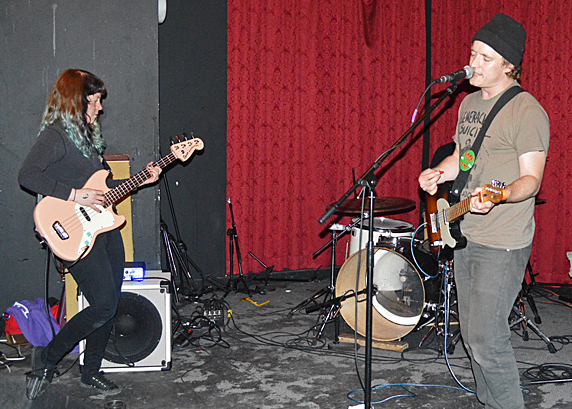 Junior July
Photo: Blowfish
Junior July (not to be confused with locals Today Junior) from Bloomington, IN. At first they seemed to be in a simple punk style but then the guitarist threw in some quasi classical licks. That was so out of the box it was hard to processes. As the set went on he did it a few more times. They were mostly a sort of coda at the tail end of songs but there was one song where the chording was more sophisticated than usual also. Most of the set was punky with lyrics that seemed to tell a story. Something I couldn't catch on first hearing. I can only think that as they develop their music will get even more interesting down the road. Nobody is quite doing what these guys are doing.
I talked to the guitarist for a while. He also mentioned the Flashbacks from Seattle as one of his faves. They're on tour and had to be in Philly the next day by 4pm. What a life. They have their cassette release uploaded to a You Tube post. Here is a song from the O'Brien's gig with one of those semi-classical riffs going on at the very beginning.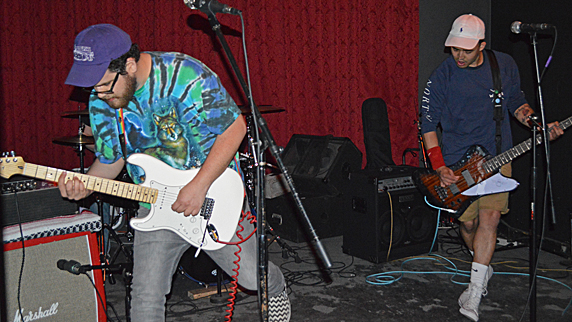 Transient Cities
Photo: Blowfish
Next up was Transient Cities who started with a dedication of the Replacements' "Androgynous" going to Prince.
They played a lot with dynamics having extended quiet sections and then full volume. One song ended with a long quiet section which is a switch up from the conventional. Even though the audience was small with about 20 people they managed to get those people up front for a while and pumping fists. Way to go. They have a song about Brighton called Brighton Suite
Campaign Committee
Photo: Blowfish
The band set ups were fast which made staying for the third band Campaign Committee easy. They emailed the BGN a while ago informing us of their Bandcamp posting. It showed them to be a hardcore band with some humor. Titles included: Vote Maybe On Proposition Go Fuck Yourself and I Misunderstood The Term Political Party. They say that any political statements are joking but it didn't seem like there was any joking going on when they were pounding out a caustic torrent of 'core. This was the unforgiving style where fast pinpoint playing coupled with emotional vocals attack you physically and mentally. There is nothing you can do as a listener except relent.
The lead singer never got on stage; he was running around on the floor moving as fast as he was singing. The lead guitarist would sing (yell) with the main singer or alternately. This was some powerful hardcore presented dynamically. I'd like to see them on a full 'core bill where they would be in their element.
They played a short set but it made its mark. This is a video of their last song Let's Die.
And in other news ...
The Harvard Square May Fair date has been changed due to inclement weather - It is now May 15...lotta local bands playing...see below for listings.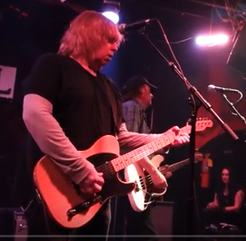 The Real Kids headlined Friday night at The Atlanta Mess Around. Here are a couple videos of them from You Tube:
Better Be Good and Common at Noon

And Kenne Highland was there for The Gizmoz headlining set on Saturday...he should have reports next week.

Papercut Fanzine Library is having a benefit on May 14th (see below for details) visit their FB page and visit their brick and mortar location (10 Ward St Somerville) sometime too!

In case you missed this last week:

Here's is a video of Maria Bartiromo talking about her friendship with Joey Ramone that led up to the song Joey wrote for her.

London is having a whole year of punk retrospective events: "Throughout 2016, London will host gigs, exhibitions and events to commemorate 40 years of punk's ongoing influence through fashion, film, photography, design, literature and of course music. - See more here Let's all check the air fares!!! Time to GO!!

The local hardcore community is lined up for a Celebration of Keith Brooks at the Midway May 20th, all day 4PM - 1AM at The Midway on the 21st...then again at Firehouse 13 on May 22. One of the best things about it is that they are doing everything they can to raise money that day for Emma, Keith's daughter. It's a good time to show up. They have already raised $385.00 on the Go Fund Me page And here is the FB page for the shows check out all the great bands playing these shows!!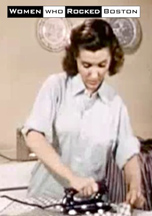 Andrew Szava-Kovats has made it a project that after he does a film he follows it up with a book. That's what he has done with Women Who Rocked Boston. The beauty is that he adds more material in the books. Thus over the transcriptions of the interviews from the movie he has added 20 pages of photos. He also has a whole section on fanzines, showing Miscarriage, Dirt, and a few Boston Groupie News'. Andrew also reproduced our game from 1982 called Clubland. It's all there the board and the cards along with the rules. We always loved that game. He wraps things up with the list of Boston Clubs through the years that we have on our site now BOSTON CLUBS. So this book is a must have for anyone who has been on the scene here for these odd 35-40 years!! You can buy it here - and it's super cheap at $11.99 for a treasure trove of info and memories!!
Here's some good shows coming up.....
May 5 (Thursday) Randy Black and The Heathcroppers are at the Tavern at the End of the World. No cover!
May 6 (Friday) Sunwatchers, Major Stars, Minibeast, and The Modern Voice at the Midway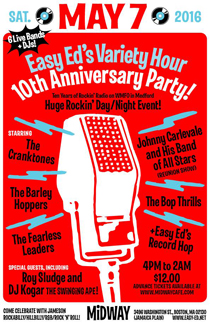 May 7 (Saturday) A Crash Course For The Ravers featuring The Cal Cali Band and Barry & The Remains will be on the show as well!! That's WMFO 95.1 FM 1-4PM
May 7 (Saturday) At the Midway - both Day & Night Shows= ALL DAY!! Easy Ed's Variety Hour 10th Anniversary Party!!! starring The Cranktones, Johnny Carlevale and His Band of All Stars (Special Reunion Show), The Barley Hoppers, The Bop Thrills, Easy Ed's Record Hop and guest DJs and much much more!!!
May 7 (Saturday) Stars Like Ours, Band Without Hands, Violent Mae and Cujo are at O'Brien's
May 7 (Saturday) Jon Macey and his Hummingbird Syndicate will be doing an all acoustic music show at In A Pig's Eye in Salem.
May 7 (Saturday) Mark Cutler (from The Schemers and The Raindogs) and Terry Kitchen (from Loose Ties) will be at the Somerville Armory as part of the Somerville Songwriter Sessions, along with NY songwriter Kirsten Maxwell.
May 8 (Sunday) Dash Rip Rock in town from New Orleans at Store 54. Also on the bill The Titanics!! This is an early evening show- 7-9PM
May 12 (Thursday) UYB (formerly Up Your Bucket + members of Kilslug & AxCx) along with Positive Negative Man and (DJ) Spo are at The Cutting Room in Providence RI (FB PAGE for more info)
May 13 (Friday) Barry & the Remains, Lyres, Cal Cali Band and Muck & the Mires are at ONCE Ballroom -This show STARTS at 8PM The Remains are on at 9:30.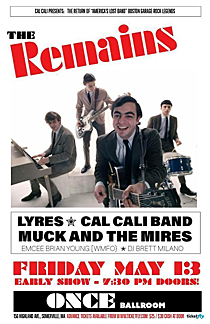 May 14 (Saturday) We loved him...he was unforgettable so the show goes on...Joe Coughlin Memorial- Classic Ruins, John Powhida,MOTO and Alan Shienfeld doing Electric Sludge.
May 14 (Saturday) Benefit for Papercut Fanzine Library at The Democracy Center with Laughing Stock, Piss Dogs, Profit Margin and Destroi 7-11PM, here's the FB page
May 15 (Sunday) The Harvard Square May Fair is today...in Harvard Square...Today Junior is at the Church Street stage at Noon, Township at the Church St Stage at 5PM, The Sheila Divine are at the Main Stage at 5Pm - You can check out the whole shebang here...
May 20 (Friday) Celebration of Keith Brooks at the BWC, with Reason Enough, Penalty Kill, Shrink, Rat Trap and Neighborhood Shit.
May 21 (Saturday) Chetstock 2016 2.0...at Once Lounge...this time we get Harlequin, Xanna Don't (with Peter Phair, Kevin Patey, William M. Hoar III, and Jay Arcari) , The Real Kids, Randy Black, Classic Ruins, The Hopelessly Obscure, Choir Boys and Chelsea Clutch and Linda Viens
May 21 (Saturday) Quenby and the West of Wayland Band, Shiny Beasts and Hambone Skinny are at the Tavern at the End of the World. No cover!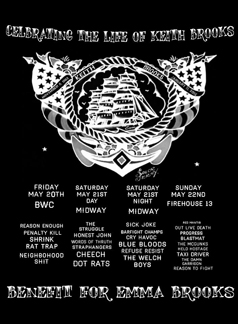 May 21 (Saturday) A Celebration of Life of Keith Brooks (friend and hardcore music lover) will be at The Midway - ALL DAY - From 4-8PM you have: The Struggle, Honest John, Words Of Truth, CHEECH, Straphangers, and DOT RATS -From 9 - 1AM there's The Welch Boys, Refuse Resist
The Blue Bloods, Cry Havoc, Barfight Champs and Sick Joke. One of the best things about it is that they are doing everything they can to raise money that day for Emma, Keith's daughter. It's a good time to show up. They have already raised $385.00 on the Go Fund Me page
May 21 (Saturday) Scissorfight, White Dynomite, Murcielago and Idiot Genes are at Great Scott
May 21 (Saturday) The Founders, Lizzy Borden Band, Girl On Top, Z company are at PA's Lounge
May 22 (Sunday) Kid Congo Powers and the Pink Monkey Birds with Tiger Bomb and The Tarantula Brothers are at The Space Gallery in Portland ME
May 22 (Sunday) At Firehouse 13 the Celebration fo the life of Keith Brooks continues with Reason To Fight, Blastmat, the McGunks, Taxi Driver, Damn Garrison, Held Hostage, Progress, Out Live Death, and Red Mantis - doors are at 2PM!!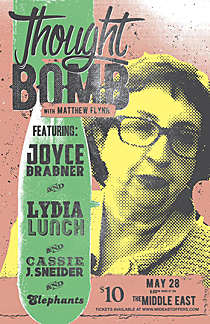 May 26 (Thursday) It's getting down to the final days - and final shows - at Store 54 and this is one of those- its also a GREAT one!....MiniBeast (featuring Peter Prescott) and the return of Akacod featuring Monique Ortiz, Larry Dersch and Dana Colley....Here's the FB page check for updates
May 28 (Saturday) Thought Bomb with Matthew Flynn featuring Lydia Lunch, Joyce Brabner, Cassie J..."Thought Bomb with Matthew Flynn is a show where eccentric writers, stand-up comics, illustrators, etc. get the chance to perform a story and then do a karaoke song with the aid of a live band." Here's the FB page
June 2 (Thursday) Kilslug, Psycho, Horrible Earth, Deathtaker and Mad Gasser of Bostoon at O'Brien's. Mark yr calendars for this one folks, it should be a show you'll not soon forget.
June 4 (Saturday) When Particles Collide are having their vinyl release party along with Aloud at Great Scott.
June 4 (Saturday) The Humanoids along with The Heave Ho, Ass Tractor and The Straight Eights are at the Midway (8PM)
June 5 (Sunday) GREAT all Punk show at The Midway with the Nervous Eaters, Fast Times, Interfectum, and Jumper!...and they're keepin' it in the family with this show...Eater Alan Hebditch's son Nick is in Fast Times!!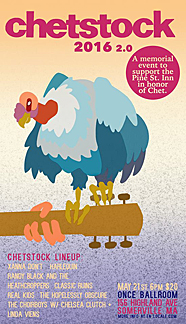 June 11 (Saturday) A day show 4-8PM with Fireking, Big Giant, The First Supper, and Universe Narrows at The Midway
June 11 (Saturday) The Upper Crust, Thee Fabulous Itchies, The Hi-End and Shiny Beasts are at The Midway - there's a lot going on this night- and the show starts at 8PM -check out the FB page.
June 18 (Saturday) Thunder Road has The Dwarves, The Queers, White Dynomite, and Decent Criminal Get tix here.
June 27 (Monday) Pere Ubu at The Sinclair
July 11 (Monday) Guided by Voices are at The Paradise
July 22 (Friday) Fur Purse, Thalia Zedek, Weather Weapon, Phurnne, Death Cloud at the Midway
October 15 (Saturday) The Upper Crust, Hickoids, The Grannies & Devil On Horseback at Once
CONTACT US AT....misslynbgn@yahoo.com - Send us your gig listings, your news and anything else ya got!!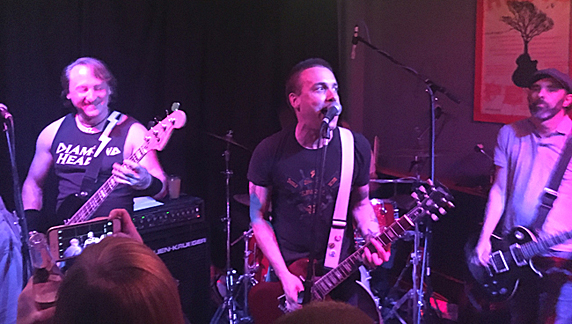 Acrobrats
Photo: Miss Lyn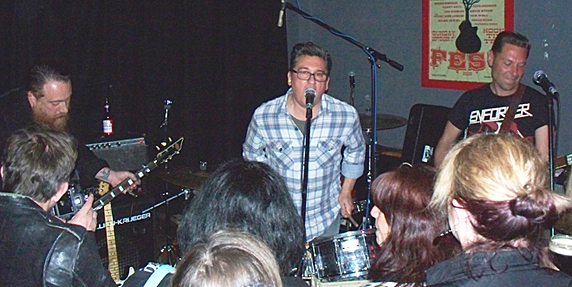 Konks
Photo: Miss Lyn