The BGN News Archive
May 11, 2020
Damn...We have to mark some more passings this week...
We lost Little Richard!!Seemed like he would go on forever! He was 87. He was raw and unruly at a time when that was shocking beyond belief. He put the fear in the straights. He was a proto punk for sure and he will forever stand at the beginning of rock and roll as a figure that embodied its untamed force. Read some more about Little Richard here at NME.
Dave Greenfield the keyboard player of The Stranglers died this week from Covid 19. That early show they did at The Rat was something to remember. Keyboards in punk? He's one of the few that got away with it and made it work. Here's his obit in the New York Times. No one would have predicted attention like that in 1977 when punk was being vilified.


WMBR's Gorrilla Got Me this week was mostly a musical tribute to Greenfield. Those Stranglers songs still sound so good: "Tank"," Peaches ","Strange Little Girl", "Golden Brown", "Hanging Around" and "Go Buddy Go". Sara played them all. Catch the show on the WMBR archives here
Another keyboardist - Kraftwerk's Florian Schneider died this week. He was 73 years old. All those electronic new wave bands of the 1980s owe so much to Kraftwerk. Read more here.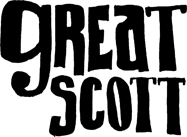 The closing of Great Scott woke everyone up to the reality of what's happening and could happen. As the Great Scott story is slowly revealing it turns out they might have been in a more precarious situation than most. They were on a month to month lease with a very unfriendly landlord.
Allston Pudding is organizing a fund raiser for the staff with an E-gig on Wednesday May 13 at 8pm . It will be on their Twitch.TV channel . More details on the Allston Pudding site.
At this point every club is faced with what is looking like a year of no business. The problems are manifold. That becomes obvious when you even scratch a little below the surface. This WBUR article by Jim Sullivan articulates a few of the challenges.
No matter how bad you think things are they are probably worse. This Rolling Stone article paints a very bleak picture. One harrowing line: "In surveys, we've found many venues [90% as of May 6th, per a rep] aren't sure if they can operate beyond six months."
It's the same story in England. Here's an article on England's Live Music Collapse.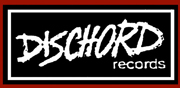 Dischord Records has their entire catalog of albums available free on Bandcamp. Hit the link and see for yourself: Dischord The idea is that you can still give money for the music and if you do that will go right to the artists.
Anngelle Wood of Boston Emissions starts her show this week with the Tanya Donelly version of the Pixies "Here Comes Your Man". If you haven't heard that give it a listen. Tanya did it as a fund raiser for the people at Great Scott: Here Comes Your Man
Circus Battalion are no frills punk and that's what their new album Scumming Attractions is. Only one song goes over two minutes. We've seen them getting better over the course of two years and this recording shows them as a tight punk outfit. We're gonna miss not seeing them live for a while.
"Rat Race" is a live favorite of ours. That one is a swift 1:28. We have it on our Top Ten Songs.
Stop Calling Me Frank are revving up to releasing their next album as the Rum Bar ball keeps rolling. "South of Somewhere" is the first single. The lyrics have someone sitting in a bar - somewhere – as they list some of the songs they hear on the jukebox. Their sound is super sax-urated and oh so identifiable.
Color Killer continues to confound expectations. They posted another song called "My Life Story" it's an MxPx cover. Because the band couldn't get together this past week Lincoln (Zinzola) played all the instruments. Everyone else should just pack it in, this boy does it all! Hear it to believe it – on Bandcamp
Brad Marino got a nod from the Hoodoo Gurus on Facebook who heard and liked his cover of their song "What's My Scene?" off his latest EP. You can hear why, he captures a lot of the Hoodoo magic in his cover. Give it a listen: What's My Scene?
And through it all Rum Bar Records rocks its way along, this week they released a tightly packed rocker by Live Ones. "Right On, Sister" takes the sixties slogan and adds "crash and burn" and "think about it" that they slot in regularly to punch up the vocal line while the music pumps with a compact group sound. It must be very good because we just listened to it a dozen times in a row. We have it on our Top Ten Songs
On Saturday Rum Bar pushed out "My Mom" by Electraluxx. It's a cheeky low-fi garage hit. The group are saying that: "My mom will kick your mom's ass." They do that in 1:53, but they could have knocked a minute off that. It's free, get it for your mom and say you recorded it yourself for her!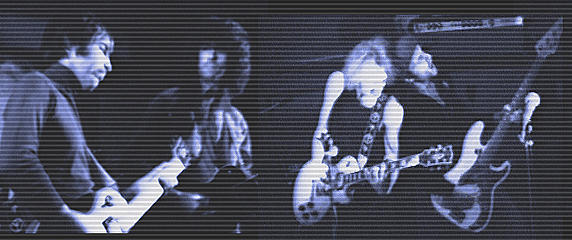 Nervous Eaters at The Club 1979
Jan Crocker at Kinodv.net has come through again with another classic set from Boston' s punk history. This time it's no other than the Nervous Eaters at the Club from 1979. It's a full set. Set list: Necessities, Don't Write to Me, Someone Else in Your Arms, Go Get Stuffed, Girl Next Door, After the Good Times Gone and Where's Johnny Now. The last night we were out before the pandemic we saw the Nervous Eaters. They have been consistently great all this time. Watch it HERE!!!
Here's a new video from Rawstrum. Bats
Crow Follow's Virtual Video Release Party - A Benefit for ZUMIX featuring Crow Follow, Thalia Zedek, The Skirts and MC Linda Viens
This week's The Damned Show is Memories of Monty Oxymoron # 2. "Coz of these vids, we're getting to know Monty, and he's a very appealing character. MoMO#2
Then Captain Sensible talks about the time they played the Old Grey Whistle Test. They play "Smash It Up" and a wild version of "I Just Can't Be Happy Today" where they actually do smash it up!! Check it out here.

We mentioned the Drive In Concert idea last week. This week the Tupelo Music Hall announced that they would convert their place to a drive in. They said, " To morph the Tupelo into a drive-in setting, Hayward said patrons would buy tickets in advance, one ticket per car. People would then drive into the venue location, show an email confirmation and then would be guided to a parking spot safely distanced from others. People can remain in their cars and listen to the concert via Derry FM radio station or get out and sit in a chair on the driver's side, still maintaining safe distance." Cool idea, read more here.
Somerville's ArtBeat (Website) is looking for proposals for things just like a Drive In Concert: ArtBeat Ideas Welcome!
If you have a proposal for a safe creative activity, performance or installation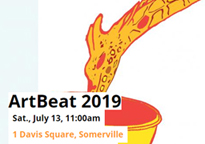 for ArtBeat, let us know. Perhaps an city-wide sidewalk chalk drawing project, showcasing artwork in windows, virtual performances. You tell us! Please send proposals answering these 4 questions to: rstrutt (at) somervillema.gov
1. What is your proposal?
2. What are logistics involved and how will project/performance comply with safe protocol re: Covid-19?
3. What size and what type of audience will be served?
4. Proposed budget

From PLease Kill Me - Shooting Stive Bators and The Lords of theNew Church by Chris Epting who was a student at Emerson when Stiv offered up the idea of following the band making a film like Gimme Shelter. Read it here.
And watch CBGBs live 1977 Ramones, Dead Boys, Blondie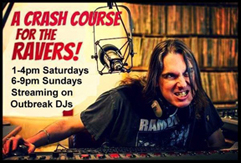 We have been listening to more radio than usual. That's sort of taking the place of some shows. WMBR is doing the remote DJ thing. Crash Course for the Ravers continues to be steady. They have effectively increased their air time to twice a week and even grabbing more time slots when they can. But they are always scheduled for Saturday 1-4 pm and Sunday 6-9 pm on Outbreak DJ's - Hit Pop Up Player or Mobile Player to hear the streaming show.
The last Back Porch Carousel was very successful in raising money for the Tavern at the End of the World staff. On Sunday May 17 at 7pm they are doing it again for the Plough and the Stars. It's a similar line up with Adam Sherman, Randy Black, Linda Viens, Sarah Levecque and Harry Zarkadas. The extra quest this time is Lauren Parks.
Watch it at the Back Porch Carousel Facebook page.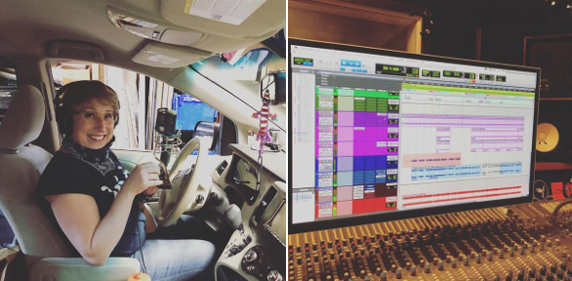 Simone Berk recording in her car at Zippah Studios
There is Carpool Karaoke, so it's just a short jump to recording singers in cars. Thinking outside the box Brian Charles put a studio microphone in Simone Berk's car parked outside the studio to record her vocal to a song where the backup tracks where already done. It's a small victory that makes us feel good and it's a way ahead that others can copy.

The Brattleboro Museum of Art is extending their current shows through October 11. That means there will be more chances to see MOB's Roger Miller exhibit Transmuting the Prosaic. Roger will also be doing a livestream on Friday 29 billed as a "solo electric guitar ensemble performance".
They further state: Six Dream Interpretations is an updated version of Miller's Elemental Guitar work from the mid 1990s. It features Miller on a customized Stratocaster six-string, three altered/prepared lap-steel guitars, a new looping device, and many sound-altering tools. It's just Miller, but with the looping device there are often three or more guitar parts heard simultaneously — hence, solo ensemble.
Deep Thoughts got on the short list of record stores to visit online in the very influential Pitchfork website. Congrats. Deep Thoughts sells through the Discogs site.
---
Here are some upcoming online performances: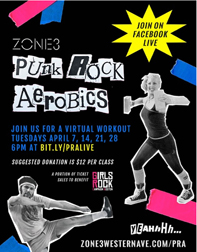 May 12 (Tuesday) Punk Rock Aerobics Facebook Live, 6p And watch episodes here!!
May 14 (Thursday) John Hovorka Solo Show - at home! 7-8 Pm Watch here.
May 29 (Thursday) WhistleStop Rock Festival: Virtual Show 7-9PM Watch it here
John Doe Live Facebook performance - you can watch it here.
---
Here are some shows to look forward to after things are hopefully back to normal....maybe.....
June 14 (Sunday) Fourth Annual Out of the Blue Art Gallery Benefit FB page for more info as it comes.
June 27 (Saturday) Stop Calling Me Frank, Nat Freedberg, Brad Marino at The Square Root
June 28 (Sunday) The Amplifier Heads, The Thigh Scrapers, 1.4.5., The Stigmatics at The Midway 3-7PM matinee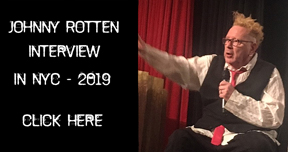 July 3 (Friday) Andrea Howlett's X-Ray Specs Tribute Show at The Square Root
July 18 (Saturday) The F U 's, GLiDER, Screw Cart at 9 Wallis Beverly
August 10 (Monday) (moved from 4/6/20) The Knock Ups, blindspot, Gene Dante & the Future Starlets at Charlie's Kitchen
September 4 (Friday) The Zulus at The Paradise
September 17 - 21 The New England Shake-Up! Year Seven! in Framingham FB page
CONTACT US AT....misslynbgn@yahoo.com Send us your gig listings, your anything else ya got!! You want your CD reviewed?? Contact us for that too.