The BGN News Archive
May 10, 2021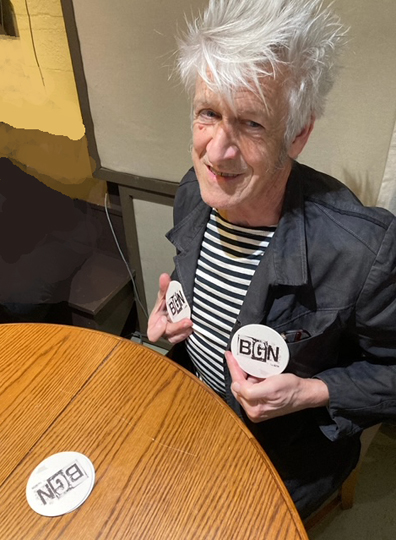 Willie Loco with BGN coasters

If you 've been reading Kenne Highland At Large here on the BGN you know that Kenne Highland's Airforce (Kenne's new band) have been recording for several months at Lowell Street Studios in Beverly. Well Kenne was talking to Willie Loco Alexander who said "I feel divorced from music." So Kenne had to fix that! He had WA as a guest in the studio for a few numbers that will be on the upcoming album on Dino Records.
This past Saturday they recorded The Stooges' "Down On the Street" done John Lee Hooker style and Kenne original "I Need a Bromo Geets Romo" which is "vamping over a two chord riff ala Season of The Witch", with WA on piano for both songs. Then there was, the as yet untitled ode to Asa Brebner with Willie talking about Asa while Keegan channeled "Zoot Sims backing up Kerouac" on saxophone.
Willie was there for about 2 or 3 hours and was chauffeured to and from by Bass player Larry Newman . Then that the Airforce continued with a cover of The Byrd's "Mr. Spaceman" with a couple of new lines thrown in (we are talking Kenne Highland here!!): "Must be the strangers who comes every night. I look up at my ceiling. and see the lights"...."In the morning before I butter my toast I've been listening to Coart to Coast." In reality Kenne hasn't graduated to the toaster yet but he now knows how to operate a microwave.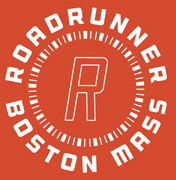 Vanyaland reports that the new club called Roadrunner operated by Bowery Boston, will open in the Spring 22. it's on Guest St in Allston/Brighton. It's right near the Sound Museum and the Stockyard restaurant. Its capacity is 3.500. But there has been a lot of talk about this being a venue that will not be friendly to local bands. That's too bad!! .....The article is here Vanyaland. They already have a Facebook page, a website, and Instagram and Twitter accounts.
We wonder if they discussed the name and slogans with Jojo??:
"To us, the song 'Roadrunner' so authentically belongs to Massachusetts and this new venue. There's a reason why it came close to becoming the official state song: it's transportive while still unifying people,"
Just like the NYC Tompkins Square outside show a few weeks ago, a Los Angeles punk show got out of hand this week. There where about 2000 punks together under the 110 Freeway...maskless etc... At one point the police shot rubber bullets into the pit. There were no arrests and no injuries reported. That's a positive. read and see videos here on Loudwire.
Gary Numan is doing a global live stream on June 18. Tickets ($30.00) here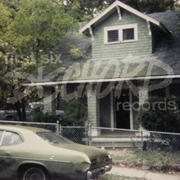 Dischord Records is reissuing their first six vinyl singles with their original artwork in a Box Set for $50.00. They are all EP's: The Teen Idles "Minor Disturbance" , Dischord # 2 - SOA "No Policy", Minor Threat "Minor Threat", Government Issue "Legless Bull", Minor Threat "In My Eyes" and Youth Brigade "Possible". These are all hardcore classics. All six records have been remastered, and come with a 12-page booklet.
It's only available through pre-order. The window for placing orders will be limited to one month (May 11th until June 11th, 2021). So if you want it, go order it now HERE!
Last week we reported the unexpected passing of Bad Movies' Linnea Sturdy. Her mother, Melissa Sturdy, has created a Go Fund Me page to generate a scholarship promoting science programs for girls.
Melissa says:" Please contribute $5.00-$50.00 to send a teen to a science program in Woods Hole, MA. This year we will send a teen who has a love of science and who needs the scholarship to attend the Penikese Island Camp this summer. Please help build Linnea's Science Scholarship, I am so very grateful for this opportunity to send a girl to a science camp in Linnea's name." Please donate and read more here.
Paper Tigers had the third part of their video project shown on Once Virtual Venue. They recorded a short live set at The Faucet Thrift store. Unfortunately it was dark there but the music made a strong impression still. They were really pounding it out. The group has been active this year and it seems to us that the performances are getting even more assured and tighter. Video below.
Rexxx from Milwaukee sent us their video"Lost Cause". It's well done and the song is a catchy pop punker. The video has some extra mood setting material at the beginning and end, in a way that detracts from the snappy song. There are bits in both the vocals and guitars that hang in the ear. Video above.
Hey, Do you listen to the Late Risers Club? They have a super-fast survey for you. It's here, go on take it!!
JJ Gonson (Cuisine en Locale and Once) received an award from Alignable, an organization of Small Business Owners, for being a "Local Businessperson of the Year 2020-21". We second that pat on the back. Gonson had a pro-active and innovative response to the crushing Covid landscape. There was no road map for what to do. She kept things moving as she has positioned the Once ballroom for business after the pandemic quarantine. Award website.
Want to wallow in punk for a few hours?
The documentary Salad Days about the DC scene is on YouTube. There are plentiful photos, music and intelligent talking heads. It's almost two hours long. There's lots of Ian MacKaye and Henry Rollins, Fred Armisen and David Grohl get in there. The film shows how the DC hardcore scene went through several phases as the music morphed.
And The Brattle Theater this week is showing Punk The Capital.
This film is the first to explore the incredible challenges that this subculture faced when it took root in the Nation's Capital in the late 1970's (whereas Salad Days starts with the 80s). Punk the Capital situates DC punk within the larger narratives of rock n' roll, working as a powerful multi-layered story for both fans and non-fans of punk rock. Featuring musicians such as Bad Brains, Henry Rollins, and Ian MacKaye, this film dives deep into the ideas and sounds from this transformative music scene which continues to be influential culturally and politically around the world. You can watch it here. $12.
We viewed the movie at a showing at the Middle East in September of 2019. We talked about the film in our news that week...More on Punk the Capital in BGN.
Then you can .....
Play this History of Punk: Sound of Rebellion. It's a documentary of punk that hits all the right marks. It's been around for a while and you know everything the movie covers, but it's still entertaining to watch. Video below.
MPRV publishes DIY UK hardcore videos on a regular basis. Eash week they show three bands. This week it's Disjoy (Wales), Casual Nausea (Ipswich) and Dischord (Blackpool). We think the Casual Nausea is the winner here. They have some melodic riffs at the core. The whole thing is a fast seven and half minutes. We're going to try and keep up with this regular video release. Video above.
Yet another fashion designer sucking up to punk for inspiration. This time it's Maurizio Tedeschi with the clothing line called Corelate. The collection is called "My Grandpa Was a Punk"!!!
The article in Dazzle says: "Though it's now been almost 50 years since the likes of the Sex Pistols and The Clash rampaged through the capital, the spirit of punk can still be felt on runways around the world. The latest to draw inspiration from the iconic movement is Italian label Corelate, whose SS20 collection My Grandpa was a Punk taps into the era's energy and style." The designer says he drew from the Sex Pistols, Bow Wow Wow and Adam and the Ants. You can read more here...and they have a link for the word "punk" to explain it better to the uninitiated.
The Prefab Messiahs continue to reemerge. They have a new video premiering on the Brooklyn Vegan website for the song "Bubble". That will be the forerunner single to their album (Music for Concerned Citizens) release on July 9. "Bubble" has it's Bowie references up and center. The video is the usual color saturated affair that have marked the Messiah's previous videos. Article in Brooklyn Vegan.
RADIO..............................

Skybar promises to play the new Watts album in its entirely this week on his Rising show. Watts' guitarist Dan Kopko, will also be a guest. Rising is on WMFO at 8pm on Tuesday. You can hear it streaming at WMFO https://www.wmfo.org/
we'll say it again: Hey, Do you listen to the Late Risers Club? They have a supe-fast survey for you. It's here, go on take it!!
PODCASTS....................
This week on Blowing Smoke with Twisted Rico Steeve talks with Keith Bennett of Panzer Bastard. He has a long history on the Boston hardcore scene. Steeve ends the show talking about The Outlets and the perenial question: why weren't they huge?
CDs / MUSIC.......................
You've got to hand it to The Forty Nineteens who, after a real downer year, give us an album full of rock and roll fun. The whole thing has a good spirit to it that is very welcome now.
The album has a 60's feel to the songs and they actually have Tony Valentino of the Standells' on "Late Night Radio" that adds to that. "Tell Me" has that irresistible "I Want Candy" beat. They put little twists to make it their own. We put "Tell Me" on our Top Ten Songs
They ape Elvis in "Were Going To Las Vegas" and re-rev up the hot rod fad with "Go Little GTO". Those songs add to the playfulness of the album.
It's obvious after a few cuts that you are in the hands of an experienced crew. Everything from the song writing to the production fits together with no seams.
We talk of the Prefab Messiahs above. You can preorder their album, Music for Concerned Citizens, now on Bandcamp. Right now they have two song available as a preview. One is "Bubble" the other is "When Things Fall Apart" a tasty garage psych tune. That's a style we love.
They got that 60's thing down in the music but their lyrics are more about the here and now.
It was like Christmas day to find a new DNZL album on Bandcamp!! And you know we LOVE DNZL!! Its eight songs all pounding hardcore and all refering to Denzel Washington films. That's what DNZL does and it makes for some intense high stress musical and dramatic moments.
This album does a bang up job presenting their vision. Frontman Mel Alington is half singer, half actor. He transfers the dialog and the movie situations of Denzel's movies into the songs. When you know what's going, when you see it live, it is one novel experience.
Many of these songs we know from the live show. We're putting "Fences" on our Top Ten Songs.
Rum Bar latest discovery is Adam Brown. They have "Get Up" now on Bandcamp. It's a lot about the vocal which is up front. Adam has a voice with a lot of presence. The recording itself has a raw and immediate feel to it. There are all sorts of things going on in the arrangement in the background which makes things very interesting.
"Get Up" is part of an album called What We'll Never Know which is up on Bandcamp and available in vinyl. The attributes of the single are also evident in the album. This is an artist to latch on to.
Here's some good shows coming up (live stream and actually LIVE!! .....

May 21 (Friday) and May 22 (Saturday) 10AM-2:30PM - Boston Rock City: Explore Wikidata and Learn about Local Music (this is an online event) help search for and compile info concerning bands that will be used for the Arthur Freedman Collection at Loeb Music Library. For info and to register in advance: Here.
This is a very interesting and improtant event for Boston punk. See THIS PAGE for more infomation.
May 22 (Saturday) Diablogato and The Devils Twins at The Porch in Medford (Tix and info here)
May 27 (Thursday) Virtual Video Atomic Fez Fundraiser for Boston - A Benefit for Boston Area Local Music Venues starts at 8:15PM.
The beneficiaries are: ONCE, The Midway Cafe, The Jungle, The Square Root, Sally O'Brien's, The Magic Room, O'Brien's Pub, and KOTO, with more to be added. And the list of performers and special appearances is LONG!!! Read more - and donate- here. and watch for the BGN spot along the way!!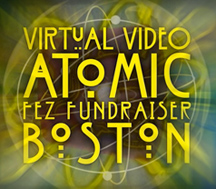 May 28 (Friday) The English Beat are at the House of Blues.
May 30 (Sunday) Color Killer with The Prozacs - a free, live Facebook event. FB page.
June 3 (Thursday) Today Junior play live at The Jungle patio on June 3. Playing with them is Dutch Tulips. That's a good bill. But you can watch at home because it will be live streamed on Once Virtual Venue as well. Tix and Links on the FB event page.
June 3 (Thursday) The Grommets and Trusty Sidekick are doing a live stream at the Midway on June 3, 7 to 9:30pm with . The Facebook event page.
June 11 (Friday) Linnea's Garden and Home Despot are doing an outdoor show at The Jungle but it is sold out already, sorry!! But you can see Linnea at Dusk.....
June 13 (Sunday) Phantom Ocean, Linnea's Garden, and Heather Rose In Clover at Dusk! Outdoors, 4PM!
June 17 (Thursday) M8 with Motel Black - this is a LIVE show 40 people - Max. Masks and social distancing required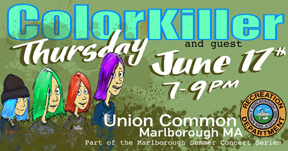 June 17 (Thursday) Color Killer at Union Common Marlborough Ma @ 7PM. outdoor show.
June 18 (Friday) E w/ Omoo Omoo at Nova Arts in Keene, NH. FB page
June 19 (Saturday) The Jacklights and Double Star Live stream from The Midway Cafe FB page
June 24 (Thursday) This should sell out fast – Tommy Stintson of the Replacements will be doing an outside house show in Mansfield, MA on June 24 with his current duo set up called Cowboys in the Campfire. Tickets at Eventbrite.
August 14 (Saturday) Kid Gulliver has a Record Release Party at Dusk in Providence. It is not listed on the Dusk Facebook page yet but here's a link.
September 3 (Friday) The Zulus rescheduled show at The Paradise - doors 8PM, music 9PM. FB event page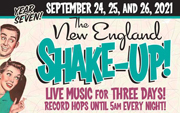 September 24, 25 and 26 The New England Shake Up is back. The rockabilly festival will happen this year in Framingham. The line-up of bands is way long. They also have a picnic record party 11AM-4PM on Saturday the 25th with Barrence Whitfield spinning vinyl. Get more details and ticket info on their website.
September 30 (Thursday) Nervous Eaters/Barrence Whitfield/Willie Loco and the Boom Boom Band/Carissa Johnson at the Paradise . Get Tickets Here!
CONTACT US AT....misslynbgn@yahoo.com Send us your gig listings, your anything else ya got!! You want your CD reviewed?? Contact us for that too.
---