The BGN News Archive
May 20, 2019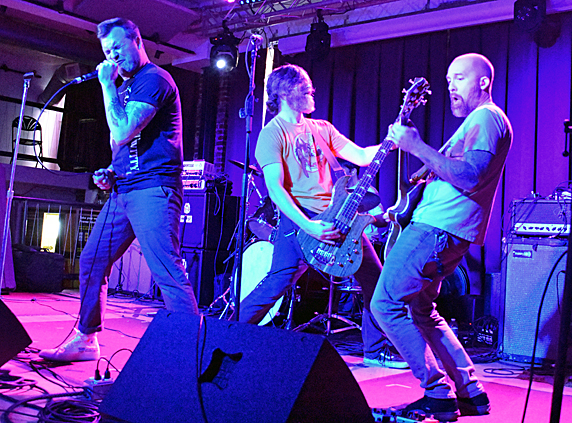 Labor Hex
Photo: Blowfish
---
Wednesday we trudged up the two flights of stairs at the Hong Kong Restaurant in Harvard Sq. The draw was the Thalia Zedek Band.
One difference this time was that there were actually some people there this time. There were about 50 people and it was a party atmosphere. One reason was that there was a party – for Dave, who everyone seemed to know (not us). The lineup of bands knew each other and they drew their friends.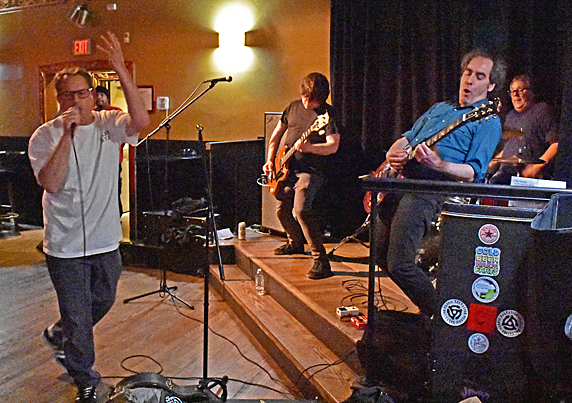 The Gromfins
Photo: Blowfish
The Gromfins had a fun set playing a West Coast hardcore set. The group had members of the Major Stars who were playing later. We sort of figured this out but there was no explanation of why it was a set of West Coast hardcore. Not that it mattered, it was a cool set.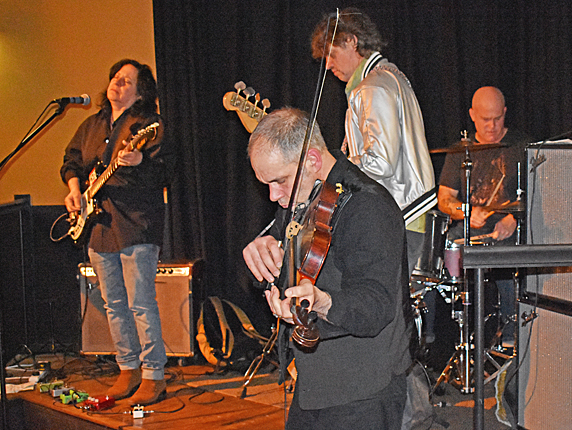 Thalia Zedek Band
Photo: Blowfish
The Thalia Zedek Band did a fast set up. All their material went deep. Their serious tone makes most bands sound like they are dealing in trivial matters. Everything telegraphs that this is something you should pay attention to. What you first notice is Thalia's lower range voice that has its own tenor and the concentration of the whole band as they work to get that sonic imprint that reflects the lyrics.
The whole set put us in a reflective mood. Some of that is from the tonality of the viola. It's not your usual rock instrument. But the viola player was getting feedback, plucking the strings, and using pedals to widen its normal spectrum.
Hilkin Mancini did one song as a quest vocalist.
Thalia has had a long and interesting career. She's pursued different styles of music and kept things interesting for her and us. She's one of Boston's best and she is at the top of her form still.
The Hong Kong is turning into a nice night out. They have some big bouncers who are very nice to interact with and they have no attitude at all.
We saw Triple Thick in March but felt we needed another dose and on a Thursday the parking is possible near Sally O'Brien's in Union Square.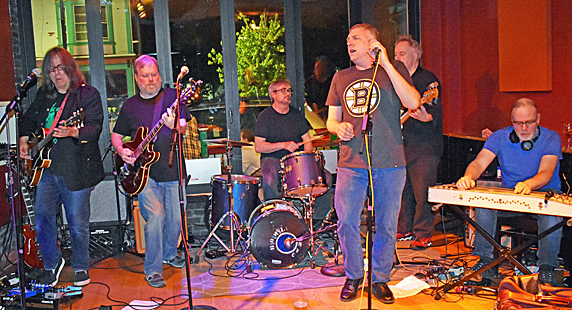 Trusty Sidekick
Photo: Blowfish
We saw most of Trusty Sidekick's set. There's so much talent in that band. We got caught up in a run of three songs that were slightly psychedelic. That was coming from the ensemble sound that had the two guitars working hard and then a steel guitar hitting those high slides. Moby Grape came to mind. The second song had a chord progression that mimicked "Volunteers" by Jefferson Airplane. You can hear that in the video below.
The singing by Tim Carey was the topper. It's what he's singing and how he's singing together that makes it special. The lyrics seemed like they were worthy of checking out. He delivered them with an urgency and passion that made you feel like this was something that mattered.
They then played two songs that broke the spell for us. One had a disco beat; that's a deal breaker. The other had a sea shanty origin. Near the end of the set the steel guitar player used a Ebow and that effect was other wordly.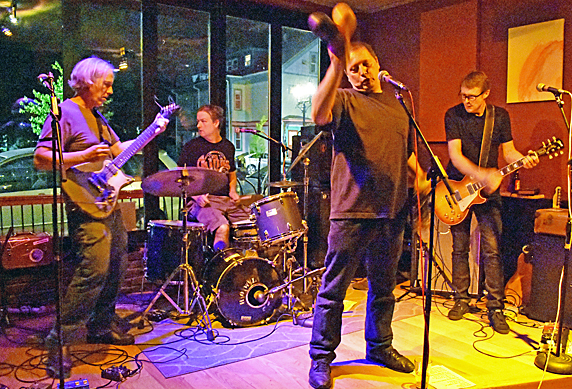 Triple Thick
Photo: Blowfish
Triple Thick are a constant in the midst of all the changes on the scene these days. You know you're going to get a set of short and catchy garage. The songs are indeed brief. There are times when you expect the next verse is coming when it stops short. "That's it??" you think. Then you realize it was all there in that minute. So, you get ready for the next one.
They did 16 songs in the set (The Set List). Some of our faves are: "All Banged Up", "I Like Chicken", "Dragging You Down", "Drive All Night" and "On the Back Road". But the best were the last two. "Taking Over My Mind" which is sort of horror psych (if that's a thing) and the obscure cover of "Walking Over My Grave". We have videos of those below. Long live Triple Thick!! There weren't many people in the club and that gave the night an intimate feeling.
There was an insane amount of music going on Saturday. It was a hopeless FOMO.
We picked an early evening show at Sonia to see Labor Hex. This was the third time we've seen them. The performance was much like the Once show we saw last February.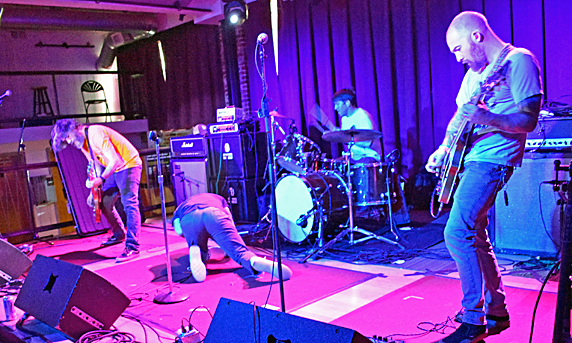 Labor Hex
Photo: Blowfish
They looked very at home on the big stage. At this point we can't imagine them playing the small O'Brien's stage where we first saw them. On the big stage you could see the drummer really going at it, he benefited from the mix. The bass player roamed the stage and throws his bass in the air to add some excitement. The guitarist uses his pedal board to be a one man guitar orchestra. His sound was so big and busy it was hard to figure out what he could be doing as far as the effects go. Their overall attack was loud and pounding without getting into metal or hardcore.
At the center is vocalist Evan who channels a serious force of some kind. He sings so you can just catch the words here and there over the din, rather than say throat singing which a lot of similar groups would do. He's singing at top levels but still gets melodic and can twist a phrase like in "Red Tape". He had his patented move where he does a sudden knee drop as he clasps the microphone and pours out the lyrics, sometimes with his foreheard on the stage floor. Near the end he ended up in the audience and then again on the floor. They got a great reception from this audience which was mainly here for the other bands.
We're looking forward to some more material from them and they are currently recording. It's worth hitting their Bandcamp page to hear their only EP Labor Hex.
Sonia pumps up the bass and drums in the mix so you feel like you're getting body punched all the time. That seems unnecessary but it's the way they do it all the time there. The club eventually filled up for this bill which included Uniform and Wear Your Wounds.
It was a hard choice what to do next but we ended up checking out the new club in Roslindale Center called The Square Root. It's owned by Toni, the bass player of the Hi-End who were playing along with The Thigh Scrapers and The Worried.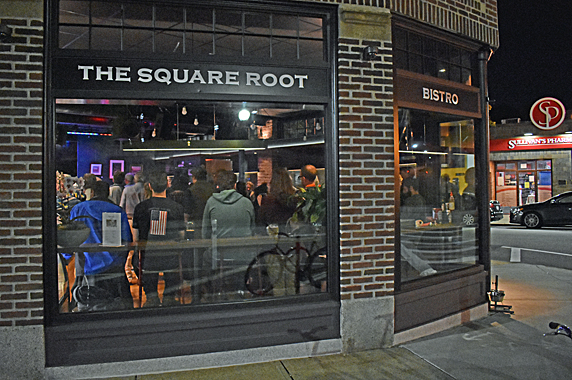 The Square Root
Photo: Blowfish
The club is at the beginning of the main drag in Rozzie, right across from the commuter rail station. It's tastefully decorated. The colors are black and dark green on the walls along with some exposed brick that is nicely side lit, the wooden floors have a high gloss going on. It's a small club but there is good floor space along with some tables and chairs and of course a big bar.
The place was full up for this night. The club is welcome especially for people who live in that side of town and some of them were there. Right off we saw Mr. Curt and Miss Donna who had already been to the club a few times. Mike Howlett (A Bunch of Jerks) and wife were able to walk to the club. Also there was Carl Biancucci, Pat Moynihan, Babs, and Simone and David from Kid Gulliver.
We missed The Thigh Scrapers who can now claim to be the first rock band to play the club. History, please take note.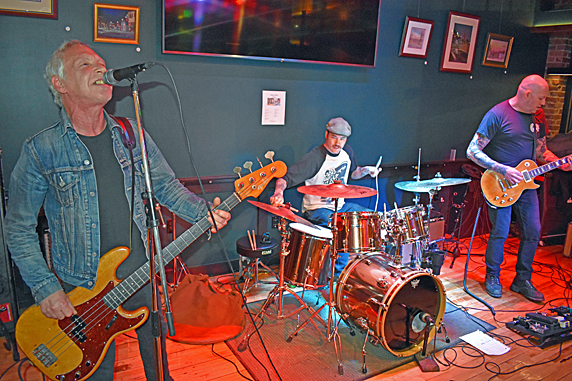 The Worried
Photo: Blowfish
We were impressed with The Worried from Cranston who pumped out a hard rock set. There seemed to be no volume concerns as they hit material with a metal tone. The guitarist had a clear Les Paul tone and crafted some meaty licks. The drummer had two pedals on his bass drum, so he was able to do rolls on it. We never saw that before. They ended with Blue Oyster Cult's Dominance and Submission.
The opening day crowd was cheering them on all the way as they did the Hi-End. Tony on bass was low key, you never would guess he was the main man here. We love Curt's guitar playing (see our Curt interview!) but it's really his interaction with Bruno the other guitar player that makes the driving core of the group. Then there was natural born frontman Johnny Carlevale that always steels the show. Johnny has been through a lot of musical changes and different looks but he never fails to be the focus on stage.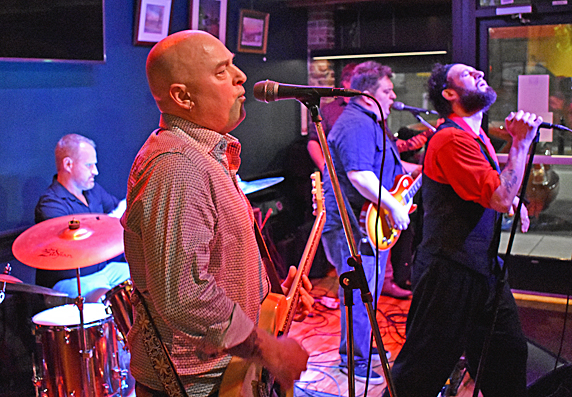 The Hi-End
Photo: Blowfish
We can see ourselves hitting this club a lot. It's not in Boston proper which just makes the whole club going process so much easier. They had food too which we will sample at some point. Welcome Square Root!
They are very new so their website is still bare but they do have contact info for booking. They also have a Facebook page
Click Here for more band photos.
---
And in other news.....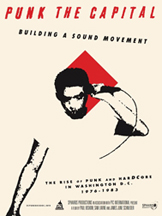 Punk the Capital: The Rise of Punk and Hardcore in Washington D.C. from 1976 to 1983 has been a long time film project by James June Schneider, Paul Bishow and Sam Lavine that has just finished up. Its subtitle tells it all. World premier is at the American Film Institute on 6/29 in MD and the Hirshhorm Museum on 6/30. After that they take the film on the road starting in the fall. Check out their FB page for more info.
Moving Targets has a fundraiser going to support the recording of a new album called Wires. It's their first recording in 25 years!! They've proven themselves these last few years with some pretty great live shows. Our last time seeing them was at the Middle East down last July
This IndieGogo campaign will help pay for studio recording costs, mixing, and mastering and help pay all shipping costs included with the perks. The campaign will feature such unique perks as handwritten lyrics by Kenny Chambers or a private Skype solo concert where you pick the songs. Release date to coincide with the band's Fall European tour 2019. Get in on it here!!!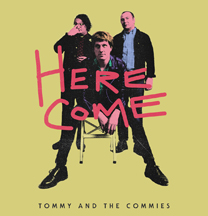 We didn't see Tommy and the Commies from Canada until this April But their LP came out last Septemeber...Listen to the sample cuts of Here Come... and see if you don't want to get this immediately. It's on Slovenly Records here.
The Boston Beat continues to add interviews to their Podcasts. This week they have: The Classic Ruins (Frank, Carl, archival Billy Borgioli & comments from Kenne Highland), Billy Connors from the Boize/Cadillac Heart and a two part interview with Bruce Arnold from Orpheus. Check it out here Boston Beat
We have some reading assignments this week......
Theo Greenblatt, from Subway News fame, has another piece posted on Mojo, online literary journal, called "La, La, How The Life Goes On" which deals with how records can be the markers of our lives. You can read it here.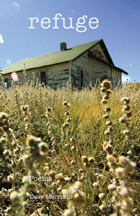 Dave Morrison, ex Trademarks/True Blue, has another book of poems out called Rufuge. He has become a voice we respect. We just ordered our book, you can order yours here….https://www.amazon.com/Refuge-Poems-Dave-Morrison/dp/1791985998
This searing light, the sun, and everything else: Joy Division: An Oral History, by Jon Savage was just published in April. There's a nice excerpt on Literary Hub. Read it here. And you can get the book on Amazon.
There's a short interview with Donita Spraks of L7 that "takes readers on a wide-ranging journey of movies, funk, the Ramones, the Beach Boys, Andy Warhol and more than shaped her".. It's in Forbes Magazine of all places. Read it here.
Book reports due in next week! HAHA!
---
Here's some good shows coming up this week.....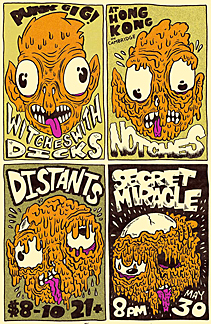 May 20 (Monday) Coffin Salesman, Molly Rhythm, Talk Me Off, Double Star at Charlie's Kitchen

May 22 (Wednesday) GLiDER live! On the Town w/MikeyDee~91.5 FM/wmfo.org live stream

May 23 (Thursday) Swivel and Modern Day Idols at The Jungle

May 24 (Friday) Classic Ruins night at Tavern at the End of the World

May 24 (Friday) Zip-Tie Handcuffs, Teen Mortgage, Bruvs at O'Brien's

May 24 (Friday) Radium Girls 7"party with Happy Little Clouds and Abbie Barrett & Band at The Lizard Lounge

May 25 (Saturday) The Cranktones at Atwwod's 4-6PM

May 25 (Saturday) Born Yesterday and Carissa Johnson solo! All shows are ALL AGES! at The Square Root Roslindale VIllage FB page for address etc. (2 Corinth Street)

May 25 (Saturday) Lara Hope, Jittery Jack & Amy Griffin, The Demon Seeds at Opus! Salem

May 26 (Sunday) Scurvy Dog Parking Lot Mega Show with 11 bands starting at 2PM FB page for info

May 26 (Sunday) Roy Sludge free show at Sally O'Brien's, Somerville, MA 6-8:30PM

And further out there is.....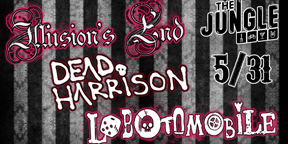 May 27 (Wednesday) Natterers, Yooth Decay, SAP at O'Brien's Pub
May 31 (Friday) Stubborn Heart, The Hi-End, Benny Sizzler, The Worried at The News Cafe Pawtucket RI
June 1 (Saturday) Vicky and the Vengents, Muck and the Mires, The Electric Mess at The Midway
June 1 (Saturday) Kal Marks, Lady Pills, Banana, Aneurysm at Great Scott
June 2 (Sunday) Slimedog's 22nd Annual Punk Pizza Poetry Party featuring Kermit's Finger, Cry Havoc, Jerry's Got Jokes, The Grommets, Jake Tringali (between sets) at The Midway 3-7PM
June 2 (Sunday) the second Out of the Blue Benefit with a TON of bands….starting at 2PM -this is in order of appearance: Club Linehan A Go Go, Mimsey Mack & the Skinned Knees, Bob Cenci, Richard Mirsky Band, Randy Black & the Heathcroppers, Thee Fighting Fish, Climate Change Band, The Stigmatics, The Laces , The Thigh Scrapers, Gary Shane & the Detour, Sara Billingsley & Friends, GLiDER, Baabes, Butterscott. FB page for more info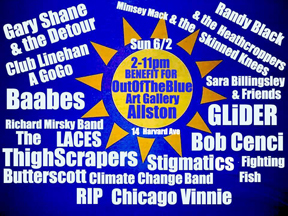 June 5 (Wednesday) Mad Painter Live at WMFO 91.5 10PM
June 7 (Friday) The Natty D's, FiDEL, Coffin Salesman at The Jungle Union Sq Somerville.
June 7 (Friday) KCUF, Secret Spirit, Oh The Humanity!, The Runouts at O'Brien's Pub
June 7 (Friday) 61 Ghosts, Cal Cali Band at Tavern at the End of the World.
June 7 (Friday) Jittery Jack & Amy Griffin at The Book & Bar, Portsmouth
June 8 (Saturday) Medical Maps, Peachfuzz, Triple Thick, Church & Puppets at Union Tavern (formerly PAs)
June 10 (Monday) Cook Bag, Voice of Addiction, Local Cult, See This World at Charlie's Kitchen
June 12 (Wednesday) Glider will be on the Heavy Leather Topless Dance Party. Check out the FB page for access. 8:30-9:30PM
June 13 (Thursday) bloom., Smilin' Issac, Threat Level Burgundy, The New Limits at The Hong Kong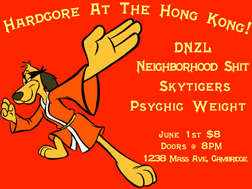 June 13 (Thursday) Order 66, Circus Battalion, Deranged Youth at the Jungle
June 14 & 15 (Fri. & Saturday) The Fuzztival at Once Ballroom.
June 15 (Saturday) Thee Fightin' Fish, The Billy Connors Project, A Bunch Of Jerks, Club Linehan A Go Go - 3-7 matinee at The Midway
June 15 (Saturday) The Daylilies, Justine and The Unclean, The Chelsea Curve at Sally O'Brien's
June 15 (Saturday) Silver Screams, Brix'n Mortar, The Downhauls at Atomic Cafe (Cabot St Beverly)
June 15 (Saturday) The Gala, Zip-Tie Handcuffs, Ben & Jolly Janes, Green Pieceat at UnchARTed Lowell
June 16 (Sunday) OC45, Hobo Chili, C.O.B., DNZL at The Midway a benefit for the New England Center and Home For Veteran's 3-7PM All Ages
June 18 (Tuesday) Deaf Poets, Black Beach, Friendly Psychic Strangers at O'Brien's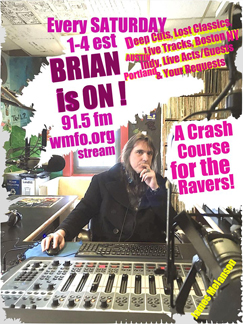 June 21 (Friday) Sky Tigers, Secret Spirit, The Lipstick Boys at The Jungle
June 21 (Friday) Kid Gulliver, Stars Like Ours, The Rationales at Sally O'Brien's
June 22 (Saturday) It's Quincy Porchfest!!! At 62 Prospect Ave Quincy you can find - Order of appearance starting at 1pm and every hour on the hour- The Fringe, Thee Fightin' Fish, The Stigmatics, Baabes, Glider, The Thigh Scrapers, Charlie Don't Surf a tribute to The Clash FB page for directions etc.
June 22 (Saturday) The Gala, The Dazies, Haunted Horses NYC, Lockette at The Midway
June 22 (Saturday) writer Joe Milliken is having a book event to promote his Ben Orr bio Benjamin Orr and The Cars at 9 Wallis 8-10:30PM FB page
June 22 (Saturday) Stars Like Ours, Little Billy Lost, Thinner, and The Stigmatics at Ralph's Rock Diner Worcester.
June 23 (Sunday) Teenage Bottlerocket with Ramona, The Young Rochelles at Once
June 23 (Sunday) The Ones You Forgot, The Burning Lights, Stubborn Hearts, Waiver Wire at O'Brien's
June 27 (Thursday) Let's Go! Author Event & Cars Tribute Concert at 9 Wallis in Beverly FB page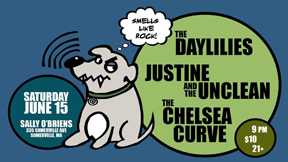 June 27 (Thursday) Powerslut, Thrust Club, Radium Girls at The Jungle
June 28 (Friday) Labor Hex, Ultra Major, The Endorphins at O'Brien's
June 28 (Friday) State Line Records Night at the Midway Round 1: Stray Bullets, Secret Spirit (NH), Stolen Wheelchairs (PA), Doc Rotten (NJ) at The Midway
June 29 (Saturday) The Old Edison, Coffin Salesman, Time & Place, Loser's Circle at The Midway
July 5 (Friday) Cal Cali Band, GLiDER, Mad Painter at KOTO Salem
July 6 (Saturday) The Hi-End, Nat Freedberg, The Worried at Sally O'Brien's
July 9 (Tuesday) Some Kind Of Nightmare, Losers Circle, Nick Barbarian, And Live Nude Girls at Thirsty First Tavern Lowell.
July 11 (Thursday) The Thigh Scrapers, Baabes, State of the Union and The Laces at The Jungle 5 Sanborn Court Union Square Somerville.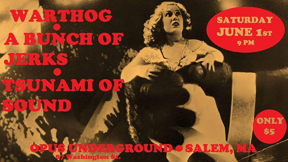 July 11 (Thursday) 61 Ghosts, Thee Fightin' Fish, Pop Gun at Opus in Salem
July 14 (Sunday) State of the Union, The Only Things, The Tsunamibots, Pop Gun matinee at The Midway 3-7PM
July 14 (Sunday) The Messthetics, Trinary System (Roger Miller) at Great Scott
July 18 (Thursday) Cruel Miracle, Blindspot, Justine & the Unclean at The Jungle Union Sq Somerville
July 20 (Saturday) Thee Fightin Fish, Warthog (Ramones tribute), Charlie Don't Surf (Clash tribute), and Meat Depressed at The Midway for a 3-7PM show
July 20 (Saturday) Dogmatics, Jittery Jack & Amy Griffin, Stop Calling Me Frank at the Back Room at The Burren Davis Sq Somerville 6-9PM folks!!!
July 21 (Sunday) A Bunch of Jerks, The Stigmatics, 1.4.5, TRiPLE THiCK at The Midway matinee 3-7PM
July 27 (Saturday) M.O.T.O., Jerry's Got Jokes, Cook Bag, The Trades, The Runouts at The Midway matinee 3-7PM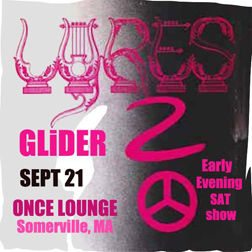 July 27 (Saturday) Corner Soul, The Knock Ups, Motel Black at The Jungle Union Sq Somerville
July 27 (Saturday) The New England Ska Summit; Bim Skala Bim, Copacetics, Hempsteadys, El Grande at Once Ballroom
August 3 (Saturday) A Crash Course For The Ravers 1pm to 4pm on 91.5FM has Powerslut
August 8 (Thursday) Otto Records present 145 & The Thigh Scrapers at The Plough & Stars
August 10 (Saturday) No Small Children, PowerSlut, and The Knock Ups, at Once
August 14 (Wednesday) Deke Dickerson, Bloodshot Bill, Jittery Jack, DJ Easy Ed at Once FB Page
August 15 (Thursday) 1.4.5., Crunchtime and Glider at The Jungle Union Sq Somerville.
August 15 (Thursday) The Queers, Stubborn Hearts, Meat Depressed, The Parkwoods at Alchemy in Provi RI
August 31 (Saturday) Time & Place, PowerSlut, The Daylilies, Lonely Leesa & The Lost Cowboys at The Jungle
September 8 (Sunday) Somerville Rock And Roll Yard Sale - Union Square - 11 AM – 5 PM FB page for more info
October 5 (Saturday) Mudhoney, Pissed Jeans at Brighton Music Hall 6PM doors.
October 20 (Sunday) Stiff Little Fingers, The Avengers at Brighton Music Hall doors 7PM
CONTACT US AT....misslynbgn@yahoo.com Send us your gig listings, your news and anything else ya got!! You want your CD reviewed?? Contact us for that too.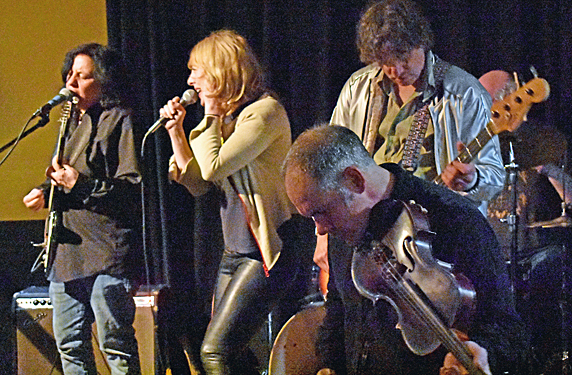 Thalia Zedek Band with Hilken Mancini
Photo: Blowfish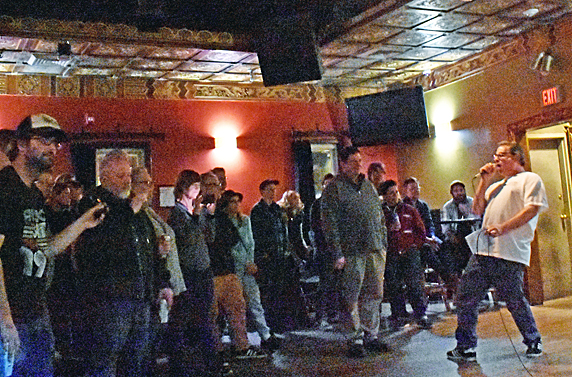 The Gromfins
Photo: Blowfish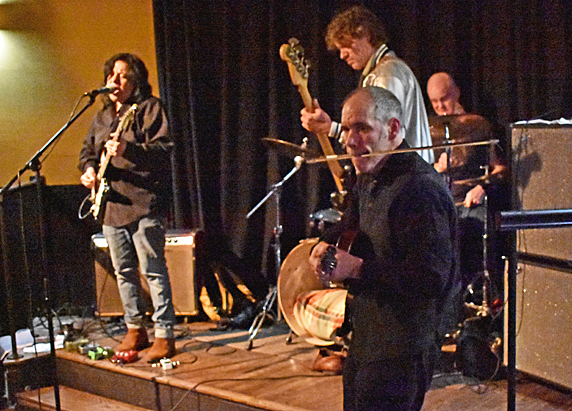 Thalia Zedek Band
Photo: Blowfish
Thalia Zedek and Hilken Mancini
Photo: Blowfish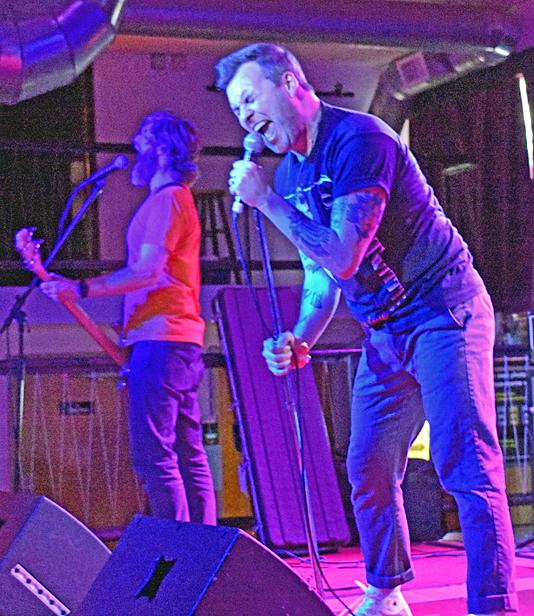 Labor Hex
Photo: Blowfish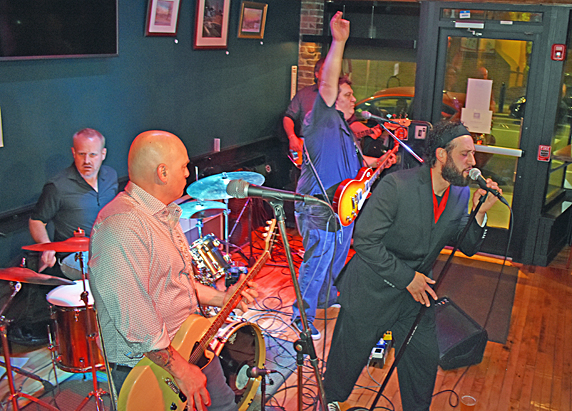 The Hi-End
Photo: Blowfish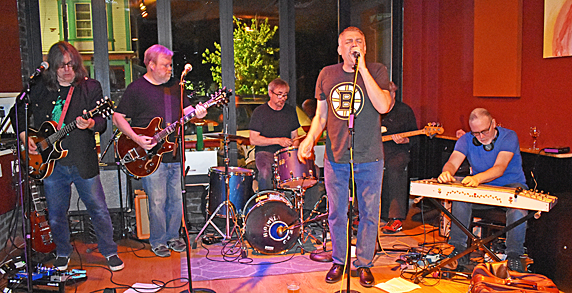 Trusty Sidekick
Photo: Blowfish