The BGN News Archive
June 19, 2017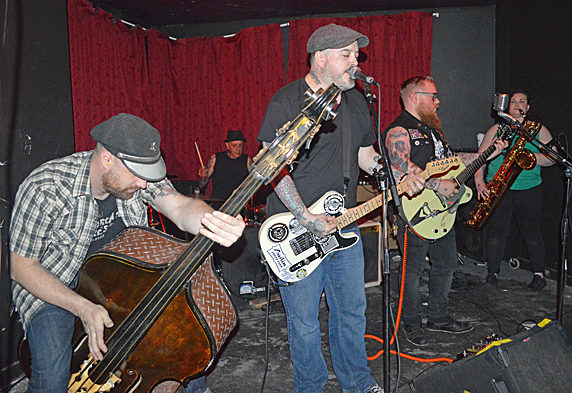 Diablogato
Photo: Blowfish
The bill at Great Scotts on Thursday had a few bands we like and one we wanted to check out. The Cavemen's name has been thrown around in conversations and we just missed them one night where they were dressed as their name implies - cavemen. The story as heard from Mr B. is that the band was started and all the songs written by a guy who is now gone. The band members change all the time but continue to play the same songs. Is that a group or a cult?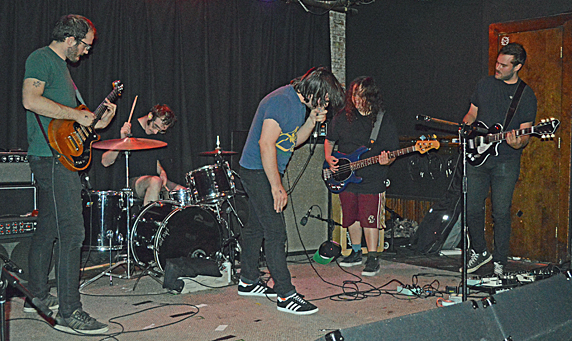 The Cavemen
Photo: Blowfish
The name is not arbitrary, they're primitive sounding. Garage music is too developed a term for them, it's cave music. They do have focus and everything hangs together. They have fun and it's fun to listen too.
Ovlov
Photo: Blowfish
Ovlov is a band that other bands listen to. We saw them at the Middle East in April. They didn't spend much time talking; it was all business as they did their thing. It starts with a loud blast that never lets up. The guitarist is doing some interesting fretwork marked with constant variety that gives the songs some different overtones. The drummer was fast and furious. There were times when it seemed he couldn't put in enough fills and rolls. He was jamming everything in there and hitting it hard while he was doing it. He alone was a show.
Of all the songs, the last one stood out. It had a more traditional feel to it with a four chord progression that was march like. On top of that the vocalist gave his best performance of the night. It was a very good set but a set of songs like the last one would have been great.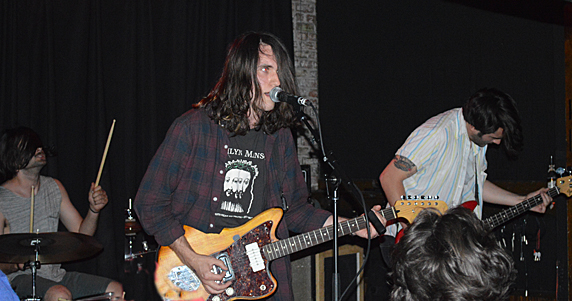 Black Beach
Photo: Blowfish
Black Beach is one of our long time favorites at this point. They're guitar heavy. The songs are light on lyrics. They get 'em over with and then drill down into a group jam. And they are a unified band, they are drawing from the same well. They make a hurricane of sound and the common inspiration is at the middle. To the listener it gives the instrumental sections a meaningful power. It's has a focus rather than a meandering feel. Importantly, it all sounds modern rather than a rehash of old genres despite big doses of Surf and Psych. Many songs have a simple repetitive riff that carry sections along but other times it's just a maelstrom. They were in great form.
It was also another case of a busy drummer and this time the bass with a razor tone is right with him as they lay the groundwork for the heavy and lively sound. The only song I come away with is one of their first songs called Rats which involves screaming about Rats. The hysteria about rat infestation fits the music.
This was a release party for a Black Beach/Nice Guys split single. Read about it on The Noise
We missed Nice Guys but they're similar to the three other groups on this night, meaning they're a good representative of current garage/punk bands that are out there carrying on the scene started so many years ago. If you are still involved with the Boston scene these are some the bands you should be checking out.
Even as we walked into O'Brien's on Saturday for a good bill we knew we missed a an equally rocking afternoon show at the Midway with The McGunks, Pint Killers, The Martians, & Taxi Driver. As the night went on we found Slimedog and Nick Hebditch (of Fast Times) had gone to the early show. We always claim we don't have a life and go to a lot of shows but alas sometimes life does require attention. Nick told us he's playing bass with the Nervous Eaters now and will be playing with them at the Midway's Dirty 30 Anniversary Party on July 30. So that means he and his father Allen will be side by side on stage. That makes our little punk hearts go pitter patter. We've GOT to be there for that, life or no life.
We missed Losers' Circle but don't forget to preorder their record to help them pay for it and start their tour. You can do that HERE!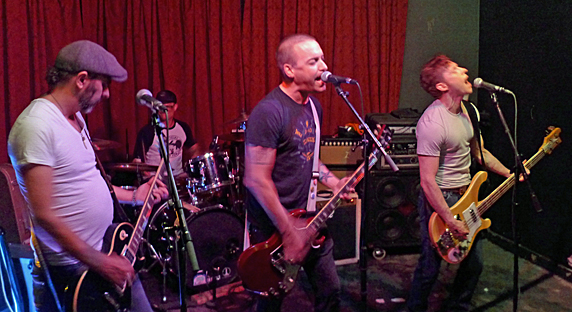 Duck & Cover
Photo: Blowfish
Now here at the BGN we like to give you a wide variety of bands...but of course we have favorites. So we have to report that we saw Duck & Cover....again. We saw them in April also here at O'Brien's. This was much like that show but somehow the songs seemed even sharper and hard hitting. Right off we could hear Chris' voice was in good form and high in the mix. The overall sound was a tight group sound. The bass had a warm tone and he was playing very simple but melodic lines perfect for the songs. The drummer was in the pocket and slamming. The guitar work is providing crunch one minute and ear candy fills and driving licks the next. All this is to the service of songs that would stand on their own without it.
Hey, we could go on and on. Just get to see them, OK?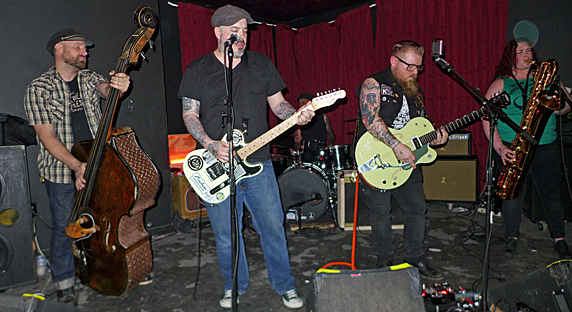 Diablogato
Photo: Blowfish
Diablogato was in the semifinals of the Rumble this year, so this was a chance to see them without the big crowd of that gig. We've seen them a few times (here's one) and they're always good. Like a lot of groups that play the Rumble they seemed to have upped their game. The set was high on the excitement level. With the baritone sax in the group the overall sound has a thick and heavy attribute to it that most bands don't get.
A quick look and listen makes you think they are rockabilly but rockabilly doesn't have the punch that these guys have. They seem to wrestle with that problem in their Facebook description: "We're not rockabilly. We're not punk rock. We aren't garage, soul, gothic southern swamp darkness, or straight mid-century American rock and roll." No need to parse that when they are such a fun band to see and hear live.
The standup bass player plays half the set perched on his bass. There are times when that baritone sax comes through the mix and rattles your innards with the low tones. There's tasty riffage coming out of the Gretsch playing guitarist...and Jesse Meyer on drums is one hard hitting dude. This ss another band you should be out there supporting.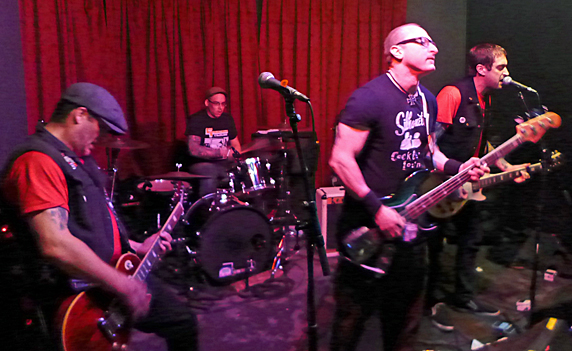 Quiggs
Photo: Blowfish
We saw a few songs by our faves Quiggs. We don't want to just keep talking about Swid on bass but gee, let's talk about Swid on bass. The guy is all over the stage and all over the fretboard. The mix at O'Brien's just happened to favor the bass and man, he was ripping. He's in competition with Carl Biancucci for most notes in a bar. He does a few slides and tricks but we give the nod to Carl who has a bigger chest of moves still. Swid also plays regular guitar in PanzerBastard. That guy is a phenom.
It was a long time coming but they finally had Out of the Blue Gallery Fund Raising Show. This space did sort of came from out of the blue. It's mainly an art gallery with concerts as a side. They mostly have low key quirky acts but are open to anything. People hang on to these live playing opportunities and there was a full day of music from 2 pm to midnight. We were there at the beginning and had to leave to...well...do this! Sunday is our day to do the BGN.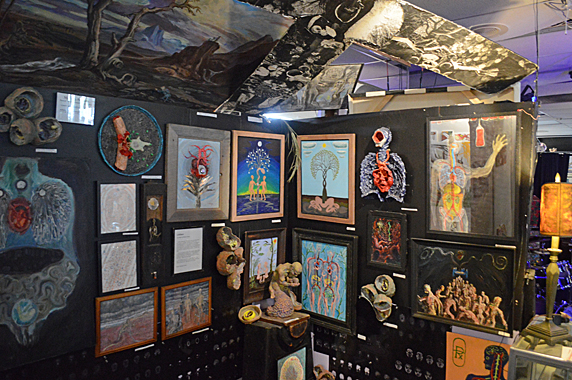 Out of the Blue Gallery
Photo: Blowfish
John Keegan was playing when we got there and he was going to stay through the day so we'll have a fuller review when he gets his material together which would include amazing photos we assume. It's was a small group listening to Club Linehan A Go Go as we arrived. Keegan was blowing sax and Mike Quirk was not on bass but regular guitar. Hey, we didn't know he could do that.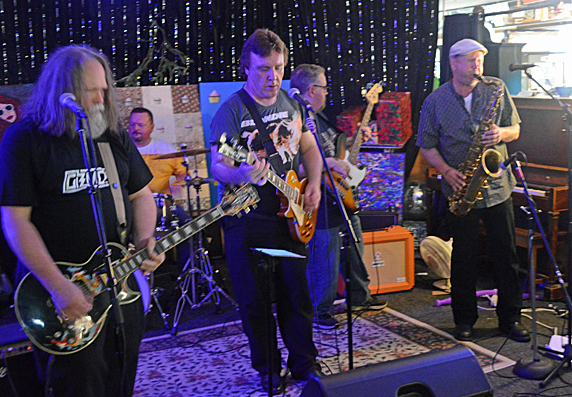 Club Linehan A Go GO
Photo: Blowfish
There was a slight reshuffling and Kenny Kaiser joined Kenne Highland for a short set from The Kenz. It was The Twin Cities of the Mind in all its psych glory. Keegan on the Thunder Tube – small and gurgling, this thing really makes the tune. It was Matt Burns on gong. Give that guy anything and he hits it rhythmically.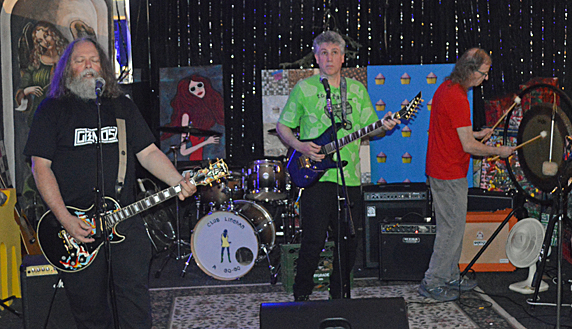 The Kens with Matt Burns
Photo: Blowfish
Mike Stewart from WMFO was there as well as Brian Young acting as MC for the day. Tsunami of Sound got the reverb up and running fast for a set of surf.
We were able to talk to Chicago Vin ex of Greg Allen's Fringe Religion and he was interesting. Also did some catch up with Dan McCormack of the Last Ones. His daughter is now in a band with Stars Like Ours guitarist. The group is called Debra. There's another instance of the next generation coming on.
Dan also said that Rick Coraccio is doing the Grand Loop of boating via the Erie Canal and Great Lakes and the whole thing takes a year! Holy Moly! So this was going to be the last show for the Last Ones for a while. They have had about four shows this year.
As we left to do the BGN we realized that there were eight more hours to go. A lot of people were putting time and effort into saving this space and that is an awesome thing!!
---
And in other news.....
We've seen some good sets by Loser's Circle. Rather than do a formal fundraising page thing they're banking on pre-sales to get the money to release their new album. Help them by doing that… GO HERE!!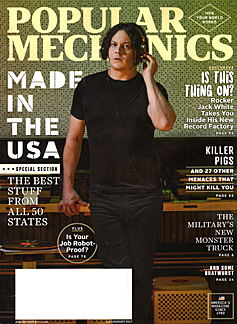 Stiff Little Fingers are doing their 40th Anniversary tour. On top of that they have Death by Unga Bunga opening for them who blew us away with their performance at Great Scotts. This show will be at the Brighton Music Hall on Sept. 28

Jack White of the White Stripes has been written up in a lot of magazines but Popular Mechanics? Yes, he's in the July/August issue. The article is about the Detroit factory that makes his vinyl records for his label Third Man Records. It's an uplifting story of people producing plastic.
This is hilarious: Pizza Tramp (from Wales) doing My Back's Fucking Fucked on the great blog Just Some Punks Songs.
You can't say punk doesn't relate to everyday problems. In the video the band plays in a set that looks like a cardboard box and the they feign back problems. It's a killer song and a great video! Watch it, you'll be glad you did!!
We were blown away by Jim Jones in his Jim Jones Review show at Church back in 2014 He's got a new band now Jim Jones and The Righteous Mind and they are touring...Europe...we hope we can get some of that good stuff over here soon but until then here's a viddy of them in France.
---

Here's some good shows coming up .....
June 23 (Friday) Club Linehan A GoGo, Johnny Plankton, The Unoriginals, Mad Painter are at McGann's Pub FB page for directions etc Starts at 8 PM nice and early and its right near Near TD Banknorth or the Gahden as we usedta call it.
June 23 (Friday) Billy Connors Project, Corolla DeVille and Carissa Johnson at The Tavern at the End of The World
June 23 (Friday) Dave Tree is putting on a benefit for his friend Chuck McNally at Hibernia Hall in 151 Watertown St in Watertown - bands will be See This World, Riki Rocksteady, Mollusk and Pelvic Thrust. Starts at 8PM
June 24 (Saturday) Scuzzy Yeti & Kingdom Of Love! are guests on Brian Young's A Crash Course for the Ravers on WMFO 91.5 from 1-4PM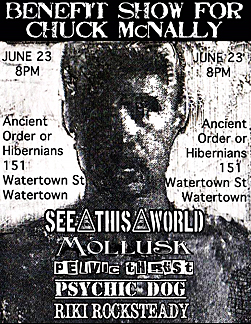 June 24 (Saturday) Punk Rock Matinee at the Middle East Up Doors @ 1PM - Michael Kane & the Morning Afters, Dan Webb and the Spiders, Hudson Falcons, Jason Bennett and The Resistance - show ends at 4Pm FB page
June 25 (Sunday) The Central Flea is a ode to our roots; a Brooklyn-style flea welcoming all styles of goods from Boston Art and Vintage to Afro-punk and Salvage, Food Trucks to Fair Trade.....free and its from 11AM- 5PM FB Page here
June 25 (Sunday) Punk Oi Matinee at The Midway with Working Poor USA, Moose Knuckle, DestrOi! and The Abductors 4-8PM
June 25 (Sunday) Roy Sludge is at Sally O'Brien's and its a FREE show! 6 - 8:30 PM
June 25 (Sunday) The Monsieurs, Neutrinos, Harvey Garbage and Super Natural are at The News Cafe News Cafe
43 Broad St, Pawtucket, RI
June 25 (Sunday) Hudson Falcons, Warning Shots, The McGunks and Lucky United are at Firehouse 13 in Provi RI- show starts at 5Pm FB page here
And further out....
July 1 (Saturday) Loser's Circle Whoopi Sticks, Exit Academy (formerly Noisebreaker) and Electric Street Queens are at The Midway for a matinee show 4-8PM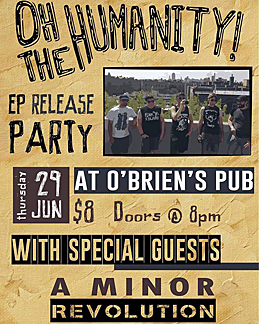 July 2 (Sunday) FOTOCRIME, The Milling Gowns, Bedroom Eyes at O'Brien's
July 7 (Friday) Mr. Airplane Man, Tall Teenagers, Andy California and Little Tomb are at The Providence Garage Fest at the News Cafe in Pawtucket, RI.
July 7 (Friday) Cortez, The Humanoids, The Heave Ho and Test Meat are at O'Brien's
July 13- 16 VIVA EAST Rockabilly Weekender and Custom Car Show in Marlboro, MA check out the info here.
July 14 (Friday) Bim Skala Bim Concert Cruise (Check out FB page for details)
July 15 (Saturday) LYDIA LUNCH Retrovirus, Doomsday Student, (NE) Pats, Peach Ring are at The Elks Lodge on Bishop Allen Dr. Central Square Cambridge- Thank you Boston Hassle!! FB page here.
July 15 (Saturday) Devil Music Record Release Show w/ Oneida and A Band Called E at Great Scott
July 15 (Saturday) Charms, Tiger Bomb and The Knock Ups are at the Chit Chat Club in Haverhill MA.
July 17 (Monday) Township, The Dents, Love Love and Weather Weapon at The Midway- Night 1 of the Midway Dirty 30.
July 19 – July 30: The Midway's Dirty 30th Anniversary Celebration Spectacular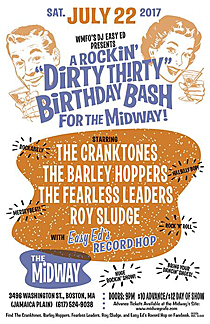 July 20 (Thursday) Kal Marks, A Deer A Horse (NY), Nice Guys and Zip-Tie Handcuffs at O'Brien's
July 21 (Friday) Stray Bullets, Hobo Chili, Warning Shots and Stop Calling Me Frank at The Midway!! Night 5 of the Midway Dirty 30.
July 22 (Saturday) DJ Easy Ed Night with The Cranktones, The Barley Hoppers and Fearless Leaders at The Midway!! Night 6 of the Midway Dirty 30.
July 22 (Saturday) N egative Approach, Bloodclot, Opposition Rising, PanzerBastard, Buried Dreams and Ritual Blade at The Hardcore Stadium Bishop Allen Dr Central Sq Cambridge. Show starts at 6PM.
July 22 (Saturday) Mr. Airplane Man returns to town. They'll be at The Lily Pad in Inman Square with Thalia Zedek. FB page
July 26 (Wednesday) Thrust Club, sister, Death Cloud and Double Star are at The Midway
July 29 (Saturday) The Real Kids, Muck & The Mires, Watts and Gene Dante & The Future Starlets night 13 of the Midway Dirty 30!!
July 27 (Thursday) The Upper Crust, Supersuckers at ONCE Ballroom
July 27 (Thursday) Hambone Skinny, Detroit Rebellion and Jon Bach are at The Plough & Stars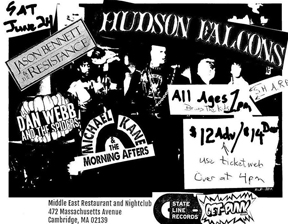 July 30 (Sunday) Fast Times Nervous Eaters, BarRoom Heroes, The Revilers -4-8PM at The Midway!! Night 14 of the Midway Dirty 30. at The Midway
August 5 (Saturday) Brian Young's A Crash Course for the Ravers has Carissa Johnson - on WMFO 91.5 from 1-4PM
August 5 (Saturday) The Silver Mirrors, Instant Shawarma, The Facc-Tones and The Sound Down Cellar at The Midway
August 5 (Saturday) The Knockups, The Caught Flies, Black Hatch and the Labor Pains are at The Chit Chat Club in Haverhill
August 5 (Saturday) Rancid and The Dropkick Murphys are at the Brockton Fair! 4:30-9Pm check out the FB page
August 6 (Sunday) World/Inferno Friendship Society with Diablogato and Stars Like Ours at The Middle East
August 8 (Tuesday) Poptone...which is Daniel Ash and Kevin Haskins from Bauhaus, Tones on Tail and Love and Rockets are at The Paradise
August 12 (Saturday) The Modern Voice, Black Helicopter, Wrought Iron Hex, Scuzzy Yeti at The Midway
August 13 (Sunday) Pinkerton Thugs all ages punk show at The Middle East = also on the bill The Warning Shots and Duck and Cover. This is a daytime show- 1-6PM Check the FB page for more info as it is posted.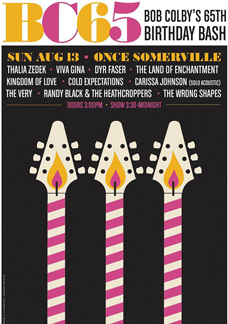 August 13 (Sunday) - This is Bob Colby's 65th Birthday Extravaganza - it is also he LAST show in Boston!! Viva Gina, DYR FASER, The Land of Enchantment, Kingdom of Love, Cold Expectations, Carissa Johnson (solo acoustic), The Very, Randy Black and the Heathcroppers and The Wrong Shapes. At Once in Somerville and the show runs 3PM until Midnite! FB page
August 27 (Sunday) Stop Calling Me Frank, State of The Union, The New Frustrations, The Only Things at The Midway - afternoon show 4-8PM
September 7 (Thursday) Teenage Bottlerocket and OC45 at The Middle East
September 10 (Sunday) GBH and The Casualties at The Brighton Music Hall
September 11 (Monday) Roky Erickson at the Brighton Music Hall. WOW!! Get yer tix here.
September 16 (Saturday) Chameleons VOX At the Middle East Also on the bill: Soft Kill , Way Out and The Milling Gowns FB Page
September 20 (Wednesday) X doing their 40th Anniversary Tour- at the Brighton Music Hall
September 22 (Friday) The Ataris and The Queers at The Middle East - this is an early show- 6PM -10Pm
September 28 (Thursday) Stiff Little Fingers are doing their 40th Anniversary tour they have Death by Unga Bunga opening for htem - at the Brighton Music Hall
November 4 (Saturday) Human Sexual Response at HOB
CONTACT US AT....misslynbgn@yahoo.com -Send us your gig listings, your news and anything else ya got!! You want your CD reviewed?? Contact us for that too.
.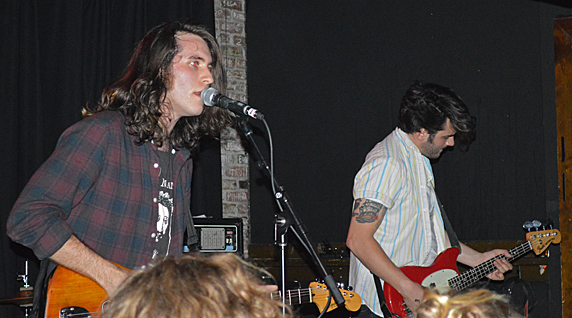 Black Beach
Photo: Blowfish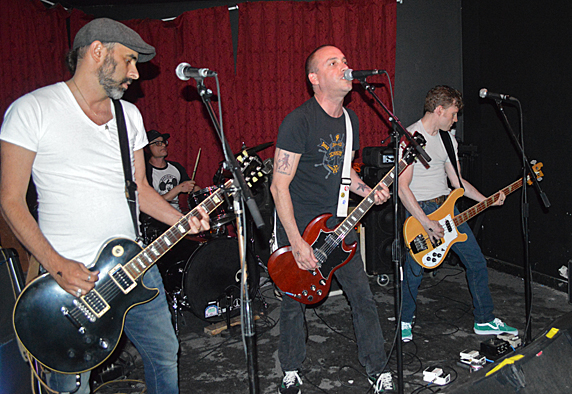 Duck and Cover
Photo: Blowfish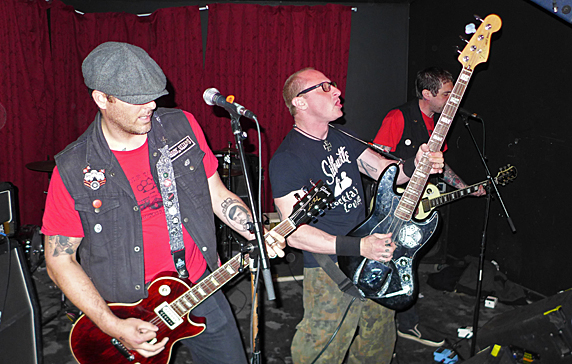 Quiggs
Photo: Blowfish