The BGN News Archive
June 21, 2021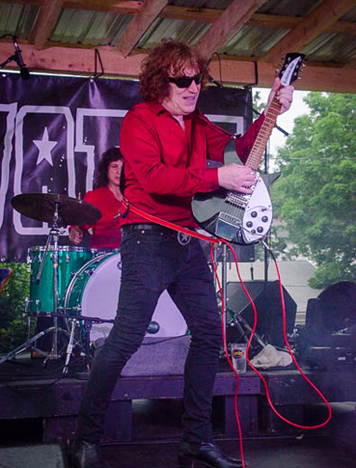 Evan - Muck and the Mires
A lot of people club hop around town ... John Keegan does that across states!! On Saturday June 12 he hit the Watts/Muck/Wizzardess show in Newmarket, NH and then down to Somerville's The Jungle for Linnea's Garden. John reports good crowds at both locations.
At the Stone Church Wizzardess supplied the metal, Muck and the Mires brought the good times like they always do and Watts played mostly new material from their latest album.
Linnea's Garden finally got to play their set in front of an audience. And even though it seems you can't out dress Linnea Herzog, Amy on bass had a look that John describes perfectly – "She looks like a sylph supporting Aphrodite on the half shell in a Botticelli, with bass." – and has the photo that confirms it.
Read the entire review and view the great photos of both shows on John's page by clicking the photo below.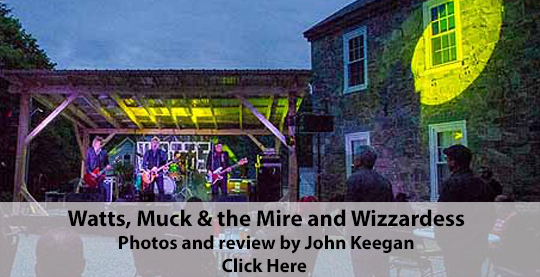 The clubs are coming back....there's a bit of a frenzy of gigs being booked...YES!! ...We see a show with Muck and the Mires, Hi-End and Modern Day Idols at the Square Root. Welcome back Square Root! FB page
TinyOak Booking sent out a message on Facebook giving dates at The Jungle and The Midway and asking, "Does anyone want to play?" To contact TinyOak Booking email: tinyoakbooking @ gmail.com.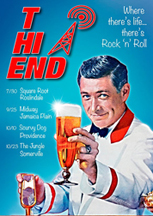 Like a lot of groups, The Hi-End are lining up their live appearances….7/30 – The Square Root, 9/25 – The Midway 10/10 – Scurvy Dog (Prov. RI), 10/23 – The Jungle.
O'Brien's has posted they are looking for bands to book as well!! email 'em at obriensbooking @ gmail.com
Thalia Zedek posted on Facebook that she was in Mr. Music in Allston buying strings. Then she said that this was for her first show in 18 months and the "entire store broke out in applause". You think people are excited to get back to normal?
Bim Skala Bim is part of the 2021 Supernova International Ska Festival. The festival with 28 bands is Sept 17 to Sept 19 at the Oozefinch Brewery in Hampton, Virginia. Shows at breweries are a thing now.
| | |
| --- | --- |
| Kid Gulliver video release show | Beebe Gallini |
Kid Gulliver had their video release party this week. It was a half hour of well-done videos with some real surprises.
It started with Speed Fossil's Beatlesque "Absent Minded". Kurt Baker did an acoustic version of his song "New Direction", recorded at his digs in Spain.
Our faves Beebe Gallini put some garage in the Bee Gee's song "To Love Somebody". That's off their album Pandemic from Rum Bar. We love hearing Georgia Ramin putting her vocal stamp on the material.
| | |
| --- | --- |
| Kurt Baker | Spongetones |
The Tearaways, a long time Santa Barbara band, did a song titled "Charlie, Keith, Ringo" a song that lists many more drummers in the lyrics, and yes there was a drum solo in the middle. This makes us realize that there aren't enough songs about drummers out there.
The Golden Needles did an acoustic version of "Sunset Girl". They are a British band formed in 2015. It's worth checking out their music on Bandcamp
There was also Magen Tracy & the Missed Connections doing "(Only the Good Guys) Fall" and Spongetones have "Too Clever by Half"., a ditty that goes at a brisk pace. There was also the video "Stupid Like Me" by Stupidity that we talked about last week.
| | |
| --- | --- |
| Kid Gulliver | Golden Needles |
There was a lot of good music in this half hour show but nobody outshone Kid Gulliver and their cover of the Bee Gees' "I Started a Joke". They gave the song the Kid Gulliver do over and made the song their own. Rather than do the obvious and punk it up with power chords they let the bass take the wheel. The drums lock in and with that interplay they carry the song. David on guitar plays some trebly arpeggios and some staccato runs that further distance the song from the original. On top of that Simone Berk adds her sweet and strong voice. It's so Kid Gulliver all around. No one else can do this quite like them. That's why we love them.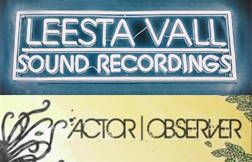 Actor|Observer are doing a direct to vinyl session on August 13. That means they will perform their new song "White Mare" and a record will be made immediately. They'll l repeat playing the song making a new unique copy each time, until they fulfill all the orders.
That means you have to request a copy before the session. Once they stop, that's it. It'll be done at Leesta Vall Sound Recording in Brooklyn. Order here
We almost didn't want to talk about this band because the name may cause some confusion, but they were called The Dents ... from Cincinnati and the band existed from 1979 to 1980 only. They have a very familiar punk/arty/new wave sound that we had in Boston at the same time. One reason to bring them up here is that they cover the Real Kids song "Do the Boob". They also cover "Love Comes in Spurts".
You can hear "Do the Boob" below for the rest of the album go to their Bandcamp page
HoZac Records will be releasing the material on vinyl in July.
The Sparks Brothers documentary opened in theaters on June 18th. The thing about the Sparks is that they are so bizarre that just talking about the movie is interesting. Even the trailer for the movie itself is more entertaining than most 'real' programing. There's an article in Yahoo news that's has a few laughs in it along with a new trailer (video above) and four music videos. It included the infamous "I Predict" video (video above) which they caution 'you can't unwatch'.
The article on Yahoo Entertainment
We were truly bless this week because we had Episode 7 of Bands, Beer and Banter.
They had a video from Connecticut ska band Sgt. Skag doing "Funai Elektric" where they show all the clubs they used to play in the course of the vid.
Heavy America does a song with a dark take called "Tails"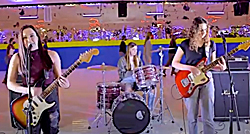 The group Evil Felipi, photo to the right, has been showing up in our internet wanderings. The BBB guys played their video for "50s Love Song". Evil Felipi is young group who have their sound all set. It's indie/pop with some punch. The guitarist has fashioned a sound all their own with some pedal set up. It has a metallic sheen and a lot of character.
They just released an EP on Spotify which reveals they have their thing together. They sound deceptively straight forward but still don't sound exactly like anyone out there.
They ended with Geoff Palmer's vid of "Many More Drugs" with Kurt Baker in the mix. If this and Geoff's current vid/song "Monkey" are any indication his next album should be full of gems. We have Palmer's video below.
The beers this week; Dorchester Brewery's Light Year Journey, the Greater Good Brewery's Greylock and Wormtown Brewery's Mass Whole.
---
SHORT CUTS.....
Get your Goth gear out ... Bauhaus is going on tour. Info on Brooklyn Vegan.
Stormstress posted on Facebook that Maddie's brain surgery was a success. We're all happy for that!!! Get well Maddie!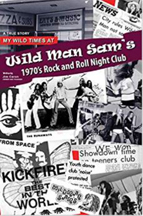 My Wild Times at Wild Man Sam's 1970 Rock and Roll Nightclub. written by the club's owner, Jim Caron, might be of interest. The club was in Garden Grove, CA in the mid-1970's. Kim Fowley brought the Runaways there to give the band some experience before debuting them in LA. You can get the book on Amazon
Kurt Henry the guitarist for Phobia has died.
Rebuilder is playing a big show with Sick of it All, Bouncing Souls, and H2O at the House of Blues on Friday July 2. This is a "I'm with Stu" show which is to help local musician Stu financially in his fight with cancer. Tickets
The Dropkick Murphys and Rancid are doing a tour called Boston to Berkeley II together .... although neither Boston nor Berkeley are on the tour! The groups come from those cities, thus the name. For tour dates see this Loudwire.com article
---
VIDEOS…..
Jeff Hudson's new video/song titled "LOLVIDEO SD 480p" is literally full of laughs. Video below.
Geoff Palmer has a video for ""This Monkey", the first song off his upcoming album Charts & Graphs. The video is on the simple side and that's alright because "This Monkey" has such a wonderful groove that it carries it all. Looks like Kurt Baker is on bass and that's always a good thing. We get all sorts of good vibes from this charming song and performance. Video above.
Rum Bar has a funny promo video for Adam Brown's album What We'll Never Know. They claim CD's work better than LP's. See for yourself, video below.
There is an audio only interview (no video, still photo only) with CJ Ramone on YouTube. However the 45 minute interview is very much worth the listen! It's new, it was just posted on Saturday – June 19. Video above.
Sonny Vincent is releasing a new album with the same title as his new book Snake Pit Therapy. "The End of Light" is a teaser single for the album and comes with a video. The video is black and white which look like bits from old films. It has a dystopian flee-for-your-life feeling. The video is below.
Here's an eight minute video of Danny Fields who was among other things, the Ramones manager. He's answering some questions. We can never get enough of this sort of thing ourselves and if you care the video is above.
---
PODCASTS.....

Kids Like You & Me has an interview with Eric Baylies from New Bedford. Eric has a long resume. He played bass for Minibeast. Those early Minibeast shows were exceptional and a lot of that was because of Eric's bass playing.
He's played all over the world in different bands and played many times at CBGB's in Baylies Band. He's written a book about New Bedford and it's seamy underbelly called Heroin's Rainbow.
Their isn't much of a scene down in New Bedford according to Eric although it seems there should be.
---
CDS/ MUSIC
Two bands aren't enough for Dan Kopko, so Peppermint Kicks is number three. Sal Baglio of The Stompers joins Dan in the group. Their first single off a forthcoming 10 song album is "Hey, Fanzine" and "Shag '72".
Dan sings "Hey, Fanzine" so we figure he wrote it (rock group rule #3). The lively pop/bubblegum/glam blast is such a piece of ear candy that it's hard to get beyond it. They lyrics however are about the days of fanzines (and that would be about the Boston Groupie News too, we like to think). Some lyrics are, "You were black and white /Courier type / Edges all beat up, curled / By the bedroom light / Saved me from a white bred world". As of now it's our theme song!!
Sal Baglio does a similar job with "Shag '72". He sings it so, he wrote it…see above. Sal looks at an old yearbook and reflects on 1972. As the song stomps along the lyrics have wistful side that deepens the listening. This is something Sal knows how to do.
The Covid shutdown was like a personal affront to Kid Gulliver because they want to be out there and productive. In reality they did as much as any band was able to do. Now, as we come out of the quarantine slowly they already have a EP at hand.
Gimme Some Go! starts with their cover of "I Started a Joke". We talk about this above. The bass, which is so essential to this arrangement, is played by Lee Harrington of the Neighborhoods. He plays all the bass on this EP. This refashioned song has all the Kid Gulliver trademarks. It not just that the playing is good it's that all the playing coalesces into a sound that gives the song an air of rightness. Not many groups get to that point ever. We have the song on our Top Ten Songs
"Stupid Little Girl" tells a modern day story of love and lies. It's tough to know whether to laugh or cry with the lyrics.
The band does a change up and plays a ska beat to the song "Gimmie Some Go!".
"Lila Dreams" tells another story of one person dealing with modern living.
Dug McCormack had 23 cuts on his Math Ghosts album released in February this year. His new album, Several Nudes, has 39 cuts and the average song length is three minutes. That's a big project!!
There is all sorts of music here. Even the first song "the Loneliness of Anger" goes from a spacy piano/synth to corrosive noise. Dug's musical tastes obviously run wide and he has the ability to create in those disparate genres. This album is going to take time to digest. The album is on Bandcamp
Dug does a sort of nouveau rockabilly with a low vocal that stood out to us on "Bummer".
Time for another Nat Freedberg album preview drop, how many is this now? We lost count. At this point we are dying to get the album. The slow reveal has made us give more attention to every song and we can see the album shaping up.
The newest song ""Back in the Groove" has the some of the same elements as the other songs ... and some differences. Overall it's a slow burner – which is something new this time around. The focus is on Nat's voice. He sings slow and sultry. There's a lot of space in the recording, you can hear all the instruments clearly. There are some really subtle and sweet background vocals that pop in a few times.
It's another Rum Bar release by Freddie Dilevi. "In the Light of a New Day" has a heavier sound than the material on the last album but it's still melodic and then there's that voice. A full troughed voice with character like this just doesn't come around often. That it comes with melodic songwriting talent to boot is a double gift.
We eat this stuff up.
We saw a few Canadian bands at O'Brien's over the years. They were all interesting. The last one was Dany Laj & the Looks whose album we just reviewed.
We came across a Montreal band called Bambies. Their latest effort is "Dirty Taint". It takes a second to know they are very tight and wound up. They sound snotty like they have attitude to spare. Live, they must be killer!! Give it a listen…full refund if not happy.
Brian Young of Crash Course for the Ravers is waiting to get his show back on WMFO as soon as the coronavirus restrictions expire. In the meantime he's starting to gig with the Thigh Scrapers. Every now and then he will post a song on the CCFTR Facebook page. That's how we found out about the Phone Jerks. They're a New Jersey band that play some garage/punk and do it fast and furious. It sounds like the amplifiers are so distressed that they must be bleeding. It's a fast listen, most songs are around two minutes and nothing goes beyond two and a half.
---
Here's some good shows coming up (live stream and actually LIVE!! .....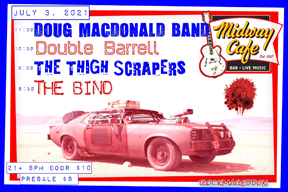 June 24 (Thursday) This should sell out fast – Tommy Stintson of the Replacements will be doing an outside house show in Mansfield, MA on June 24 with his current duo set up called Cowboys in the Campfire. Tickets at Eventbrite.

June 24 (Thursday) Adapter Adapter, Rawstrum,Waiver Wire at The Midway - a LIVE night time show! set times on FB page.

June 26 (Saturday) Rockin the Dunes is on! Atlantic Thrills (9pm), Margaret Garrett (8pm), Crow Follow (7pm), Beware The Dangers Of A Ghost Scorpion (6pm) ... and a bonfire on the beach after the show. at Whitecrest Beach Parking Lot, Wellfleet Ma Cape Cod. FB page

July 3 (Saturday) Doug MacDonald Band, Double Barrell, The Thigh Scrapers, The Bind at The Midway - this is a LIVE in person show!! 8-1AM. FB page

July 17 (Thursday) Thalia Zedek is celebrating the 20th anniversary of her first solo album Been Here and Gone by performing the entire album at the Midway. Also on the bill will be Richie Parsons and Eric Martin. 6:30 doors…The FB page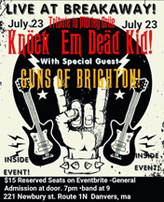 July 23 (Friday) At The Breakaway in Danvers Guns of Brighton as special guest in a Motley Crue tribute show.
July 30 (Friday) Muck and the Mires, The Hi-End, Modern Day Idols - the First rock and roll show BACK at The Square Root Roslindale!!!
July 30 (Friday) Motel Black, Gene Dante & TFS, M8, The Jacklights are at Ralph's Rock Diner
July 31 (Saturday) Walter Sickert & the Army of Broken Toys (Matinee) 1:00 pm - 4:00 pm - ONCE Somerville @ Boynton Yards.
July 31 (Saturday) Walter Sickert & the Army of Broken Toys - 6:30 pm - 11:59 - ONCE Somerville @ Boynton Yards.
August 5 (Thursday) No Small Children, Thrust Club, Bad Larrys, Tiffy - ONCE Somerville @ Boynton Yards - a 6PM show.
August 6 (Friday) The Furniture, Today Junior, Children of the Flaming Wheel + special guests Garden Party at O'Brien's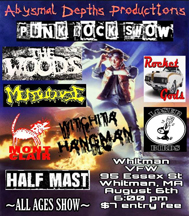 August 6 (Friday) End of Summer All ages hardcore show with The Woods, Witchita Hangman, Half Mast, Mont Clair, Rocket Gods and Loser Birds,at the VFW post at 95 Essex St. Whitman, Ma - 6PM. FB page.
August 14 (Saturday) The Winter Project, A Bunch of Jerks, HIXX, Screwcart at The Jungle, 7:30 doors
August 14 (Saturday) an evening with legendary rocker Robin Lane in support of her nonprofit Songbird Sings, which helps trauma survivors heal through songwriting and music. Performers include: Kid Gulliver, Justine and The Unclean, Nightspell,
The Jacklights ... and of course Robin Lane! FB page.
August 14 (Saturday) Sidewalk Driver, Freezepop, Worshipper at the Sinclair FB page
August 14 (Saturday) The Mal Thursday Quintet with special guests Tiger Bomb at Sun Tiki Studios Portland, ME FB page.
August 20 (Friday) Bonecrusher, The Welch Boys, Riotgun at The Midway
September 3 (Friday) Rebuilder, Choke Up and Old Soul at the Sinclair - Tickets
September 3 (Friday) The Zulus rescheduled show at The Paradise - doors 8PM, music 9PM. FB event page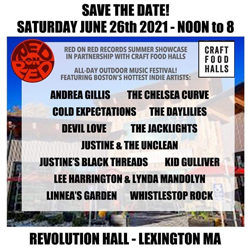 September 10 (Friday) The DollyRots at the Middle East Up.
September 11 (Saturday) Guided by Voices at the Sinclair. Tickets.
September 12 (Sunday) Mark your calendars! Frank Rowe's 70th Birthday Party featuring Classic Ruins and friends (more info soon) - at the Midway

September 16 (Thursday) Bob Mould is at the Paradise - Tickets here
September 18 (Saturday) Martin, Morell, Fredette are having a residency at The Midway. These are early shows - 3-7PM
September 19 (Sunday) It's the return of Tubefest -New England Surf/Instro Showcase! Lots of surf and instrumental bands for your enjoyment! Tubefest Facebook page. This will be an afternoon/early evening show
September 24, 25 and 26 The New England Shake Up is back. The rockabilly festival will happen this year in Framingham. The line-up of bands is way long. They also have a picnic record party 11AM-4PM on Saturday the 25th with Barrence Whitfield spinning vinyl. Get more details and ticket info on their website.
September 30 (Thursday) Nervous Eaters/Barrence Whitfield/Willie Loco and the Boom Boom Band/Carissa Johnson at the Paradise . Get Tickets Here!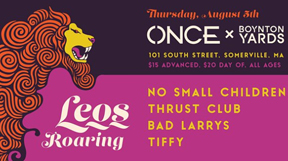 October 4 (Monday) Gary Neuman at the Paradise Tickets
October 14 (Thursday) Ministry at the House of Blues. Tickets
October 18 (Sunday) Martin, Morell, Fredette are having a residency at The Midway - 3-7PM
October 31 (Sunday) Dropkick Murphys At Hogan's Run again 7-11PM...best Tessie costume wins a free drinks bracelet for the night. FB page.
November 11 (Friday) Hardcore Stadium and Grayskull Booking Presents: Slapshot - Celebrating 35 Years of Hardcore Day 1- Stars & Stripes, Noi!se, COA, Patriot, Violent Way at Sonia - (already sold out!!)
November 12 (Saturday) Hardcore Stadium and Grayskull Booking Presents: Slapshot - Celebrating 35 Years of Hardcore Day 2 -Slapshot, Sheer Terror, Death Before Dishonor, Pummel, Count Time - at The Middle East Down. (already sold out!!)
November 19 (Friday) Joan Jet & the Blackhearts will be at the Chevalier Theatre in Medford Square. Tickets.
November 27 (Saturday) Dinosaur Jr. at the House of Blues on Saturday Nov 27. Tix
March 13, 2022 (Tuesday) Reigning Sound at the Sinclair Tickets: https://www.axs.com/events/402182/reigning-sound-tickets
CONTACT US AT....misslynbgn@yahoo.com Send us your gig listings, your anything else ya got!! You want your CD reviewed?? Contact us for that too.
---