The BGN News Archive
June 22, 2015
Billy Borgioli passed away on Saturday 6/27.
Here's what Nancy Neon said: My much better half left this world at 3:29 this afternoon. There have been no final arrangements yet but it is tentatively planned for him to be cremated and his remains be placed in the prospective final resting place of his parents. Warm Regards, Nancy Neon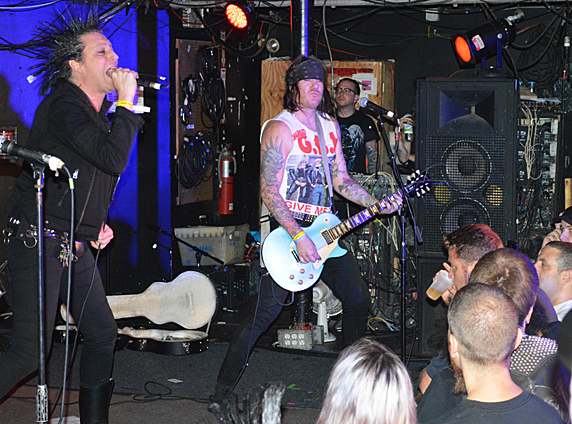 Total Chaos - Middle East
Blowie started the week early with a Monday show at TT's. The crowd was sparse as Speed Trials from Lowell began. They're punk with noise band attributes and were doing some interesting things guitar wise; lots of open strings and coordination between the two guitars. It was a fine set. Then they played their last song and on that one they increased the intensity and volume by a large amount and the excitement factor went up dramatically. If they began the set like that and went from there that would have been a knock out show.
Here's their song My Mind on Bandcamp.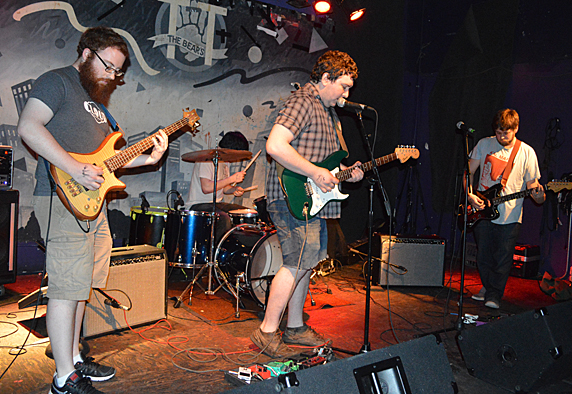 Speed Trials
Today Junior has been a favorite new band of ours. They did some songs from the new CD they have ready to drop. That material sounds in line with the older material which I love. You can check out some Today Junior songs here.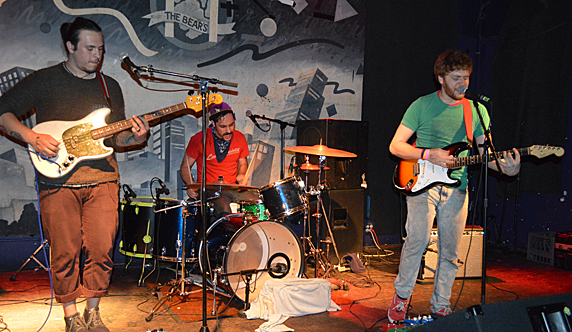 Today Junior
Because of all the winter problems I haven't seen them in a while and it seems like the drummer has upped his game a bit. I don't remember the rolls across the tom toms before. He played very busy and it pumped up the set. People were slowly coming in but it was a calm night compared to what would be happening on Thursday when the Pixies played a surprise Farewell TT's show.
Oh, the lucky bastards that got tickets for that. Here's a Dig article that talks about the night and the songs they did.
On Thursday we began the night by going to a small invitation gathering at the Rat Room at the Hotel Commonwealth. Jimmy Harold wanted people to see it and get some ideas on maybe changing some things to better represent the Rat and those times. The room eventually got packed with a lot of Rat habitués and Rat staff and local writers. Plans are to also create a video with lowkey performances and interviews...in the room. We have Photos and more details HERE.
The room got packed with people and HOT and there was a gig to go to - GBH at the Middle East. We did a page on GBH's gig last year. LINK.
Like a lot of hardcore gigs the faithful came out and the big room was full; tons of black jean jackets with band logos and some big Mohawks. Total Chaos were loud and rocking with plenty of shredding solos. They were doing their best to get the crowd involved. They had some circle pits going but it seemed like people were holding back .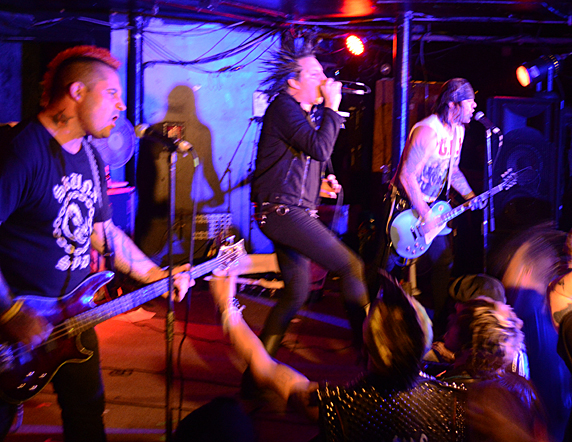 Total Chaos
It became obvious they were when GBH hit the stage and the crowd rushed up front and the real moshing began. This is what happened at the Partisans show too. In any case it was nonstop intense moshing and stage diving through the whole set. I was on the side and not getting any good photos so I went to the floor. At one point I got hit and I would have ended up in the middle of Mass Ave but people in back of me stopped and pushed me back. And I still didn't get any good photos. John Keegan was there and I hope he got some.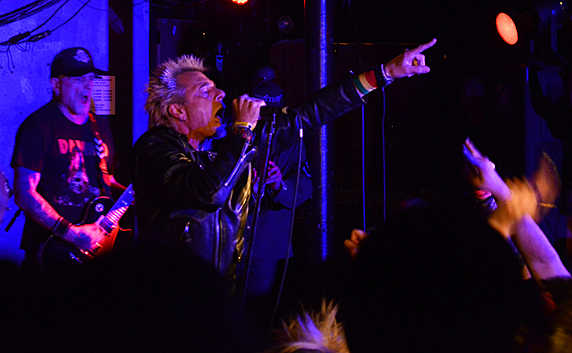 GBH
GBH had lots of well-done songs. When people caught the opening chords of their favorites it injected a burst of energy into the pit. All very exciting. At one point the lead singer says that the band first played in Boston in 1983 at the Rat and a small cheer and a few raised hands shot up. The Rat legend lives on.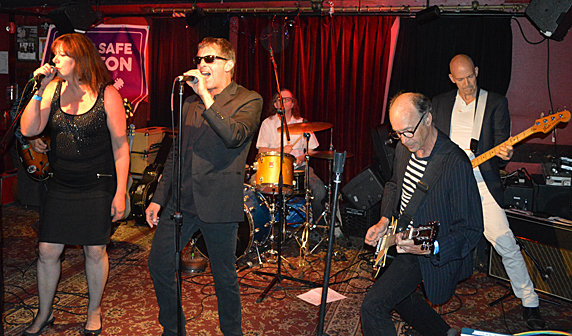 The Black Souls
A little bit tired from the long Thursday we got out for just a little of the Girls From The Garage on Friday at the Lizard Lounge. The Black Souls have Tony Kaczynski on guitar, George Perkins, Stow Kelner and Matt Burns from Litehouse and Kim and Cam Ackland on vocals. The focus was more on Kim tonight as she stylishly sang some R+B material. She has the perfect voice for this material and it's not something we usually get to hear. The veteran group gives the R+B a rock edge that I love, especially Matt Burns on drums, and then Cam comes in and does…ya know, the Cam thing and that is so cool.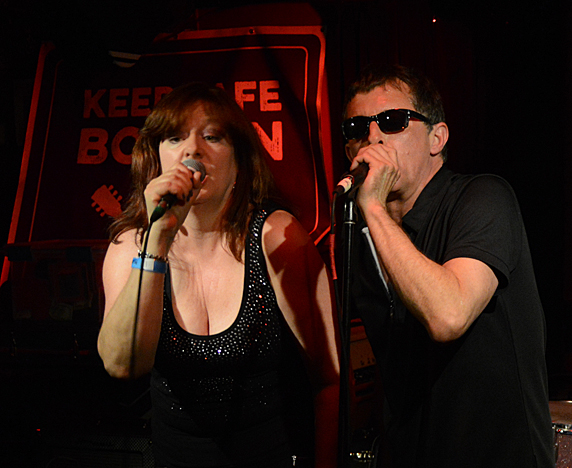 Kim and Cam - The Black Souls
With Kim and Cam up there together it's two singers relating on stage like some of the classic duos of times past (think Sonny and Cher!) that's another thing we don't see in our rock scene. It's fun to watch, we wish there was even more of that in their set. They began with 2120 So. Michigan Ave by the Stones (That's the address of Chess Studios) and much of the material seemed like covers we didn't know. It's the sort of set that makes you wish you had a list of the songs so you could see where it was coming from. At one point Tony Kaczynski did a solo just banging on one note. Cam raised a glass over Tony's head in salute of the effort.
I got the set list from Kim a week later. Here it it: 2120 So Michigan Ave - Rolling Stones, Good Loving - Chubby Checker, Iíll Come Running Over - Lulu, Iím Ready - Fats Domino, Soulful Dress - Sugarpie DeSanto, Down Home Girl - Don Covey, Watchdog - Etta James, Hog for You - The Coasters, City of People by The Illusions, Why Donít You Smile Now - The Allnight Workers (Lou Reed pre-Velvets).
And in other news
The Gizmos World Tour CD has finally been released by Gulcher records. All songs recorded live during the 2014 Gizmos World Tour:
"The Gizmos rock their way through all 15 of the songs from their three EPs: "Kiss Of The Rat," "Mean Screen," "Regular Dude," "Amerika First," "Human Garbage Disposal," "Muff Divin'," etc. Plus the MC5's "Black To Comm" and "Ramblin' Rose," "The Devil Talks In Tongues" by Eddie's band Crawlspace, Kenny Kaiser's "Don't Get Fresh With Me" (from the 1978 Korps LP with Kenne Highland), and a brand new Gizmos song from Ted Niemiec called "Around."
Plus a couple bonus tracks: Bebop Betsy's radio interview with the Gizmos right before their tour kicked off, and an interview that appeared on a vinyl single giveaway for Gonerfest." And you can get yours here!!
Here are some shows that are happening this week....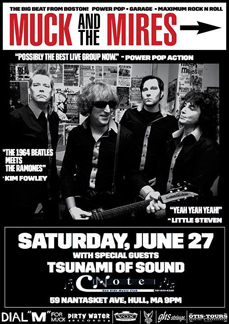 June 24 (Wednesday) The Adolescents and The Weirdos with Laughing Stock are at The Brighton Music Hall.
June 24 (Wednesday) Shonen Knife, CJ Ramone and Petty Morals are at the Middle East Down
June 24 (Wednesday) at TT's - Powerslut, My Own Worst Enemy, Uranium Daughters, and Maximum Hackman
June 24 (Wednesday) at the Middle East Up - Destruction Unit, Creepoid, Sneeze and Sleep Crimes (we had a great time seeing Sleep Crimes last year. check it out)
June 26 (Friday) Tsunami of Sound are at PA's Lounge in Somerville
June 27 (Saturday) Crash Course for the Ravers on WMFO 95.1 - 1-4PM has lots of good music AND The Cal Cali Band!!!
June 27 (Saturday) an early show with 5:30 doors at TT's with Continental, Absinthe Rose and The Charms
June 27 (Saturday) The Scrapes, The Ungraded, The Swindlers and Yeehaw Jihad are at The Midway. This is a 4-8PM show.
June 27 (Saturday) Cal Cali Band and The Last Ones are at Tavern at the End Of the World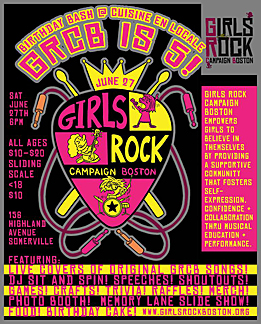 June 27 (Saturday) It's a Spectacular Birthday party at Cuisine en Locale for GRCB- Girls Rock Campaign Boston. It's their 5th Birthday and they are doing it up in style with an ALL AGES carnival themed party 6-10PM --Birthday Cake (a real one!), Carnival Games & Creative Activities, Trivia and Raffles, Temporary Tattoo Station, Photo Booth, DJ SIT N SPIN dance party, Local female rock celebrities playing covers of GRCB band's original songs and tons more cool stuff. Here the FB page so you can stay up to date an all the happenings.
June 27 (Saturday) heading north- in Salem at In a Pig's Eye - they are back- The Darlings. (FB event page) This is a great little place and a great one to hear the Darlings!
June 27 (Saturday) Up in Portland, ME at Bayside Bowl you can see S.S. Cretins, Tiger Bomb and Video Nasties
June 27 (Saturday) The Boston Hassle promoters are having a whole series of concets entitled GRASS STAINS (This was the first one we went to) and the next one is at Jamaica Pond on this date. Nighttime Sunshine and Hand and Knees are two bands playing with more to be announced.
June 28 (Sunday) Ceremony, Tony Molina and Pity Sex are at Cuisine en Locale (FB Page)
June 28 (Sunday) at The Middle East Up - Old Gray, Milo, Clique and Yeehaw!
And coming up after this week we have.......
July 1 (Wednesday) Looks like there's another new place for music in Salem - Koto (90 Washington St.) and on 7/1 they have The FU's, Profit Margin and Damp. They also have Sushi Classes!!
July 3 (Friday) A Rockin' Farewell to TT's - sigh- with The Cranktones, The Millwinders, Jittery Jack , The Allrighters, Johnny Carlevale &The Rollin Pins, Jeff Deware &The Bop Thrills and DJ Easy Ed setting the tone between sets are at TT's (here's the FB page for this one) Be there or be square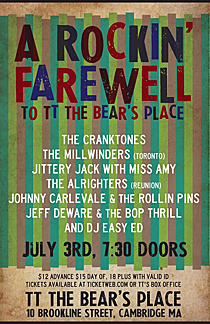 July 3 (Friday) Tsunami of Sound, Beachcombovers are at Sally O'Brien's
July 5 (Sunday) Caged Heat (yup with Chilly Kurstz, they're back!) , Greg Allen's Fringe Religion, The Low Babies and Lady Pilot are at The Midway. This is an afternoon show at 4PM! Here's a recent interview with Chilly on Blowing Smoke.
July 10 (Friday) Mr. Airplane Man are back in town with The Monsieurs and Party Pigs are at Cuisine en Locale (FB event page)
July 10 (Friday) a littel more North, in Salem there's the Salem Wolves, Oh the Humanity, The Jukebox Romantics and Ghost Ayeria at Koto (90 Washington St Salem) Their show are only 5 bucks!!!! (FB event page)
July 11 (Saturday) Mudhoney along with White Dynomite will be at The Brighton Music Hall
July 11 (Saturday) The FUs, Ungraded, Sewer Rats, Jay Allen and the Arch Criminals and Kenny Chambers are at Cuisine en Locale
July 11 (Saturday) it's official The Gizmos (and a TON of other bands) are playing Mutant Fest II at the Blockhouse in Bloomington IN. FB event page
July 12 (Sunday) it's the final TT's Rock n Roll Flea Market & Bloody Mary Bash 11AM- 5PM and its Free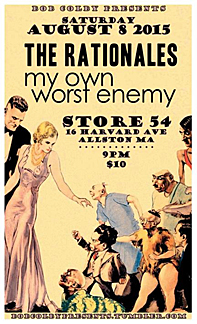 July 12 (Sunday) at The Midway are Beantown Boozehounds, El Escapado, Lucky United, Deranged Youth and Bad Movies
July 14 (Tuesday) - WHAT a great show this will be The Rezillos with Petty Morals and Casanovas in Heat at Johnny D's. And the Rezillos have a new full length CD out. There will be a CD and a limited edition vinyl album available at the shows !! Get tix here.
July 17 (Friday) through July 25 (Saturday) - make sure to keep your calendar open for the TT's Farewell Bash happening all week!!
July 17 (Friday) at Club Bohemia - Greg Allen's Fringe Religion, Caged Heat, and the Black Souls.
July 17 (Friday) at Sally O Brien's - Richie Parsons, Aca Brebner and The Trick Wallace Trio
July 17 (Friday) at The Midway - The Dirty Truckers, A Bunch of Jerks, The Dents and Jay Allen & The Archcriminals
July 18 (Saturday) Roy Sludge Trio is doing an early show (6PM) at Sally O'Brien's. Perfect for dinner and music!!
July 18 (Saturday) Mission of Burma opens for The Foo Fighters and the Mighty Mighty Bosstones at Fenway Park
July 22 (Wednesday) Jaz Coleman founding member of Killing Joke is doing a Spoken Word performance at The Middle East Down. its al about his new book: "Letters from Cythera". Jaz will delve into his many experiences that have influenced his philosophical outlook on life and also discuss, Supersynthesis, a principle which has facilitated his many accomplishments including acting, conducting, singing, composing, geometry, architecture, and occult history. Tix available here. This one will be different, there's seating and VIP seating tix for this show.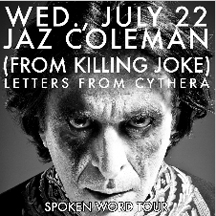 July 24 (Friday) WOW! check this out: Bim Skala Bim and the Pajama Slave Dancers are at The Middle East Down along with Brunt Of It, Zeme Libre and The Porter Squares
July 24 (Friday) at The Midway - BrownBoot, Barbusters and Hambone Skinny
July 25 (Saturday) The final day of TT The Bear's Place...and they have Scruffy The Cat this night!!
July 25 (Saturday) Muck & The Mires, The Nervous Eaters and Richie Parsons are at The Midway (FB event page)
July 25 (Saturday) The Shambolics, Greg Allen's Fringe Religion, Jay Berndt & The Orphans are at Sally O'Brien's
July 26 (Sunday) a Matinee Show at the Middle East Up - 1PM doors with Band Without Hands, The Knock Ups, Radio Compass, and Happy Little Clouds
July 26 (Sunday) Screeching Weasel, plus The Queers and The Mr. T. Experience are at The Royale. You can get tix here. This is a 6PM show!!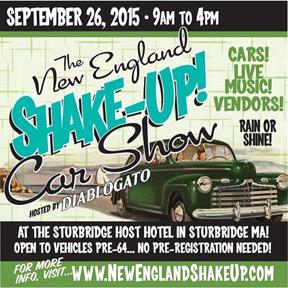 July 26 (Sunday) Matinee show at The Middle East Up with Band Without Hands, The Knock Ups, Radio Compass, Happy Little Clouds. Doors are a 1PM
July 30 (Thursday) There's a mega hardcore show at Cuisine en Locale with Power Trip, Foreseen, Boston Strangler, Peacebreakers, Freedom, Fury, Red Death, Intent, CIAC and Take Control. Music starts at 6:30 SHARP doors are at 6.
July 31 (Friday) "THE DAMNED: Don't You Wish That We Were Dead" documentary is FINALLY playing in Boston!! It's at the Regent Theater at 7:30. You can buy tix here. Watch the trailer here.
August 1 (Saturday) The Static Dynamic, The Wrong Shapes, Hope & the Husbands and Alchemilla at The Middle east (FB page for upcoming updates)
August 2 (Sunday) A Punk Show at Koto with USA Waste (ex A Global Threat), Adults, The Earbleeds, Gravel and Farce!
August 3 & 4 (Monday and Tuesday) Darkbuster returns!! at The Sinclair. Well, no tix available anymore congrats to Darkbuster for two night of sold out shows!!!c
August 3 (Monday) Tsunami of Sound and The Vista Cruisers are at Opus Underground, Salem.
August 6-8 (Thursday - Saturday) Boston Fuzzstival 2015 is at The Middle East Down. The Fuzztival highlights "the best bands in the region that make psychedelic/fuzz/garage/surf rock" and its goal is "to build bridges within the local music community." Stay tuned for the lineup and more info keep checking their FB page!
August 8 (Saturday) - Head over to Store 54 to help Bob Colby celebrate his birthday (two days early) with The Rationales and My Own Worst Enemy!
August 8 (Saturday) The Memphis Rockabilly Band are doing an early show at Johnny D's (FB page) 7-9PM

August 14 (Friday) at The Midway are The Connection, The Above, Fireking & Special guest to be announced...watch for updates on the FB event page
August 22 (Saturday) Memphis Rockabilly Band is at the Marshfield Fair. check out the particulars here
August 31 (Monday) The Fake Boys, Petty Morals, BDSX, Spectre Hawk and The broken glass kids at Opus Underground Salem.
and of course The New England Shake-Up! September 25,26,27 2015! Keep yourself updated at their FB page
CONTACT US ATÖÖ.misslynbgn @ yahoo.con Send us your gig listings, your news and anything else ya got!!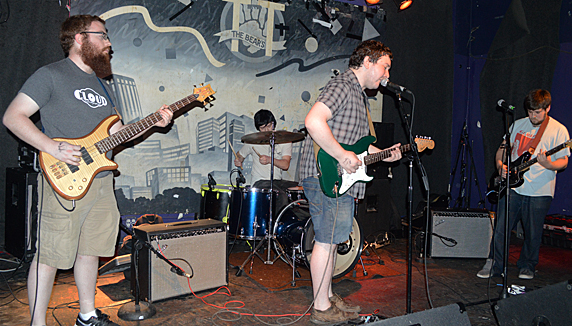 Speed Trials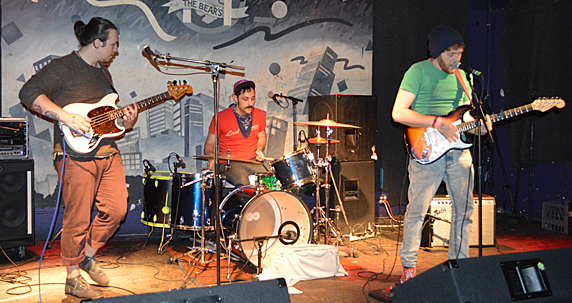 Today Junior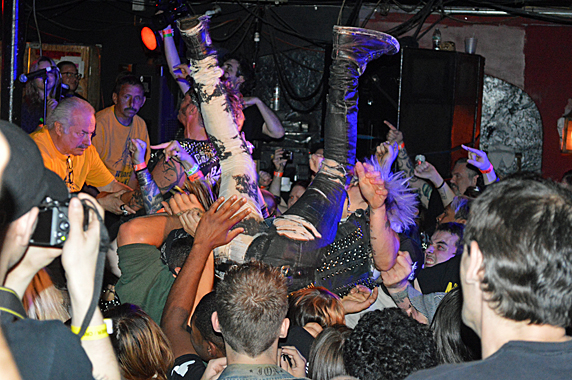 The action on the floor at the GBH show - Middle East
Total Chaos