The BGN News Archive
June 23, 2014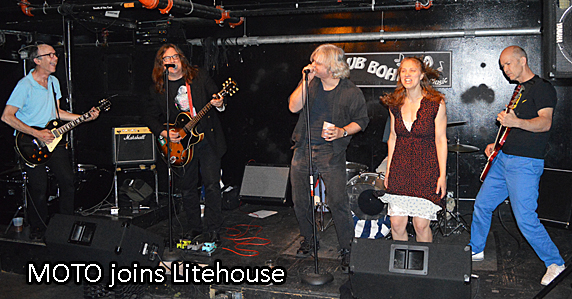 A month ago people were all of sudden talking about the Eagulls. They were posting the videos on Facebook and saying they can't wait for them to play Great Scott's. I heard a DJ saying the same thing. I looked at the videos but didn't get much from them.
The gig was a Wednesday night so I thought I'd give it a try anyway and maybe catch something new and worthy. I catch a few songs by the opener local band The Sun Lions. I like their songwriting but they didn't have a cohesive punch. Their bandcamp song Best of Me, done at Q Division, comes off better.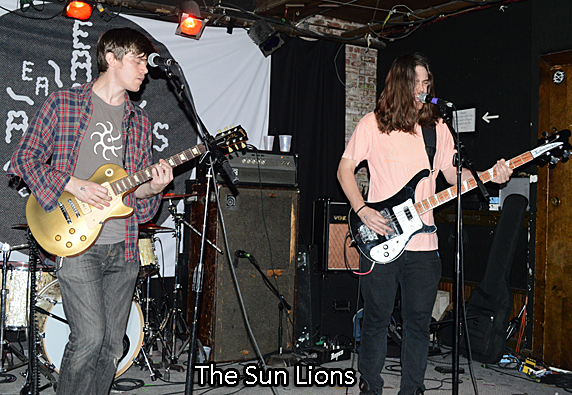 But I mainly came to see the Eagulls. Even before they set up I was looking at one ugly backdrop. I think they should dump that. The mike tests showed the heavy reverb that would be on the vocals. The guitarists have what sound like multiple effects giving them an fuzzy far away sound also. That's their thing and it works well enough to give them a haunting sound. I was drawing parallels with 80's English bands like the Psychedelic Furs and Killing Joke.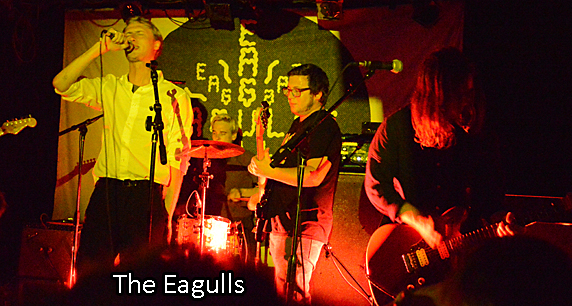 The singer, who was a striking slim figure in a plain white shirt and black pants, had a flatness to his voice that I found very grating as the set went on. The flatness was both in tone and pitch. The songs also favor short phases rather than a longer melody line so to me the songs never took off. After 7 or 8 songs the voice just drove me out. Great Scott's was about half full. With all the buzz and press these guys generate I thought more people would be there.
Friday night at The Cantab was a twofer. Two bands that I should have seen a while ago but somehow kept missing; Litehouse and M.O.T.O.
Litehouse we knew about because it is Matt Burns' latest group. When we saw Randy Black at TT's he had a guest singer doing a cover of Femme Fatal that channeled Nico. Matt came up and said, 'that's our singer." That was Clara Wellons. Suitably impressed we knew we had to check out the group.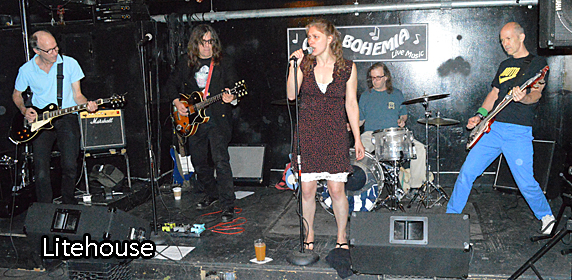 We got to the club about ten to nine for a nine o'clock start and were met with a chairless and empty club. Mickey Bliss takes out the chairs for the nights where there may be lots of equipment like the four band night tonight. Matt tells us the Litehouse set tonight is all covers except one for original song. Soon enough people arrive and the band is up. Also tonight Lighthouse has Tony from Fireking on guitar. He turns out to be a big asset knowing all the riffage to the cover songs. I never heard Lighthouse without him but he was so well integrated and contributed so much tonight I now can't imagine them without him.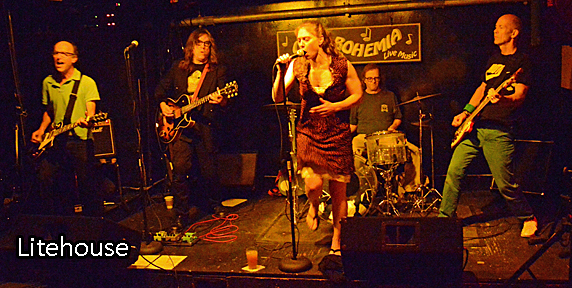 They start up the Buzzcocks - Ever Fallen In Love - the sound is faithful to the record and then there is Clara's voice. She has a full bodied voice with no affectations. The best part is its all rock; for instance - there is no blues influence at all. She's pitch perfect all the time. She's a real talent. In Ever Fallen In Love she is able to inject more emotion than Shelly and when she sings a line like "You disturb my natural emotions. You make me feel I'm dirt, And I'm hurt" you feel it like never before. Later she rips through Search and Destroy flailing about and delivering that diatribe with fire. Then she sings some Beatles with ease and then the Femme Fatale cover where she's got that blasť flatness down too. The band has been rocking lively all night and Tony has been a standout on guitar and then singing Cheap Trick's Surrender. They end with Caught in the Rain, an original. Catch a performance of this at Porchfest. This is a straight pop tune and way catchy. Now, I feel like I need to see a set of all originals. This is a produced video of the song Portrait of Wilson. Litehouse should be commanding more attention.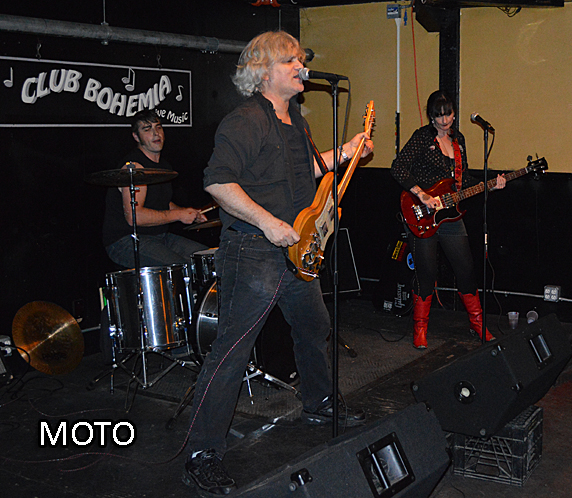 I used to play M.O.T.O. a lot on WMBR's the LRC back in my 80's stint. I loved "Dick About It". The group always seemed a bit mysterious to me and the cassette releases I could never keep track of. They do have a long history and a lot of releases. It's all about Paul Caporino and his songwriting. Paul has ended up here and has had lots of gigs these last couple of years. MOTO is a trio and the bass player, who is very good, is his wife.
I love the fact that from the first song he keeps it punky and punchy. No touchy feely moments you might get from a singer songwriter. Paul has the guitar volume up and the lyrics pointed. It doesn't take long to realize you have to be on your toes with this guy. Verbally, between songs, he's a motor mouth spewing out puns, observations and obtuse connections to all and everything. Musically, he's the same way. In the middle of his songs he has included snippets of famous tunes and lyrics and his leads have quotes from songs in any era of rock. It's like his mind is a Pro Tools set up where he can cut and paste anything he wants into any point in the song: all entertaining and stimulating. He's not unlike our house savant Kenne Highland. I actually thought at one point I would like to see the night annotated somehow. Maybe that could be a project: a video with subtitles or a web version with links.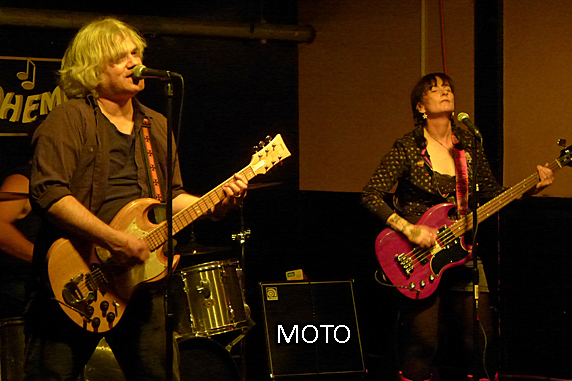 MOTO is famous for its sheer volume of songs. The songs they played all had long melody lines with plentiful chord changes and were distinctive. There's no quality drop for the sake of quantity. At one point he was somehow playing Hard Day's Night with different lyrics but it wasn't just Hard Day's Night. I would love to know what was going on there. That was indicative of his set. I would listen and something would capture my interest and then the next interesting thing would come and I'd be caught in wonder again.
He can be crude; Miss Lyn had steam coming out of her ears over the song, It Tastes Like a Milkshake. (This is Blowfish's review today but Miss Lyn has to interject here: When did he write that song? when he was 12?? Cause its really childish and stupid. And how could any self respecting woman sing those lyrics? or even play the song??? Reminds me of that Figgs song I heard a couple years ago only this one is WORSE.)
It was a good night with two groups with lots to hear. Mickey Bliss had the new Real Kids CD Shake Outta Control playing between songs all night so we had some flashbacks to last Saturday too. There were still two more bands to go but we felt satisfied with the first two bands.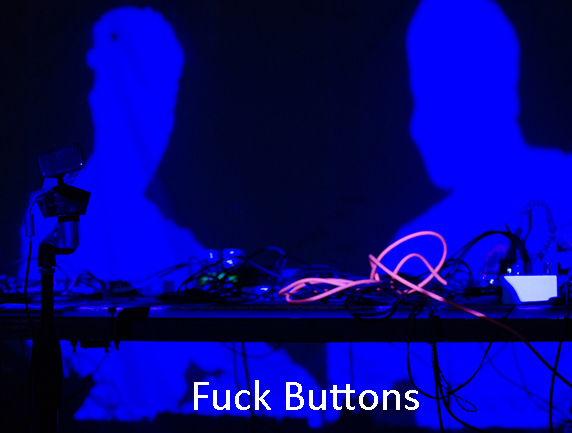 In other news.....
Ed Lynch (ex of GG Allin, Psycho and Insult) is now officially the new bass player for The F.U.s and you can see them August 16th at O'Brien's!! Congrats Ed, we know you are thrilled!
Also...HE'S BAaaAACK...Kenne Highland has returned from the Gizmos World Tour and writes about it and a host of other things in his Kenne Highland at Large Column this week.
And if you haven't read it yet be sure to check out the ever popular guest columnist Rick Coraccio's Back Pages as he remembers a multitude of Lyres airport hassles to get to Barcelona for their European tour....
And we've been patently waiting for another Plumerai show...we loved them ever time we've seen them....we just got words that they won't be playing out anywhere until this fall...good news is they are currently working on a new album!! And you can check oput their latest single release from a couple months ago Seattle here. But we love this video coz you get to really see Eliza in action...Plumerai at Radio...we are looking forward to some shows in the fall and their new album!
So what's comin' up for gigs?....
Ken Scales says : Adventure Set will be at Bill's Bar this Thursday the 26TH....with very special guests Casey Desmond & Cemetery Girl also....Adventure Set's new 4 song EP "Gazebo" will be out in very soon.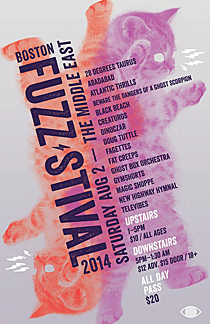 Always promising an interesting experience Walter Sickert & the Army of Broken Toys (12AM) are at TT's along with Parlour Bells, Muy Cansado and Future Carnivores on Friday June 27th
Another interesting film is at the Regent Theater in Arlington - Tom Rush - No Regrets.....this would be for 60's Boston music fans, and many rockers have always loved Tom Rush even though he's on the folk end of things. This film also has an appearance by Dick Summer a legendary DJ who's Subway show promoted the Bosstown Sound. There should be loads of local music luminaries at that showing. There'll also be a Post Screening Q&A with Filmmakers and Tom Rush. It's playing this Saturday, June 28th at 8pm
Next Drunk Nuns gig is this Saturday 6/28 at the Cantab its a cool night with not only the Drunk Nuns but also Psychic Dog, The Dead Trains, and The Evil Streaks...and Dave Tree from SweeTreet Ink will be selling cool stuff from his shop.
Also on Sat 6/28 T. Max and Butterscott are at Store 54 - a great place to see some music and shop simultaneously!!
Looks like the tried and true Out of The Blue Gallery on Prospect St in Cambridge has to move after 18 years at that location!! So they are having a series of benefit shows to help cover the costs of finding a new space etc...You can donate at their Go Fund me page or/ and you can go to the shows ...Sunday July 6th at TT's they've got So Sol, Thick Wild, Ex-Magicians, All Eyes On Me and DJ Sterling Golden
will be the host, MC, & spinning between bands.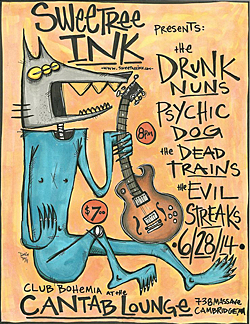 Trip to NYC time!! Sunday July 13th Greg Allen and His Fringe Religion are playing at the Annual Johnny Thunders Birthday Bash at The Bowery Electric in NYC. Also on the bill Walter Lure and a whole lotts other bands too!
July 15th has FuzzStompin' GarageSoul with Thee Legendary Rockin' Prophets at O'Brien's.
July 19th Great Scotts has We're All Gonna Die, Cocked n' Loaded, Murcielago, Hey Zeus and The Humanoids
Friday July 25th at The Midway, Cincinnati band Wussy is playing along with locals Slowdim and Brother Fight.....
Friday July 25th has a great show at Great Scott's with Razors In The Night (Record Release Party! & we're happy to see they are out and about again!), Panzerbastard, The Blue Bloods, and Taxi Driver Friday August 1st has Tsunami of Sound, Tommy White's The Beachcombovers and Cal Cali's New Experience at Sally O'Brien's
Saturday July 26th tune in to Brian Young and his Crash Course for the Ravers show on WMFO 91.5 he's gotta a bunch of folks on the show: -Cal & Al with ....Frank Rowe (Classic Ruins), Anthony Kaczynski (Fireking) -Randy Black and Vikki Porter
And then that very same evening....over at the Tavern at the End of the World is Cal Cali's Summertime Soiree with Fireking, Cal Cali Band, Randy Black & the Heathcroppers and Vikki Porter Band....and at the Tavern there's NO COVER!!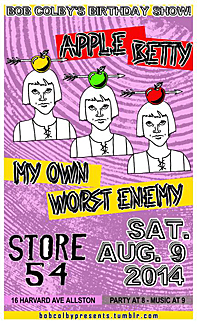 Terry Brenner's bringing The Real Kids and Nervous Eaters and Greg Allen's Fringe Religion to The Spotlight Tavern in Beverly on Saturday August 2 Thank you Terry!!
In Boston on August 2 there's the Boston Fuzzstival at the Middle East....check out this Line up…..28 degrees Taurus, Abadabad, Atlantic Thrills, Beware the Dangers of a Ghost Scorpion!, Black Beach, Creatorus, Dinoczar, Doug Tuttle, The Fagettes, Fat Creeps, Ghost Box Orchestra, Gymshorts Magic Shoppe, The New Highway Hymnal, and , The TeleVibes
Friday August 8th - awesome Rock On Cruise with Aquanutz/White Dynomite/Petty Morals
Saturday August 9th there's a excellent show at Store 54 with My Own Worst Enemy and Apple Betty.
Sunday August 10th there's an afternoon show (4-8PM) at the Midway with Greg Allen's Fringe Religion, The Swindlers, The Skeleton Beats and The Knock Ups.
Saturday August 16th over in Allston O'Brien's has The FU's, MOTO, Round Eye and Daikaidju (sounds like a wild show!!)
It's Hixxmas in August folks! On August 23rd at Club Bohemia at The Cantab it's Hixx and Psychic Dog and more bands TBA...
This should be an interesting evening...at The Cantab August 30th....The Sound Down Cellar, Nelson Slater (tentative), Annie Activator and the once a year gig by Love & Flame featuring Danny Rybar, Lady Carolyn and Joe Viglione along with Mike Quirk on bass, Kenne Highland on guitar. (they are on at 9:30) and The Guns of Brighton


We finally get to see Dave Minehan with The Replacements since they are on the bill for the Boston Calling Show September (5,6 & 7)!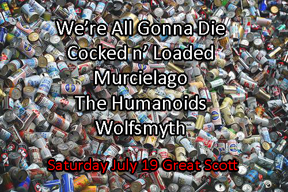 But also put this on your calendar: At O'Brien's on Friday Sept 5...It's Fri Lisa & Malibu's 10 Year Anniversary Rock Off!!! Featuring: The Kurt Baker Band, The Connection, Tom Baker & The Golden Shower Band (Members of The Dirty Truckers & Watts)and ZipGun Bomber
The Legendary Shake Shakers are coming to the Middle East down September 12th.
Saturday September 13th is Matt Burns' 60th Birthday Party! He's celebrating at The Lizard Lounge. So far the bill includes Litehouse, The Handymen, Kenne Highland, and more bands to come.....
There's also a excellent show at The Midway on Sept 13. Cal Cali brings us Lyres-Nervous Eaters-Cal Cali Band- The Invaders (Les Envahisseurs-from Quebec) - whew!!!
And at TT's in September there's a couple great shows coming up - Sunday Sept 21 is Queerstock 2014 with Gunpowder Gelatine, Thalia Zedek, The Kitchenettes and Fur Purse and to finish off the week on a definite , awesome actually, punk note Friday the 26th they have The Angry Samoans, Reagan Youth, Burning Streets and The Welsh Boys opening the night.
The Rat Beach Party set for September 14th& 15th you get all the info on their Facebook page
September 14th -a Sunday daytime show- at the Midway will bring us The Members!!
October 5th - a Sunday daytime show at The Midway will bring us The Vibrators!!!
And September 22nd at the Middle East up is a great show with Shonen Knife and Petty Morals.
CONTACT US AT.......misslynbg@yahoo.com Send us your gig listings, your news and anything else ya got!!