The BGN News Archive
June 25, 2018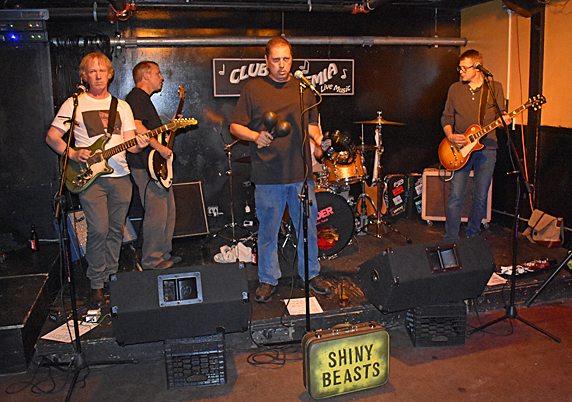 Shiny Beasts
Photo: Blowfish
---
PA's Lounge has been good for some mid-week bills. This week it had a bill with The Prozacs. That was good enough for us right there.
We missed half the show. It got going earlier than we thought. Jamie from Loser's Circle did an acoustic set. Circus Battalion had finished their set and The Windermeres were near the end of their set as we got there.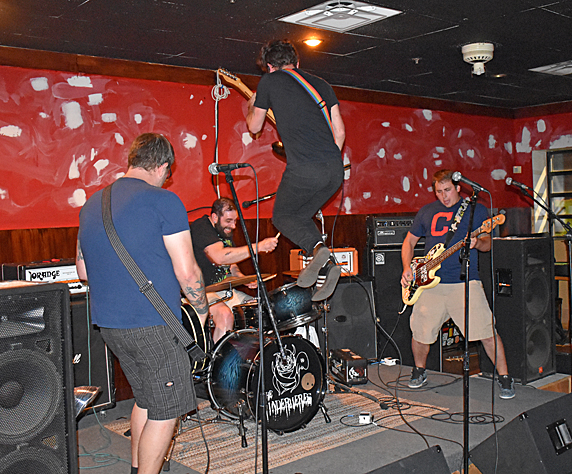 The Windermeres
Photo:Blowfish
We really felt like we missed a lot with The Windermeres judging by their last two songs. They were ripping pop punk. They're from Denver and started in 2012. They've recorded a lot of material in that time. Everything is worth listening to on their Bandcamp. At PA's their sound was sizzling with all the players contributing. The lead singer was jumping with excitement and at one point leaped onto a chair in the back. It was all so good that we groaned when the set soon ended.
All we can do is catch them next time. They said they'll be coming back in October. We'll be waiting!!
We were late to The Prozacs even when we saw them at O'Brien's in 2016. They started in 2002 and have lots of recorded material out there.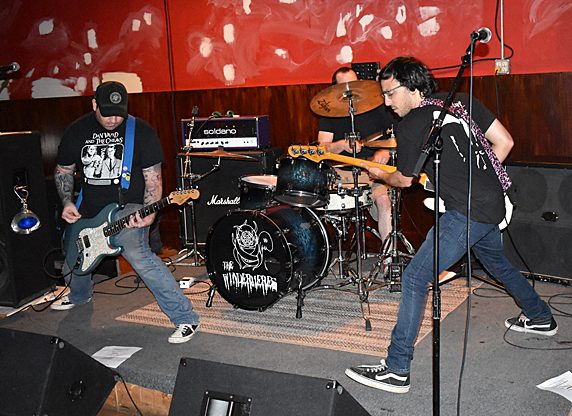 Prozacs
Photo:Blowfish
On stage lead man Jay has a chatty stage presence and that makes for a good feeling, personalized set. He's sure to give props to all who show up. At one point he got every singer in the room on stage and he knew almost everyone by name. That song was a real highlight and the singing was not gratuitous. That is the first video below and we have a photo of the group after the show listings.( All the videos are dark - PA's had the lights extra low.) Those extra voices kicked it up a notch. Some of the singers added variations and they were great. It was a real communal and musical moment that he created.
Jay has that enviable ability to write breezy pop punk songs endlessly. It's a bottomless well with this guy. The songs rolled along with the punk distorted sound at the bottom and the 'Oooh's" and Ahhh's" at the top end, punctuating the catchy melodies. They played two new songs and they were the best of the set. The Prozacs should never, ever stop and you out there should be going to their shows! Prozacs' Bandcamp page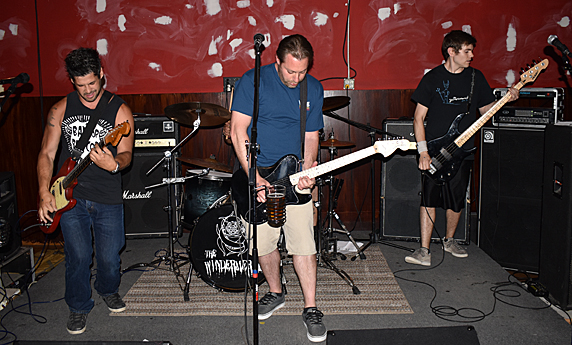 In the Meantime
Photo:Blowfish
We've seen In The Meantime twice before, once in 2015 and once in 2016 and liked them, but the set they did at PA's was even better than those previous shows. At PA's there's nothing but nothing between you and the band. The sound is simple and balanced. We could really hear what they were doing. Their pop punk was well written with lots of twists, dynamics and one time codas that got your attention. They said on stage that they hadn't been practicing lately but they obviously have put their hours in because these songs were not simple. The band hit every nuance. It was a joy to hear.
The singing was notable with three voices going. One song began with the bassist singing alone. It began like a fifties song (a I-VI-IV-V progression, for those that care) then off to the familiar punk tare. The beginning of that song has stuck in our heads. It was just one of the well done and thought out creative moments that filled their set. That song is the third video below.
There weren't many people at PA's but all were engaged and got a good hunk of music. Now, if we had just got there earlier for The Windermeres!! Next time!
We're always looking for a good show on that nether land The South Shore. Friday had a punk lineup that included Crimespree that got us down to the C Note which is home to the Rat Beach Party at other times. We never did get to see Crimespree who were on last but we'll get another chance because they are playing around a lot these days.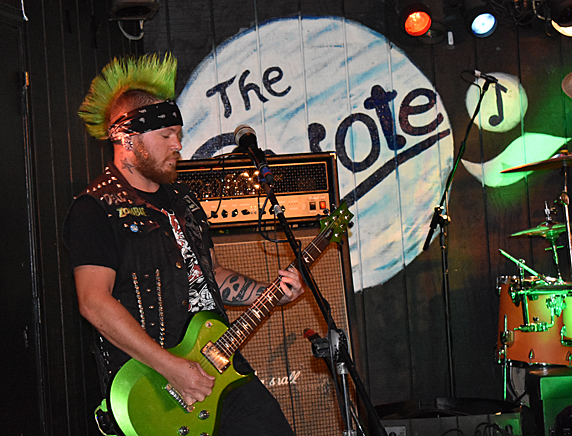 Zombii
Photo:Blowfish
We were there in time for Zombii from Connecticut. The lead singer/guitarist looked like an Oi punk but the music was more pop punk. They list Rancid and Bouncing Souls as an influence. They did a cover of Bouncing Souls "Lean On Sheena" that was very cool. The video of that is below
They are a very solid trio. View their video to hear their strong attack or go to their Bandcamp page for a succinct "Fuck the Man".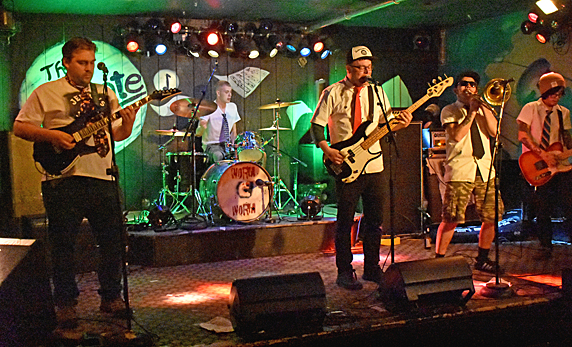 Jerry's Got Jokes
Photo:Blowfish
Next up was Jerry's Got Jokes, a Boston Ska band complete with a trombome player who does frog leaps. We have a photo of that below the show listings. They did some straight punk stuff like "How the Story Goes" which is on their Bandcamp page. They actually had a song called "A Cold Day In Hull". That's also on the Bandcamp page.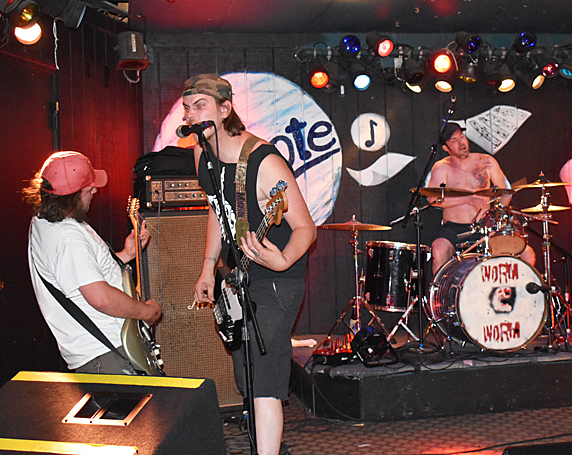 The Money$
Photo:Blowfish
There weren't many people in the club when The Money$ came on. The Money$ come from western Mass and sing a lot about money, strangely enough. They have songs called "Hyper Inflation", "Supply and Demand" and "Panhandler from the Panhandle". We didn't get that at the time. What we did get was their hardcore attack with screaming vocals; the subject matter didn't seem to be of the utmost importance. The music seemed loose but they were hitting the changes and staccato sections in unison so it wasn't loose at all. The drummer was hitting the bass drum so fast it sounded like a double bass drum set up.
The group put out some uncompromising music and it hit hard. All that and they had some droll stage patter.
There were two more bands coming up after that. It was nice getting home without having to travel through the middle of Boston with its traffic hang ups.
It was catch up time at the Club Bohemia. Cal Cali, who is back from FLA and booking shows, lined up The Thigh Scrapers, Shiny Beast, GLiDER and Mr. Airplane Man. That bill got a good enough crowd down to the basement of the Cantab and man was it steamy down there. It required a midnight bath at home later.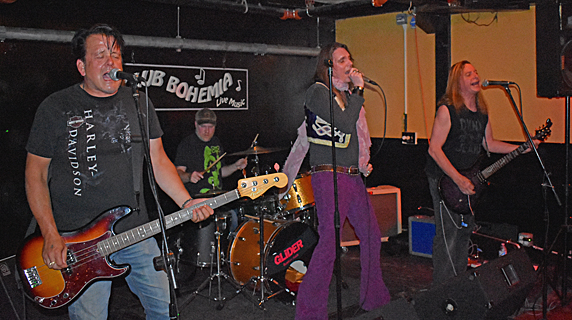 The Thigh Scrapers
Photo:Blowfish
We caught about half of the Thigh Scrapers who were breaking in a new drummer. He was good, but they were doing more covers than usual to make things easier. Thunders' "Can't Put Your Arms Around a Memory", Iggy's "I Feel Alright" and "Low" by Cracker were some. Christopher James on guitar had all the riffage for the cover tunes along with the exact pedal effects. We like their originals and those came across well.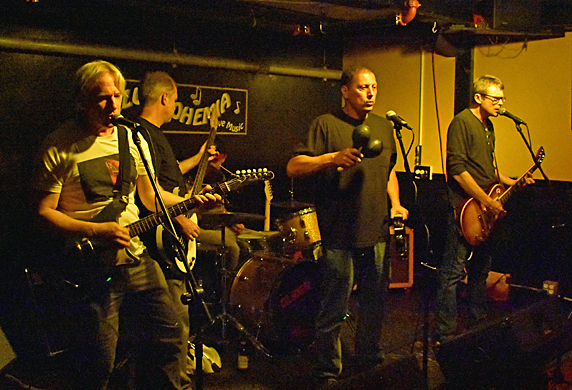 Shiny Beasts
Photo: Blowfish
We see Mitch and Henry of Shiny Beasts at other shows around town and it was overdue to see them on stage themselves. We have a lot of favorite songs by Shiny Beasts but heard none. All the material on Saturday was new! That's good and bad. Bad because we didn't hear the faves, but the new material was right in the same pocket. Shiny Beasts' seemingly simple style works so well it seems like the only way to play as you are hearing it.
The songs are short, but not as short as Triple Thick's (where some of the players come from), and have the singable chorus that temps you to join in. One of those was "Dragging Me Down" and we have a video of that below. Another new one was called "Drive All Night" which is about people going down to Cape Cod. The video of that is also below.
One of the tricks they do is have Matt play with a capo most of the time. That makes the two guitars play different registers and expands the sound. The drummer played busy and was really into it. It was great to hear and see that Shiny Beasts are still going strong and have new material.
Henry said that they have 11 songs just about all done up. They were recorded at New Alliance, the studio now pushed out of their home at the EMF building. We've been wanting to have some of their songs in hand since their debut in January of 2016. The time is coming close!
They will be playing in the Wellfleet parking lot again this year and that is this Saturday Facebook page here.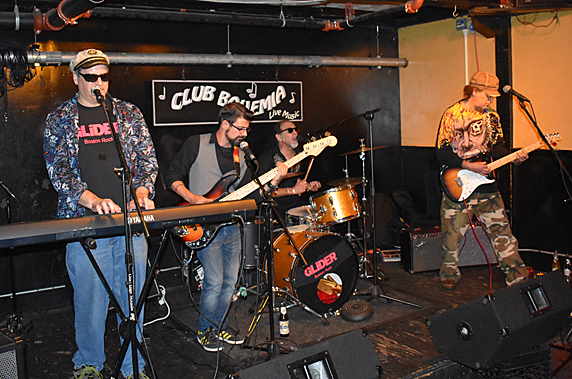 GLiDER
Photo:Blowfish
As GLiDER was setting up we could see they had two new members. It was Cal on drums and Al on guitar, there is a new bass player and now a keyboard player. That addition of a keyboard changed the sound dramatically. It has added more of a garage sound. That came into play when they covered the Lyres' " How Do You Know". They did some of their regular material like, "Child Abuse", "Anorexia", and "Out of Touch". The best song was "I Hate California" which had those words as a sing-a-long chorus. If that is an original, it's a winner if it's a cover that's a good cover version.
They got a very good crowd reaction. This was an involved audience. We exited before Mr. Airplane Man but everyone seemed to be anticipating them.
More band photos after the show listings
---
And in other news ....
For all you Jabbers, and GG, fans: The countdown has begun to the official release of GG Allin & the Jabbers Live at the Rat album on Blood Orange Records. The official release is Thursday June 28 - the 25th anniversary of GG's passing. There will be many more previously unreleased recordings coming on Blood Orange Records so keep checking for updates! For now, mark your calendars: June 28, 2018 - The album will be made available on the Jabbers Facebook page first at an undisclosed time. Limited to just 500 copies, hand numbered by GG's daughter Nico!
Richie Parsons' Kickstarter for his new album Black Throated Blue is up and going. Let's get in there and give support. The new material is awesome!! The stuff we've heard is an extension of the previous CD but harder sounding and even more nice production touches.
He's got a short interview clip and a small taste of the song "Six Hours Behind" here. Kickstarter page is here.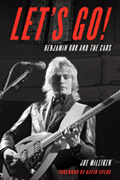 Veteran music journalist Joe Milliken will have his first book Let's Go - Benjamin Orr and The Cars, a biography of Ben Orr, published in November. "This first-ever biography about Orr spans 11 years in the making, as Milliken draws together interviews with over 120 family members, friends, bandmates, and music associates from Orr's life, as well as many unpublished and never before seen photos from private collections, to reveal an intimate portrait of one of classic rock's great talents."
More info check it out here: Ben Orr
---
Here's some good shows coming up this week.....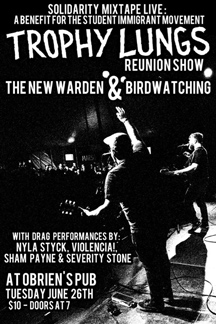 June 26 (Tuesday) 8 pm -Store 54 - 14 harvard Ave Allston. Bill Sullivan reads from his book Lemon Jail - On the Road with The Replacements, followed by a q and a session. more info to come!!
June 26 (Tuesday) Trophy Lungs Reunion show with Birdwatching, New Warden at O'Brien's Pub
June 26 (Tuesday) POPTONE (Daniel Ash, Kevin Haskins, Diva Dompe) will be performing the music of Bauhaus, Tones on Tail and Love and Rockets at the Middle East Down FB page
June 28 (Thursday) Flatlager, CESkidmore, CookBag, Parkinglot Garbage Dad Frankly Lost at The Greek Club Union Sq Somerville
June 28 (Thursday) Kid Gulliver, Media Panic, Screw Cart at Maggy's Lounge - 609 Washington St, Quincy
June 29 (Friday) The Fad, Joystick, Brunt of It at O'Brien's Pub
June 29 (Friday) The Hi-End, Fireking, Natty D's are at Sally O'Briens Somerville
June 29 (Friday) Nervous Eaters, The Gamma Goochies, Euphemia at Geno's in Portland, ME
June 30 (Saturday) A Bunch of Jerks, Hambone Skinny, Dragline, The Guilloteenagers at The Midway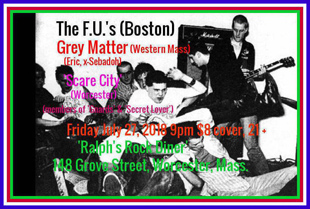 June 30 (Saturday) Smitt E. Smitty's new band Smitt E. Smitty is playing at Once along with Gene Dante And The Future Starlets, Parlour Bells, The Gala and special guest DJ Tad from Sidewalk Driver. at Once - 8:15PM show time! (THIS SHOW HAS BEEN MOVED from June 23rd.) FB page
June 30 (Saturday) Goddamn Draculas, Jason Bennett and The Resistance, Art Thieves, Michel Kane and the Morning Afters at Middle East Up 6:30 PM show
June 30 (Saturday) Relentless Benefit In Brockton with Grudge Holder, Panzerbastard, No Regret, Force of Habit and Comedy By Jack Shadduck at Brockton VFW Post 1046 FB page
June 30 (Saturday) Punk Show at the Hotel Vernon with Jonee Earthquake band, Time Out Timmy, More Beer Please, Mongorellis, The Benedicks, Jimmy Jacked, No Good
June 30 (Saturday) Rockin' Dune Tunes at Whitecrest Beach Wellfleet Cape Cod. It's rocking on the beach – well, the parking lot next to the beach. Line up : Mr Airplane Man, Atlantic Thrills, Shiny Beasts, 5 SPF4. It's FREE & ALL AGES. it starts at 5PM. The town charges to park for the beach until 4:30. Bonfire on the beach after the show. In memory of our friend Trey Helliwell. More info here on FB
July 1 (Sunday) Today Junior, Milk, Dutch Tulips, Soft Pyramids at Great Scott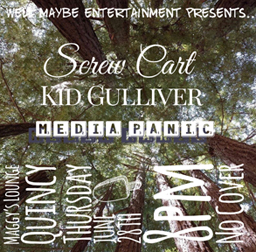 July 1 (Sunday) G.G. ALLIN 25th Death Anniversary show with The Murder Junkies, Smoking Triples, Jonee Earthquake, They Hate Us, Malcolm Tent at The Dutch Treat Franconia NH Here's the FB page
And further out we have...
July 3 (Tuesday) it's another Rock'n'Roll Trivia Night with Erin and Brett!! There's no excuse -"JULY 3, OUR MOST PATRIOTIC ROCK AND ROLL TRIVIA YET! YOU DON'T HAVE TO WORK ON THE 4TH - COME ON OUT AND SLEEP IN TOMORROW!"
July 3 (Tuesday) Appalachian Terror Unit, Hard Charger, City Problems, Boot Rot at AS220 Provi RI
July 6 (Friday) Black Beach, Blood Built Empire, Numbers Have Names at Great Scott
July 6 (Friday) Bloodshot Bill, Jittery Jack & Miss Amy Griffin, DJ Easy Ed are at Sally O'Brien's
July 6 (Friday) Thee Fightin Fish, Mercury on Mars, Highway Chapel, Melted Chapstix at Club Boho at the Cantab
July 6 (Friday) Zip-Tie Handcuffs, Graneros, Goddamn Draculas at KOTO in Salem
July 7 (Saturday) Cruel Hand, Restraining Order, Pummel, Rained In at 6:30 PM at Massasoit Elks Lodge Central Sq Cambridge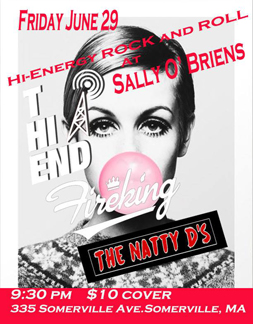 July 7 (Saturday) Pajama Slave Dancers (reunion) with special guests Trusty Sidekick, Grey Matter (ft. Eric Gaffney), and The Weisstronauts at The Midway
July 8 (Sunday) Step 13, Genuine Rust, The Martians, Cry Havoc at the Midway for a 4-8PM show
July 11 (Wednesday) The Goddamn Gallows, The Koffin Kats, Viva Le Vox at Alchemy in Provi, RI
July 12 (Thursday) Koffin Kats, The Goddamn Gallows, Viva Le Vox at The Middle East
July 12 (Thursday) When Particles Collide, Bad Larry's, Whoopi Sticks, The OK Oks at Opus in Salem
July 13 (Friday) Last Ones and CalCali Band are at Tavern at the end of the world. (Rick must be back from his Grand Tour!)
July 13 (Friday) Fireking, The Grip Weeds, Watts, Modern Day Idols at Thunder Road -get tix here.
July 13 (Friday) The Devil's Twins, Worshipper, Tigerman Woah, Heavy Necker at Once
July 13 (Friday) The Gala, Frantic Endeavor, Skytigers, Thunderosa at Opus in Salem
July 13 (Friday) Morning Afters, The Brave Noise, Jason Bennett & Resistance at Ralph's in Worcester
July 14 (Saturday) il Mostro, Psychic Dog, The Laces, Jim Healey for a 4-8PM show at the Midway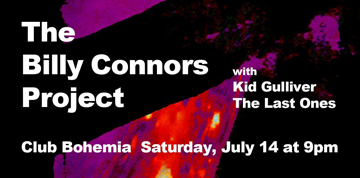 July 14 (Saturday) Zip-Tie Handcuffs, Thompson Springs, Jake Mckelvie And The Countertops, Tyler Berd at O'Brien's Pub
July 14 (Saturday) The Billy Connors Project with The Last Ones and Kid Gulliver at Club Bohemia at the Cantab
July 14 (Saturday) Walter Sickert & the Army of Broken Toys, The Men That Will Not Be Blamed For Nothing, Frenchy And The Punk, Radiator King at Once Ballroom
July 14 (Saturday) Revilers, The Von Traps, LEWD, Pint Killers and Foul Fellows at the Hotel Vernon in Worcester
July 14 (Saturday) Peterossi, Oberon Rose, The Maxims, Four Point Restraints at Koto in Salem
July 16 (Monday) The Dirty Byrds, Blame It On Whitman, Mojo Rot at The Middle East Up
July 18 (Wednesday) Thee Fightin' Fish,Wired Up & Captain Martini at Opus/Salem
July 20 (Friday) Boston Massacre 2018 with the Straw Dogs, Mung, Jerry's Kids and more TBA at the Middle East
July 20 (Friday) Crimespree, Noogy (TX), Secret Spirit & Straight Eights at Club Boho at theCantab
July 20 (Friday) Crunchtime, Doug MacDonald, Highway Chapel at Sally O'Brien's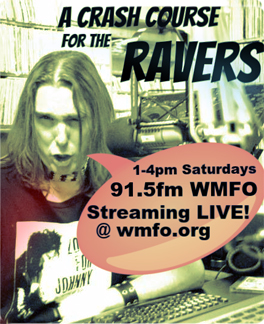 July 20 (Friday) Kid Gulliver, OTP, The Knock-Ups & The Surprise Party at KOTO/Salem
July 21 (Saturday) Kermit's Finger, The Grommets, The Only Things, The Instamatics 4-8PM at the Midway
July 21 (Saturday) Hub City Stompers, Brunt Of It, Barfight Champs early show at 6:30PM at The Middle East Up
July 21 (Saturday) The Monseiurs are playing Fenway Park with The Foo Fighters!! That should be interesting. Andy won't be able to walk into the crowd for his usual contact.
July 21 (Saturday) It's O'Brien's' Grub Sweat and Beers weekend - Day 1- Saturday is Bible Of The Devil, Sasquatch, Sundrifter, Hey Zeus, Birnam Wood, Scaphism, The Northern Skulls, Labor Hex, The Humanoids, Test Meat, Red Mantis = 15 bucks starts at 3PM
July 22 (Sunday) It's O'Brien's' Grub Sweat and Beers weekend -Day 2 Sunday - Wolfsmyth, Mollusk, The Rupert Selection, The Heave Ho, Witchkiss, Backwoods Payback, Set Fire, Diablogato, Freak On! Starts at 2Pm - 10 bucks
July 26 (Thursday) Distressor, Offside, Psychic Weight, DNZL at O'Brien's
July 26 (Thursday) The Runouts, Sonic Libido, Mercury on Mars, KCUF at Club Boho at The Cantab
July 26 (Thursday) Radium Girls, Thrust Club, Lonely Leesa and the Lost Cowboys, Yes Commander at Once Ballroom
July 26 (Thursday) D.O.A 40th Anniversary Tour at The Middle East Up- doors are at 7PM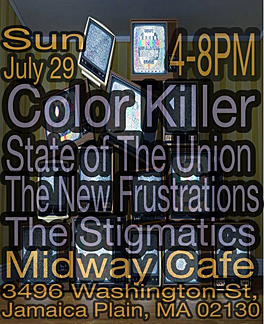 July 27 (Friday) The F.U.'s, Grey Matter, Scare City at Ralph's Rock Diner, Worcester
July 28 (Saturday) Punk Night at The Chit Chat with The Radiator Rattlers, Jonee Earthquake Band, Kermit's Finger, Wkeah, The Lipstick Boys at the Chit Chat Lounge Haverhill, MA
July 28 (Saturday) Rockin' The Dune Tunes with Sport Shakes, Love Strangers, Carissa Johnson, Cordobas at Whitecrest Beach Wellfleet Cape Cod 5-9PM FB page
July 29 (Sunday) Color Killer, State of the Union, The New Frustrations, The Stigmatics at The Midway for a Matinee Show 4-8PM
August 3 (Friday) Carissa Johnson & The Cure-Alls, The Life Electric, Psychic Dog, The Appleyards at The Middle East Up
August 3 (Friday) Bim Skala Bim, The Dogmatics & the World premiere of the film Chet's Last Call at Grumpy's Pub in Falmouth, MA FB page for more info
August 3 (Friday) Blondie are playing out at Mass MOCA also on the bill And The Kids Mass MOCA page WOW!!
August 3 (Friday) PanzerBastard, Taxi Driver, Brix'n Mortar and The Downhauls at Opus in Salem
August 4 (Saturday) Scissorfight, White Dynomite, Northern Skulls, Red Mantis at Once Somerville
August 4 (Saturday) Descendents w/ A Wilhelm Scream & Pavers at State Theatre, Portland, Maine FB page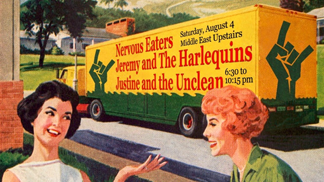 August 8 (Wednesday) The Blasters come back to ONCE
August 13 (Monday) Agent Orange, Fea, and more at Ralph's Diner in Worcester FB page
August 15 (Wednesday) Agent Orange are at the Brighton Music Hall TIX! Silver Screams will be opening up for them. TIX here.
August 16 (Thursday) Agent Orange w/ FEA, MOTO and Zero Holds at Alchemy in Provi, RI
August 16 (Thursday) Michael Kane & The MAs, Reverand Dan, Volstead Act, Jonee Earthquake at the 13th Floor Music Lounge -JJs Tavern Florence, MA
August 24 (Friday) Lyres, Glider, Pop Gun, Knock Ups at Koto in Salem
August 25 (Saturday) Stop Calling Me Frank, Hi-End, The Stigmatics, The Legendary Cazbats at Club Boho at The Cantab
August 26 (Sunday) Sunday Matinee with Reason To Fight, Abductors, BFC, Pint Killers at the Midway 4-8PM
August 28 (Tuesday) In The Whale, Tied To A Bear, Blood Built Empire at O'Brien's Pub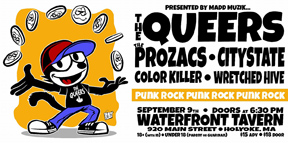 August 28 (Tuesday) FAVL (from Italy), Brix N' Mortar, The Martians, Union Boys at Opus in Salem
September 8 (Saturday) Richard Mirsky's CD Release Party at the Midway (night show)
September 9 (Sunday) Slim Cessna's Auto Club and Kid Congo Powers at Once - music starts at 8:30
September 9 (Sunday) The Queers, The Prozacs, CityState, Color Killer, Wretched Hive at the Waterfront Tavern Holyoke MA FB page doors at 7Pm
September 11 (Tuesday) Killing Joke on their 40th Anniversary Tour at the Paradise FB page
September 12 (Wednesday) Cheetah Chrome's new Dead Boys, The Ghost Wolves at Sonia.
September 13 (Thursday) Fall-Fest 5 Day 1: featuring The Avengers! also on the bill - Silver Screams, Boot Rot, City Problems and a bunch more bands. It's at Alchemy. Music starts at 8PM Here's the FB page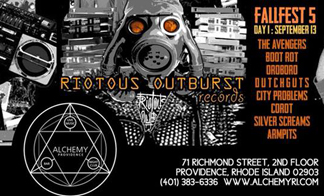 September 13 (Thursday) Hudson Falcons, Genuine Rust, Sonic Libido and more TBA at This is an ALL AGES Matinee! at Thirsty First: Tavern & Grill, Lowell.
September 18 (Tuesday) Cheetah Chrome's "Dead Boys" with The Ghost Wolves are at Sonia
September 18 (Tuesday) ALL AGES MATINEE- 1-6PM : Hudson Falcons, Genuine Rust, Sonic Libido, Losers Circle at the Thirsty First Tavern in Lowell.
September 28 (Friday) Stop Calling Me Frank, Soraia, Hambone Skinny & The Connection at Sally O'Brien's
October 12 (Friday) Salem Horror Fest After Party with Diablogato, Gray Bouchard and the Dedications and Petty Morals at Opus in Salem
October 18 (Thursday) The Proletariat, Savageheads, Silver Screams at Sonia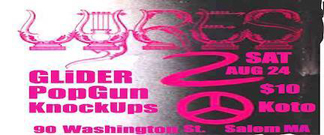 October 20 (Saturday) Nervous Eaters, Indonesian Junk, Duck & Cover at the Middle East Up
October 27 (Saturday) Lyres, GLiDER, the modifierS at The Middle East Up- Early show doors at 6:30PM
October 27 (Saturday) The Descendents w/ Teenage Bottlerocket at The Palladium in Worcester FB page for tix etc
November 2 (Friday) Roky Erikson at Once. Tix here.
November 10 (Saturday) The FUs, GLiDER, Classic Ruins at Club Boho @ The Cantab. This is show 1 in a series called The Rosebud Rocks...remembering and celebrating our beloved Rosebud in Davis Square that was sold 4 years ago.
CONTACT US AT....misslynbgn@yahoo.com Send us your gig listings, your news and anything else ya got!! You want your CD reviewed?? Contact us for that too.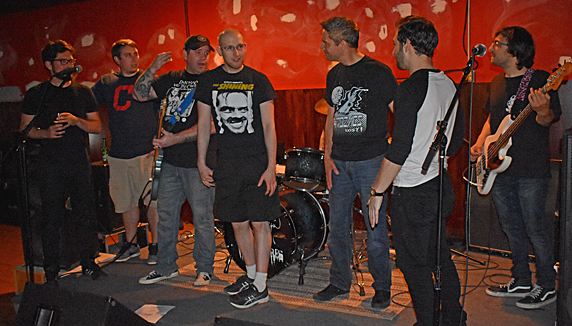 Lining up the group sing with the Prozacs
Photo:Blowfish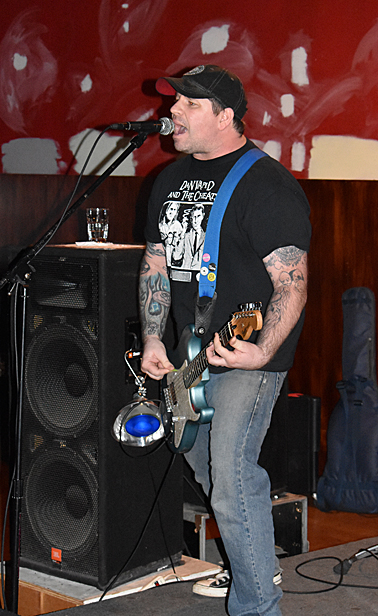 Jay - Prozacs
Photo:Blowfish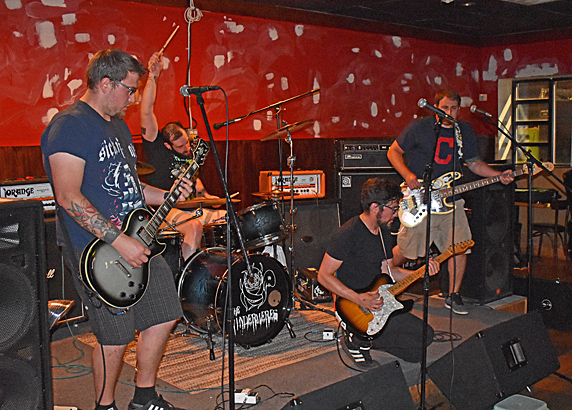 The Windermeres
Photo:Blowfish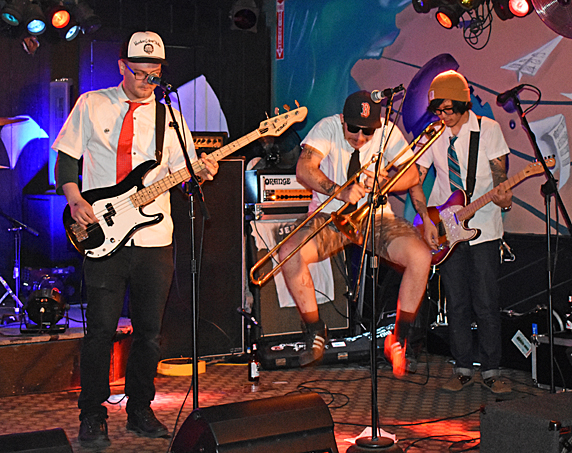 The frog jump - Jerry's Got Jokes
Photo:Blowfish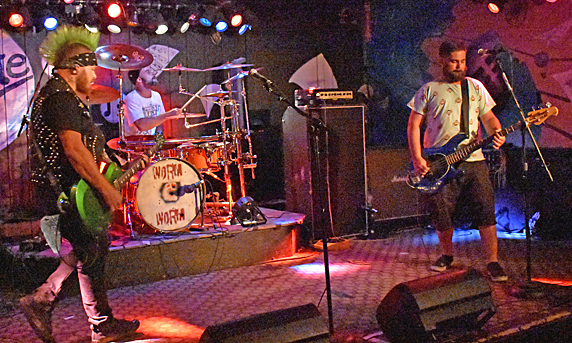 Zombii
Photo: Blowfish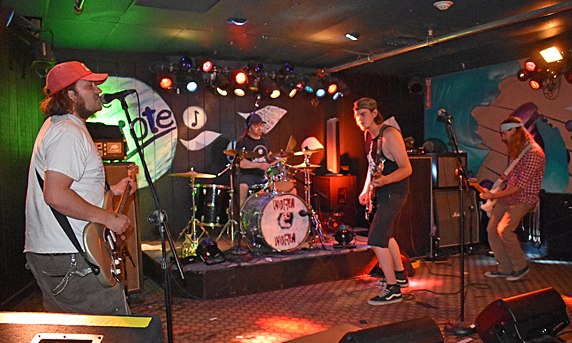 Money$
Photo: Blowfish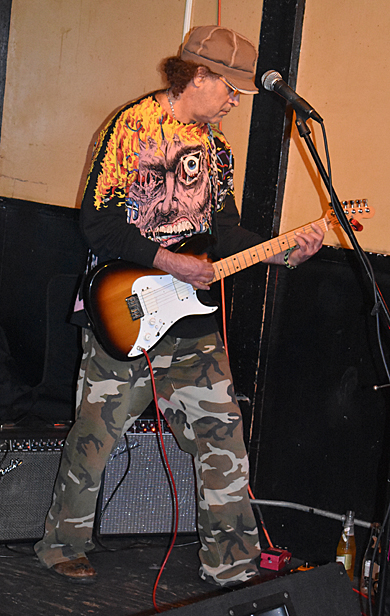 Al - GLiDER
Photo:Blowfish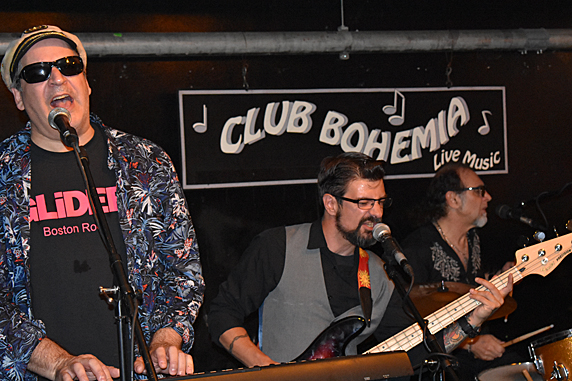 GLiDER
Photo: Blowfish