The BGN News Archive
July 2, 2012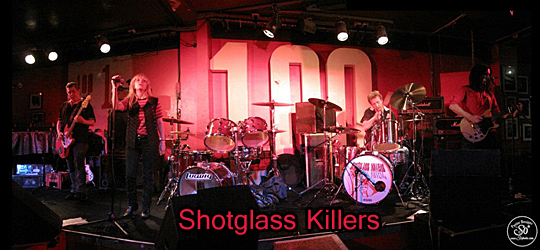 Hi Folks, we don't have anything gigs to report on this week BUT we have a new addition to our Features section, it's a great report from our pal Carl Biancucci on his gig at the 100 Club in London where he shared the bill with original Damned members Brain James and Rat Scabies. Check it out, it's a great story interesting…and all pics are by the fabulous Sophie Lo at www.SophieLo.com.
The Beachcombovers have a great gig at the Charles Hotel courtyard. They will be there every Tuesday night as part of Brother Cleve's Tiki Tuesday series which outside of music features exotic drinks - this week it's Waitiki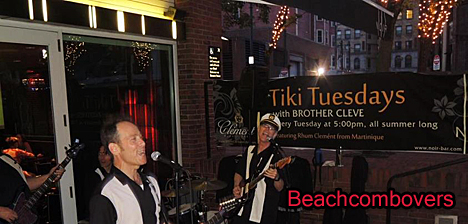 Cal Cali has picked up his booking duties. He's put on a couple of really good shows at Rosebud and now he's got another. He's picked up the Nervous Eaters and two other bands for a Aug 11 show.
Boys From Nowhere: The Story of Boston's Garage Punk Uprising the film in the making is looking better and better. Chris posted on Facebook that they just scooped up an interview with Jonathan Richman. Jonathan talked about his days with the original Modern Lovers. Alright already, lets get this film in the can and up on the screen. We can't wait.
Cadillac Heart who we saw last week just posted some new songs on Reverb Nation. One of tha songs they have is More Than Desire sung by Scott. That guy has one great voice. They also did their version of Ecstasy a Paley Brothers song that Billy co wrote.
So for what's going on...there's:
Well we're into July officially and its already sweltering…lots of hot gigs coming up too: Oh but first…if you feel so inclined Miss Lyn and Judy Wilburn are having a Closing Party for our art show up at Khan Studio in Rocky Neck, Gloucester (77 Rocky Neck Ave) It also happening to be on a Nights on the Neck night …so there'll be local music all over the place as well…come on up!!!
This weekend!!!: Johnny Angel and his crew of pals takes over Radio in Union Square Somerville this Friday and Saturday July 6 and 7 and Dolphin Striker July 8th in Portsmouth NH to play lots and lots of new and old tunes.
The show on the 6th is a reunion of sorts as it features JAW and old friends Robin Lane (minus Chartbusters) and John Felice (with his Real Kids) (this remains to be seen-you'll have to show up to find out!! ) all together in the same room for the first time since.....well,
Plus, Mary Lou Lord and WATTS round out that line up.
The 7th is another reunion as well, with old friend Eric Martin and the Illyrians kicking it off and Audrey Clark and The 360's closing the show--with Johnny and doing a mini set of Thrills' songs including the "classic" "Hey, Not Another Face In The Crowd". The great Darling Pet Munkee does their wild thang in there as well.

Now there is even more drama surrounding the whole thing about the Real Kids playing this show, …but hey…we know from experience how these promises of Real Kid go…we've heard it before and found it didn't happen…
&nbsp so then it's on to other things….
Thursday July 19 Surf Guitar Legend Dick Dale is at the Middle East down with Muck and the Mires
Jerry LeHane's benefit for Cancer Research is coming up at the Paradise ….he's got an AMAZING line up for this two night show:
Appearing Friday night, July 27 are The Flies (first reunion ever!), Bristols Piranha Brothers, and Sourpuss and the Hired Men (with Peter O'Halloran).
On Saturday night July 28 are Dogmatics, New Frustrations, Lucky 88's, and Lenny Lashley.
The show's at the Johnny D's in Somerville. Tickets can be purchased online here , and in advance for $16 at the club and if still available (coz they are going fast!!) , $20 the night of the show. The show is 18+. Proceeds go to benefit the Pan Mass Challenge and local musician Peter Sisco.
Hey also on July 28th -James Straight and The Wide Stance are playing at the Cantab….
And then we got some stuff coming up in August you'll want to plan for:
Thursday August 2nd, Merle Allin and his band of marauders - The Murder Junkies are playing at The Cantab (oh this should be GOOD!!)
Of course there BC60 - The Bob Colby 60th Birthday Party at TT's - Sunday August 12th- at this point there are so many bands I think the show will have to start at 9AM!!! But seriously folks it starts at Noon and goes til midnight- it's a huge ton of all awesome bands including Mary Lou Lord, My Own Worst Enemy, The Classic Ruins, even the Port Charles Quintet is getting together for this show…even Willie Alexander is coming to town for this show…even Kenne Highland is making an appearance for this show…and there'll be plenty of BC faves like Shepardess and Nina Violet….I'm taking Monday off that's for sure!!
….And everyone is buzzing about the Human Sexual Response reunion…All the original members…at the Paradise on Saturday, November 10th better grab those tickets soon...
and don't forget The Mark Sandman movie "Cure For Pain, The Mark Sandman Story," is playing at the Brattle from June 22 through July 1st.
Songs...it's all about songs. Here is a new BGN Top Ten done by Joanie Lindstrom.
EMAIL US AT…….misslynbgn@yahoo.com