The BGN News Archive
July 8, 2013
We don't have much to show & tell you in the way of going out to a gig this past weekend coz it was just too freaking hot to do anything!! But as you will see from all the great stuff coming up this is an issue we will have to get over!!
Here's an awesome video: From 1984 - a flash from the past...it's the Hopelessly Obscure with Jordan Kratz and Kenne Highland as I remember him and Jim Condon on bass..wow!! AND a guest appearance by Cam Ackland along the way...
And of course don't forget to listen to Crash Course for Ravers every Saturday on WMFO 91.5FM...they are now back to a full 3 hours! oh and here's a lovely pic ( NSFW )of Crasher/Raver Brian Young from the Noise Centerfold!! Wooohooo!!!
And you might want to just check out how hip your neighborhood is by checking this Yelp Map http://www.yelp.com/wordmap/boston/hipster for hipster listings...thanks Perry Adler (on FB) for finding this!
Bob Colby's Second Thursday on 7/11 at Club Bohemia at the Cantab has Viva Gina, When Particles Collide and a couple of other bands...
The Young Adults will be at Great Scott this Thursday also, along with The Grooms from NYC.
We have a very busy weekend coming up:
Fleshtones at Church (wonderful air conditioning) on Friday the 12th with Special Guests The Split Squad (feat. Members of The Fleshtones, The Plimsouls, & The Baseball Project) and Shepherdess.....
Also on Friday the 12th at The Middle East UP it's Lenny Lashley's Gang of One, The Scrapes (this is former Gang Green members including Matty Scrape and Walter Gustafson!) ...and Mung! Wow that's a great gig!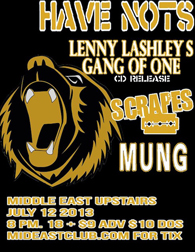 Union Square Somerville is particularly hopin' on the 12th:
you can spend a Night at The Beach... in scenic Somerville that is...The Beachcombovers are having a CD Release Party this Friday the 12th at Sally O'Brien's! With Tsunami of Sound and Dust Clouds from Mars and the cover is only 5 bucks!! Bah-gin!! And here's the title cut from their upcoming release http://www.youtube.com/watch?v=iFOTOfjVg6E
And the Sour Do Dah's are at Radio Down with Detroit Rebellion and others...Township at Radio UP......
And on Saturday: The Neighborhoods are at The Ocean Mist in Mantunuck, RI on the 13th
At PA's Lounge there's Plumerai with other bands...
Terry Brenner has things rollin' up on the North Shore with The Beachcombovers (with belly dancers!!) at Seaport Cafe in Salem - Saturday July 13th
So its finally here, we've been talking about it...the closing of the current All Asia...they are having their End of The World Party on July 16 & 17
From July 19- 22 The Brattle Theater is showing the movie Big Star - Nothing Can Hurt Me....about, of course Alex Chilton's band Big Star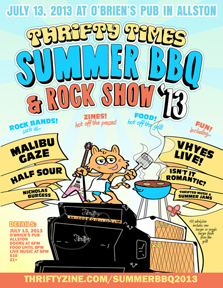 Petty Morals on the 19th at Great Scott
July 19th is a good night at Radio too! Downstairs are Vapid Dissent, the McGunks and Chris Brat's new band Duck & Cover!!...Upstairs is Cult 45 .....
We got a ladies night here: Jenny Dee and the Deelinquents and Corolla DeVille at Spotlight Tavern in Beverly - Saturday, July 20th
Wayne Viens has a stellar event on July 24th at 8PM at Store 54...Byron Coley and the prolific Chris D (of LA punk band the Flesh Eaters) will be doing a reading
The Lyres are at PA's Lounge in Union Square on Saturday July 27th with A Bunch of Girls and Detroit Rebellion (here's some info on the bands you know about the Lyres of course, I mean the other bands)
Duck & Cover plays again on July 29th at O Brien's with the Pity Whores!
The Late Risers Club had a wild night with fantastic music last year for their 35th Anniversary. Now for their 36th year they are going to have night at the Middlesex Lounge on Wednesday July 31 at 8PM. Free beer called LEFT OF THE DIAL by Notch Beer. They will have LRC DJ's spinning (try to stop them) and some rock and roll trivia.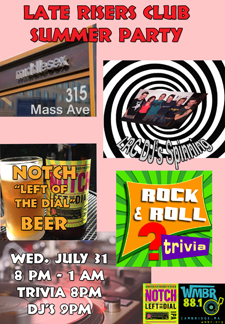 Sonny Vincent is coming back to town!!!He's at Radio (downstairs) on Wednesday July 31st!! and he's sharing the bill with The Classic Ruins- awesome! And you can thank Kim Ackland for getting this gig together!! That last show in May 2012 was killer!!
Saturday, August 3rd is another night of many amazing shows: there's an awesome bday party for Frank Strom at Radio Up with The Lyres, Muck & The Mires, The Monsieurs, and The Sprained Ankles!!
The Middle east Down has a great show with Cocked N' Loaded (its their 10th Anniversary!), Mellow Bravo, Motherboar (this is their farewell show), Bearstronaut, Wild Zero (its their reunion show) and I Am Become Death- phew!!
Moose and the Mudbugs at Seaport Cafe in Salem - on the 3rd
O'Brien's has another BBQ on Sunday August 4th it's the Boston Bloghead Punk 'N' Roll BBQ with The Darker Hues, Horse Mode, A Minor Revolution, Cult 45, Acro-brats, Zip-Tie Handcuffs, Tired Old Bones, Dead Cats Dead Rats and The Old Edison
Friday August 30th The Queers are at Church (with The Dwarves ) and there's a great show at Radio UP with Ragged Old Flag (Jesse Von Kenmore on drums!!), The Scars and Radiator Rattlers....
what the hell is going on with the Rat Reunion??? Is it in August or in October ??? Or some other date? There's like 5 different "reunions" being talked about. Everybody is jumpin' on this bandwagon folks!! And WHY would it be in some gawdfersaken place out far from the city like a state park in Newburyport?? This soap opera is all based on the reissue of Live at The Rat... but I am very confused.
Pere Ubu is at Brighton Music Hall Saturday, September 4th!!!
EMAIL US AT.......misslynbgn@yahoo.com