The BGN News Archive
July 13, 2020
We open with some very sad news...covid-19 HAS taken one of us....On June 18 2020 Our local music scene lost a graceful gentle soul and collaborator. Patricia Ann Pelland (Patrycja Stellanova on Facebook). Patricia was ex wife of Arthur Freedman, life partner and roommate, former minister of propaganda for the Boston Archives project, former girlfriend ex-post-divorce and best friend of Allen Esser.
Patricia took guitar lessons from Roger Miller and Karen DeBiasse, had fantastic taste in punk post punk and a myriad of other genres, an avid reader and film buff she always brought to our home books on music and fascinations. She had swell taste in t shirts and I am heartbroken as many in our scene will be at her loss. Please read full obituary here.
---
So now that Great Scott succesfully raised a whole lot of cash, the landlord is saying that they still don't want the club there. WTF! Why are we surprised?
Then the Milky Way and Bella Luna Restaurant is also calling it quits. (Read more on Vanyaland)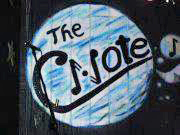 Even on the South Shore, The C Note in Hull is closing: "After over 10 years, The C Note Hull will be closing its doors. Thank you to all of our loyal patrons, staff & very talented musicians who have joined & supported over the years. It is because of all of you that we are the South Shore's best live music club."
There's a GoFundMe page to support the club. Please check it out and help 'em out!

We knew some of this was going to happen but to see it happening is a whole other kind of hurt.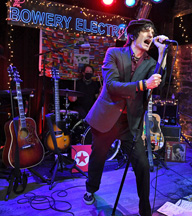 Jessie Malin ex of D Generation co-owns a few bars in NYC. In Rolling Stone, he talks about the difficulties too. He's doing solo live streams and weekly band live stream (with guests) from his Bowery Electric. You can go to Veeps.com and see a good amount of live streams to choose from. AND... July 15th they are doing a Johnny Thunders Birthday Bash Live Stream!! And from the Bowery Electric Live stream page: A brand new, professionally mixed and filmed, socially distant livestream series featuring some of our favorite artists, shot right here at The Bowery Electric! With a "pay what you can" ticket, high quality sound, special merch, virtual tip jars for the bands, a live chat after the show, and other killer experiences and add-ons brought to you by Veeps, this is as close to a live show as you're gonna get! All sales will benefit the artists and help save our incredible venue!"

The Jungle is now open for food from 5 to 10pm Wed to Sun for food on their patio: "The Jungle is now open with draft beer, full bar and menu on a new patio in our parking lot. We are still open for takeout so you can order online from the link on our website. Currently our understanding is that the state does not allow live music even on an outdoor patio. Right now our hours are 5pm to 10pm Wednesday through Saturday"
O'Briens Pub is doing the same thing! The hours were from noon till 7pm. That's welcome news. Check 'em out on their FB page.
| | | |
| --- | --- | --- |
| The Jungle | O'Brien's Pub | Tavern End of the World |
So, it's a thing - now Tavern at the End of the World is serving food outside also. They are starting this Wednesday a 4pm.
The Midway Cafe is doing regular live streaming from the club!! This is really welcome news! Check out the live streams so far on Tiny Oak Booking.
The Basements of Boston is a new feature on the WERS blogsite: "Interviews with local underground scene makers. This series will explore the ins and outs of the Boston underground scene from the viewpoint of performers, promoters, and others involved in keeping the backbone of the Boston music community alive."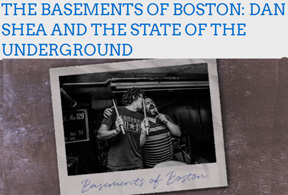 Their first interview is with Dan Shea of Boston Hassle. That's is here. Dan has a lot to say and thinks big. He's not just thinking music, especially just one type of music. He's got politics, economics and the social situation in the air at the same time. We like the idealism and maybe now is the time for it. We're headed for a reboot of the whole scene top to bottom so new inclusive ideas should be at the fore. Dan is positioned to be influential as we go on. He's got ideas and a flexible set up with the Boston Hassle. They could implement their ideas fast and cheap. They do basement shows and other alternative set ups so no clubs is no problem. That's going to matter a lot.
It's an interview that will get you thinking.
We never heard of Eric Johanson but he's a photographer that took lots of photos of Boston groups like Quintaine America, Missile Thrush, and Victory at Sea, The Upper Crust, Fuzzy. He has a page worth checking out. Boston Rock Photos.
We Were Once Rebels How I.R.S. Records Infiltrated The Music Establishment is a documentary in the works about, the early punk label I.R.S., run by Miles Copeland. There are a lot of memories in those early bands and albums. Check out their website.
Need to feel good? Just look at The Dogmatics doing "Drinking by the Pool" back in the day…
Anngelle Wood did a video interview with Jerry Lehane of the Dogmatics. It's another insight into what people are doing during this interrupted time. Jerry has a new 5 song solo EP that was just released July 10th on Rum Bar.
Rum Bar did another tease by releasing a second cut off Jerry's album, called "Runaway With You" and it's a sweet rocker. It has elements of a ballad by showing some feeling but it is pitched more toward rocking. It's a crime these songs have been locked away for years. Check it out here.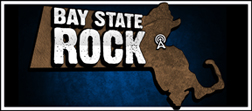 Carmelita continues her reboot of Bay State Rock and it's like going home again. She's right back in the game. It's on Anchor.FM (and other platforms) Bay State Rock!
On her June 16th show played a new Welch Boys song that kicked ass called "Methadone Mile". It's has a nice beefy sound and some searing guitar lines. It will get you off your feet no matter what room of the house you are in! It's very new and hasn't actually been released yet, but that's why you listen to Bay State Rock!! The song will be out with three other new Welch Boys songs on a split record with Bonecrusher in August.
She played Smitt E. Smitty's version of "Rebel Rebel" that we featured a few weeks ago at the BGN. And she slipped in Glider's "Beach" We love the chorus "we don't care".
On her June 21 show she starts off with some Nervous Eaters "Born to Die" off Hot Steel and Acid and a new cut by Robin Lane off the upcoming Asa Brebner Tribute CD I Am Not Gone . And the best was when she played that Dave Charles song "Like Charlie Chesterman" that we featured a few months ago. That's also available here https://www.davecharles.org/nowplaying . That is one sweet piece of work.
Carmelita also played "Jetset" from that super group Lovely, which is members of Jerry's Kids, The Freeze, Stranglehold and Mung. wooooo!! Here's Jetset
Lovely also has "2020" and of course, it cranks most awesomely!! Here it is on YouTube 2020
Rockin Bob Punk Band got a spin on it's last release "Almost Gone" Listen here.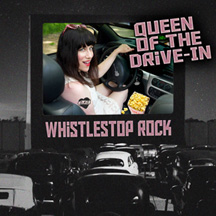 WhistleStop Rock has done us a surprise turn. At the beginning the term was an umbrella that encompassed groups that would have a travelling show. Now with "Queen of the Drive-In' we are in different territory. They've pulled together people from the WhistleStop Rock line up an created a new group to perform this new song
Now that drive-in's are in again so are drive-in songs. And this queen is the "Dry Hump Queen of the Drive-In"…to be clear. The song us upbeat and the guitars go from pushing to ringing. Very good work all around. The line up is Simone Berk: lead vocal, Lynda Mandolyn, Heather Rose, JoEllen Saunders Yannis: backing vocals
Linnea Herzog, Justine Covault: guitars, Linda Bean Pardee: bass, Sandy Summers: drums and Heather Rose: stylophone.
During all this Simone Berk of Kid Gulliver had time to do up a video for thier song "I Wanna Be a Pop Star". The Kid Gulliver first flush of songs might have got by the casual listener, so it makes scene to revisit some of those gems. Vidio for "I Wanna Be a Pop Start is here.
And to debut the song the WhistleStop gang did a new, very well-done video show. It features the "Queen of the Drive In" video premier. Then here's a full line up of bands (A Bunch of Jerks, The Chelsea Curve, Cold Expectations, Field Day, Heather Rose In Clover, Justine and The Unclean, Kid Gulliver, The Knock Ups, Linnea's Garden, The Shang-Hi-Los, and Tiger Bomb!) doing one song at a time. The production was a step above the usual for this.
| | |
| --- | --- |
| Shang Hi Los | Linnea Herzog |
| A Bunch of Jerks | Chelsea Curve |
We loved "Kitten Heels" the song to summer done by A Bunch of Jerks where Stabatha jumped into the pool at the end.... and did The Shang Hi Los actually cover "Saturday in the Park" ? We think they did!!... Chelsea Curve covered Husker Du's "Celebrated Summer".
Watch the entire show here Queen of the Drive In and listen to the recording of Queen of the Drive-In on Bandcamp
The Back Porch Carousel is another collective of musicians that are making music in different combinations. "One and One is Three" by Randy Black is a tasteful song well performed by superior musicians. You can get swept away with this. One and One Is Three.
Color Killer delivers another video recorded during shutdown. They are stockpiling all these songs and eventually it will be their next album. This time they play "Home Schoolin'". They start the song in full 50s rock mode. That's 50 years before they were born. They then ramp it up punk style. What an impressive group they continue to be. Check it out here on YouTube
And what another week with new Rum Bar releases? …. It's another teaser from The Idolizers CD - "Stranded (Again)" is a slashing 70s style rocker. Take a listen.
The Yum Yums have the right name. They have lots of bubble gum and glam in their sweet pop.Their new CD is For Those About To Pop! and "She's Got Everything" is the killer for us. It's bounces along easy as it sucks you in. It rides on a thick pile of distorted guitar. Irresistible. We have it on our TOP TEN SONGS. It's another Rum Bar release - listen up here. On Bandcamp - "She's Got Everything"
"Can I Come Over" is another pop cruncher that's right up there too.
You have to feel bad for those who don't know Jay Allen's work, they are missing so much. Jay knows how to get his everyday guy persona into his punk songs. He's getting his "balls busted", even as he tries to "Grow Some Stones" and he's no "Chopped Liver". Our fave is still "Beautiful Chaos" where Jay puts romance in the romp. So check out Jay Allen and The Archcriminals' Fun Is Fun, The Trilogy Is Done on Rum Bar Records
"Take Me Back To Planet Earth" plead Muck and the Mires who are feeling alienated lately in their latest Rum Bar release. It does us a world of good to hear a new cut by Muck. You can hear it here.
Here's a flash back. Joe Barron ex of the Drunk Nuns sent an audio of the song that was called the "Craig's List Love Song". The lyrics where all from a Craig's List post. It's funny – dirty – but funny. "The Craig's List Love Song" on Youtube.
Joe's father also played music and was in show business. He's posting a compilation piece on that… https://youtu.be/M5-JT0w2kTU
There are three video from The Damned Show this week...
Episode #21 Part 6 of Monty's Memoirs. In this chapter Monty Oxymoron finds himself in Captain Sensible's solo band called Punk Floyd.
Episode #22 is Punk Rock Gardening Part 3.
Episode #23 has a nice and early Damned show from the Roxy playing "Fan Club". Very cool.
---
Coming up.....
Online/Live Streaming stuff:
Wednesday July 15 - 8 PM Martin Atkins Packaging & Screenprinting Creative Entrepreneurship in the time of Crisis on Once Virtual Venue
Wednesday July 15 -7:30 PM - Live Premiere Sessions: Johnny Thunder's Annual Birthday Bash!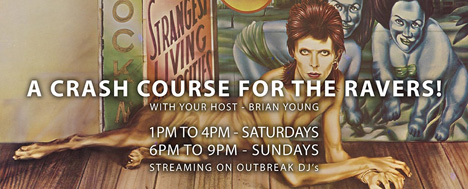 Sunday July 19 - 7 PM - Back Porch Carousel Benefit for Midway Cafe on Facebook 7PM
Wednesday July 22 - 8 PM - Martin Atkins How to Make an Extra $100k in the Next Year Creative Entrepreneurship in the time of Crisis on Once Virtual Venue
Wednesday June 29 - Martin Atkins - Creative Entrepreneurship in the time of Crisis: PiL chat on flowers of romance on Once Virtual Venue here.

Thursday July 23 -8 PM - Boston Emissions with Anngelle Wood - DJ VJ: Boston Emission's Anngelle Wood hosts a night of local music videos, commentary and more. FB page to get tix on Eventbrite.
---
Gigs possibly, hopefully coming up....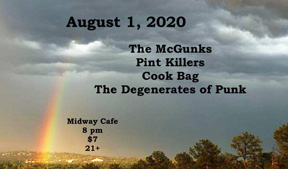 August 1 (Saturday) The McGunks, Pint Killers, Cook Bag, The Degenerates of Punk (reskedged from April) at The Midway 8PM show - FB page
September 26 (Saturday) The Cranktones, Fathoms, Sax Gordon, DJ Easy Ed! for a matinee show at The Midway 3-7PM
October 11 (Sunday) 145, Amplifier Heads, The Stigmatics and The Thigh Scrapers at the Midway - matinee 3-7PM
January 16, 2021 (Saturday) New Date - The Schizophonics, Muck and the Mires at ONCE Lounge Early Show: 5:30 PM – 8 PM
April 29, 2021 (Thursday) Circle Jerks Plus Special Guests at the paradise (this is a rekedged show) FB page
CONTACT US AT....misslynbgn@yahoo.com Send us your gig listings, your anything else ya got!! You want your CD reviewed?? Contact us for that too.


---