The BGN News Archive
July 18,2016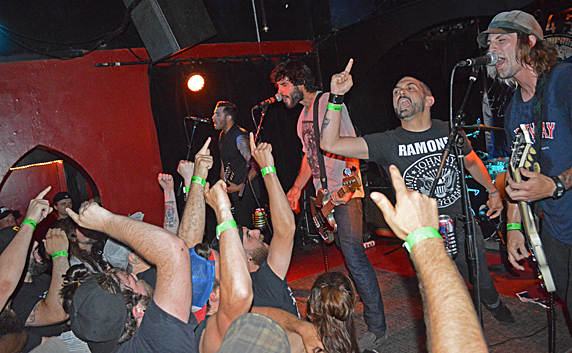 OC45
Photo: Blowfish
We were looking forward to the Late Riser's Club Rock'n'Roll Trivia Night. We loved the first one two years ago at the Middlesex. Last year a snow storm stopped us from attending. This year it was at the Greek American Club next to what used to be Radio. It turned out to be the perfect place. Soon after 8pm it filled up but wasn't crowded. The owners were there helping all the way. They were the nicest people. They seemed to enjoy seeing the whole thing unfold.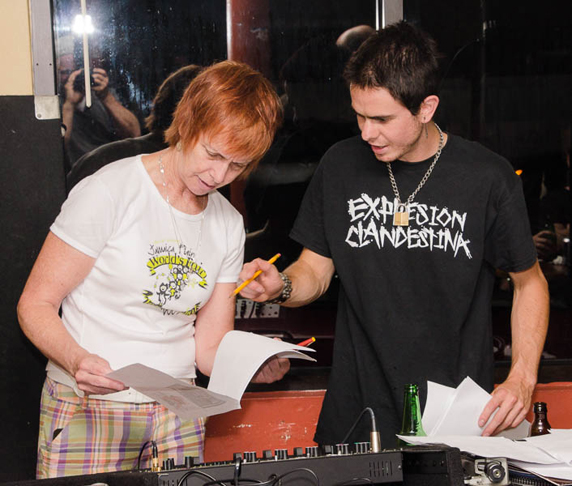 Joanie and Mateo checking the answers
Photo: John Keegan
Joanie Lindstrom was hostess with the mostess. The prep work was done with the all-important DJ set up. The other Late Risers were running the board and doing the decorations. People got into teams. There seemed to be around eight. The BGN team name was Shit for Brains and consisted of Miss Lyn, John Keegan, Kenne Highland, Blowfish, Betsy and Dave. Slightly larger than the regulations but no one was counting. We have John Keegan photos of other teams on our LRC TRIVIA NIGHT All Photos.
The elephant in the room was Eric Law the two time winner. Then the questions started. Here they are CLICK HERE.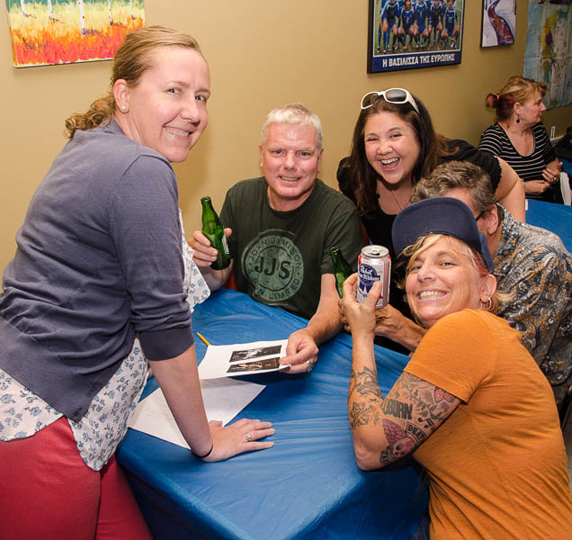 Linda La Fever, Jeebs McCocktail, Erin Amar& Nicole Tamaro
They were... easy, hard and impossible. Mostly they got the brain cells working. The formats kept it interesting; multiple choice, lyric completions and even ones where you had to hear the song. One song clue Joanie had played on her show earlier in the day so if you heard her show you were one up on that one.
The questions and their presentations were the biggest reason for the overall success. This could be Joanie's paying gig. She could have a regular night like this somewhere. In fact the one comment you kept hearing was "when is this going to happen again?"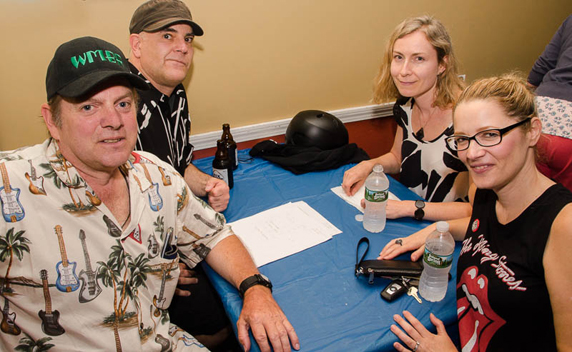 The look of confidence?
There was lots of socializing which really made for a fun night. We met Erin Amar from Rocker Magazine, John Darga of White Dynamite has there as he was two years ago...but now with Mrs. Darga, Stephanie! Michael Stewart popped in and helped us, as did Sara Billingsley, (although that's not official). Mr B and Chris came in a little late to be on a team but hung around. Vinny Bratty made the trip from the south shore.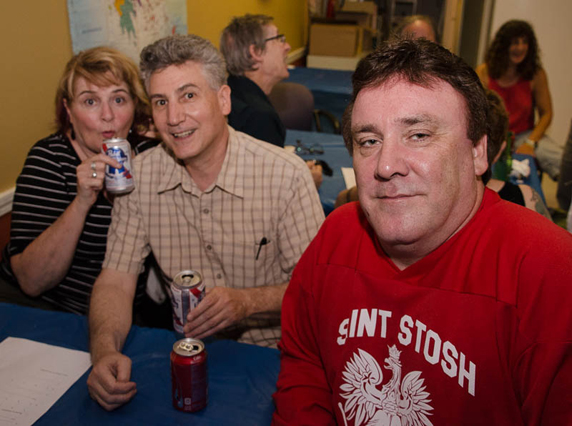 AARPM's Michele, Kaiser and Quirk
Photo: John Keegan
Erin was on a notable team - the AARPM's who's name won the Best Name prize. With the rock knowledge of Mike Quirk, Matt Burns, Michele Meadows, Kenne Kaiser and Erin they came in third.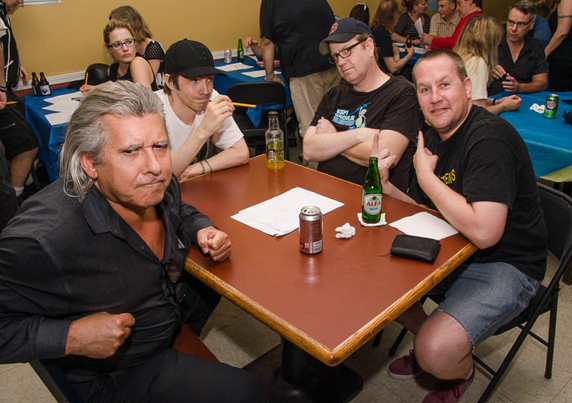 The winners, Carl, Eric, Andrew
Photo: John Keegan
And of course, don't bother to ask who won - because obviously Eric Law's team with Carl Biancucci won for the third year in a row. Congrats guys!!!
There were some prizes as you can see in the photos; lots of WMBR logo stuff, T Shirts, sweat pants, there were CDs and a 12 pack of beer for the winners. We don't see how the night could be any better. We'd love to see it again!!
Saturday night it was to the Middle East Up for OC45's 5th Anniversary. It was a hot night and that room can get steaming but, miracle upon miracle, it turned out to be comfortable. The fans were blowing and the room was about three fourths full.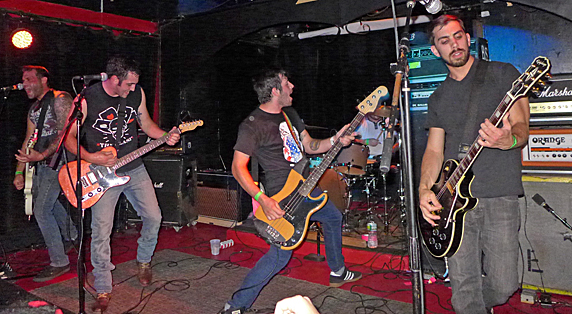 Burning Streets
Photo: Blowfish
We missed the first bands but saw the whole set of Burning Streets. Now, what are we looking for? Punk. And that's what Burning Streets are. Not bullshit hyphenated punk, just non complicated punk. We loved it.
They had five members; bass, drums and three guitarists. Now do you need three guitarists for this sort of music? Maybe not but it made a huge aural and visual assault. The guitarists and bass player were all over the stage as they bore down on their instruments showing their intensity. The drummer had that thundering quality that added excitement to the wall of guitar, the songs were melodic. This is what we need more of!
Check out their second album on Bandcamp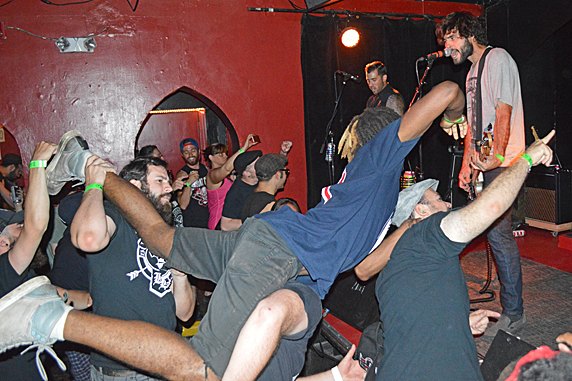 OC45
Photo: Blowfish
We were impressed when we saw OC45 at the Midway with The Members two years ago. They seem to tour more than play here, which is a crime because they are one of the better groups around. They joked that they've been together for 5 years and have had 5 drummers; heading toward Spinal Tap territory there.
They set up in 5 minutes flat and were rocking full out from the first note. Listening to Burning Streets you'd think that was a high water mark for punk power but OC45 went beyond that.
They're not as smooth as Burning Streets but put accents and stops in the songs that seem to accentuate the brute force of their attack. They can sound loose but they stop on a dime proving that this is well rehearsed material. Most of the time there are three of them singing which brings the words into the mix where they might be lost.

OC45 last song of the set
Photo: Blowfish
They electrified the crowd from the beginning. When they got on stage you could feel the 'gotta mosh' feeling ripping through the room. Behind a post (thank god for those posts) we got to see the explosion in front as the moshers did their thing. There was crowd surfing and packs of stage rushers singing the choruses. the final song had all of that going on and then the guitarist jumping into the pit and being held overhead as he played for a half a minute - Just spectacular and luckily captured on video – see above. I hope as they go forward they have a few more local gigs so we can catch them more often.
Two genuine punk groups in a row, that's what we're talking about!!!
And in other news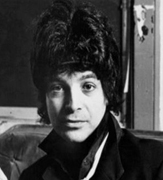 Alan Vega of Suicide has died!! Vega was such a trailblazer and he created such great music and unforgettable performances. We saw Suicide at The Rat a couple times and those shows were incredible. Vega was also a ground breaking visual artist as well as musician. I read a book recently called The Lofts of Soho and Vega was there when Soho first changed into a enclave for artists. He was creating art way way before punk and Suicide. He really was one amazing person. Here's a link to his Obituary in Rolling Stone
"One of the greatest aspects of Alan Vega was his unflinching adherence to the demands of his art, he only did what he wanted. Simply put, he lived to create. Alan is survived by his amazing family, wife Liz and son Dante. His incredible body of work, spanning five decades, will be with us forever."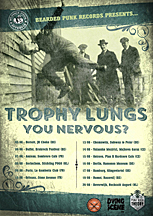 We got some news from one of our favorite groups the Trophy Lungs. They are going on a two week European tour with Belgium punks You Nervous . Trophy Lungs have put in the hard work on touring from the beginning. They have scored a few higher profile shows in town and got the attention of some more main stream award shows even. One can see that they could jump to that next level of popularity.
They are hitting Belgium, France, Germany, Netherlands and the Czech Republic.
CLICK HERE for list of shows.
We have seen them many times and they never fail as a live act. Their album got lots of attention and we love it. Check it out on Bandcamp. https://trophylungs.bandcamp.com/
Here's some good shows coming up .....
July 22 (Friday) Fur Purse, Thalia Zedek, Weather Weapon, Phurnne, Death Cloud at the Midway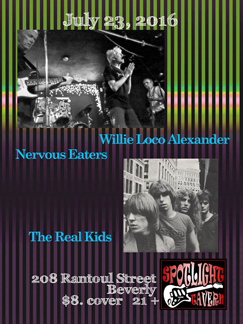 July 22 (Friday) The Downbeat 5 and Tom Baker and the Snakes are at The Plough & Stars
July 22 (Friday) Screw Cart, Psycho, Rockin' Bob Punk Band, and 4 Sids are at The Cantab down.
July 23 (Saturday) Beware The Dangers of a Ghost Scorpion, Silver Screams, Electric Street Queens, Il Mostro (mems of The Humanoids) are at The Midway
July 23 (Saturday) whoa!!!! Willie Loco, Nervous Eaters and The Real Kids who are fresh off their very successful European Tour are at the Spotlight Tavern in Beverly!!
July 24 (Sunday) Chuck Mosley (Singer for Faith No More/Bad Brains) is doing his "Reintroduce Yourself Tour 2016" and will be at Koto in Salem along with Daikaiju (instrumental action punk/prog/surf), Thee Icepicks and Nomad Stones
July 24 (Sunday) 6PM Hardcore Show at The "Hardcore Stadium" 55 Bishop Allen Drive Cambridge with Unified Right, Society Abuse, Deflect
Free and Take Control
July 29 (Friday) The Warning Shots, Duck & Cover, Quiggs, and Tenafly Vipers are at the Greek in Union Square (FB page)
July 29 (Friday) For you folks on the Cape Sidewalk Driver and Jenny Dee & The Deelinquents are at The Red Nun in Dennis Port! (more info here)
July 30 (Saturday) Your Friend Fest 2016 at Once....music comedy vendors and friends all together at Once - there'll be things going on both up and downstairs. Bands: The Knock Ups, Psychic Dog, Mercury on Mars, Thrust Club and the debut of Rrrright? (Jess Jacobs and Jasmine LaRue)
July 30 (Saturday) For you folks on the Cape who missed 'em last night- Sidewalk Driver and Jenny Dee & The Deelinquents are at The Beachcomber in Wellfleet
August 1 (Monday) The Schisms and Sassy Goose both from Austin TX along with The Knock Ups are at the Midway. This should be an interesting show!!
August 3 (Wednesday) David J. of Bauhaus and Love and Rockets fame reads from his memoirs Who Killed Mr. Moonlight? at Symposium Books in Downcity Providence. Event is FREE and his book will be available there. More info here
August 4 (Thursday) David J. of Bauhaus and Love and Rockets fame will be performing in a living room style show at Firehouse 13 in Providence. Tickets must be purchased in advance HERE Aug 3 & 4 are David 's ONLY New England appearances.
August 6 (Saturday) Muck & The Mires, Electric Mess (NY), The Evil Streaks and the Sprained Ankles are at Sally O'Brien's
August 6 & 7 (Sat & Sunday) The Boston Rock Opera presents Stardust to Blackstar: The Lives of David Bowie at Once Ballroom: a concert dedicated to the late rock god David Bowie. "David Bowie taught us all so much about performance and stagecraft. If B.R.O. is going to, like Lazarus, rise up again then it should be to honor and celebrate his amazing music." The night begins with fellow B.R.O. co-founder Mick "Mondo" Maldonado directing and performing Bowie's "The Rise and Fall of Ziggy Stardust and The Spiders from Mars" with a full band and guest vocalists. Following that, is an original live arrangement of Bowie's final opus work "Blackstar" performed by an all star band and chorus under the direction of Either/Orchestra's Russ Gershon. The evening continues with a celebration of songs from Bowie's vast catalog as even more Boston musicians take the stage to perform.
August 12 (Friday) The Handymen are at The Plough & Stars
August 13 (Saturday) FRANK ROWE's 65th BIRTHDAY PARTY!!! starring: Kenne Highland, Stop Calling Me Frank, The Dogmatics, Classic Ruins, Richie Parsons Band, and The Stigmatics - at The Midway
August 15 (Monday) X are at The Brighton Music Hall - nice venue to see them!!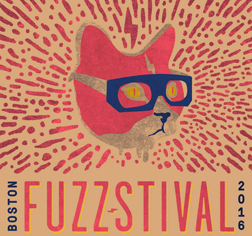 August 19 & 20 (Friday & Saturday) The 4th annual Boston Fuzzstival takes place on August 19/20 at The Middle East Downstairs. Fuzzstival is a celebration of our regional music scene and local music community. Bands are Doug Tuttle, Lyres, The Monsieurs, Mr. Airplane Man, Mini Dresses
Painted Zeros, Black Beach and a whole lot more...check out the FB page for updates etc
August 20 (Saturday) The Road Devils C.C. Boston Massacre Pre-Party!!! featuring Taxi Driver, The Hi-End AND MORE!!! FB page for more info as it develops
August 20 (Saturday) There's a great daytime (4-8PM) show at the Midway with The Lost Riots, The Scrapes, Whoopi Sticks, Go Blank and Point Blank
August 20 (Saturday) The Upper Crust, Devil on Horseback, Watts, Gymnasium at The Middle East Up.
August 20 (Saturday) Warn The Duke, Diablogato Dan Webb & The Spiders and Bundles are at O'Brien's
August 26 (Friday) Pop Gun, Fireking, Greg Allens Fringe Religion, and MOTO are at The Spotlight Tavern in Beverly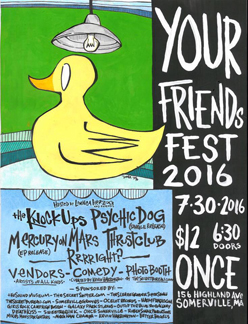 August 27 (Saturday) Idiot Genes, Duck & Cover, Silver Screams and Jack Widows at O'Brien's
September 1 (Thursday) Thalia Zedek Band, Minibeast, Black Helicopter and Positive Negative Man at O'Brien's
September 17 (Saturday) Huntingtons, Mongorellis, 138, and Profit Margin are at Koto in Salem.
September 27 (Tuesday) Buzzcocks at the Royale ...they played this very room back in 1980! And we were there then too!
September 29 (Thursday) Barrence Whitfield & The Savages and Diablogato are at ONCE Ballroom
October 15 (Saturday) Idiot Genes, Duck & Cover, Chanticlear and Jack Widows are at O'Brien's
October 15 (Saturday) The Upper Crust, Hickoids, The Grannies & Devil On Horseback at Once
October 21, 22 & 23 (Fri., Sat & Sun) The Boston Rock Opera presents Hair at Once Ballroom.
September 1 (Thursday) Thalia Zedek Band, Minibeast , Black Helicopter, Positive Negative Man are at Great Scott
CONTACT US AT....misslynbgn@yahoo.com - Send us your gig listings, your news and anything else ya got!!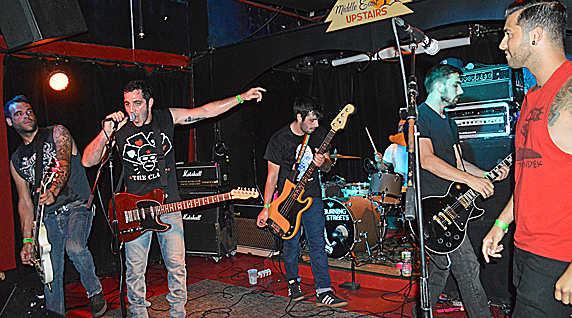 Burning Streets
Photo: Blowfish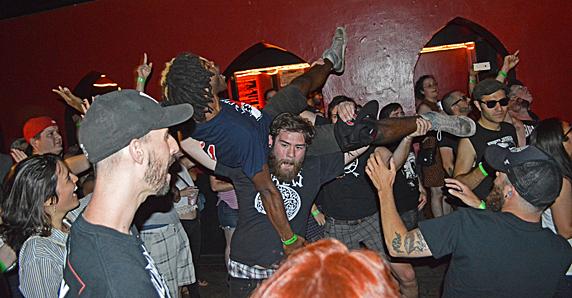 OC45
Photo: Blowfish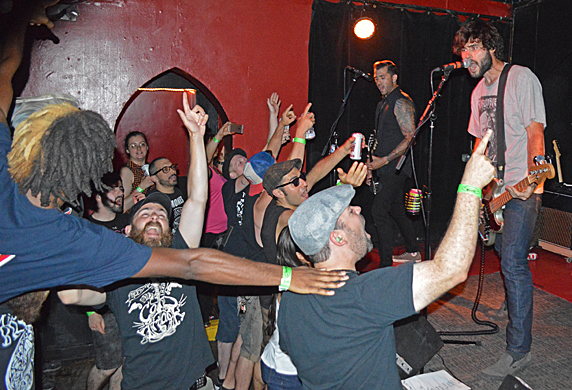 OC45
Photo: Blowfish